As regular readers know, I report on nonnative (alien) plants and animals from time to time, and this column is no different. It is about an import, an alien, born May 26 of this year on Saint Croix, U.S. Virgin Islands, who later arrived in Pittsfield on July 22.
My wife, Susan, decided to go out for lunch on July 30. And for dessert, rather than a decadent calorie treat that she would indulge in, with me following, we drove over to the not-so-distant Berkshire Humane Society on Barker Road in Pittsfield. It did not take long for Susan to fall in love — actually both of us — with a small brown puppy that immediately came to the window and began waging his tail endlessly for us. One of the "Canine Specialists" allowed us to spend time with this puppy, and there was an immediate connection. The following Monday, we brought him home for a one-week trial; at the end, we brought him back with a new name for their records and signed the adoption papers.
When we saw "Jay Z," the only fault we found was his name. He was a slender, short hair tan puppy with a blackish-tipped tail that wagged every time he saw us looking at him. So we needed to look no more at the assortment of dogs offered for adoption. One of the staff members told us another person had dibs on the puppy and that we would be second in line if we wished, provided the other couple changed their minds. As luck would have it, the other couple changed their minds, and Jay Z could become our pet, or we would become his.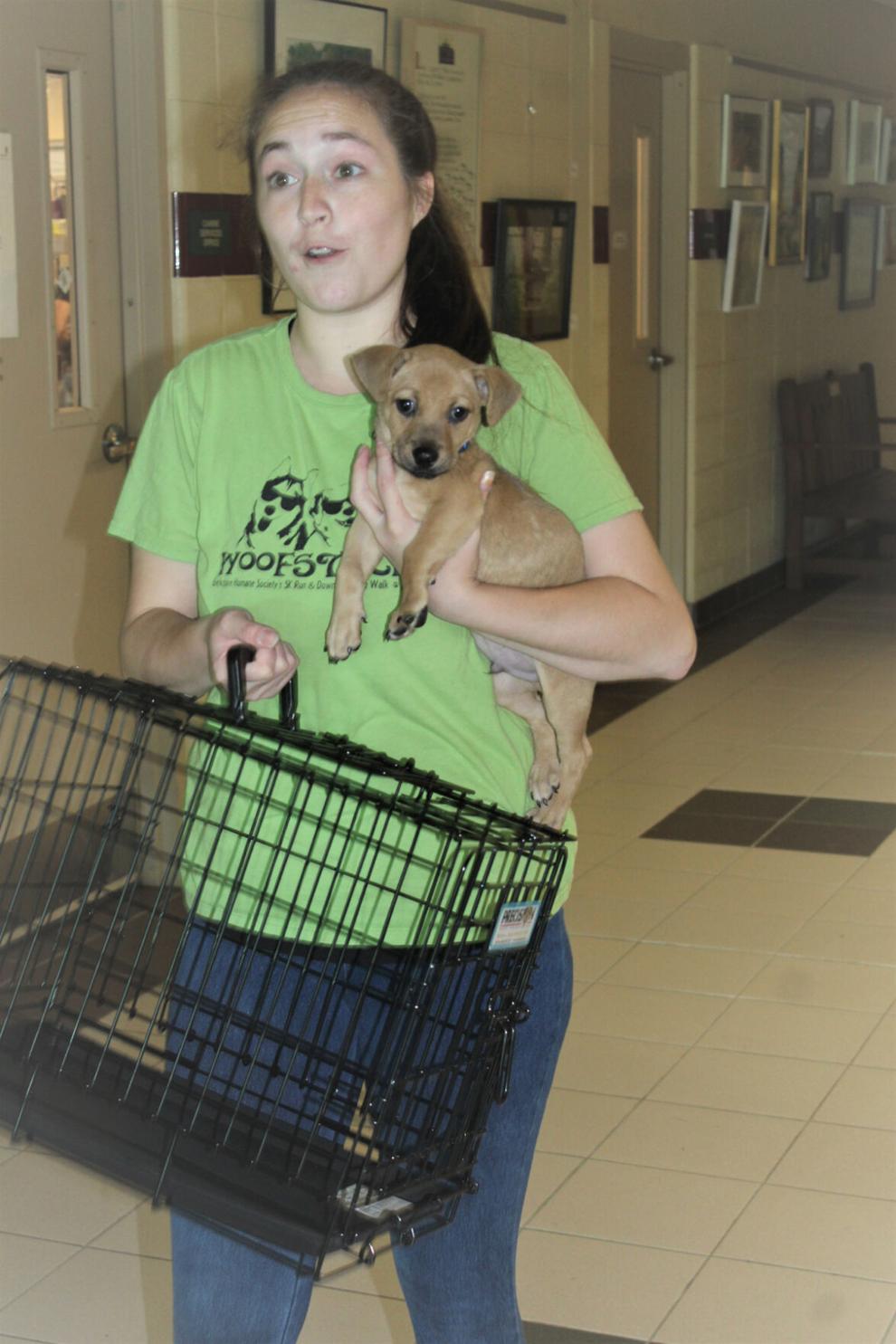 Rebecca Nolasco has been at the Berkshire Humane Society for two years, working as an adoption counselor and canine caregiver. She handled the arrangements of both the dog trial and later, the adoption agreement, paperwork and all, aspects of adoption, including the crate. When we arrived the next day, everything was in order waiting for our signature. Nolasco handled the adoption agreement, and an excited puppy was ready to go to his new home, this time for good. It did not take long for the puppy to learn to sit and come (most of the time) and now knows his name.
When we got home, we sent a photograph to our two youngest grandsons and asked them to choose a better name than Jay Z. Our youngest grandson, 7-year-old Gabriel, and his older brother Patrick, 10, settled on Bentley Tuxedo. That was a winner, and the name Jay-Z was revoked for the new name. Our new 4-month-old puppy is of unknown ancestry, and we will soon be submitting a DNA test. Bentley has an introduction appointment to Dr. Barbara Wohlfahrt, a veterinarian at Berkshire Veterinary Hospital in Pittsfield, who cared for our last dog, Jake, who lived to become a 15-year friend to every person he met or almost everyone.
Nolasco, who we learned, was familiar with more animals than even this sizable humane facility could manage. She explained, "I live on a farm and have many animals that my family and I own. I have two rabbits named Jack-Jack and Flower; seven cats named Stripes, Prince Hans, Daisy, Lily, Rosie, Hemi, and Bruin; one hedgehog named Willow; seven dogs named Panda, Tuukka, Hercules, Paco, Spirit, Fierce, and Peace. Also, five Guinea Pigs named Delilah, Spice, Pumpkin, Sparkle, and Pogo; four goats named Lucky, Charm, Lilo and Stitch; approximately 30 chickens including five new baby chicks; one mini pony named Lollipop; and three horses named Scotty, Ebony, and Babe."
When I queried Nolasco regarding her chores, her answer was common to most staff members: "Some of my duties entail cleaning and setting up new kennels for dogs coming into our facility, walking and feeding dogs at appointed times of the day, conducting behavioral assessments on new dogs and working with dogs on behavioral training to encourage their adoptability. I also work with the general public in person, via email, and by phone to answer questions, intake surrenders, and give information to potential adopters, and help in any way I can. When strays come in, I work with the stray dog's owner to reunite them and ensure the dog goes home with up-to-date vaccination paperwork as well as a license. I administer core vaccines and medications for the in-house dogs and work with local veterinarians to set up spay and neuter appointments and necessary medical appointments. I also work to approve applications for potential adopters and follow up with previous adoptions to support our dogs that have gone out in any way that I can. I do many other things throughout the shelter on any given day, but the comfort and safety of the animals are always my first priority." The other staff would mimic this, had I asked.
The Berkshire Humane Society opened in 1992 as a private, nonprofit open-admission animal shelter. Since then, it has continuously evolved to meet the growing needs of animals and their people in and around Berkshire County. In 2003, Berkshire Humane Society moved to a state-of-the-art facility on Barker Road in Pittsfield. Besides expanding its capacity to care for homeless animals from 30 to over 100, this new space allowed the development of services, educational and outreach programs. The Society helps find homes for an increasing number of kittens and cats and opened the doors of Purradise, their satellite feline adoption center in 2010. Since the creation of Purradise, in Great Barrington, no kittens or cats have been euthanized for space reasons. (Purradise now offers boarding options for felines while their owners are away.)
In 2014, the Society finished constructing a Safe Pet Room, which offers temporary foster housing for owners in crisis or transitions. Also launched that year, thanks to three dedicated volunteers, was Catwalk, an upscale women's resale boutique in Great Barrington, which provides another source of revenue for the Berkshire Humane Society. A second location in Lenox opened in 2018.
The Berkshire Humane Society is always looking to continue being one of the best resources for animals and people in our community.
And all of this happens under the care of its capable staff and longtime director, John Perreault. Perreault came to the Berkshires in 1984 to serve as the ambulance driver for the MSPCA's shelter in Pittsfield. He became the shelter's director three years later. Six years after that, Perreault became the first executive director of the Berkshire Humane Society, which was founded to run the MSPCA shelter after the organization left the Berkshires in 1993. He has served in that position ever since.
And that is where we end. More would be another story.