Pamela B. Weatherbee writes in her "Flora of Berkshire County, Massachusetts" that the wild cucumber "Can be aggressive, swarming over other vegetation." And how very correct she is.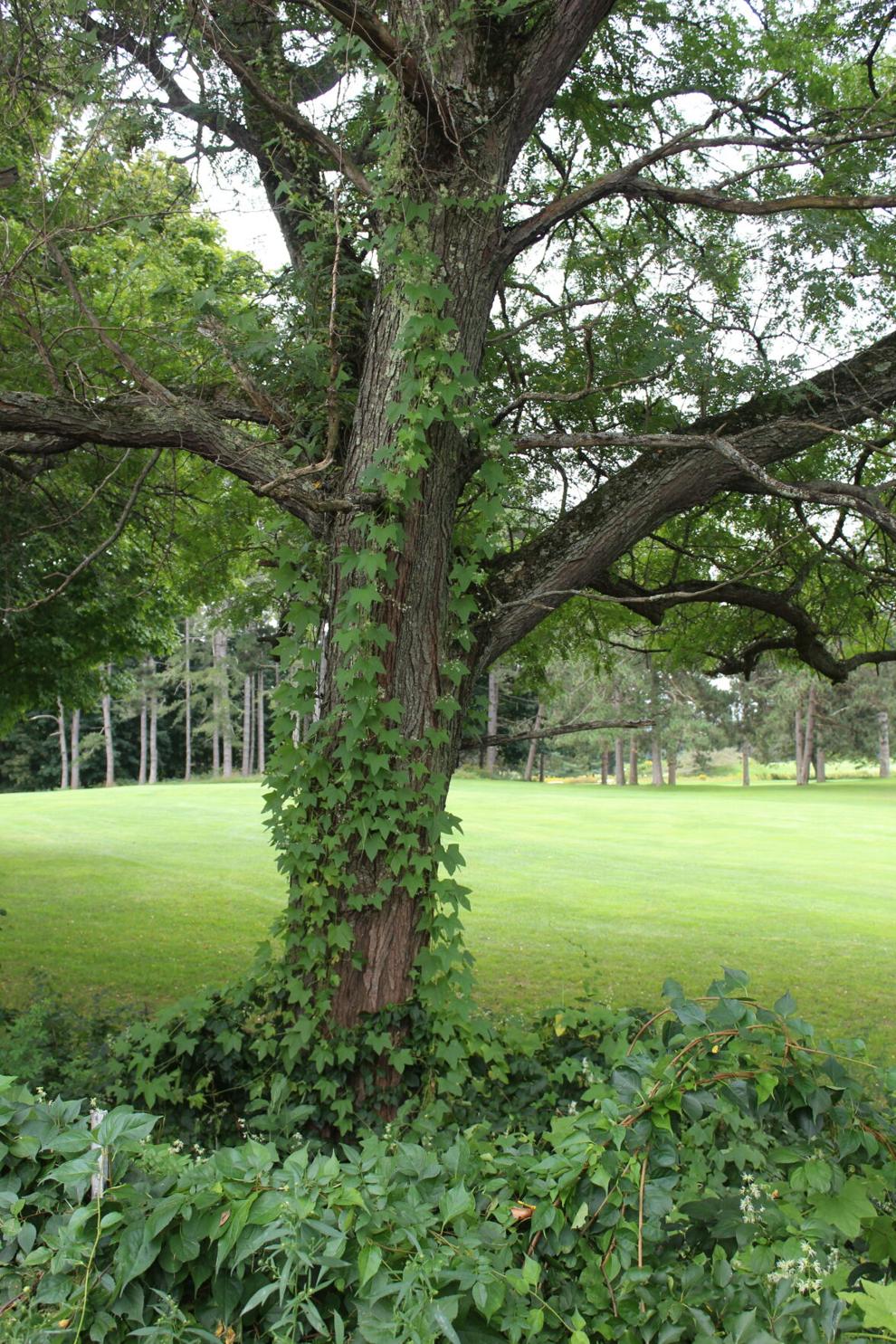 For a number of years now we have been living off of Crane Avenue in Pittsfield, and often turn right onto Benedict Road to visit banks or attend to other chores, and for the first summer that I can recall, wild cucumber is swarming over the shrubbery between the road and Berkshire Golf Course. For the past few weeks, it has been producing dainty white flowers that are pollinated by insects that were actively flying about the 1/2 to 3/4-inch flowers.
Last year, while writing a Naturewatch column relating to vines and I wanted to include images of the plants I discussed, I had to resort to using two that were less than perfect as I could not find a single wild cucumber, and I looked, in hope, as far north as Adams and as far south to Lee, among other locations along the river, where Weatherbee suggested they grew. No luck.
This past week, I was able to photograph a life's supply of images, in no time, just a brief walk from our home. I began wondering if the plants were planning to completely overtake the hedgerow, and even sneak onto the golf course's shrubs and even trees on the course. All the insects I previously mentioned were purposely working the flowers, and I have learned to ignore bees, flies, wasps and other insects when managing my camera, and they have (apparently) learned to ignore humans with a camera.
If you are not familiar with the name wild cucumber, perhaps you have heard of prickly cucumber, balsam apple, or lace plant. Its scientific name, Echinocystis is one of the easiest to explain, especially if you see its fruit. Echinocystis comes from the Greek echinos for hedgehog and cystis for bladder (its prickly fruit).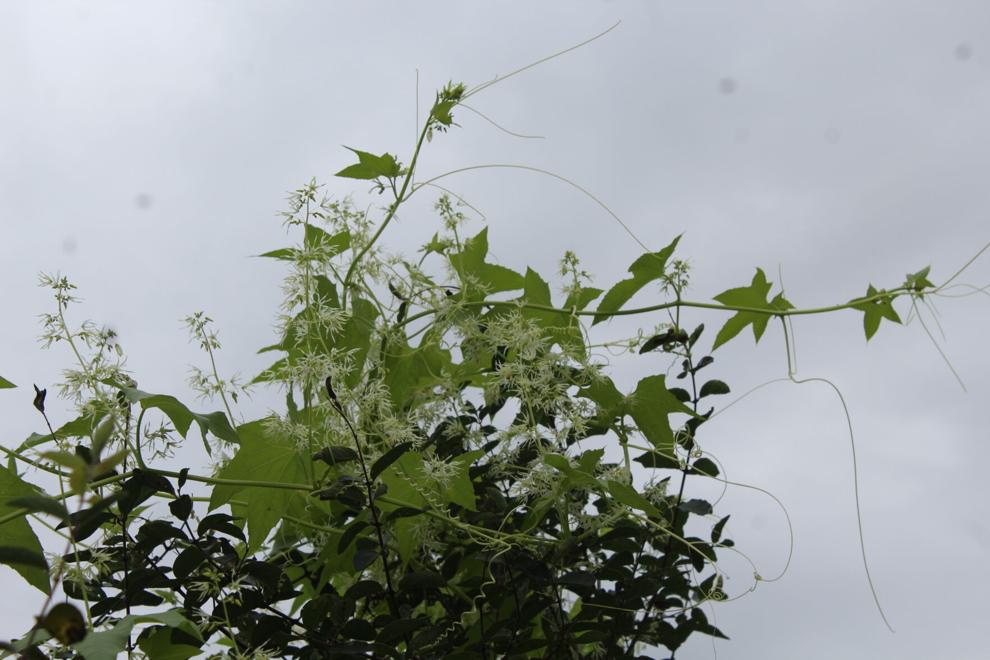 Upon encountering the fruit of this wild gourd that looks and smells weakly like a garden cucumber, and even more so if you have an imagination; this extremely fast-growing vine's produce is not edible, and will cause stomach upset and diarrhea. And some people report the spiny fruit causes burning sensation when handled. It is not closely related to garden cucumbers, Cucumis sativus.
Even though it grows fast and can reach nearly 30 feet in height in a good growing season, like we're experiencing now, it is not an invasive alien. It is a native of North America and is an annual, even though it mimics many invasives. It has one drawback of self-sowing, and each fruit produces four black or brown seeds that are propelled some distance when ripe.
The first few frosts or what the old-timers called a killing frost, will end all the excitement.
Reminder: I mentioned before that occasional hummingbirds will be seen here until late September and many from now on are probably coming through having left more northern places like Maine and Canada. The same is true for monarch butterflies, and we will be seeing them on warm sunny afternoons making their way south.
Reader Question:Q: Will feeding now stop birds from leaving on time for their winter destinations? We in the hill towns are anxious to start.
— Jim, Windsor
A: The quick answer is no, not at all, and although not necessary, in cases of continued inclement weather may benefit some species.
Reader Comments:"I just wanted to check in with you again on monarch sightings. My wife and I have seen at least one every day here in our backyard in Great Barrington. That includes one this morning. What we have not seen is two at the same time, which we always have in past years. We hope other people are seeing them, too. Thanks for helping us all to keep track."
— Kevin, Great Barrington
"Our hummers came full force between Sept. 11-13 at our yard and feeders. Between six and seven birds. Most likely all passing migrants. Last hummer female or juvenile was on the 18th of this month. Hard to tell if we were counting repeats. Also our best monarch migration that Sue and I have seen in a very long time."
— Tom C., Pittsfield