Author Tom Wessels told me, when we spoke recently, that by age 5 he was spending a lot of time alone in the 70-acre wood across the street from his family's home. Yet he never got lost. Even at that age, he could identify the different types of trees by the character of their barks, and he knew where within the wood each type was prevalent. Before he had learned his letters, he had learned to read the woods.
Later, as a graduate student at the University of Colorado, he had academic training in distinguishing different plant communities within the forested landscape, and how to understand the factors that led adjacent areas to express themselves differently. He continued to pursue this knowledge as a professor at Antioch University New England in Keene, N.H., gradually developing what he calls "forest forensics," a method by which he reads visuals clues to reconstruct the history of how a woodland came to be the way it is.
It's simple enough to apply once you consult Tom Wessels' book "Forest Forensics: A Field Guide to Reading the Forested Landscape" (The Countryman Press, 2010). In this compact, 158-page volume, Wessels takes the reader step by step through the process of reconstructing a woodland landscape's past. By consulting this book, I, for example, learned that my woodlot in southwestern Massachusetts, although crisscrossed with stone walls, had never been cropland. The irregularity of the ground, which alternates between "pillows and cradles," pits and mounds, results from the toppling of living trees by storms or other natural events; if the land had ever been plowed, the soil surface would be flat.
The walls that define the landscape suggest that the forest was cleared at some point, probably for use as pasture. The large size of the stones that compose the walls reinforces this presumption, as clearing for pasture land typically involves only the removal of such large obstacles. Walls that include many smaller stones are more often border former crop fields, where even such small stones interfered with cultivation and had to be removed.
In fact, a local historian has told me that the population of my town peaked in the first half of the 19th century at the same time as a local boom in sheep raising. The existence of the stone walls reflects a lack of wood to construct fences that resulted from the consequent wholesale clearing of the land, Wessels says.
I've watched and listened to a webinar in which Wessels, by reading similar clues from photographs, distinguished the after-effects of forest fires from those of logging, as well as legacies of tree diseases and pests, how a forest struck by a hurricane will differ from one struck by a nor'easter. I felt like Dr. Watson watching Sherlock Holmes in action. I urge anyone with an interest in the outdoors to acquaint themselves with forest forensics, and to make time to savor Wessels' preceding book, "Reading the Forested Landscape" (Countryman Press, 2005).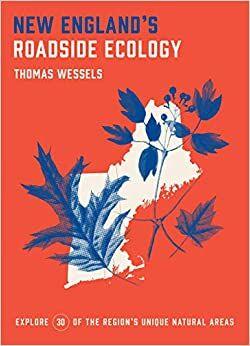 Now Wessels has a brand new book, "New England's Roadside Ecology," which profiles 30 of that region's unique — and easily accessible — natural areas. These range from old growth forest to bogs, swamps, alpine mountaintops, and granite-clad coast. Each entry includes detailed descriptions of the trails and points of access, plus celebrations of special features and beauties. Readers learn, for instance, about the jack pine's adaptation to fire – their "serotinous" cones open to release the seeds only when exposed to high temperatures. Or why black gum swamps typically flourish on ridge tops (these trees are uniquely adapted to the winds that sweep such sites, for the black gum's wood decays easily, creating hollow trees that shed their tops in windstorms rather than blowing down).
In short, this new book provides the perfect complement to Wessels' earlier works. The entries in "Roadside Ecology" read as splendid snapshots in time, celebrations of the exceptional, whereas "Forest Forensics" and "Reading the Forested Landscape" describe what can be learned from interpreting the characteristic. In this sense, the three books make a well-matched trilogy. I'll keep them together on my bookshelf.
For more of my conversation with Tom Wessels, please join us on the Berkshire Botanical Garden's Growing Greener podcast, at thomaschristophergardens.com/podcasts/forest-forensics-and-roadside-ecology