"Imagination creates reality ..."
If you don't believe the late esteemed Canadian literary critic Northrop Frye, just ask Williamstown Theatre Festival Artistic Director Mandy Greenfield. Ask stage director Robert O'Hara whose production of Tennessee Williams' "A Streetcar Named Desire" for Williamstown Theatre Festival was released Thursday by Audible Theater, a division of Audible, best known for audiobooks, at audible.com/ep/upcomingoriginals.
"In the theater," O'Hara said by telephone, "the audience member will always be the same distance from the stage. With audible, I can bring you right into the action, the conversation. You can hear what a hit would sound like. The experience is almost like putting a cup up to a thin wall [and hearing what's going on in the next room].
"The ear," he said, "will never match the stage, but it can transport the audience immediately and much more impactfully."
"A Streetcar Named Desire" is the first in a recorded series of seven productions originally intended for live, in-person performance this summer at the Festival's home on the Williams College campus. Due to the coronavirus pandemic, Williamstown's 2020 season as originally anticipated by Greenfield was scrapped.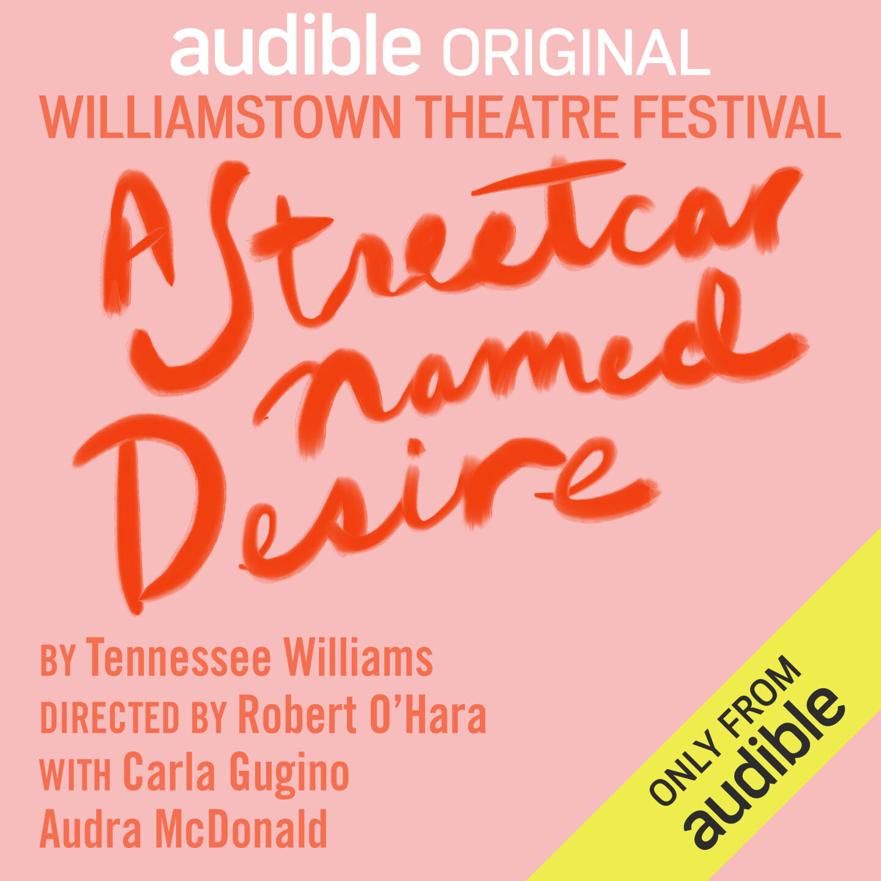 "Streetcar ... " will be followed in turn by "Photograph 51" (Dec. 10), "Animals" (Dec. 17), and "Chonburi International Hotel & Butterfly Club" (Dec. 29).
Three other plays — Dominique Morriseau's "Paradise Blue"; "Row," a world premiere musical by Daniel Goldstein (book) and Dawn Landes (music and lyrics); and "Wish You Were Here," a world premiere drama by Sanaz Toosi — will be released next year; dates to be announced.
The transfer of Williamstown Theatre Festival's 2020 season from its home at Williams College's '62 Center for Theatre and Dance to Audible Theater was born of an aha! moment.
In normal times, between seasons, Greenfield — who lives in Brooklyn with her husband and their two sons — spends three to five nights a week attending theater, dance and music performances. But these are not normal times. The theater, like everything else in New York, shut down due to the coronavirus pandemic. By mid-March, it became clear to Greenfield that, like union theater companies across the country, the Festival would have to cancel its 2020 season in Williamstown.
"What was transpiring here was scary," Greenfield said by phone from Brooklyn. Anxiety was taking its toll.
"I am an avid reader, but I could not read," Greenfield said. "I could not engage technologically. Theater, dance, music, it was all gone." Until, she said, she put on a set of earbuds and started listening. A whole new world, a realm of imagination and possibility opened.
"I learned escape," she said. "I could engage as fully as normal through listening."
It was, Greenfield said, her "Aha!" moment. "I thought that if we can find each other in this space — whatever pushes us toward theater — I could do by hearing."
The next morning, Greenfield, virtually on impulse, called Kate Navin, artistic producer of Audible Theater, with the idea of producing Williamstown's entire season on Audible Theater. The two have known each other since Navin's days as a literary agent.
"She said 'yes' right away," Greenfield said.
"We [at Audible Theater] had already been discussing ways to help 'paused' productions continue and had hoped to produce shows in audio that couldn't happen onstage," Navin said in an email response to a series of questions.
"In addition to that, Mandy had curated a season that brought all of the elements together that we look for when we choose which projects to produce: a blend of classic work told in a new way, new work by diverse voices and, of course, some amazing stories."
The biggest challenge was making it all happen, safely; governed by health protocols issued by state, local and federal guidelines and restrictions established by Actors Equity, the union representing the nation's professional actors and stage managers. Audible Theater was established by Audible in 2017. Typically, it records productions live in performance — with, or, lately, without audience — from Off-Broadway's Minetta Lane Theater or, following the run, in a recording booth at Audible's facility in Newark, N.J. Other presentations, like Williamstown's, originate directly in the studio.
These shows call for casts of anywhere between 15 and 20 people. For "Row," a complement of musicians is required.
"We realized that [putting all those people in the same studio] wasn't going to happen," Greenfield said. So, everything was done by remote. Each actor was supplied with a recording kit, camera and instructions. They rehearsed and performed from their own spaces.
"The biggest challenge was the moving target that we were dealing with," Navin wrote. "As soon as we formed a plan, the world changed again and we had to rethink how we were going to go about it.
"And then there were glitches with internet, recording kits not being delivered on time — all sorts of logistical things that are always bound to happen."
With "Streetcar ..." O'Hara added one more: He had his actors turn off their cameras so they could not see each other. He wanted his actors to rely on the voice.
"Sometimes, we had to dial things up; the emotions of the language," he said. "It required my actors to hold their emotions in the voice so their experience became more heightened." O'Hara had a fight director and an intimacy director on hand.
Silences meant nothing, O'Hara said. They could too easily be misunderstood by audiences.
O'Hara began by rehearsing scenes that involve only the four principal characters: Blanche (Audra McDonald); Stella (Carla Gugino); her husband, Stanley (Ariel Shafir, who replaces Bobby Cannavale, who had to drop out due to scheduling conflicts); and Mitch (WTF alum Sullivan Jones), a friend of Stanley who takes an interest in Blanche that leads to a near-tragic act of desperation.
"Everyone is lonely in this play," said Jones by phone. "[With Mitch and Blanche], you have two people looking for love. There is a hunger in these characters; an insatiability. Mitch feels like a misfit, which I loved exploring; was intrigued by."
O'Hara and his cast of 10 spent one day over a week in rehearsal and two days to record. "We became like a family," O'Hara said.
"Instead of standing across from one another on a stage," Navin said in her email, "our actors performed in their closets and bathrooms to get the best sound quality. Then our ... staff ... [took] these puzzle pieces and made them a complete whole."
The finished product runs 2 hours and 30 minutes. There is no intermission break.
While he did direct Lorraine Hansberry's 1959 drama, "A Raisin in the Sun," for the Festival's 2019 season, O'Hara said he doesn't get to work on older plays very often. He's drawn to new work by new voices.
"This play is a classic," O'Hara said. "Nothing I can do can hurt this play." What he can do is explore, examine, investigate, he said; the dark moments; the choices Williams' characters make, especially Stella. "I'm making no judgments," he said.
"We have Blanche as a full-blooded Black woman with a white sister. What's that all about?" he asked rhetorically.
The theater festival reportedly gets no share of Audible Theater's sales. At the very least, the recordings will expose the Tony Award-winning regional theater to a wider national, perhaps international, audience.
"We offer a way to reach greater audiences over time ... in a way that does not cannibalize any aspect of the live performance industry," Navin wrote.
"I feel that we have helped build an audience for theater. [Members have told us] that they went out and bought a ticket to a local performance after listening to one of our titles."
It's way too early for Greenfield to know whether any of these seven productions will be realized onstage. And no decisions have been made regarding the not-for-profit theater's 2021 season. Still, for all the challenges and uncertainty, Greenfield said the entire experience has been "intense and wild and wonderful. Every [production's] limitations differed." Yet, Greenfield said, "we brought these actors together. It's taught us all to be so present.
"[We have learned] to use every minute of every day. We are not exiting. We are not giving up. We are going on."