One of the most anticipated movies of the summer, "In the Heights" has arrived in theaters — almost every single one of them.
The film is an adaptation of the Tony-award winning musical by Lin-Manuel Miranda and Quiara Alegría Hudes about the hopes and struggles of residents of New York City's Washington Heights. It's directed by Jon Chu, who was also at the helm of "Crazy Rich Asians."
But those high-profile names are only a little slice of the hype surrounding "In the Heights." Most important is that the film features an all-Latino cast. It's an important step for the Latino community, which according an Associated Press story, makes up 29 percent of box office ticket sales in the United States, yet only 4.5 percent of all speaking or named characters and only 3 percent of lead or co-lead actors in films are Latino.
Here's what's playing — June 11-17 — at in-person and virtual cinemas in the Berkshires and environs. Where films have been reviewed, the capsules include the name of the film critic and the day the full review was posted on berkshireeagle.com. All reviews are by Associated Press critics.
A QUIET PLACE PART II (PG-13)
Following the events at home, the Abbott family now faces the terrors of the outside world. Forced to venture into the unknown, they realize that the creatures that hunt by sound are not the only threats that lurk beyond the sand path. Starring Emily Blunt, Cillian Murphy, Millicent Simmonds, Noah Jupe, Djimon Hounsou and Wayne Duvall. 1 hour, 37 minutes.3 stars. (BAHR - 5/27) BC, BM, MH, NAM, TC
CRUELLA (PG-13)
A young grifter named Estella is determined to make a name for herself with her fashion designs. Her flair for fashion catches the eye of Baroness von Hellman, a fashion legend who is devastatingly chic and terrifyingly haute. Their relationship sets in motion a course of events that leads Estella to embrace her wicked side and become the raucous, revenge-bent Cruella. Starring Emma Stone, Emma Thompson, Paul Walter Hauser, Joel Fry, Emily Beecham and Kirby Howell-Baptiste. This movie contains several sequences with flashing lights that may affect those who are susceptible to photosensitive epilepsy or have other photosensitivities. 2 hours, 14 minutes. 2 ½ stars. (NOVAK - 5/27) BC, BM, NAM, TC
IN THE HEIGHTS (PG-13)
In Washington Heights, N.Y., the scent of warm coffee hangs in the air just outside of the 181st St. subway stop, where a kaleidoscope of dreams rallies a vibrant and tight-knit community. At the intersection of it all is a likable and magnetic bodega owner, who hopes, imagines and sings about a better life. Starring Anthony Ramos, Melissa Barrera, Corey Hawkins, Leslie Grace, Olga Merediz and Jimmy Smits. 2 hours, 23 minutes. BC, BM, IC, NAM, TC, TM
PARIS CALLIGRAMMES (NR)
Ulrike Ottinger, then a young painter, lived in Paris in the 1960s. Now a filmmaker, she looks back on that time, weaving 50 years of memories/archival footage of Parisian life and the upheavals of the time into a cinematic poem with the city at its center. In English, German and French. 2 hours, 9 minutes. CT
PETER RABBIT 2: THE RUNAWAY (PG)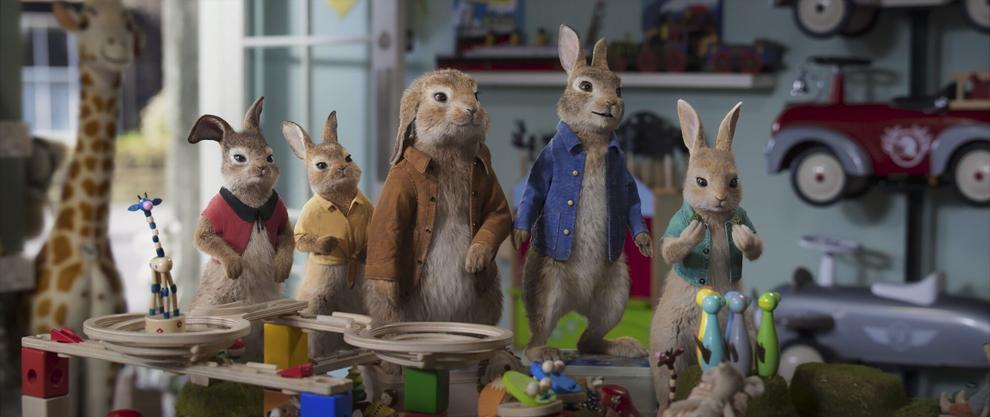 Bea, Thomas and the rabbits have created a makeshift family, but despite his best efforts, Peter can't seem to shake his mischievous reputation. Adventuring out of the garden, Peter finds himself in a world where his mischief is appreciated, but when his family risks everything to come looking for him, Peter must figure out what kind of bunny he wants to be. Starring Rose Byrne, Domhnall Gleeson, James Corden, David Oyelowo, Margot Robbie and Elizabeth Debicki. 1 hour, 33 minutes. BC, BM, NAM
SPIRIT UNTAMED (PG)
After moving to a sleepy little town, young Lucky Prescott befriends a wild mustang named Spirit, who shares her rebellious spirit. When a heartless wrangler plans to capture Spirit and his herd, Lucky and her new friends embark on the adventure of a lifetime to rescue the horse that forever changed her life. 1 hour, 27 minutes. BC, BM, NAT
THE CONJURING: THE DEVIL MADE ME DO IT (R)
Paranormal investigators Ed and Lorraine Warren take on one of the most sensational cases of their careers after a cop stumbles upon a dazed and bloodied young man walking down the road. Accused of murder, the suspect claims demonic possession as his defense, forcing the Warrens into a supernatural inquiry, unlike anything they've ever seen before. Rated R for terror, violence and some disturbing images. 1 hour, 52 minutes. 2 stars. (KENNEDY - 6/2) BC, BM, NAM
THE TRUFFLE HUNTERS (PG-13)
In the secret forests of Northern Italy, a dwindling group of joyful old men and their faithful dogs search for the world's most expensive ingredient, the white Alba truffle. Their stories, featured in this documentary, form a real-life fairy tale that celebrates human passion in a fragile land that seems forgotten in time.1 hour, 24 minutes. MH
THE DRY (R)
Aaron Falk returns to his drought-stricken hometown to attend a tragic funeral. But his return opens a decades-old wound — the unsolved death of a teenage girl. Starring Eric Bana, Genevieve O'Reilly, Keir O'Donnell, John Polson, Matt Nable and Eddie Baroo. Rated R for violence and language throughout. 1 hour, 57 minutes. 2 ½ stars MH
UNDINE (NR)
A woman works as a historian who specializes in the urban development of modern-day Berlin. When the man she loves betrays her, she must kill him and return to the water in a reimagining of the ancient myth of Undine, a water sprite. Starring Paula Beer, Franz Rogowski, Jacob Matschenz, Maryam Zaree, Gloria Endres de Oliveira and Rafael Stachowiak. German with English subtitles. 1 hour 30 minutes. TC