WILLIAMSTOWN — Of the Barbizon school of painters who experimented with cliché-verre printmaking in the mid-19th century, Jean-Baptiste-Camille Corot was one the most prolific, creating 65 prints over two decades.
His introduction to the novel technique came at a pivotal time in his career, when the French artist, known for landscapes richly populated with mythological and Biblical figures, was transitioning away from the stylistic constraints of Neoclassicism.
The technique, a variation devised in the 1850s by amateur photographer Adalbert Cuvelier and drawing instructor Jean-Gabriel-Léandre Grandguillaume, allowed artists to create cliché-verre prints by etching designs into an opaque layer applied to transparent glass plates. The glass plate, or glass negative, was placed in contact with photosensitive paper and exposed to sunlight. The result was a photographic print of the artist's work. The glass plate could be used to produce multiple copies of a single image.
"There was a burst of activity then with these landscape artists working in the same circle as the photographer who invented the technique. It was used quite a lot, but it was never commercialized," said Anne Leonard the Clark Art Institute's Manton curator of prints, drawings, and photographs.
Cuvelier sent glass plates to his friends, who were among France's leading artists — Corot, Charles-François Daubigny, Eugène Delacroix, Jean-François Millet, and Théodore Rousseau — and asked them to experiment with the new technique.
"Corot took it up with the most enthusiasm and stuck with it for the longest time. Most of the other four artists gave it a few tries. They found it fun to try, but never embraced it or did a huge body of work with it," she said, pointing to a single print, "Tiger at Bay (Tigre en Arrêt)," by Delacroix. "Delacroix, for example, this is the only glass plate that we know that he did."
When brought more glass plates, Delacroix, declined.
Works created by those five French artists are the subject of The Clark's "A Change in the Light: The Cliché-verre in 19th-Century France," drawn from the "Forty Clichés-verre (Quarante Clichés-Glace)," a portfolio of prints made from a set of original glass plates, printed and released in 1921 by dealer and publisher Maurice Le Garrec. Le Garrec printed 150 portfolios, containing a print from each glass plate, as well as an additional five "special editions," each containing two variant prints of each plate.
The Clark's exhibition, curated by Andrew Kensett, a recent graduate of the Williams College/Clark Graduate Program in the History of Art, is comprised of a complete set of the 40 prints (eight of which are paired with their variant prints), from a special edition portfolio recently acquired by The Clark.
And while Delacroix only produced a single glass plate, the print it produces, is very much in tune with his work at the time, which holds true for each of the four other artists as well. The portfolio, itself, is a time capsule, capturing what each artist was doing at a particular point in their career, as well as what was transpiring in the greater world around them.
For Corot, the snapshot is of his transition away from Neoclassicism, as his works in the cliché-verre medium experiment with fluidity. Daubigny, who made a living from his commercial works — etchings created for newspapers and magazines — created 17 glass plates in a single year. Several variations of those works, which experiment with scenes on the water's edge, were later seen in printed publications.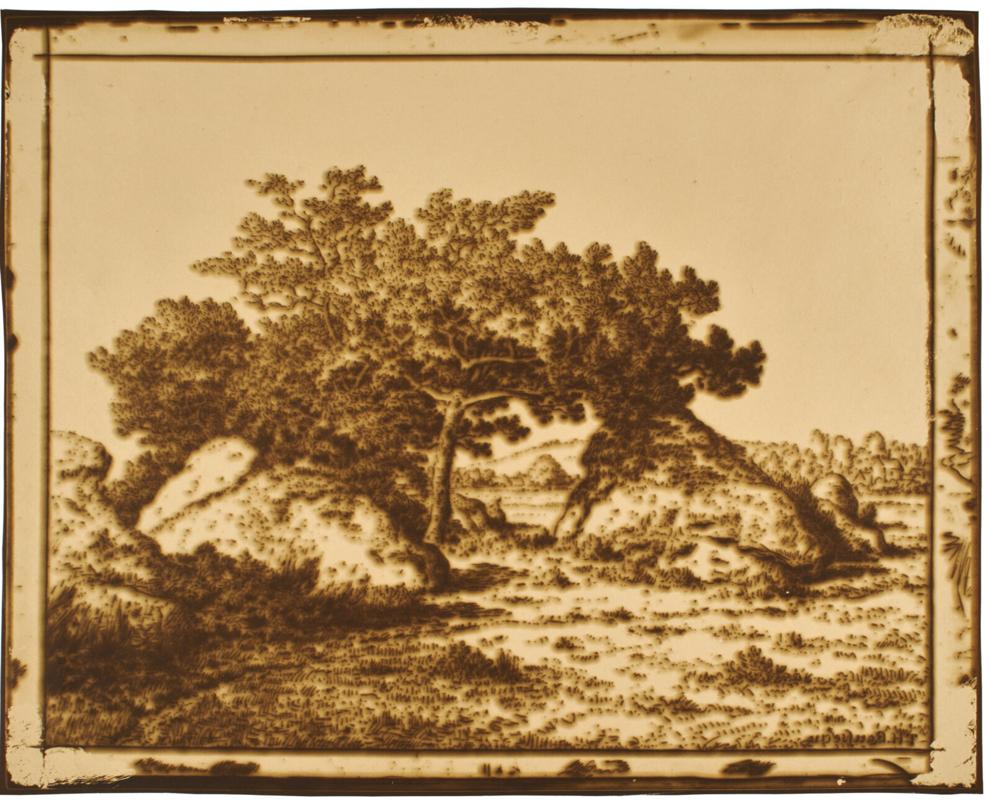 Millet and Rousseau, who each made only two glass plate compositions in 1862, again present snapshots of their focus at the time. Millet's "Woman Emptying a Bucket," presented in two variants, represents his rural and agrarian focus filled with figures representative of Biblical narratives. Rousseau, famous for his paintings featuring neglected and remote landscapes, is represented by two variants of "Cherry Tree at Plante-à-Biau" and "The Plaine at Plante-à-Biau." At that time, Rousseau was petitioning Emperor Napoleon III to conserve the Forest of Fontainebleau, made famous by his network of artists who celebrated the landscape in their plein-air paintings and largely being destroyed by tourists making pilgrimage to the site.
Tucked away in the background is the looming subject of the industrial revolution, which had reshaped the world at large, pushing many into the cities, and creating a mobile middle class. The impact of the arrival of the modern world was reflect by some in works of nostalgia, while others marked it in the fringes of their work with carefully placed smokestacks and railroad tracks.
"The cliché-verre emerged out of a period of technological innovation in the arts, marked by the introduction of new mass-circulating printmaking processes, the industrial manufacture of artists' materials, and the invention of photography," said Kensett, who, forced to return home to Arizona by COVID-19 regulations while a student, curated the show virtually, as a staff member, over the summer and fall. "The process enjoyed a moment of popularity in France because of the collective efforts of an enterprising group of artists — including photographers, printmakers and painters — who were determined to explore the creative possibilities offered by these new developments. 'A Change in the Light' celebrates this exploration and investigates the intertwining of process, materiality and meaning in the artworks that resulted."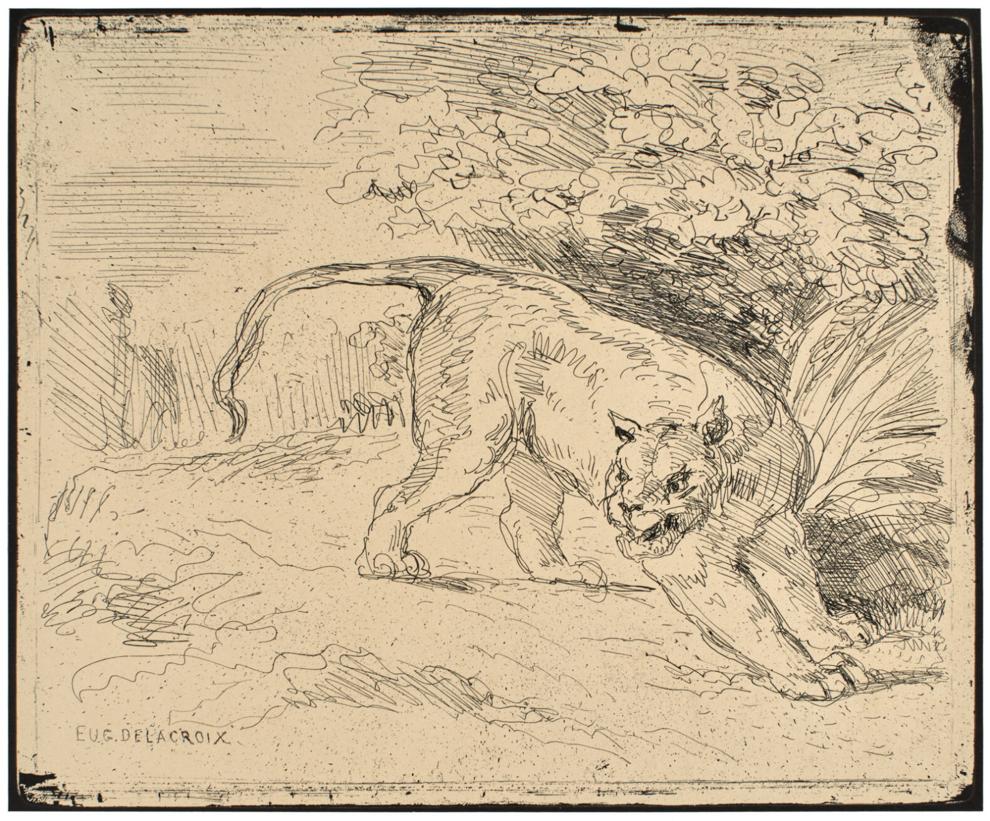 The collection of prints, Leonard says, lends itself to several parts of The Clark's overall collections, including an ever-growing collection of early photographic works begun in 1999. This portfolio of work helps bridge the collections, she said, helping present a "full" picture of many of the artists already represented in its collections of different media and mediums.
"This portfolio, lets us tell, I don't want to say the whole history of this medium, but a very important part of the story: its origin. If Rousseau only ever made two, we have those two. If Millet, only made two, we have those two. It's the full statement, at least for those artists, of what they did in this medium. It's very nice to be able to tell that story in a way that historically makes sense. We can put these works alongside the other works in the collection. Particularly for people interested in these artists, it's like one stop; they can go to the galleries and then come to the print room. They can have a really nice picture of the artist as a whole."