As a pre-law political science major at the University of Illinois Urbana-Champaign, Loy A. Webb had a strong feeling she was destined for a career in theater.
"I was the only poli-sci major taking theater classes," Webb said in a phone interview. "When I was applying to law school, I knew I also wanted to do theater."
Her "aha" moment came one day during her student years at University of Illinois' John Marshall Law School in Webb's native Chicago. She saw a production of August Wilson's "Ma Rainey's Black Bottom." The experience was revelatory.
"I had been feeling down, depressed," she said candidly. "[When I saw that play] I knew I wanted to be a playwright."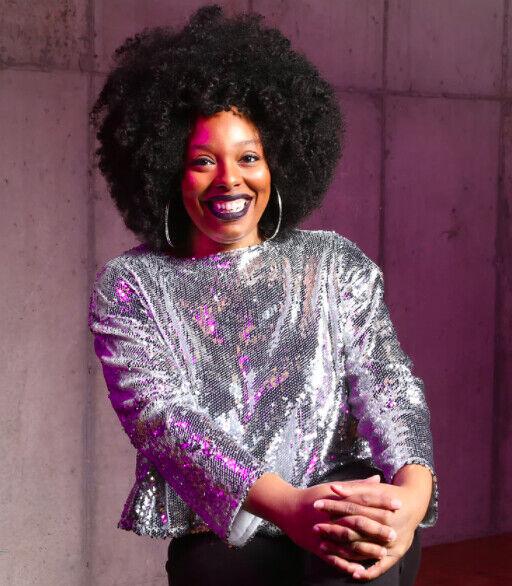 She got her law degree, a JD, in 2012. Six years later, she made her playwriting debut with "The Light" at New Colony, an intimate nonprofit professional theater in Chicago. Beginning Sunday and running through May 2, WAM Theatre will stream "The Light" as part of the theater's Fresh Takes Play Reading Series. Colette Robert directs. Boston-based actors Elle Borders and Brandon G. Green, a real-life couple, portray the play's thirtysomething romantically involved Black couple — Genesis, the principal of an all-Black charter school in Chicago, and Rashad, a Chicago firefighter who, with the aid of his live-in mother, is raising his 5-year-old daughter, who attends Genesis' school.
"[Elle and Brandon] have been dying to do this play," WAM co-founding artistic director Kristen van Ginhoven said in an interview. "And because they are a real-life couple, it means we can create a virtual production performed by two people who are in the same location."
Set in Genesis' condo, "The Light" unfolds on the evening of the second anniversary of the couple's first date. What begins as a celebratory occasion between two articulate, engaging, passionate people who clearly are meant for one another takes an unexpected turn when one of the two surprise anniversary gifts Rashad has for Genesis triggers a reminder of a dark, traumatic event in her past. All at once, a promising future is thrown on life support.
Webb got the idea for "The Light" when she became aware of rumors that a screen actor whose work she greatly admired had been involved in an incident in college in which he was accused of sexually assaulting a young woman. The incident was never reported to police.
"This was a man of integrity," Webb said; "an actor who said that if he ever was offered the role of a man who was disrespectful to women he wouldn't accept it. I found myself thinking about the girl, what she went through."
"Once I got the idea for the play," Webb said, "I imagined this couple. I always begin writing by asking the question: 'Who are the best people to tell this story?' Here, I imagined two normal everyday working people in love with each other, living everyday lives."
"The Light" was first performed as a staged reading at a playwright project in Chicago. The reading led to the world premiere production at the 60-seat New Colony during the theater's 2017-18 season.
"Word about the play spread," Webb said. "Important people began coming to see it," — among them representatives of MCC Theater in New York, which gave "The Light" a virtually sold-out world premiere in February/March 2019.
MCC's producers changed Webb's original ending. Webb, who welcomed the change, suggested the producers wanted something that would expand the range of possibilities for Genesis and Rashad and conversation for the audience.
Webb's sense of character, of structure is masterly. Without getting on a soapbox, Webb has fashioned intensely personal — and personable — exchanges between Genesis and Rashad that are rich with vital, burning social concerns, not the least of them how Black women are seen not only within a broader social context but, perhaps more importantly, how they are seen by Black men.
The play's turn from a kind of sophisticated romantic comedy dynamic to drama roiling with pain, anger and anguish is an expert maneuver by a playwright who, in her first outing, shows all the command of a veteran.
It's a technique she found in the work of her most admired playwright, Samuel D. Hunter.
"I'm a real fan of his," Webb said. "He has such a particular sense of humor. You see it in 'A Bright New Boise.' Suddenly, the play takes a turn. I find myself asking, 'How did he do that?'"
Caring about the characters goes a long way.
"If I want people to care about my characters, they have to fall in love with them," Webb said. That way, Webb suggested, audiences will go where you want to take them. Webb wants to lead her audiences toward hope; toward the light.
It seems to have worked.
"I've seen grown men cry [at performances of 'The Light']," Webb said. "One woman [an apparent victim of sexual assault] came up to me and said, 'I've never seen myself onstage before … .'
"Men and women have been telling me how the play has been changing their thought processes about life; how they see themselves."
Webb has written only one other full-length play — "His Shadow," about a young man's effort to step out from the shadow of his big brother, a college football star. The play premiered in September/October 2019 at 16th Street Theatre in Chicago.
Webb's one-acts have been developed and/or produced at a variety of small non-profit and college venues. She is a member of the Association of Women of Journalist-Chicago, a past mentor with the AWJ-Chicago/Goodman Theatre's Cindy Bandle Young Critics Program, and a contributing theater critic for Newcity.
Webb is now in Los Angeles where she writes for the BET series "The Mrs. Pat Show." She also has written for AMC's "NOS4A2."
"I'm still trying to find the light in the midst of pandemic," she said.