Paying little attention to the brisk wind blowing off the sun-swept field that stretches behind Shakespeare & Company's Tina Packer Playhouse, Artistic Director Allyn Burrows led a visitor on a brisk walk across the theater's spacious terrace and down a narrow path leading past the outdoor Roman Garden Theatre.
Burrows paused for a brief moment to comment on some things that will remain the same in the Roman Garden, one or two that may not, once Shakespeare & Company begins its 2021 season at 70 Kemble St. in Lenox.
Burrows then continued down the path to what will become pride of place — the outdoor New Spruce Theatre, now a sprawl of compact white fill and a cluster of towering trees that give the new space its name.
The decrepit building that once occupied this piece of land is gone. Beyond is a parking lot for the Elayne P. Bernstein Theatre and the theater/studios building itself. Another old building has been left standing for its acoustic value. Actors will deliver their lines without acoustic enhancement — no mics; just natural voice. For those in the audience who are hearing impaired, there will be hearing assisted devices.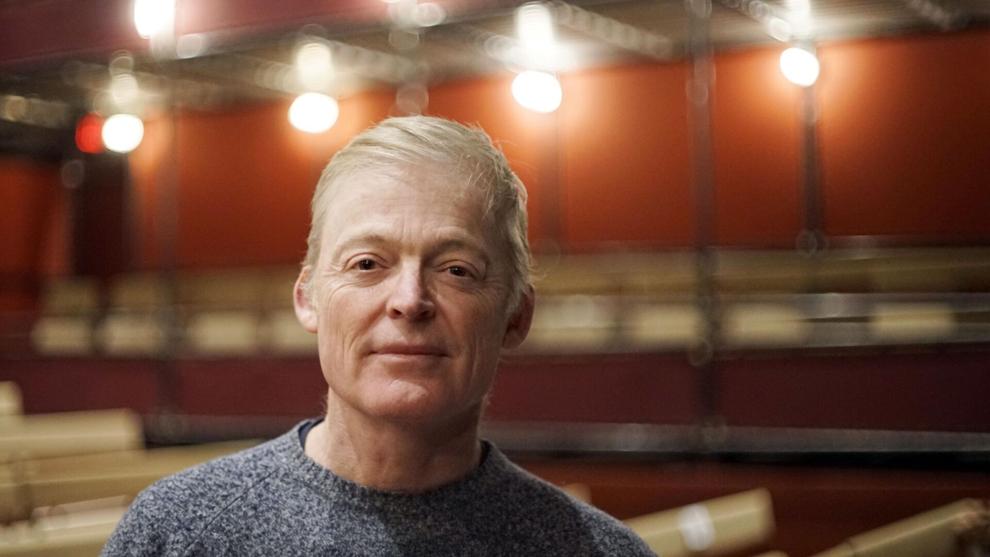 Like a kid proudly showing off a long-desired new possession, the white-haired just-turned-59-year-old Burrows moved nimbly and spiritedly across an area that will be terraced and surround the stage on three sides. The back row will be 7-feet higher than the stage, Burrows said, and only 24 feet from the first row.
Burrows had been thinking about a new outdoor theater for some time. This design was inspired by the ruins of several Roman amphitheaters he came across in Spain while vacationing there a couple years ago with his wife, actress Tamara Hickey, and their now-9-year-old daughter Sadie.
The configuration echoes that of the nearby Bernstein.
"It's kind of the Bernstein theater on steroids," Burrows said with an impish smile.
According to Burrows, support for the New Spruce has been strong, both in the Lenox community and within Shakespeare & Company.
"Our board members got it and ran with it right away," Burrows said; more important, so did abutters. It was abutters whose objections squelched Shakespeare & Company's original plans for an amphitheater on a portion of the now 33-acre property it once but no longer owns. With that history in mind, Burrows said he made certain that abutters, eight of them, were made familiar with the plans from the get-go and their approval assured.
The new theater, Burrows said, "brings us back to our roots. It's given us a chance to tear down one of the old buildings on our campus and it gets us outside."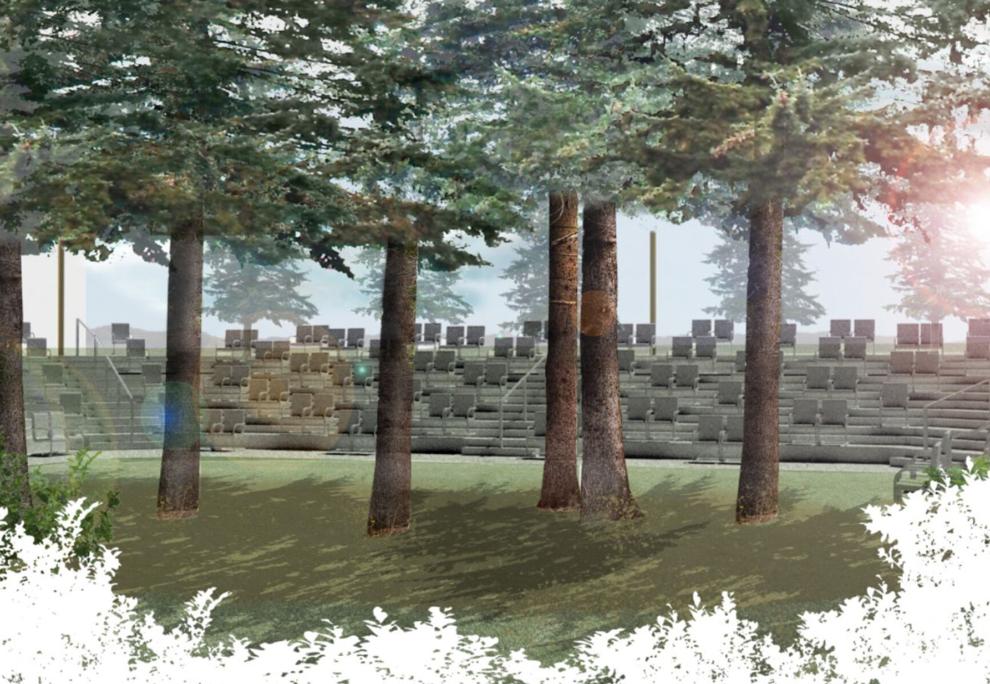 The New Spruce Theatre can accommodate 540 theatergoers at full capacity once "normal," post-COVID-19 times return. For now, barring any changes in state reopening guidelines, the New Spruce will accommodate a cozy, COVID-safe, socially distanced 200 people for a production of William Shakespeare's "King Lear" starring Christopher Lloyd.
Performances begin July 2. The show runs through Aug. 28. Press opening is July 9 — it's a special donors benefit opening — and July 10. The production also will be filmed in performance for livestreaming.
"It's a towering play," said Burrows, who will be playing The Fool in the Nicole Ricciardi-directed production. "Having this 'Lear' out here will be very intimate … ."
That intimacy will be "enormously valuable," Burrows said; "almost like a whisper.
"We'll be feeling our way, feeling the theater as we move into rehearsal."
"King Lear" had been scheduled for last summer but was postponed when the season was canceled due to the pandemic. Rather than cancel, Lloyd agreed to postpone "Lear" until this summer. Also rescheduled from last summer is a workshop presentation of Shakespeare's "Measure For Measure." Everything else from 2020 — Shakespeare's "The Comedy of Errors;" Harold Pinter's "Betrayal;" Jeremy Kareken, David Murrell, and Gordon Farrell's "The Lifespan of a Fact;" Melissa James Gibson's "What Rhymes With America;" Jessica Dickey's "Row After Row" — was dropped.
Burrows said he considered moving "Much Ado About Nothing" to this season but the size of the cast and other requirements in the action made it impossible to produce given state, local and Actors' Equity pandemic guidelines.
"I mean, we've figured out how to gouge Gloucester's eyes out from a distance of 6 feet," Burrows said with a laugh, referring to a key moment in "Lear," "but the [necessary] kiss that comes at the end of 'Much Ado' is something else."
"I took 'Much Ado' out of the mix," Burrows explained seriously, "because we are wrapping ourselves around one show ['Lear'] and building a mainstage. 'Much Ado' has a large cast; more moving pieces."
"Lear" performances will begin at 5 p.m. in July; 5:30 p.m. in August. The other summer shows will begin earlier in the afternoon. There will be no evening performances in the summer, nor will BIFF — Berkshire International Film Festival — return with its drive-in movies.
Augmenting "Lear" onstage are Debra Ann Byrd's autobiographical "Becoming Othello: A Black Girl's Journey" and Yasmina Reza"s "Art," both in the Roman Garden, and, in the fall, Eugene Ionesco's "The Chairs" and Debbie Tucker Green's "hang" indoors in a socially distanced Tina Packer Playhouse.
"Hang" will be directed by Reggie Life, who directed the 2019 season's searing production of "Topdog/Underdog."
Burrows described "hang" as a "gut-punch of play" that examines the dynamics of what happens when the fate of a perpetrator is in the hands of a victim.
Ionesco's "The Chairs" — a classic of the 1950s absurdist movement in theater — focuses on an elderly couple who live in a house on an island where they pass their time collecting and inventorying chairs.
Burrows first saw the play in Paris in 1986 on a bill with another Ionesco classic, "The Bald Soprano."
"In a normal year, I might not do 'The Chairs,'" Burrows said, "but I found myself thinking 'why not do an absurdist play in these absurdist times?'"
In addition to the onsite productions, Shakespeare & Company will continue producing online shows as it has been doing since last fall. Those events, Burrows said, have opened Shakespeare & Company to audiences it otherwise might not attract.
As has been the case with arts organizations everywhere, the past year has gut-punched Shakespeare & Company, especially in its bottom line. Even with the company in production this season, there are challenges; uncertainties; unknowables.
Still, Burrows senses audiences are ready to come back. He is hopeful that "after all the pain and injustice of this past year, people will see this place as a stopping off point for reflection, for contemplation, for celebration."
Perhaps, for Burrows, the most valuable lesson of the past year has been that "theater does have value; that speaking words written by playwrights and having them spoken [and heard] has value," Burrows said.
"Theater speaks to people's ethos, who we are as human beings."