NORTH ADAMS — Violence has long cast its shadow over civil rights protests, in the United States and abroad. But in that shadow, can we find light? Can a new path be forged?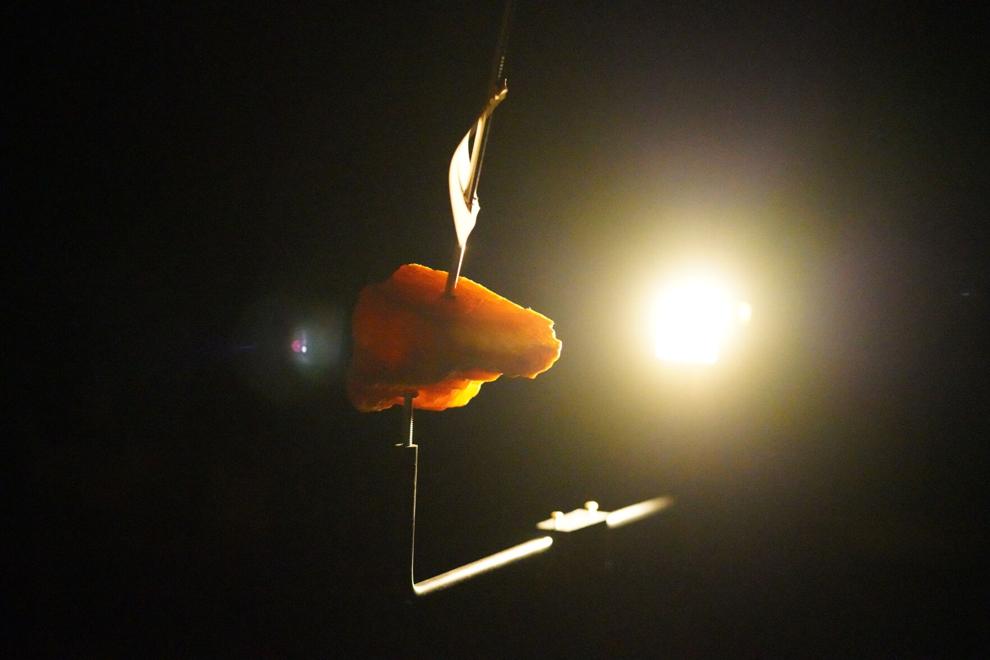 For years, conceptual artist Glenn Kaino has been studying and examining the connections between violent and deadly reactions to protests, especially those known as "Bloody Sunday," in Selma, Ala., in 1965, and in Derry, Northern Ireland, in 1972. His quest for greater understanding, has brought him to have in-depth conversations with the late U.S. Rep. John Lewis and with Gerry Adams, past president of Sinn Féin.
Five years ago, when asked by Denise Markonish, curator at the Massachusetts Museum of Contemporary Art, to create an exhibition for the museum's Building 5 gallery, Kaino set out to create a work specifically looking at the connections of the "Bloody Sundays."
"When I went to Glenn's studio, I said 'Come do something for Building 5, but I won't have the space available for four or five years,'" Markonish said during a recent interview with The Eagle. "And he said, 'OK, I have a project that's going to take about five years to make.' "
The museum, she said, had been trying to collaborate with Kaino for years, but previous attempts hadn't worked out. This time, she said, "the pairing and timing was just right."
"I knew it was going to take five years," Kaino said during a joint interview with Markonish. "Everything I do engages in storytelling. I like to do it authentically and collaboratively with stakeholders, not about them. It takes time to establish those relationships.
"For my entire career I have been interested in social justice and change-making — trying to understand the entire cycle of change-making, not just engaging with it reactionarily; thinking about social justice in post-coloniality and how we could fight for change without falling victim to the cycle of change."
'In the Light of a Shadow'
The resulting show, "In the Light of a Shadow," opening Sunday, April 4 and running through Sept. 5, 2022, is not what Kaino had planned pre-pandemic. His original intent was tell the stories of these protests by filling the football field-sized gallery of Building 5 with monumental works. The show he's presenting, he says, is "exciting as anything we could have done if we had built monumental sculptures, as intended."
The monumental works, Kaino said, would have taken both his studio staff and Mass MoCA's fabrication team to complete at the museum, a joint effort made impossible by COVID-19 safety precautions.
"Some museums are presenting museums; some are collecting museums and others are non-collecting museums. Mass MoCA is a 'building institution.' There's a routine for that — a series of deep engagements, over the course of many months, working in close proximity."
Everything was moving forward in early 2020, with the collaborative fabrication work set to commence in late spring/early summer ahead of the show's October 2020 opening.
"Then COVID happened and I had to send my studio home. We had 13 to 15 people on Zoom meetings and it became apparent that all that had to be thrown out the window," Kaino said. "We pivoted. This show is a testament to the creativity that one can have in a moment of pressure. … Building 5 is a once-in-a-lifetime gift."
And in pivoting to find a new way to present the intersection of those stories of the American and Northern Irish civil rights movements; of protests interrupted by violence; of change that resulted from perseverance and spirit and from lives lost, a show was born from the long shadow cast by the violence of the past.
"After figuring out the asymmetrical methodologies, we looked at what, in our small homes could command a space as big as Building 5. We realized that shadows do just that," Kaino said.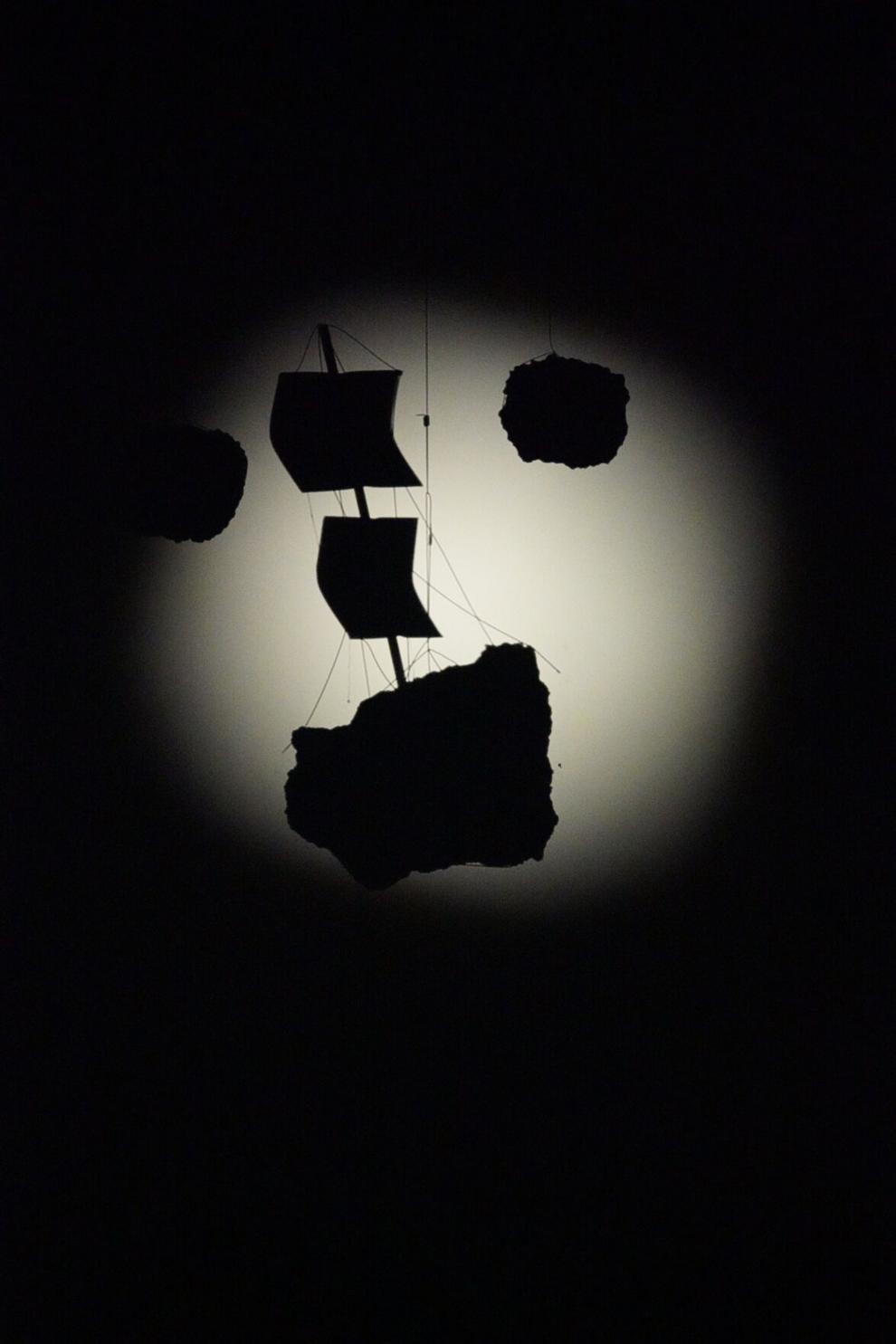 Instead of telling the stories of the past in monuments, he's telling them with shadows of monumental size.
Working collaboratively with stakeholders
During those intervening years, between his initial discussion with Markonish and the beginning of the show's production in 2020, Kaino spent time gathering stories and establishing relationships. He again met with Lewis, among others, learning from first-hand eyewitnesses to the events and protests. He and Markonish traveled to Derry, the site of the Bogside Massacre (Bloody Sunday), where British soldiers shot 26 civilians who marched in protest of internment without trial; 14 died as a result of the shooting.
While in Derry, Kaino and Markonish toured the Museum of Free Derry, which documents Northern Ireland's 1960s civil rights movement, known as "The Troubles," as well as the Free Derry Irish nationalist movement in the early 1970s.
At the museum, the pair was greeted by an image of Martin Luther King Jr., which Kaino said was part of the "inspiration to tell the story of shared commitment and solidarity" that has existed and continues to exist between the civil rights movements in America and in Northern Ireland.
"The inspiration was a collective resistance, universal in intention, culturally and strategically," he said. "There has always been a high degree of exchange between the two."
Shadows of monumental size
The exhibit begins, not with the vast visual context usually associated with Building 5, but with a smaller, space that is dark and intentionally blocks the view of the gallery's far-off end wall.
"We're using the entry point to prep people for an experience," Markonish said. "This is how we're slowing people down. The moment you open the doors to Building 5, you are in the experience. We're not giving it all away at once. The entryway and the rest of the gallery are quite dark. It's about delayed gratification and acclimating to that feeling."
Once inside the gallery, the viewer will be immersed and surrounded by moving shadows, paired with audio soundscapes by Dave Sitek from the band, TV On The Radio, that weaves the common threads of the protests together, putting them in context of a collective resistance that is not bound by race, nationality or continent. Among the scenes experienced while traveling through the gallery is a sculpture, inspired by the form of Shadow V, a boat bombed by Northern Ireland's Irish Republican Army (IRA), killing the British Lord Louis Mountbatten, Earl of Burma.
Surrounding the sculpture inspired by Shadow V are thousands of rocks, from which hundreds transform into tiny satellite ships floating in space — described as a complex shadow show that places the viewer in the footsteps of protests past.
"One thing that COVID taught us," Markonish said, is that even the aggregation of the smallest parts can turn into this entirely immersive engaging experience. That's what viewers are going to feel in this space."
In addition to the shadow play, Kaino has included, Revolutions, a circular sculpture made of metal bars, which, when struck in sequence with a baton, play the melody from U2's "Sunday Bloody Sunday," transforming a barrier into a plea for violence, protest and civil rights infractions to end.
Alongside the sculpture plays a video Kaino recorded in collaboration with Deon Jones, an activist and singer who was shot with a rubber bullet while protesting the killing of George Floyd. The video, a cover of U2's "Sunday Bloody Sunday," made in collaboration with Larry Fong, Butch Vig, Jon Batiste and Wilco's Glenn Kotche turns the classic song "into a rallying cry for the present."
The installation ultimately concludes in the gallery's mezzanine, which Markonish said is a "kind of moment of rebirth." It's that moment of hope for the future.
"What we're making here is a really powerful show that speaks to the unfortunate nature of all this," she said, "that the history is also the present; that the fight for civil rights is still pertinent as always. Part of what Glenn does is make sure the stories get remembered."