Photo Gallery | The Cottager | Chesterwood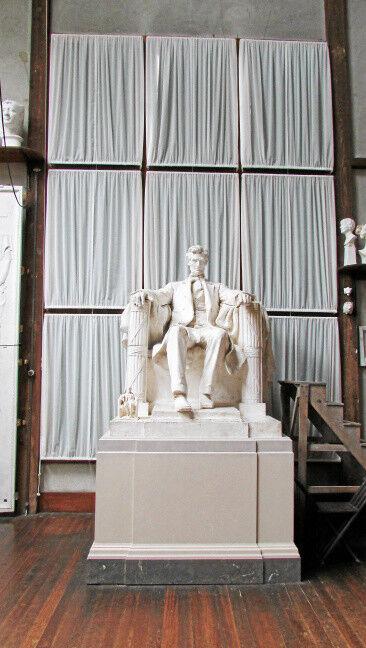 STOCKBRIDGE, MASS. — Upon learning of the death of acclaimed sculptor Daniel Chester French, President Herbert Hoover expressed his condolences to the artist's wife in a letter that recognized both his skill and the artistic importance of his sculptures, both in the United States and abroad.
"He wrought in marble imperishable incidents and personages of American history. His statue of Abraham Lincoln in the Lincoln Memorial in the national capitol will be a national shrine forever. I extend to you and your daughter heartfelt sympathy in your sorrow," Hoover stated in the letter, which was printed as part of French's obituary in the New York Times on Oct. 8, 1931.
Just two weeks prior, French, 81, had been hard at work in his studio at Chesterwood, his Gilded Age cottage in the Glendale section of Stockbridge. Stricken by heart disease, the sculptor took to his bed, where he remained until his death on the morning of Oct. 7, 1931.
Later that evening, an article in the North Adams Transcript bemoaned the loss of the artist, who many had hoped would accept a commission "to create a municipal memorial to its soldier dead in accordance with an idea which had already been submitted to him and had received his enthusiastic endorsement."
According to the article, the memorial — "an appropriate marble sculpture in high relief," as well as a memorial tablet — would have been set in a niche cut into "the face of the rock ledge across the Hoosic River from the junction of Union and Beaver streets."
Although he was buried in his hometown of Concord, Mass., French's funeral was held in his studio at Chesterwood, where he sculpted some of his most famous works, including the Lincoln Memorial statue and the bronze doors of the Boston Public Library.
Born in Exeter, N.H., in 1850, French grew up in Concord, Mass., where, at the age of 22, he would receive his first public art commission. However, his foray into the world of art was quite accidental — his talent for sculpting was discovered during the summer of 1868 after returning home from a failed attempt as a student at the Massachusetts Institute of Technology.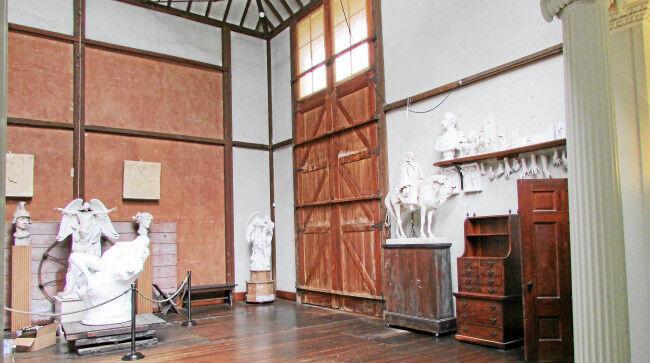 "I had been whittling and carving things from wood and gypsum, or even from turnips ... My father spoke to Miss [May] Alcott, the artist of the community and she, with her ever ready enthusiasm offered to give me modeling clay and tools," French wrote in the prelude to Caroline Ticknor's biography of May Alcott, sister of author Louisa May Alcott.
"He studied under William Rimmer and William Morris in Boston. He also spent a month with John Quincy Adams Ward in his New York studio," Donna Hassler, executive director of Chesterwood, said during a recent interview at the estate. "He began sculpting small figures of animals and diminutive table-top scenes."
In 1871, French was commissioned to create a monument for the west side of the North Bridge, site of the opening battle of the American Revolution. When the statue was unveiled on April 19, 1875, President Ulysses S. Grant was among those at the celebration. French was not, as he was already in Florence, studying with Thomas Ball.
French sculpted in a Boston studio and spent summers in New Hampshire with his friend and contemporary, Augustus Saint-Gaudens. In 1886, French married his cousin, Mary Adams French, and settled in New York City. In 1896, while visiting Stockbridge, the couple purchased 150 acres from Marshall Warner, who had run a boys' school on the property.
"He was inspired by nature and wanted to be in it," Hassler said. "While he liked his time in New Hampshire, he found it was too far way. He also found the colony of artists there to be a distraction. French had come to the Berkshires to take classes with Frederic Crowninshield and he also knew other artists here."
The couple lived at the estate from May through October, staying in the estate's original farmhouse for the first few years. Of utmost importance was the construction of a studio. French enlisted the services of architect Henry Bacon, whom he had met at the Chicago World's Columbian Exposition of 1893. At the time, Bacon, who would go on to design the Lincoln Memorial, was employed by McKim, Mead & White, the firm that designed many Berkshire cottages. The 26-foot-high white stucco studio was finished in 1897. Bacon also designed a white stucco Colonial Revival house for the family.
"Daniel Chester French did not hire a landscape architect," Hassler said. "He designed the gardens himself and spent many winters picking out seeds for the flowers. He also designed the wooded walking paths that are still in use today."
In 1931, Chesterwood was given to French's only child, Margaret French Cresson, a sculptor in her own right, who spent many years collecting her father's work and bringing it back to his summer cottage. She formed the Daniel Chester French Foundation to manage 79 acres of the property, including the house and studio. The estate was given to the Trustees of Reservations in 1955, but by the late 1960s the estate was back in the hands of the foundation. In 1968, the estate and an additional 50 acres were donated to the National Trust for Historic Preservation, which still oversees the museum and estate today.
•••
Unlike many of the other cottages, a tour of Chesterwood does not start at its front door. Instead, the visit begins in a historic barn-turned-gallery, where an exhibit explores French's creative process and examines major moments in his career. It is here that my tour begins with Hassler, who points out French's small figurines, the plaster casting for the Milmore Monument, also known as 'The Angel of Death and the Young Sculptor" and work related to the "Minute Man" and the seated "Abraham Lincoln."
"Daniel Chester French was very regimented in his work schedule," Hassler says as we walk down a driveway and pass through the estate's gateway. "At one point, he had five commissions going at once. That was unusual, as most of the time, he was working on two commissions at once. He worked seven days a week and created over 100 monuments in his lifetime. Once he was done with the plaster casting, he would send it to be carved in marble or to be cast in bronze."
French's studio and home are preserved as he would have left them, I'm told as we pass the flower gardens and fountain of his design, and make our way into his studio. Upon entering the bright white stucco studio, with it's hipped roof and long northern windows, you are first greeted by a reception room, a cozy area where patrons could meet with the artist. A small alcove, fit with a curtain so models could change, is tucked in a corner.
Beyond this room is the main studio, where natural light filters in from the windows and shines down upon the white marble skin of "Andromeda," French's final work, which sits upon a flat-bed railroad car. French's studio, which has a train track hidden beneath removable floor panels, was designed to allow the artist to wheel his pieces out through large sliding doors into the natural light they would be viewed in.
It is here that a six-foot-tall plaster mold of the Lincoln statue sits, as if waiting for the artist to return. A casting room off of the studio shows the various steps and models created before the final piece was ready to be shipped out.
"This piece was finished on Oct. 31, 1916," Hassler said. "It's the centennial of its completion."
She added, "This model was cut into eight pieces and shipped to the marble works, where the statue we know today was created. The one in Washington was put together from 28 pieces."
Unlike its smooth 19-foot-tall counterpart, the plaster mold still bears the marks of the artist himself, every curve and texture mark carved by his tools can be seen.
The same can be said for the rest of the plaster molds, too numerous to count, that line the shelves and walls of the studio.
Leaving the studio, we make our way to the house, which was designed in a way that Monument Mountain is framed by the front door, which leads into a hallway papered in hand-colored trees in vibrant colors.
"All the furnishings are original to the house," Hassler says, as she points out mahogany doors, with silver plated door knobs, that were shipped in from New York.
We peer into rooms with original furnishings — many which look like they date back to the 1920s — a parlor, a formal dining room, and French's office, where a hulking typewriter sits next to a writing desk.
The kitchen is bare, except for a few empty cupboards on the wall. In the butler's pantry, the dishes still sit in their shelves as we pass by to view a breakfast porch off to the side.
"Some people remember having tea with Peggy (the name Margaret went by) on this porch," Hassler says.
On the second floor, which has yet to be restored, we look at French's room and two other bedrooms, both of which belonged to his daughter at stages of her life.
"It's a house with wonderful, classical tradition, but with flourishes that very obviously belonged to French," she said. "It's the mark of a man who was decisive in life and work."