LENOX — This is the season when forests turn into standing sticks haunted by damp chills, and of brief and thoroughly grey days that end in darkness faster than you expect. If any time of year calls for light, sound, and a little mystery it is this one, and a new installation at The Mount aims to give visitors just such a chance to experience a space transformed.
"NightWood" is an outdoor light and sound installation that designer Chris Bocchiaro said "blends theatricality with art with being outdoors." Through a series of brightly lit scenes each with an accompanying immersive soundtrack, with sculptures set within the gardens of Edith Wharton's historic estate, it is a chance to cut through the darkness in more ways than one.
Bocchiaro said the idea is based on the feeling of walking in the woods at night. "What's that experience to me? Well, it could be a little anxiety, a sort of mystery because you don't know what's in the trees," he said. But also, "there's comfort to be found," even among those moments of "a colder, wintery, icy experience."
The installation will be open on weekend evenings until January, although, it is not specifically tied to the holiday season as you might expect. Visitors will arrive for timed entries after sunset, starting from the Stable (where hot chocolate and other treats will be available). They'll be on their own — in socially distanced groups — to follow a torch-lit path into the darkness.
"You see the torches stretch out before you," Bocchiaro said. "You have the path, but you don't know what awaits you until you round the curve and start to see that shimmering in the trees."
Each scene creates its own vibe, beginning with an eerily glowing section of forest, with lights in green, blue and purple, and a rhythmic ambient soundtrack creating "a sense of a heartbeat in the forest."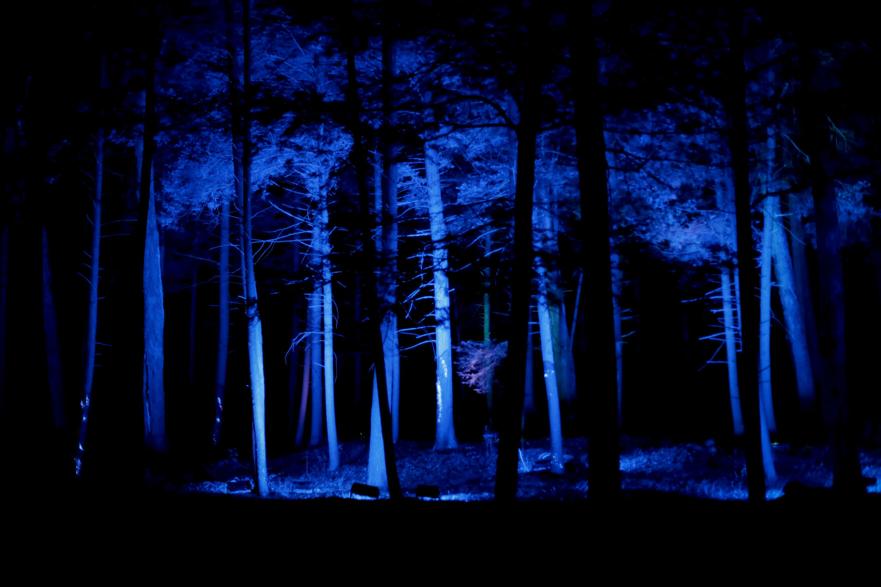 "This is playing on the emotions of being in the forest," Bocchiaro said, a hard-to-express awareness that "there are things alive under the ground in the earth still alive."
From there, it winds to the main house's Forecourt, an enclosed space where the color tone suddenly shifts to red, and the entire scene is built around an enormous banquet table lit with red shafts of light like candles. This and other sculptural elements were designed by Megan Kinneen. It is supposed to call to mind a line from Wharton: "There are two ways of spreading light: to be the candle or the mirror that reflects it."
Next, it leads to the gardens around the property, including the flower garden now in a sudden wintery shift to deep blue, lit by illuminated icicles sculptures. The path leads across the Lime Walk to the walled garden, which becomes like a glade, with warm colors on the stone walls and several of Kinneen's squat hut structures made of wood and twine and lit from within.
Each immersive soundscape was designed by sound designer Greg Hanson, who said the process evolved in the weeks leading up to the installation.
"When I first started, [the sound] was more twinkling and subtle, but as we developed, they became more musical compositions," Hanson said.
Each is based on an orchestral component, with electronic elements and techniques mixed in. And each is different — a more ambient sound for the woods, choral and voices for the courtyard, a sharp and icy twinkling sound for the winter garden, and warm Celtic themes with xylophones and cymbals in the glade.
Each piece is between 8 and 10 minutes long and has a built up, crescendo and break down. "You want it to be longer than the person is in the space, so that as it changes you don't notice," Hanson said. "That arc lets it seamlessly loop, so that as you are in the space you notice it is different than when you entered, but you aren't exactly sure how."
Bocchiaro said the entire concept is inspired by the "son et lumière" tradition in Europe, of light and sound shows at historic sites like castles and stately country homes. But unlike these kinds of spectacles, he said they also borrowed from what is sometimes called promenade theater — productions that engage audiences by moving them through space.
Bocchiaro is based in Boston, and he spends most of his time lighting productions for theater and opera productions. This production is a chance to try these techniques for something different.
"Theater is so much about telling the story, and as a lighting designer everything you do is also about telling that story," he said. "This is liberating without a narrative because we are able to inspire more purely on emotion and our own personal experiences and what they feel like. We create not so much a story, as a feeling."
And all those techniques involved different kinds of approaches and equipment.
"I also work a lot in architectural lighting in dynamic building facades and things like that. So this is a really nice hybrid for me personally. Taking the outdoor-rated equipment and things you find in architectural installations and adapting them for more artistic use."
The entire installation only began to come together in late September, with an email from The Mount's public programs director, Michelle Daly. She was inspired to ask Bocchiaro based on a "son et lumière" style event he had done last Christmas at Castle Hill in Ipswich.
"We had this idea and we needed someone to help us realize the idea," Daly said. "It's been a great collaborative project since then."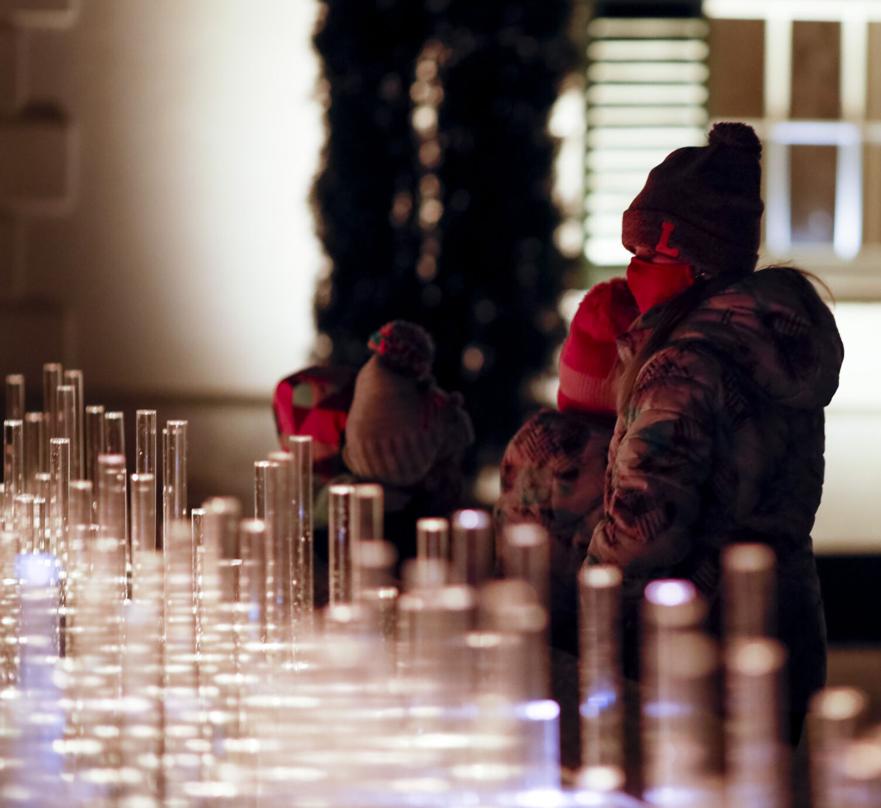 It is part of the ways that the Mount has tried to adapt to the pandemic, by finding more socially distant ways to use the space, as well as to think outside of summer.
"We've been growing our year-round programming," Daly said. "We hadn't thought about things outdoors as much [in the winter], but this year has been how we take advantage of this incredible property we have and find new ways for people to enjoy them, and give them a reason to be out in the cold in December."
In the end, the piece is open to interpretation.
"It's going to be a different experience for everybody and that's part of it," Bocchiaro said. "Some people are going to spend 10 minutes in here wandering around, enjoying the environment, taking pictures. Others may just keep on walking at a healthy pace until they're out. It's up to the individual how fast or slow they want to take it."
And of course, a lot will depend on weather conditions, and will be subject to cancellation. Bocchiaro described coming to the site last week when the temperatures were in the 70s, and the unexpected effect of setting the lights during a rainy mist.
But he admitted they are most interested in how it will look in a real snowy winter landscape. "We are hoping for a very gentle dusting, consistently."