NORTH ADAMS — When the first big storm of the winter dropped a foot-and-a-half of snow last month, it could have interrupted artist Danielle Galietti's walks around her neighborhood, but she chose to see it as an opportunity.
Using only her footsteps and training she learned as a figure skater, Galietti created elaborate drawings in the fresh snow at Natural Bridge State Park — a single line tracing flowers and patterns and figures. They appeared with the snow, were designed for whoever happened to be walking by, and then were gone.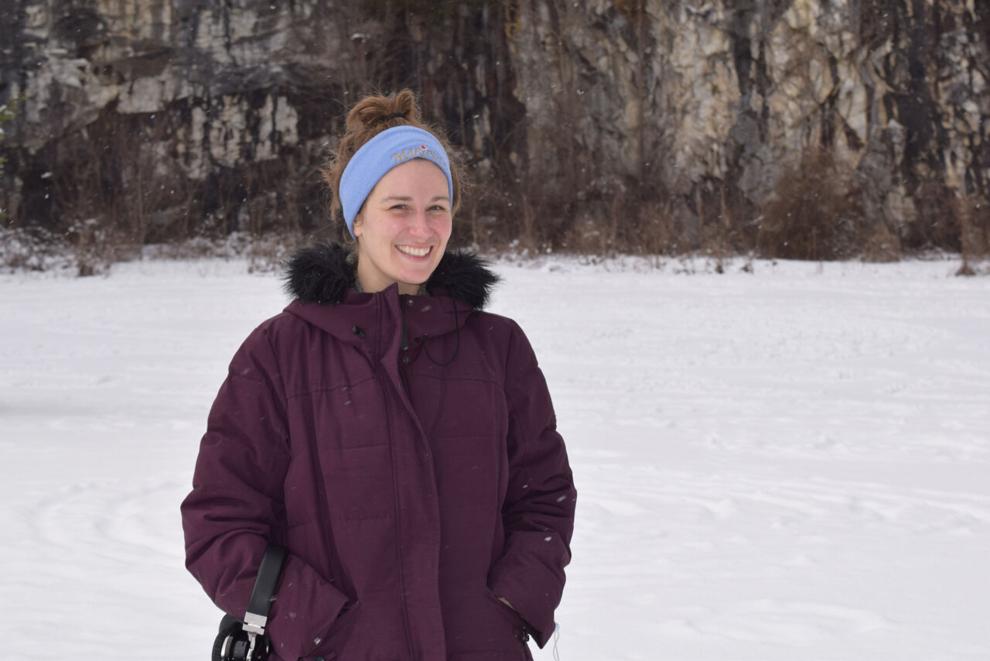 Galietti said the germ of the idea came from an artist's residency she did in a small village on the north shore of Iceland a few years ago. She remembered how important it was to go out for walks during the roughly two and a half hours of half-sunlight the area would get, for air and exercise and Vitamin D. And to experience the landscape, the sense of snow crunching underfoot, the comfort of seeing another pair of footprints out there.
With the right attitude, you could see wonders like the Northern Lights, which only appear when the solar winds are strong enough and if the sky is clear enough. A lot of circumstances have to come together, but most importantly you can't ignore the opportunity.
"What is really important is that willingness to participate, to be present and take that chance to step outside," she said.
She took that practice of walking around her neighborhood when she moved to North Adams early last year, and over the summer when her wanderings often ended up at the Natural Bridge.
When the big snowfall came, she went out with snowshoes, and realized that the field beside the old marble quarry was "like a giant sheet of paper."
"Part of me wanted to leave something behind, but in a non-invasive way that wouldn't hurt the land, and would maybe inspire people," she said. "Or create this magical moment when even though it is cold and snowy, people who have chosen to go out may stumble upon this."
As she began tracing patterns around the snow, the idea of flowers leapt to mind, reminding her of her first visits to the park when it is green and warm and full of wild oregano. It seemed a fitting reminder that it would eventually come again. "Winter is the season of death and ending, and sometimes we can get so caught up in that darkness, we forget the promise of light," she said.
She would do a little more whenever she went to the park, usually for about two hours or so at a time. She relied on her training as a figure skater when she was younger, particularly the practice of compulsory figures, where skaters would carefully and deliberately try to carve specific patterns on the ice.
"I trained myself through ice skating to have this ability to look at a flat image and recreate it in space," she said, using this kind of spatial awareness to be present on the ground while imagining the whole scene from a bird's eye view.
And as with any big project over time, Galietti reminded herself of what she learned teaching middle school art in New Jersey about how the fear of making mistakes is the biggest obstacle.
"I found from teaching that we get so caught up on perfection we become afraid to share things when they aren't," she said. "Everyone wants things to look perfect and finished — they want them to transcend human nature. But I like the grit and seeing the human touch, in the same way that I like seeing footprints."
This is not the first art project that the space has inspired — Walter Fähndrich's Music for a Quarry had played a tone from speakers at certain points in the day since 1999 (though it has been closed for awhile). The works suggest a sensitivity to what the moment has to offer, a willingness to accept mistakes and incompleteness, and the acceptance of the reality that whatever may happen will vanish.
The park is technically closed for the winter, though people can still walk up the unplowed road to the park (but are not allowed to walk on the icy stairs at the site). Galietti's work is not intended to be a museum piece, or an event or spectacle, but a surprise for those who already use the space, or who may find it on social media (she's documented her work on Instagram, @daniellegaliettiartist).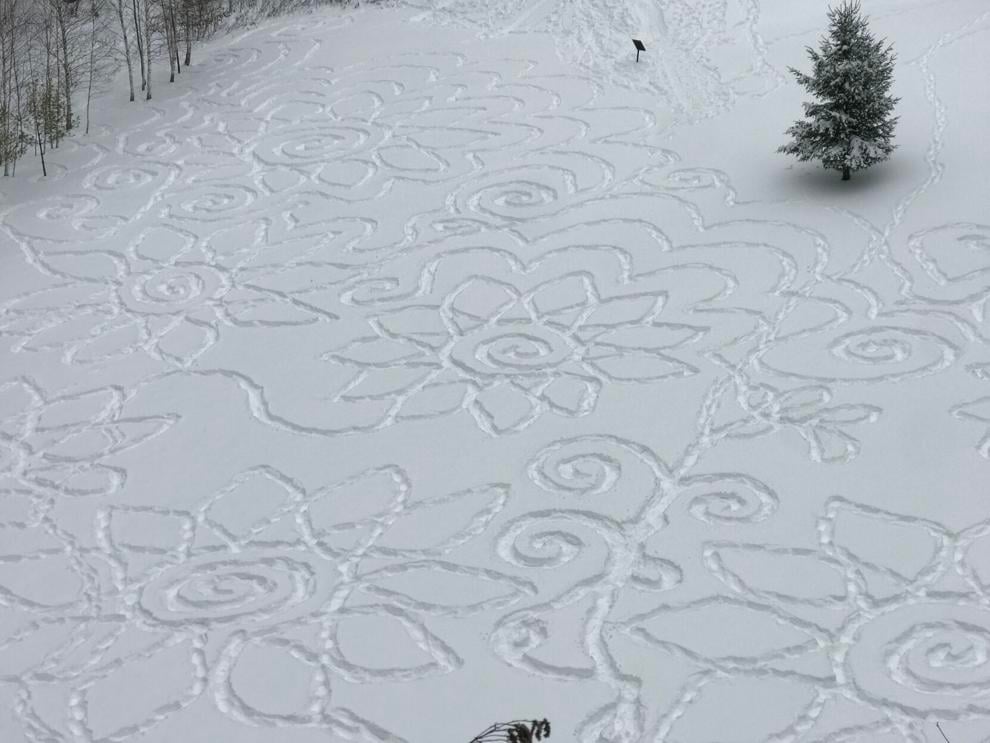 This kind of improvisation has been a big part of Galietti's work. Other projects include a series of live performances with musicians, poets and painters called The Bull and Arrow, designed to put them into conversation in specific places and times. She is also working on an international collaboration of video art that she hopes to begin unveiling in summer.
Like a lesson in how ephemeral all of this is, the first drawings didn't last beyond the thaw around the holidays. In the new year, Galietti lost her father to COVID-19, a sadness and reminder of how fragile and precious our lives and the impacts we can make are. Last weekend, with a few more light coatings of snow, she got back out and made a few more drawings.