LENOX — The production of Lisa Loomer's "Roe" that began streaming Saturday evening at 7:30 on WAM Theatre's website "watch" page will not be the "Roe" director Kristen van Ginhoven imagined when she finally obtained the rights to do the play.
That "Roe" was to have been performed live — Sept. 24-Oct. 11 — at Shakespeare & Company's Tina Packer Playhouse in Lenox. This one is virtual; a recorded video performance that is as much a creation of Zoom, green screens, and post-production wizardry as it is about actors, designers, a director and a play set within the framework of Roe v. Wade, the landmark 1973 U.S. Supreme Court ruling that legalized abortion.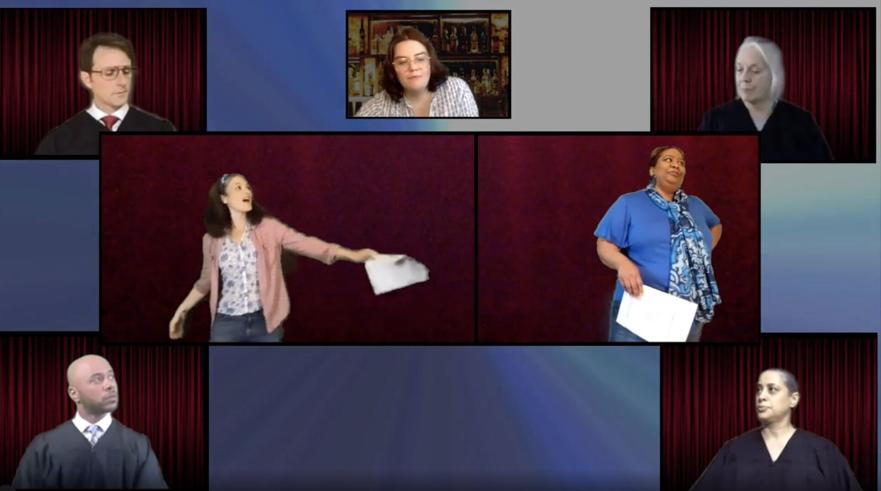 "Roe" will be available to ticket-holders via WAM Theatre's Vimeo channel — accessed through the WAM website: wamtheatre.com — anytime, or multiple times, until 7:29 p.m. Tuesday. With Senate Judiciary Committee hearings on President Trump's Supreme Court nominee, Amy Coney Barrett, underway, the four-day presentation of "Roe" couldn't have been more timely.
Credit COVID-19 for the change in plan.
"Roe" was commissioned in 2012 by Oregon Shakespeare Festival in Ashland, Ore., as part of the theater's ambitious American Revolution Cycle. It had its world premiere in Ashland in 2016 as a co-production with Arena Stage in Washington, D.C., where it opened in January 2017, and Berkeley Rep in Berkeley, Calif., where it played March 3-April 2, 2017.
Unfolding primarily in the years following the Supreme Court ruling, "Roe" focuses on the key figures — Sarah Weddington, the young lawyer who argued the case before the court; and the plaintiff, Norma McCorvey ("Jane Roe"), a 22-year-old hard-drinking bartender who sought to end an unwanted pregnancy and who, in the aftermath of the decision, dissociated herself from the case and became an anti-abortion activist. However, in May it was revealed that McCorvey, in an interview shortly before her death in 2017, said she had never changed her position and said she had been paid for her anti-abortion stance.
Well-known Berkshires actress Tara Franklin plays McCorvey in this production. Tracy Liz Miller plays Weddington.
"[Loomer] does a good job of showing you who 'Roe' was and how this case affected her," production designer Juliana von Haubrich said in an outdoor, socially distanced joint interview with WAM Theatre artistic director and co-founder van Ginhoven, who directed "Roe."
"The playwright's concern is to treat all sides [of the abortion issue] equally," van Ginhoven said. "For us, this has never been a play about pro-life versus pro-choice. Rather, we bump up against Roe the person versus Roe the case. Sarah is more centered on the case. The question here is will you help the person or change the system? You need to do both."
"Roe" has been high on van Ginhoven's bucket list since she read the play three years ago. "The rights were unavailable," she said; until, that is, they were.
"I wasn't sure we could afford it or that we were ready for it," van Ginhoven said. "This was the first time I had our whole board and staff read and discuss doing [a play]."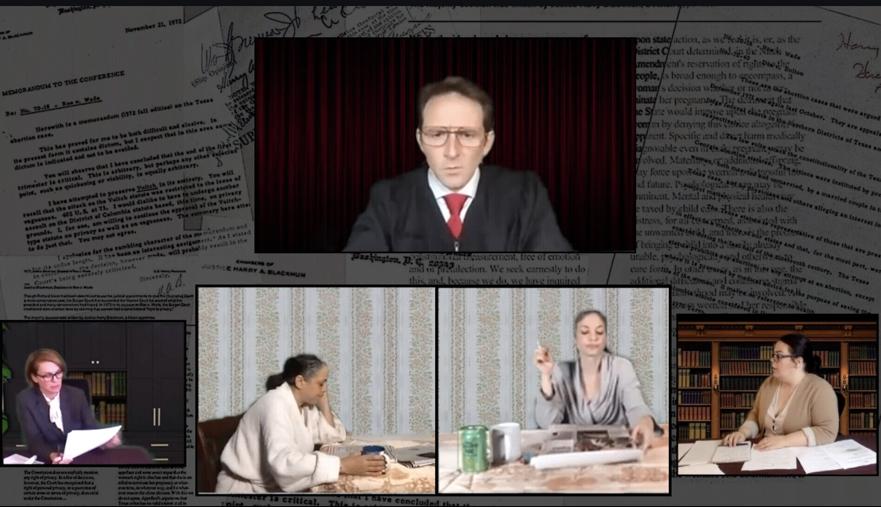 It promised to be a big undertaking in terms of money and cast size — 10, most of whom play multiple roles; "our largest ever," van Ginhoven said.
Then, along came the coronavirus pandemic. By mid- to late-spring, it became clear, with the state in virtual lockdown and uncertainty over how long it might take before Gov. Charlie Baker's phased reopening of the state would be implemented, that van Ginhoven needed to make some decisions with regard to "Roe's" future.
"We needed to go ahead first because of the sustainability of WAM," van Ginhoven said; "second, because we wanted to give work to our actors; third, we didn't want to let go our design team; and fourth [but not least], the importance of telling this story now."
How to tell that story was the question. The answer would be shaped by money — "We had grants and donations for 'Roe,'" van Ginhoven said — and the limitations of WAM's contract with Actors Equity, the nationwide union for actors and stage managers.
The Actors Equity-approved contract came back with the requirement that the actors had to be separate in their respective homes "and never could be together," van Ginhoven said. "Filming ['Roe'] live in a theater would not have been possible."
Van Ginhoven turned to von Haubrich. "Juliana just took off and ran with it," van Ginhoven said.
"Give me anything and I will tell this story," von Haubrich said. "I am so hungry to tell this story; I'll use any material they give me.
"I looked at a variety of Zoom elements. I had done a bit of film and TV work after grad school and that helped. I discovered that a lot of theaters had been telling stories in creative streaming ways."
"We brainstormed ... I knew I wanted to break up Zoom squares, move them around; go inside them."
Von Haubrich created a series of hand-drawn storyboards — 200 of them — which eventually morphed into computer renderings and backgrounds.
Van Ginhoven offers a fascinating, detailed, behind-the-scenes look at the full process of putting "Roe" together in an 11 1/2-minute video on the WAM website. In essence, the actors rehearsed under van Ginhoven's direction and then filmed themselves at home in front of green screens, and using props and instructions sent in what van Ginhoven calls physical and digital "recipe boxes." The recorded scenes were then sent to Outpost Productions, whose team of editors folded in the computer renderings and backgrounds and assembled all the elements into one two-hours-plus whole.
Viewers can see the result by purchasing a ticket on the WAM website. In return, they will be sent to a micro-link, which will provide through a password not only direct access to "Roe" but also to several ancillary sites that are designed to enhance the play, the play's issues and the production.
It's taken two weeks of rehearsals; three weeks of post-production; five months altogether from live production to "Roe Experience." For van Ginhoven and company, transforming an art whose dynamics involve direct connection among artists and between artists and audience into a form that misses that direct connection has been enlightening. Some of the actors, van Ginhoven said, found that the experience was better than anticipated. For others, the process was, at best, mixed.
"A scenic designer is always building worlds in a room, in their own space," van Ginhoven said. "A director works in a space with people around. [Doing this,] I bumped up against my own limitations."
"If you don't have that audience in front of you, it saps your energy," von Haubrich said. "[In Zoom rehearsals,] Kristen would have her actors pull their chairs up to the camera and look straight at each other and they'd take the energy from that into their scenes.
"When an actor turns to the camera and looks right at you, that's an amazing moment."
The way van Ginhoven sees it, one of the key issues "Roe" explores "is the ability of the individual to effect change."
And that, von Haubrich suggests, goes right to the heart of WAM's reason for being.
"We are an activist theater company," she said. "We are activating our audiences."