PITTSFIELD — Call me a wedding planner! Weddings, as we knew them prior to COVID-19, are on the horizon.
If all goes well, Massachusetts will relax its gathering restrictions for indoor and outdoor events on May 29, allowing for groups of 200 indoors and 250 outdoors; with a plan to remove all business restrictions on Aug. 1.
"I think that may be a sign. Aug. 1 is Herman Melville's birthday," said Lesley Herzberg, executive director of the Berkshire County Historical Society at Herman Melville's Arrowhead, as over a dozen Berkshires-based wedding vendors primped the lawn of the historic farmhouse, at 780 Holmes Road, for a wedding-themed photo shoot.
Arrowhead, where Melville penned his best-known work, "Moby-Dick," is the latest venue in the Berkshires to open itself up to weddings and other events.
"We tried to do something in the past, but we never really put a program together with packages and pricing options," she said.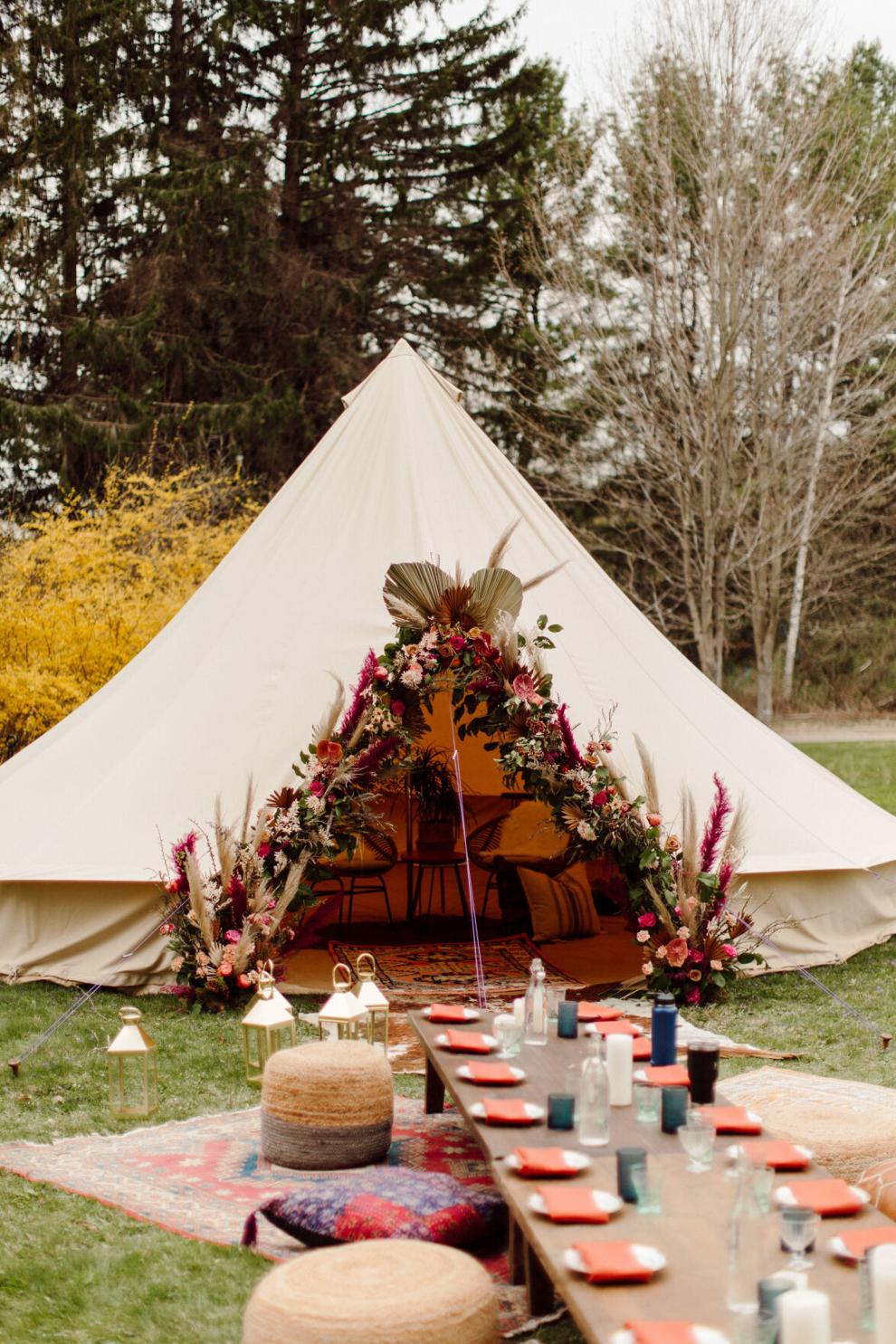 It's an opportunity to bring new groups to the property, as well as a source of revenue for the nonprofit Berkshire County Historical Society, which cares for Arrowhead, along with a growing collection of historical items in its archive, through membership fees, sales from its store, tour and admission fees, grants and donations.
"We want to be a place that's affordable. Our packages include renting the barn for $500 or the barn and entire lawn for $2,500. We're just trying to offer a site with history, that's affordable and make a little bit of money in the process," Herzberg said, adding that she recently received an inquiry from a couple who described themselves as "huge Melville fans."
Talks about opening up Arrowhead to weddings began prior to the COVID-19 pandemic, which put plans on hold for over a year. The Commonwealth's restrictions on gathering sizes also put a majority of nuptials on hold or forced newlyweds to hold more intimate ceremonies. Many who did marry in 2020 held off on holding their receptions and plan to host those larger celebrations this year or next.
With the news that Massachusetts is easing into its final reopening phase, with an end date of Aug. 1 in site, Herzberg and Rebecca Daly, owner of Whitlock and Cooper Events in Pittsfield, once again began collaborating on getting Arrowhead up and running as a wedding venue.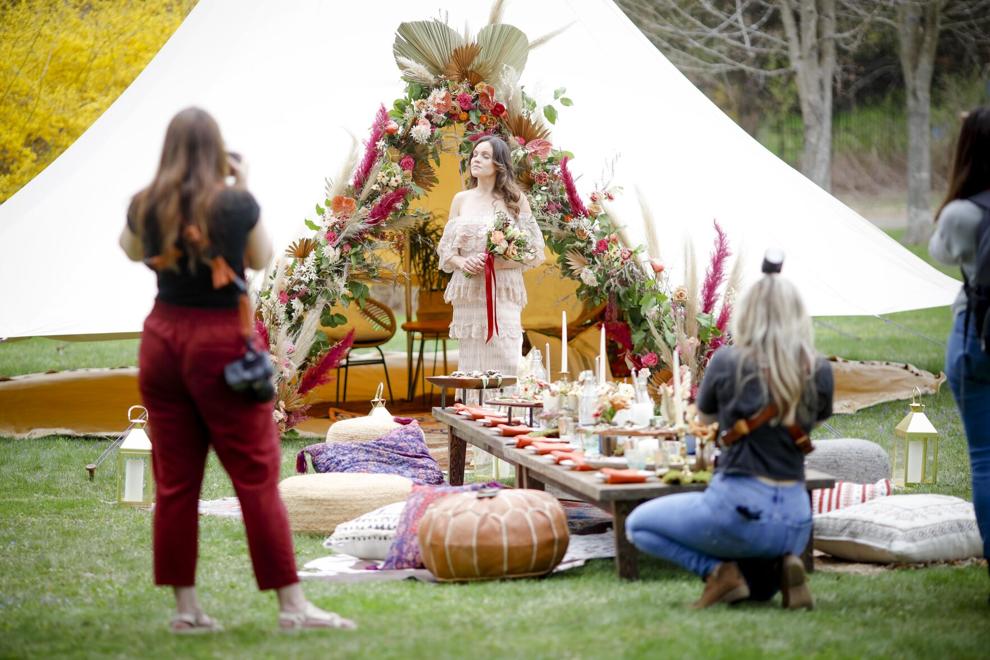 "I've known Lesley for about 10 years and have worked with her in the past ... She contacted me about Arrowhead and this idea sort of blossomed," Daly said of a stylized wedding photo shoot she coordinated at Arrowhead at the end of April.
The focus of the day, she said, was to not only provide Arrowhead with a portfolio of photographs to show off what could be done on the property and to help inspire potential clients, but also to highlight the work of Berkshire-based wedding and events vendors. To do that, Daly gathered together a total of 15 Berkshire-based businesses that specialize in weddings; from the tents, tables, lighting and dinnerware to those specializing in food, flowers, drinks, photography, makeup/hair and overall planning.
"We have so much going on here in the Berkshires," Daly said. "We want to show that we have plenty of vendors/options here in the Berkshires, and that, if you're coming to the Berkshires from Boston or New York to get married, you don't need to bring in anyone from Boston or New York for your wedding."
At the center of the staging area, two tents were stationed in the middle of the lawn — a traditional sail cloth tent provided by Classical Tents and Party Goods in Pittsfield and a smaller, bell tent, provided by Mahaiwe Tent in Great Barrington. The bell tent, draped in a floral display by Susie Hanna of Daisy Stone Studio, in Pittsfield; inside, an intimate seating area for two awaited. Immediately outside of the tent, vintage rugs carpeted the grass, creating the perfect area for a long, low dinner table surrounded by plush cushions. On the table, platters of smoked trout and salmon and other delectable dishes were being laid out by Matt and Casey England, of CRISP Catering in Williamstown.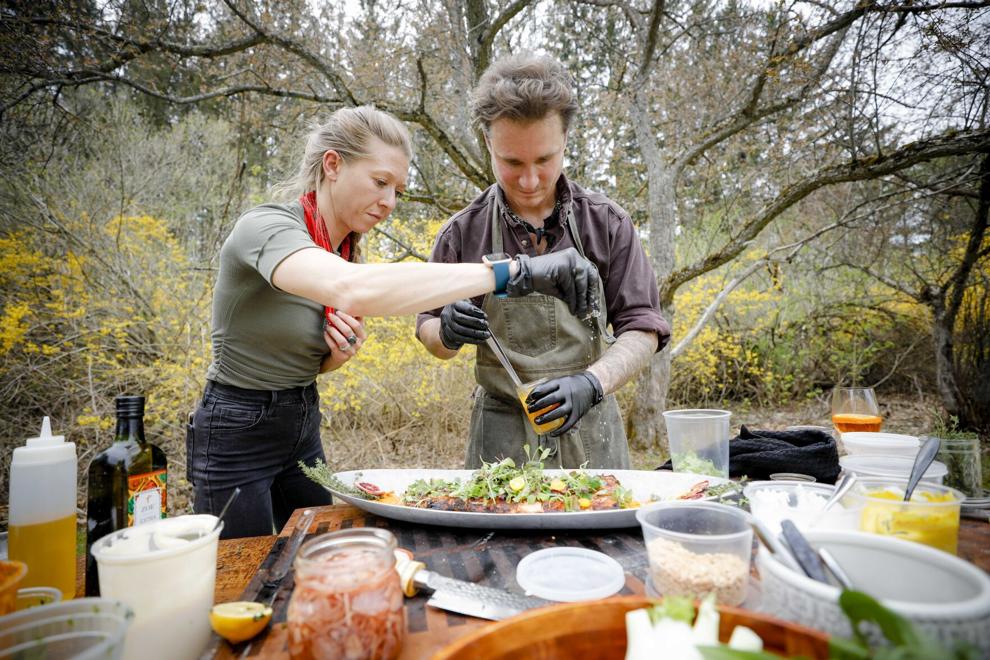 The Englands, a husband and wife team, were crafting the dinner dishes at a nearby catering station. The duo said their catering service specializes in seasonal menus, sourced from local farmers and cooked outdoors over an open fire.
"We're very interactive," Casey England said as she arranged items on a serving dish. "We're creating an experience where you'll remember the food. It's a little more unique and fun."
Near Arrowhead's recently restored 1840 red barn, Oskar Halling and Mike Zippel, wedding planners and owners of Only In My Dreams Events and The Shop in South Egremont, had just finished setting a table designed with elements available through their businesses, including Lucid candles, a liquid candle that looks like a traditional pillar candle on the outside but is really a cleverly disguised oil lamp.
"What sold me on them is there is no wax," Zippel said of his affinity for Lucid candles. "They come in three sizes and as tapers, too. They also come in 10 different colors."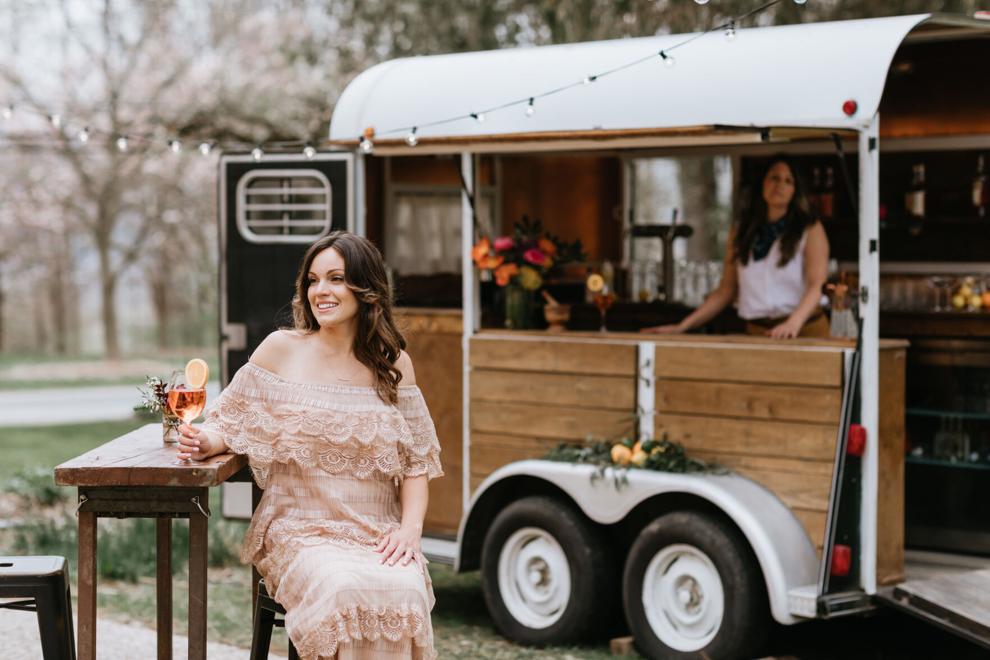 Closer to the historic house, wedding planner Danielle Pellerin, of 5 Senses Events and Design in Dalton, was setting up Another Round, a mobile bar trailer, she owns with husband, Ryan Pellerin.
"We created this bar two years ago. It's a full service bar; we'll bring the bartenders and the alcohol," she said. "We have two taps, so we can accommodate two types of draft beer. We also can build signature cocktails for your wedding."
Other staging areas included: a floral altar created by Township Four and seating by Classical Tents; a bar and seating area by Classical Tents; lighting by Encore Audio Event Services; makeup and hair services by Beauty Locale and a sweetheart table set up by various vendors.
Pellerin, like the others in attendance, is looking forward to the coming wedding season even more, as the state moves forward with plans to fully reopen.
"We have a few weddings booked already, but we're starting to get more inquiries now that the governor has made his announcement," she said. "People are ready to get their party on."
For more information about holding a wedding at Arrowhead, go to berkshirehistory.org/host-your-events-at-arrowhead/.