BOSTON — The state of Massachusetts has been awarded $1.4 million to expand the popular Senior Farmers' Market Nutrition Program, according to the state Department of Agricultural Resources.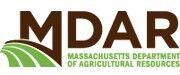 The award was granted by the United States Department of Agriculture's Food and Nutrition Service from American Rescue Plan Act funds.
Thegrant award will allow the state to increase from $25 to $50 the level of benefit for seniors participating in the nutrition program. The increase in funding will also allow MDAR to serve an additional 2,300 seniors and disabled individuals over the next two years.
The Senior Farmers' Market Nutrition Program is a seasonal, annual program providing low-income seniors with coupons to purchase fresh, locally grown fruits, vegetables, fresh-cut herbs, and honey from Massachusetts farmers. Every year, coupons are spent at over 300 farmers markets and farm stands across the state.