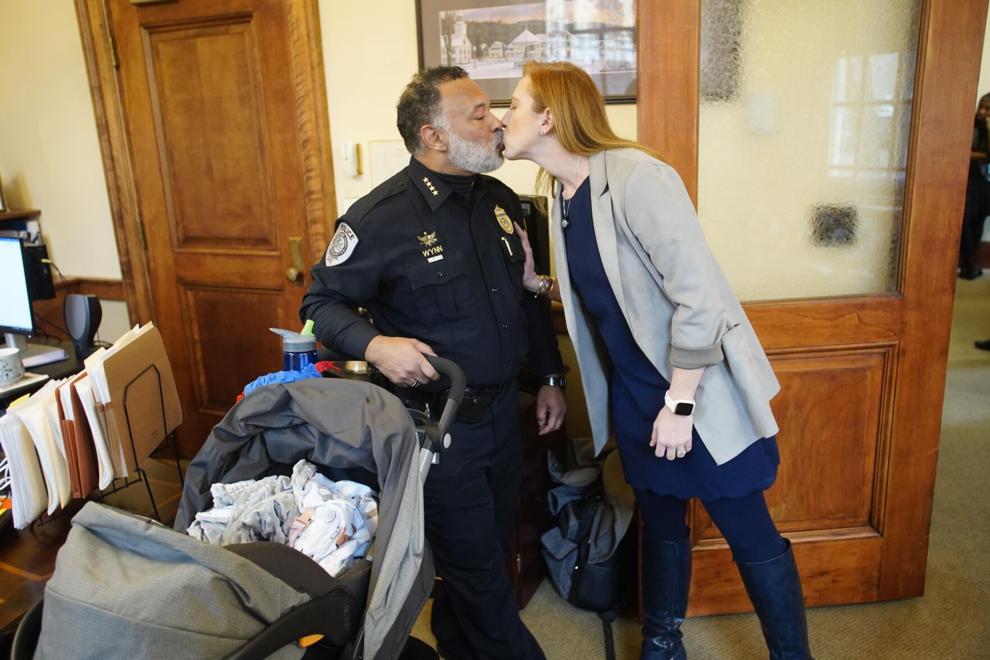 PITTSFIELD — Come next summer, when Michael J. Wynn steps away from leading Pittsfield's police force, he plans to light a cigar. Use of tobacco is prohibited for people in civil service jobs.
He's looking forward to that smoke, but the chief says his departure will feel "bittersweet."
"I've come to peace with this decision, but it wasn't a decision I arrived at easily," he said Tuesday, after announcing his retirement in Mayor Linda Tyer's office. "I love being a cop and I love commanding our men and women in the Pittsfield Police Department."
"As excited as I am to turn the page and look at the next chapter, I'm not excited to be leaving this organization," he said. "They're my brothers and sisters and I love working with them."
Wynn's retirement after 13 years in the top job will take effect July 8, 2023, after he is present, as chief, for one last Fourth of July parade in Pittsfield.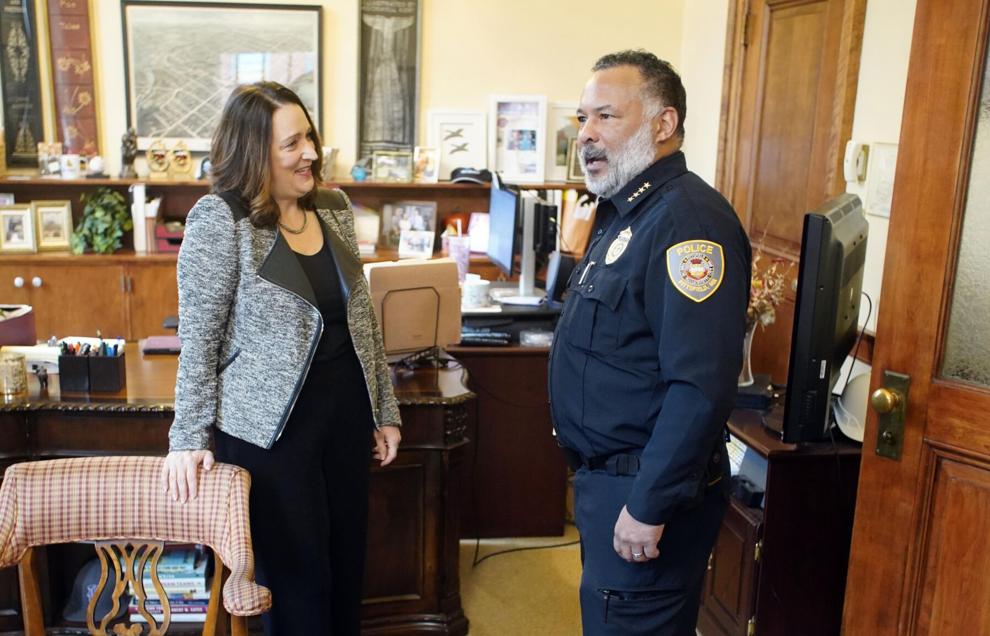 "My time with Chief Wynn has really been — just in terms of leadership and mentorship and friendship — has been extraordinary," Tyer said. "I want to thank him for his service to the city of Pittsfield and wish him the best in his future endeavors."
Wynn and his wife Christina, welcomed a foster baby in October.
He said some summer health concerns put his career path in perspective. During a physical earlier this year, Wynn said his doctor told him that his job was contributing to moving "some of the metrics" in "the wrong direction."
"I'd been thinking about it for a couple of years now, but obviously I've had recent changes in my family circumstances and family life," Wynn said. "And I had some minor health concerns this summer that caused me to reflect and reprioritize and it's just — it's time."
Christina Wynn said that she, too, views the change as bittersweet for her husband.
"We took a walk over the summer and we decided together that it was really time for him to move on and retire," she said. "He's given blood, sweat and tears to the city."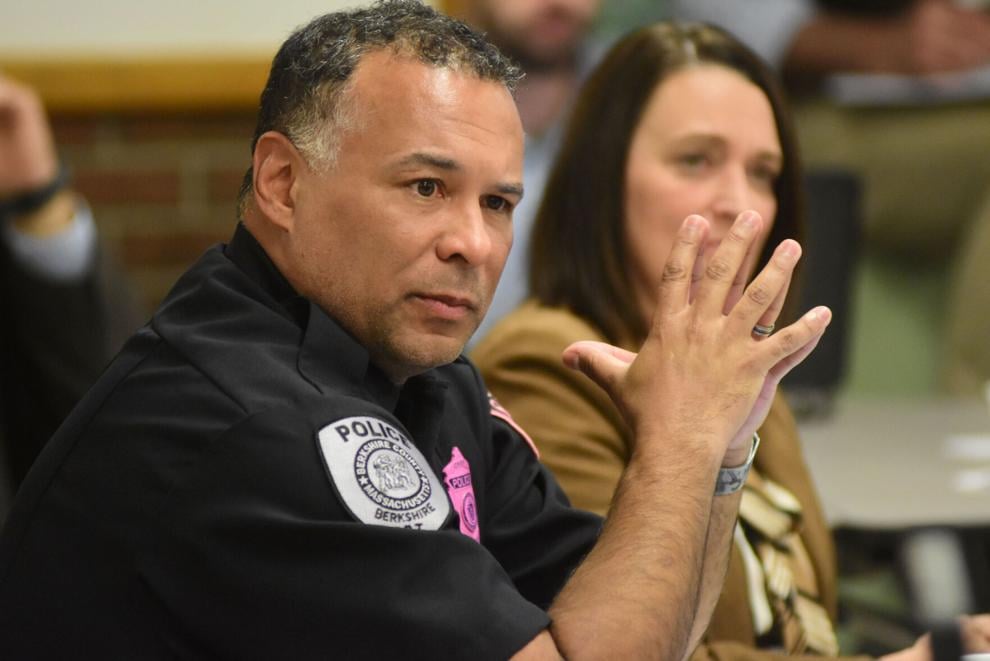 "I see at night, what that looks like to bring all of that home with you," Christina Wynn said. "I joke with him that he hardly ever comes home and says he has a good day. It's not as though people that work in the police department probably have the best days. I think after almost 30 years of doing that, that's probably gonna continue to take its toll."
Still, leaving the force means leaving another family.
"That's his family in blue," she said. "Those are people that he has spent wonderful times and really horrific times with — that's, that's his other family," Christina Wynn said. "I think that's going to be really hard for him and I think he's really gonna miss it. I think that's probably going to take a long time to sort of wind through."
"As his wife and a new mom, we're excited to be able to kind of have him back — now he's ours, and we get to get the very best of him every day," Christina Wynn said. "I'm excited for the next chapter for us. And for our little guy, and we're gonna have so many wonderful adventures."
Move to chief
Wynn, 52, became chief in November 2017, after holding the title of "acting" chief or another title for many years.
His retirement will mean the end of his role on the state's Police Officer Standards and Training Commission, a body he's served on for the past year and a half.
Gov. Charlie Baker nominated Wynn to serve as the police chief representative to the body and he was sworn in as a member in April 2021, in the wake of reforms in state law governing police agencies.
Wynn, a Pittsfield native, has seen the nearly 100-officer force through changes to police training and technology.
He said questions of what comes next have been on his mind for some time, but events in his personal life recently forced him to finally put answers to those questions.
On Nov. 21, Wynn sent his official resignation letter to Mayor Tyer. On Nov. 29, via a recorded video statement, he told the department about his retirement. He said in the week since, "several qualified internal candidates" have come forward.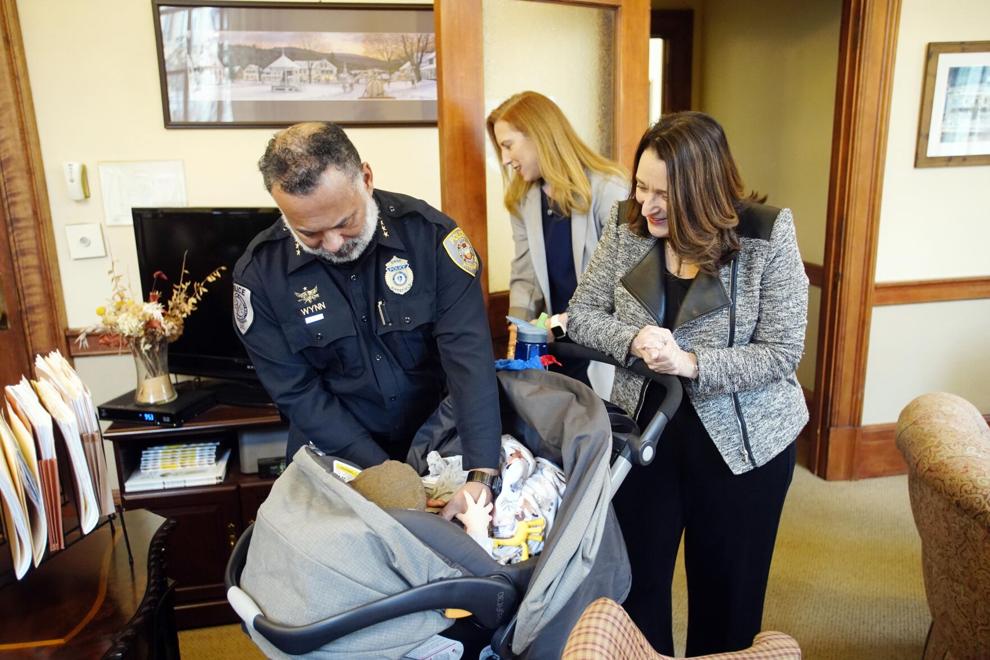 Wynn said this time the city is looking to be "deliberate" when it comes to selecting a new leader. Chief Anthony Riello left the city in 2007 for a job in Falmouth and gave "basically 30 days notice" according to Wynn. He said that "it came down to interviews" to select a replacement.
Wynn was a newly minted captain in 2007 when former Mayor James Roberto named him "acting captain in charge." He held that role until January 2009 when city leaders made him "acting chief."
Tyer chose Wynn in 2017 for the permanent chief's job after a civil service assessment found him to lead the list of three internal candidates. The mayoral appointment was confirmed by a City Council vote.
Tyer's move broke with a habit, in City Hall, not to confer the full title on the person leading the department, a practice she found problematic.
"It's vital for the chief of police to be properly authorized in the eyes of the officers — right from patrolmen up through command staff," Tyer said when she appointed Wynn.
Wynn said over the next nine months, he and city leaders will pursue a more intensive process to select the next chief.
"The selection process should be rigorous, it should be more than a simple civil service exam," Wynn said. "I think a civil service assessment center would be the minimum standard and we'll be working on developing a selection process over the next nine months."
Wynn has quite the to-do list as he approaches retirement.
Top of his list is the full implementation of the body camera program.
Last week, eight officers began using body cameras from Axon as part of the department's pilot program. Wynn appeared before the city council last Tuesday — after a monthslong pause on the start of the pilot — with the news that the department hopes to have all of its officers outfitted with cameras by March.
Tyer said she's hoping Wynn will be able to usher in a new era in the city's co-responder program.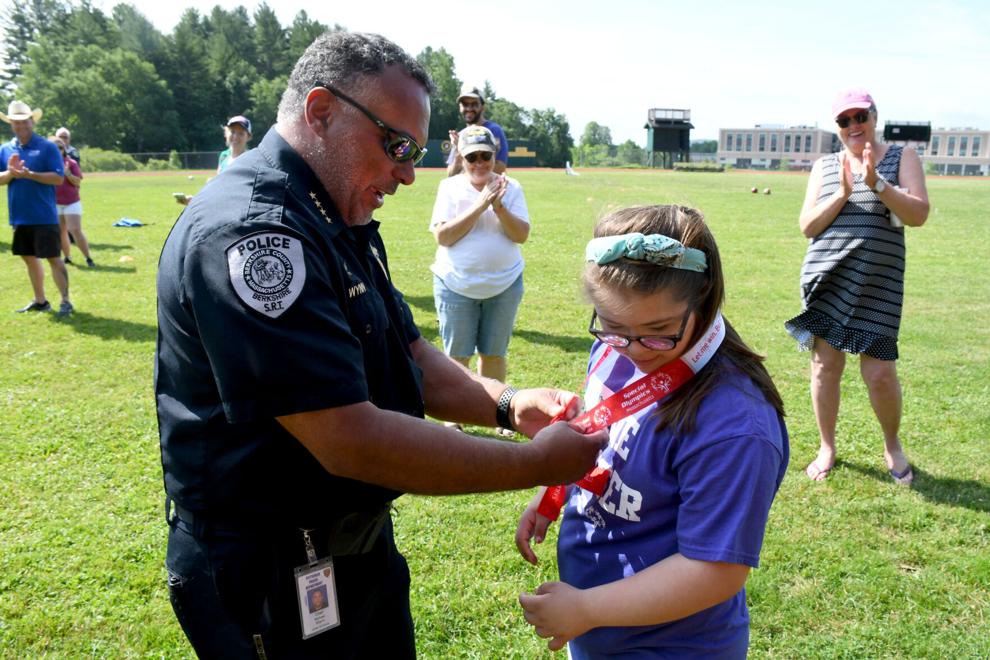 The city decided over the summer to switch from a shared co-responder program with the Brien Center to the creation of a dedicated co-responder team within the police department.
Tyer and Wynn said that a former co-responder, Richard Collins, has been hired as the department's licensed social worker. Collins will work with the department to select the new co-responders.
Wynn said that the department "will come out of this process with access to more social workers or clinicians and the ability to cover more shifts." But the chief said the city is a ways off from creating the kind of response team — separate from the police — to respond to the full array of mental health crises.
Wynn's work on the two new initiatives — body cameras and the in-department co-responders — comes from the aftermath of the death of Miguel Estrella. Estrella was shot and killed by a Pittsfield police officer. Both the department and the Berkshire County District Attorney's Office upheld the use of force in Estrella's shooting.
The final item on Wynn's to-do list comes from his early days as a police chief. Tyer said she and Wynn hoped to work together to build a new police station in 2017.
That goal remains unrealized.
"I regret that we haven't made more progress pursuing a new station, and I really hoped to have seen some shovels in the dirt on that when I took command," Wynn said.
The chief said he'd be happy to help make a new station a reality, even as a civilian. Tyer said when talk of a station becomes more serious she'll be looking to add Wynn to a potential new station commission.
"I just am really glad to know that they'll be here in our community, and I'm sure we're going to see [the Wynns] and cross paths with them in all kinds of different ways now," Tyer said.