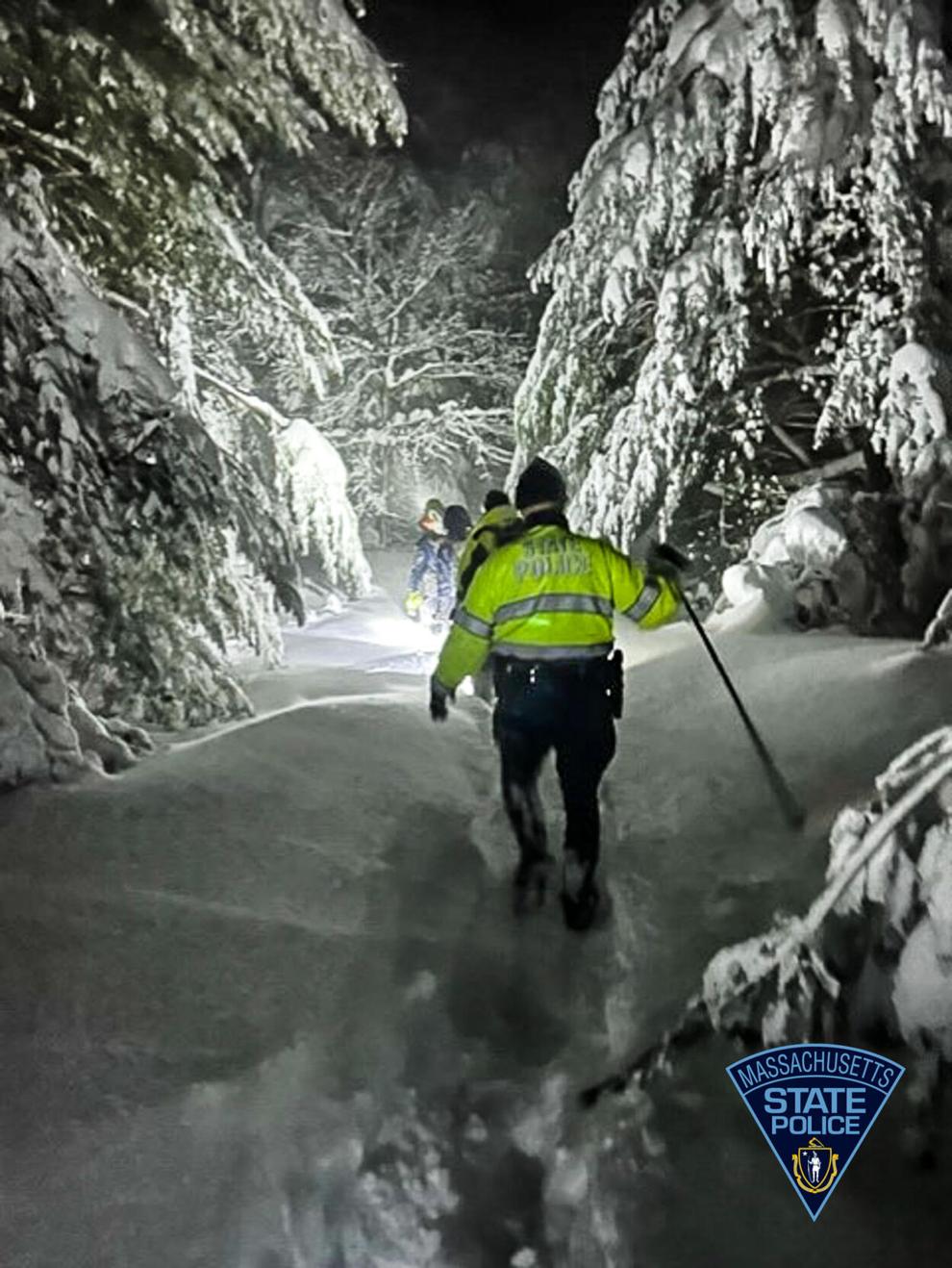 MOUNT WASHINGTON — A state police rescue team hiked 2 miles and nearly three hours in deep snow Tuesday night to rescue two stranded hikers who lost their way on a state forest trail as the nor'easter worsened and night fell.
In the overnight rescue operation in Mount Washington State Forest the search team found the two men, ages 47 and 53, just before dawn Wednesday, according to a release from Massachusetts State Police spokesman David Procopio.
Both men were uninjured but suffered from fatigue and the cold. Ambulance crews examined the hikers and transported them to an area hospital for further evaluation.
One of the hikers had called 911, saying he and his friend had gone for a hike on the Alander Mountain Trail. The state forest is in the southwestern corner of Berkshire County, near the New York State and Connecticut borders.
"The caller said because of the bad weather and gathering darkness he and his friend could no longer see the trail markings, could not continue to a cabin they were headed to at the mountain peak, and could not retrace their steps back out of the forest because heavy falling snow had filled in their tracks," Procopio wrote. "They estimated that they were approximately two miles into the forest."
The rescue began at 7:48 p.m. Tuesday when dispatchers forwarded the hiker's call to state police in Lee.
"Troopers and emergency dispatchers told the hikers to stay where they were while they began assembling a search and rescue team equipped with snowmobiles," Procopio said.
While state forest rangers and dispatchers plotted the coordinates of the hikers' location, the rescue teams set up a command post at the Egremont fire station.
The rescue was met by one obstacle after another.
Egremont road crews first had to clear trees and power lines from roads between the command post and the forest trail entrance. By 11:15 p.m., National Grid crews shut power to downed lines so the road to the trail entrances could be cleared.
Then the rescue team's snowmobiles couldn't drive through 2-foot deep snow. Just after midnight, the team began the 2-mile, more than two-and-a-half-hour walk into the forest, and found the hikers at around 2:30 a.m. before hiking out of the forest and emerging at 4:48 a.m.
That crew included two troopers from the State Police Special Emergency Response Team, three Sheffield firefighters and a ranger from the Department of Conservation and Recreation.
Responders included state police from multiple units, Berkshire County Sheriff's dispatchers, other Department of Conservation and Recreation staff, Sheffield and Egremont firefighters and a state police K-9 unit.