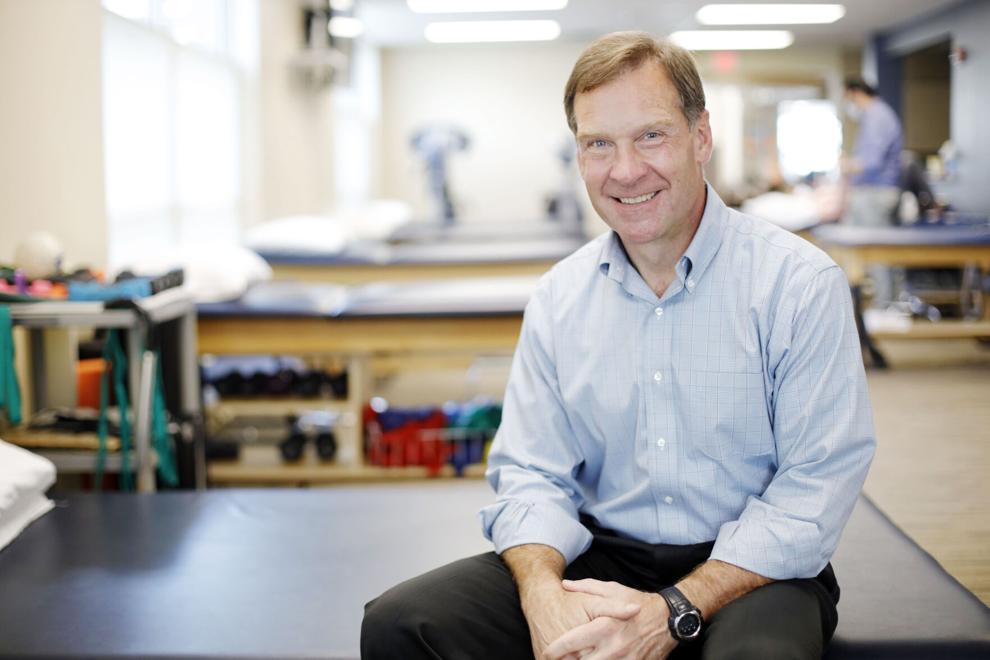 PITTSFIELD — Anthony DeMartino learned about his future profession by watching his parents perform it.
Both of DeMartino's parents were physical therapists. His late father, Mario DeMartino, who started the physical therapy programs at the former Hillcrest and St. Luke's hospitals in the 1960s, then later ran his own practice, spent 48 years as a physical therapist before retiring in 2011. So Anthony watched and learned. He flirted briefly with being a physician before deciding physical therapy was also for him.
DeMartino worked for his father before forming his own physical therapy practice, Berkshire Sports & Physical Therapy, which has offices in North Adams and Pittsfield, 11 years ago. He also served as a volleyball official at the 1996 Summer Olympic Games in Atlanta.
We talked with the Pittsfield resident recently about his profession, the Olympic experience, and why he'd love to throw batting practice for a major league baseball team.
Q: Your father was a physical therapist. Why did you decide to follow him into the profession?
A: Interestingly, both my parents were PTs. They worked together for awhile when they lived in New York (the DeMartinos lived in the Buffalo area before moving to the Berkshires in 1964). When they moved up here here my mom sort of stepped out of it to raise a family and my dad continued so I was around it my whole life. My mom then got into home care and dad did the outpatient [services], which is what he already did.
Originally, I thought that I didn't want to do it. I thought that I wanted to be a physician. Then I spent some time following some physicians around and didn't like that type of interaction. I liked the type of interaction you have in PT where you work with [people] for a long period of time. You get to know people. Those were the kinds of interactions that I really enjoyed with people.
Q: So it was the interactions with the patients that attracted you to the profession.
A: One hundred percent. It's the type of interaction that you get. You get to spend time with people. You get to know how their injury is or how what they have going on effects them, what they can't do, what means a lot to them to get back to doing. And you get to follow that interaction as they improve and guide that process for them. Sometimes it happens quickly and sometimes it happens over weeks or months. But to see someone walk out the door to do something they couldn't do when they walked in is very rewarding.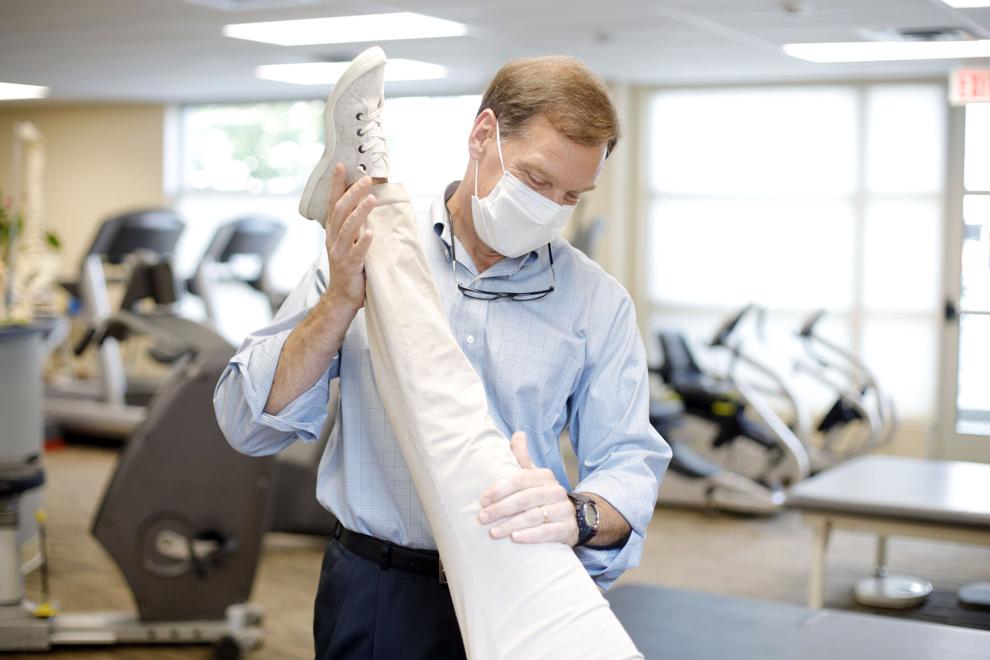 Q: What does a physical therapist do?
A: I would say in a nutshell that the type of therapy that I do, the outpatient type, during that first visit you try and correlate what part of their anatomy prevents them from doing what they want to do. Is whatever's going on with their body [the thing] that's limiting them? Is it pain, a lack of mobility or weakness or a combination of all of that? Then using experience and knowledge you sort of create a path for them to get them back to what they want to do. Exercising, things they can do at home. You show them steps along the way to get there.
That's the challenge. No two persons are the same. Everybody has different personalities, pain tolerances and problems. Everybody has different goals.
Q: How do you become a physical therapist?
A: It's six or seven years of school. Now it's a graduate degree. The undergraduate work is three to four years. The graduate program is roughly two to three years between classroom and clinical training. The entry level degree is now called doctorate of PT. It's effectively a master's degree at the education level, but it's called a doctorate. It's been that way now for about 20 years. There are a few of us who have been around who are either called master's trained and even still a few bachelor's trained people. But I would say within the next 10 or 15 years or so everybody will be a doctorate of PT.
Q: What do you have to know to practice physical therapy?
A: The bulk of it centers around anatomy, muscles, bones, joints. There's neurology, how the body moves, the nerve pathway; kinesiology which is the study of movement. To a certain degree there's the study of psychology, how you deal with pain and/or disability. And then there's a knowledge of radiology and pharmacology, drug interactions and medications and how that all applies. That's all part of the education in grad school. The biggest thing right out of the gate is anatomy. At least it was when I went, and if I'm not mistaken it still is. Anatomy is a full year.
Q: So physical therapy is a lot more complicated than people think?
A: One hundred percent. I think when people think of therapy, at least in our line of work, they think about working with athletes and getting them back to their sports teams. There's a lot more to it than the trainers they see on the sidelines. It's also a broader spectrum than people realize. We can work with kids who are born prematurely all the way to somebody in a nursing home in their 90s to 100. The education has to train you in all of that. Then based on your interest you take an avenue that applies or appeals to you more.
Q: How you did become an Olympic volleyball official?
A: When I was in college and grad school I began playing a lot more volleyball at a higher level. As you played higher you also had the opportunity to officiate. When I went to graduate school at the University of Virginia, I met some officials who were officiating college ball and they happened to see me officiate. One thing led to another and I was given the opportunity to officiate for the NCAA.
Over the course of maybe six or eight years of doing it more and getting better and better, the opportunity came when they were selecting officials for the Atlanta Olympics and I was fortunate enough to be in the mix. So I was asked if I had an interest in going to the Olympics. I wasn't going to go as a player, but to have the opportunity to do it as an official was too good to pass up.
Q: What's it like to officiate a sport at the Olympic level?
A: I can say that my Olympic experience was an incredible one. I did get to officiate some U.S. games. Probably the coolest thing for me is I was given the honor of officiating the men's bronze medal match, which happened to be between Yugoslavia and Bulgaria. Yugoslavia won the bronze medal. It's the only team medal ever won by a team from Yugoslavia. It wasn't long after that that there was no more Yugoslavia. (Although Yugoslavia broke apart in 1992, athletes from the various regions that made up that country represented Yugoslavia in 13 sports in the 1996 Summer Olympics.)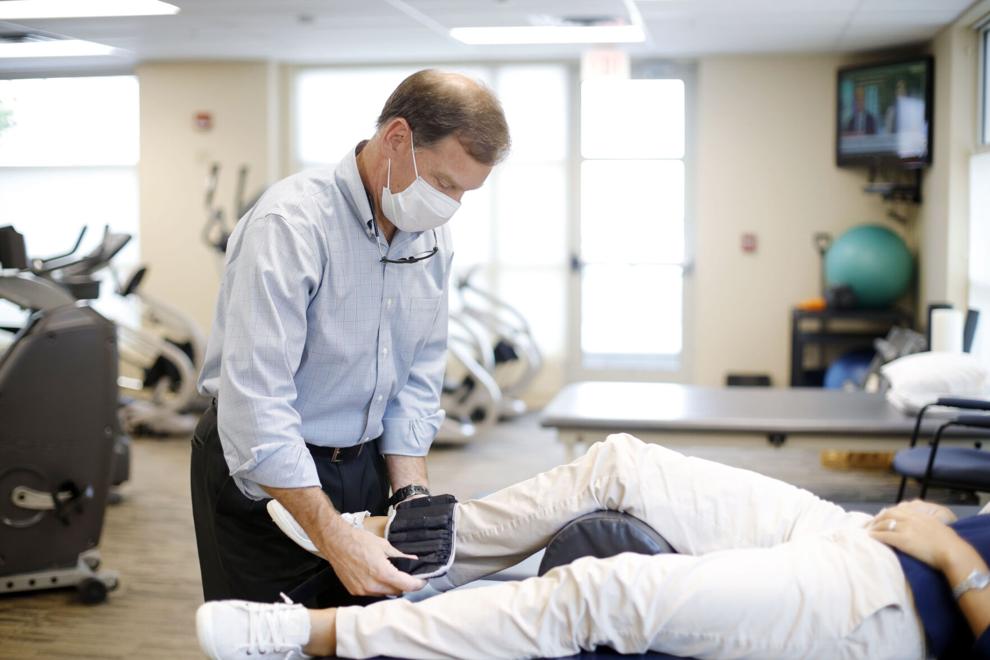 Q: What advice would you give to someone who wanted to be a physical therapist?
A: Number one, make sure you love interacting with people because it doesn't matter the venue and it doesn't matter what setting you're doing it in. And two, be patient. You will learn so much along the way. What you learn in the classroom and what you learn in your clinical training certainly sets the foundation for you. But you'll learn more in your first year of practicing than you did in all seven years to get you there. Be patient with your learning process. Learn from everybody around you. Be a sponge.
Q: What would you be doing if you weren't doing this?
A: If you asked my co-workers that they would tell you that I would take a job as a batting practice pitcher for a major league team in a minute. I'd love doing that.