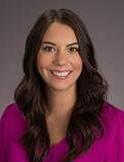 NORTH ADAMS — Kayla Brown-Wood has been promoted to director of day services at Berkshire Family & Individual Resources.
In addition to managing BFAIR's Employment Service department, Brown-Wood will now also oversee the agency's day habilitation and community based day services programs. She has been with BFAIR since 2016 and has held various roles, including assistant director of employment services and most recently director of employment services.
Brown-Wood is a 2021 graduate of the Berkshire Leadership Program, which led to her being asked to be a member of the 2022 Berkshire Leadership Program's Steering Committee. She is currently continuing her education in graduate studies in health care administration.