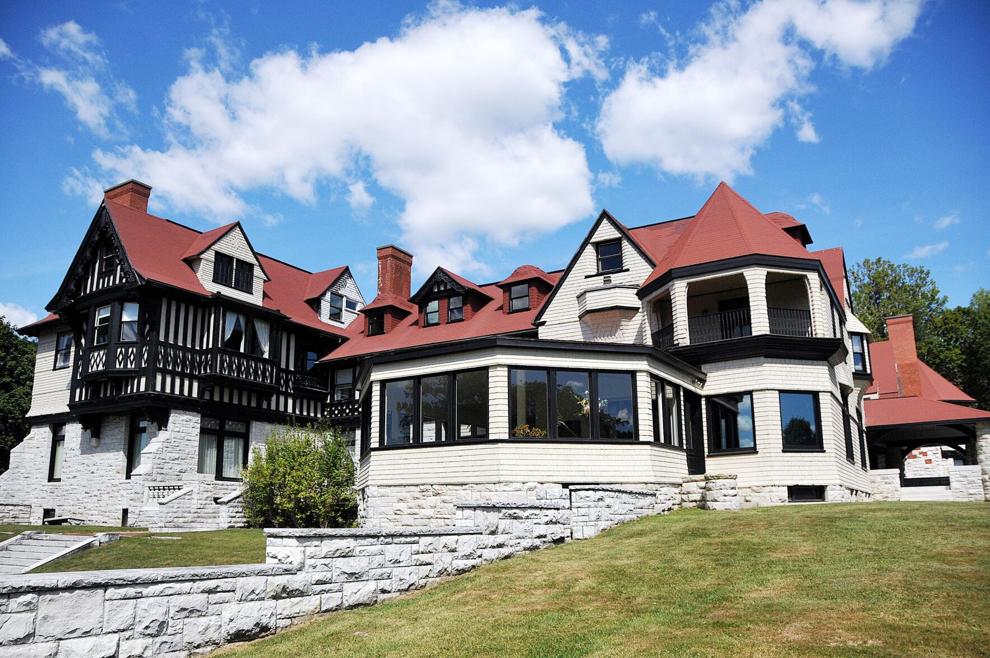 STOCKBRIDGE — The historic Elm Court estate on Old Stockbridge Road has been sold for the second time in 10 years, but this time the new owner has a familiar face.
Linda Law, the former owner of the historic Blantyre estate in Lenox, has purchased Elm Court for $8 million, according to documents filed at the Middle Berkshire Registry of Deeds in Pittsfield.
Law, a real estate investor who lives in Menlo Park, Calif., and recently obtained a residence in Lenox, had purchased Blantyre from the Fitzpatrick family for $4.6 million in June 2017, before selling it for $15 million in November 2021 to its current owners, Texas real estate developer Clark Lyda and interior designer Kent Fulk of San Francisco.
Elm Court's former owner Front Yard LLC of Denver, which had purchased the estate for $9.8 million in July 2012, had originally planned to turn the 112-room, 55,000 square foot property into a resort, but the plan was scuttled two years ago at the height of the COVID-19 pandemic following fierce neighborhood opposition, and had more recently been offered as a single-family residence. Front Yard is associated with Amstar, a Denver-based real estate firm and Travassa Destination Resorts & Spas, which runs high-end destination spas in Hawaii and Texas.
On Tuesday, Law said she was considering "several options" for the property, but declined to provide more detailed specifics.
"I'm not going to live in it," she said. "It's not going to be a traditional resort."
One of the concerns that nearby residents had about Front Yard's resort proposal was the impact that the project would have on the surrounding neighborhood.
"Elm Court should enhance stakeholder values, not negatively impact them," Law said Tuesday.
One of her goals is to "enable this project to shine a bright light globally, and be a beacon for Stockbridge, Lenox and the entire Berkshire region."
In August, Front Yard LLC had asked the towns of Stockbridge and Lenox for a two-year extension of the special permits that the firm had initially received for the resort project. Elm Court is located mainly in Stockbridge, but the 44-acre property carries over into Lenox. On Tuesday, Law said those permits are still active.
Elm Court was built in 1886 as the summer home of William Douglas Sloane, whose family owned a prominent furniture company, and Emily Thorn Vanderbilt, the granddaughter of Cornelius Vanderbilt. It was the last 19th century Berkshire Gilded Age "cottage" still under original family ownership when it was sold in 2012 for the highest price ever paid for a residential property in the county, according to Eagle files. Robert Berle, who had owned Elm Court with his wife, Sonya, is a descendent of William Douglas Sloane. Elm Court is one of the country's largest shingle-style homes.
Law said Tuesday that she often drove by Elm Court when she owned Blantyre, which was built in 1902, "and became increasingly entranced by the legendary estate." She felt a connection to the estate after touring Elm Court four years ago, "and knew it was destined to be part of my future."
She then made several unsuccessful offers to buy Elm Court, "always unfortunately hitting the wall."
But when Front Yard LLC decided to market Elm Court as a residence two years ago she saw another opening.
"I knew this was 'my time' to acquire Elm Court and made a very bold offer, with no contingencies and minimal due diligence," Law said. "A quick close ensued and my destiny had come to fruition."
The Berles, who had originally placed Elm Court on the market in 2005, had asked as much as $21.5 million for the estate. Front Yard LLC listed Elm Court at $12.5 million when it put the estate back on the market in 2020.
Law, who will own Elm Court through a trust, said she plans to renovate the estate to ensure "that the property and its future use be accretive to the community and at the same time ensure that the community resources be utilized and accretive to this project."
By community resources, Law said she was referring more specifically to "employment opportunities, town taxes, philanthropy, and the contribution of intellectual capital to cultural events, seasonal and regional happenings, and town activities."
One of her goals is to "save this legacy property, as it is on the precipice of being too costly to repair."
"Our team is going to be very deliberate in its thoughtful renovation to restore the vibrancy of this landmark property," Law said. "We feel tremendous responsibility to pay homage to its storied past through al aspects of its careful restoration.
"Collectively, we have done a tremendous amount of research on the architecture and design of the Gilded Age and the history of the Vanderbilt family," she said. "Equally as important, we will pay the utmost attention to the historical importance of Elm Court as its own entity, as well as its position and prominence in the Lenox and Stockbridge communities."