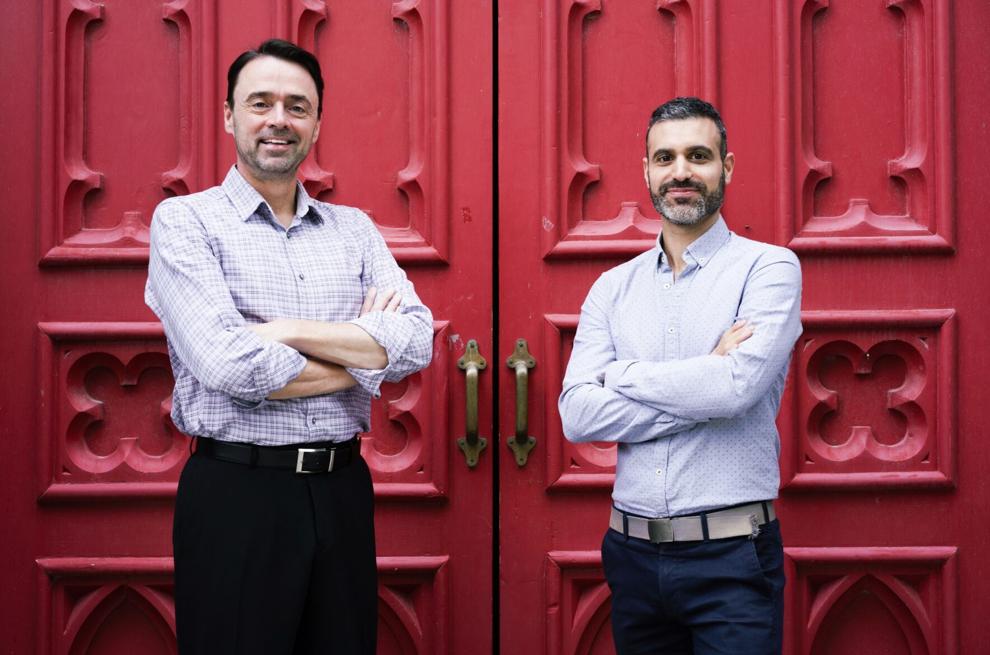 PITTSFIELD — When the Berkshire Opera Company disbanded over a decade ago, it left a void in the otherwise bountiful array of cultural, summer attractions in the Berkshires.
Sensing an opportunity, Brian Garman and Jonathon Loy — both veterans of the genre — took matters into their own hands, and in 2016 they co-founded the Berkshire Opera Festival.
Garman serves as artistic director and Loy as production and stage director, leaving the running of the actual business in the hands of Executive Director Abigail Rollins, who joined the nonprofit in 2019.
The two men have known each other since the late 1990s when Garman, who grew up in Iowa, served as the principal conductor of the Pittsburgh Opera and Loy, who is originally from Philadelphia, worked there as an intern while attending the University of Pittsburgh.
We spoke to them recently about why they formed an opera company in the Berkshires, and their concepts and appreciation for the art form. This is what they told us.
Q: Why did you decide to revive opera in the Berkshires?
Brian: It's not actually a revival of the former company. It's a new completely new company that we built with new infrastructure, a new mission, new staff, new everything. Jonathon and I have been friends for 20-plus years now. We discovered that we shared similar tastes in opera and singing and kicked around this idea of, "We should really start something sometime."
Jonathon: The reason we chose the Berkshires is because I have family here (Loy's great uncle was the late Eugene Talbot, who served on the Select Board in Stockbridge for many years). The Berkshires were an incredibly special place for me and my family. So I knew this area, and I knew the old company — I actually did a show with them when I was very young — and I knew that it had went away.
The reason I called Brian when I did was that I knew it had been gone for some time, and I had connections here. I said, "This is the most culturally rich place in the country in the arts during the summer except for one thing." And I said, "Right now is our opportunity to make sure that the Berkshires has truly everything." I knew that Brian and I with our experience and our contacts could bring the highest level of opera to the Berkshires.
Q: On your website it states, "We believe that opera is a living, breathing relevant art form that must be nurtured to survive." What does that mean?
Brian: The way I look at that is I don't think it ever works particularly well, but I think essentially now, if we intend to keep this art form alive, if we intend to draw new audiences into operas, we can't treat these operas like museum pieces. Our first goal is to always try and find the best possible artists to perform these things. We also try and have a fresh take on all of the operas that we produce. That doesn't mean setting Don Giovanni on the moon or something like that. But it does mean doing things perhaps not in the same way that they have been done over and over and over and over because I think that's not a way to keep the art form vibrant, and it's not a way to attract new audiences.
The way to do both of those things is you either have to do new operas, which we're trying to do as well, or you have to do the standard repertoire operas in a new way.
Q: I've seen other performing arts venues try that but sometimes the ideas and the material don't fit together even when the intention is good. So how do you do that and make it work?
Jonathon: Brian and I have been doing this for a long time. Certainly we see things that don't particularly work. The reason that tends to happen is you as a director have a particular idea in mind, but completely ignore the text and you get yourself into trouble, right? There are certain pieces that are much more willing to let themselves be updated or manipulated in a certain way.
For example, [Madama] Butterfly that we did. For a lot of the pieces that we've done we tend to mix costumes in terms of period. If you kind of let the characters tell you how they want to be dressed, this character might be a little different as long as they look really good and can tell the story. For Butterfly for example, [the main character's] whole want is to be an American wife, this realistic dream that she has that of course is destroyed. So in Act Two, when we see her, she was in a Chanel suit because that was the quintessential precedent that was set in the '60s. Interestingly, the Navy uniforms don't change that much, the suits don't change that much so you can feel like it was period. But all of a sudden there she was in a Chanel suit and it kind of smacks you across the face of this kind of ideal American dream of what every woman thinks that they want.
It's things like that. There's a lot of pieces like Don Giovanni, or [La] boheme, that we're doing this summer, the time period actually doesn't really matter to the telling of the story. There are certain pieces where it does. You have to be careful about how you choose to manipulate certain things. But I think if you're true to the text I think you can really get away with trying to give a different perspective on that story.
Brian: This also goes for the musical aspect as well. When you do a piece that has been performed many, many times, for example, Rigoletto. There have become so many traditions associated with it. If you go back to a piece like this sometimes you get a fresh take on things when you look at what is actually on the page carefully. It can be an exercise similar to scraping off old paint. Because we've had years and years and decades of things being done one way in many cases it's simply because that's how someone did it once even though it might not be particularly what the composer wrote. That's what we found this past summer. One of the things that happened to Mozart's music over the years is that the tempo, the speed of the music, is much, much slower than what Mozart actually wrote and intended.
Q: How did you guys actually meet?
Jonathon: I started interning [at the Pittsburgh Opera] in every department [in the summer of 1998]. That was part of my curriculum. Part of that was also assisting directing the young artists program. So we definitely interacted. I think I even spent time marking scores with Brian. I knew everyone there in every department, and Brian and I just clicked. We had very similar ideas about operas and likes. It was pretty much a fast friendship.
Q: How did you end up working together?
Jonathon: We actually didn't work together until we were in Seattle [around 2009-10].
Q: So you just ran into each other again?
Jonathon: We never actually lost touch. We had lots of colleagues in common. I came to Seattle to do a show, and Brian was the music director of the arts program and I came to assist a mutual friend of ours. Opera is a small world anyhow. That was the only time we had worked together professionally until we started the company. But when you're friends with somebody for so long you know and trust each other. Plus we had discussed the idea of this festival previously. So it was always on the back burner.
If we were really going to do this there would be no one else. I had run a company with someone before, so I knew that if I was going to do this it would be with no one other than Brian.
Brian: When someone knows someone for so long you develop a particular language of how you work together efficiently.
Q: I've talked to lots of people who run businesses together, some of them are even related, so I know it's not easy for two people to run something like this. How do you guys do it?
Jonathon: I actually think the reason that we're successful is there's such a clear division of labor with what we do. Brian is the artistic director who is casting the singers and is in charge of all the musical aspects of the company. It's very clear. I have really nothing to say about that. I think the reason this is successful is that we mind our own businesses.