It's important to celebrate the little things in life — and a new Berkshire-based canned champagne cocktail brand is offering the opportunity for merriment in a single-serving size.
Champé, the brainchild of Donald "DJ" DiBuono, will be available for purchase in April, and preliminary samples of the peach and sparkling wine flavor have been a hit with testers chosen through an Instagram giveaway.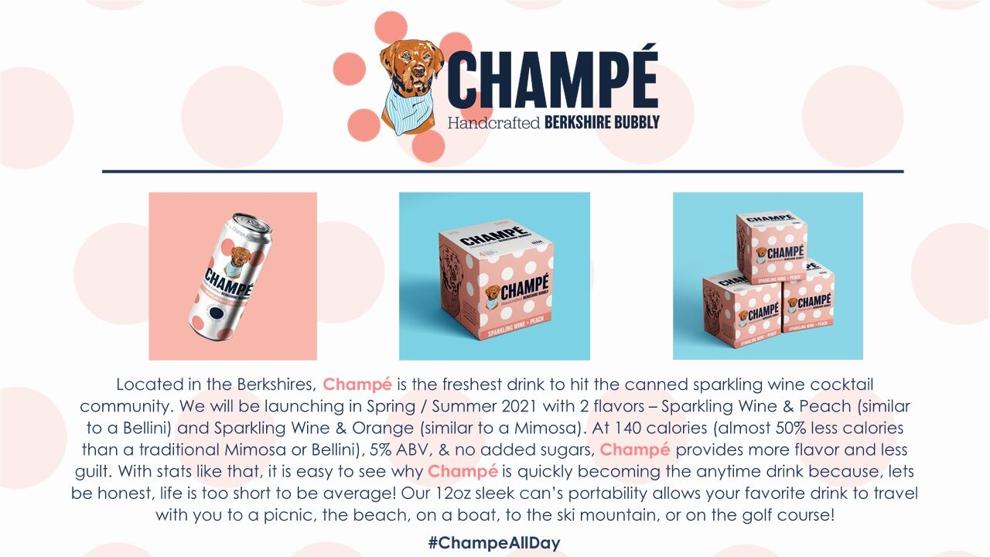 Champé will come in four-packs and clocks in at 140 calories per serving and at 5 percent alcohol by volume. DiBuono points out that this is about half the calories of a traditionally mixed mimosa or Bellini.
"It hits the low-calorie mark and packs a huge flavor," he said. "We wanted to keep the drinkability factor, something that's refreshing and light, and lower on the alcohol spectrum."
DiBuono, who lives in Troy, N.Y., is part of a family of local restaurateurs — his family owns Mario's in New Lebanon, N.Y., and his aunt and uncle own The Roasted Garlic and Zucchini's, both in Pittsfield.
While working in finance in New York City, DiBuono fell in love with the brunch scene and was working with his family to bring a New York City-style brunch experience to New York's Capital Region (he moved back to the area several years ago). The idea fizzled, but "that whole brunch vibe stayed with me," he said.
From that experience, the idea for a canned sparkling wine cocktail — essentially, a mimosa or Bellini in a portable container — continued to bubble in his mind as he saw canned seltzers, wines and other beverages rise in popularity.
He worked on the idea through 2020, attracting the attention and consulting help of entrepreneur distiller and small-business consultant Ben Reilley, the creator of Disco Lemonade, New York state's first canned cocktail, which sold to a Kentucky beverage business in 2019.
"With the pandemic, I was struggling to get it going; it's a new industry for me," DiBuono said. "Ben has a ton of great connections and he's a very upbeat person — it's been great to work with him so far."
DiBuono and Reilley used their respective networks to find a flavor house that would work with natural flavors only. The wine is sourced from the Finger Lakes of New York, and it's likely that Hilltop Orchards in Richmond will be co-packing the canned beverage.
"We're hoping that Champé can be another great thing that comes out of the Berkshires," DiBuono said.
The coronavirus pandemic also presented some supply chain challenges — production facilities have slowed their operations, resulting in a can shortage, and getting samples out to a larger group has been difficult, though DiBuono and the rest of the Champé team have been conducting in-person masked deliveries.
You will be able to buy Champé at the restaurants owned by DiBuono's family members, as well as at local wine and package stores in the Berkshires and online (a website is in the works).
DiBuono sees people in warmer weather packing Champé in their Tanglewood picnic baskets, golf cart coolers and lakeside lunchboxes, since it travels well, meets general BYOB qualifications for outdoor events and requires no advance mixing.
DiBuono calls his target market "Champ(é)ions": people who work hard, play hard and maintain an "I can" mindset.
"Especially nowadays, there are so many struggles going on," he said. "You have to celebrate small victories."
The original Champ(é)ion, he said, is his blue-eyed rescue dog, Berkley, who he adopted last year with his fiance.
"He's forever celebratory. He's always so happy. That's what we want the brand of Champé to exhibit — celebrate everything you have in life, whether you're going on a walk, or having a good meal somewhere ... life is too short. We want people to celebrate and be happy."