ADAMS — Christin Fetterolf and Bill Sweeney had recently moved to Lanesborough from Lexington two years ago, and they wanted to play pool.
They were empty nesters, with Sweeney's two daughters from a previous marriage in college. Opening a restaurant wasn't on the table until Sweeney Googled, "coin-operated pool table near me."
"That was going to be our date night," Fetterolf said.
The two warmed up quickly to bar owner Scott Lee and the atmosphere, and when it became clear he wanted to sell the place, he kept Sweeney and Fetterolf in mind.
Fetterolf, nicknamed "Red" for her hair color, and her husband, Sweeney, bought the Viking Pub building at 83 Commercial St. from Lee on an October morning last year and had it running under its new name by the afternoon: Red's Viking Pub.
"I'm going to go back and take another tech job at some point, or start a company. There's a reason we called it 'Red's,'" Sweeney said. "We never had opening a restaurant as part of the plan. I finally said, 'Well, what do you want to do? Do you want to work for someone else?"
"I can't go back to a desk," Fetterolf said.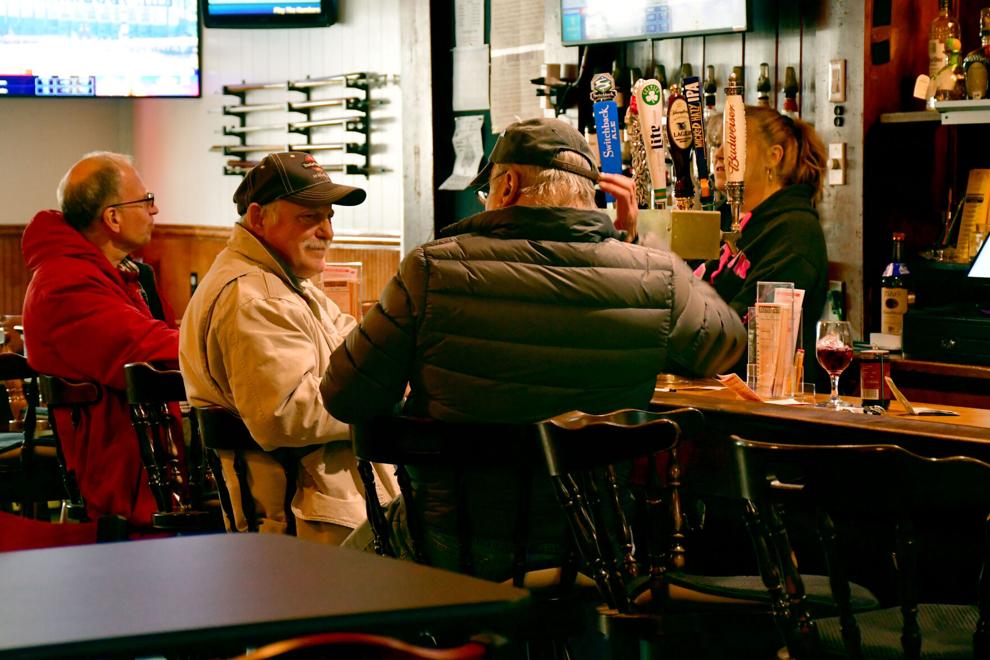 Despite the quick turnaround on its first day and the built-in clientele, the couple, who've never owned a restaurant before, have been taking the time to establish a presence and build a menu. They've hired kitchen staff, put in a dishwasher, installed a pizza oven, became ServSafe certified and made changes to the interior and exterior of the building, among other things. Their grand opening, promoted by the town, was in December. They say that soon, they'll provide takeout.
Both come from a health care technology background. Fetterolf in particular said she had been out of a job for a bit and was trying to figure out how to spend her time.
"I had never waited tables or bartended in my life," she said.
Sweeney worked on and off in the restaurant industry when he was 14 to 26 years old before starting his career.
The new owners are also renting out the four apartments above the pub.
Sweeney said Red's is meant to be a neighborhood bar with pool, drinks, music and a creative menu.
"We're a little bit of everything to everyone," Fetterolf said.
Red's is 21-plus only, "and we're sticking to it," Fetterolf said. "People have asked, 'Can I bring my 18-year-old in just for dinner, and then we'll get out of here?'" she continued. "I tried to let it happen a couple times, and it's just, either you have a policy, or you don't."
"People love their kids, but it's an adult establishment, and at the end of the day, someone's going to tell a joke with an 'f bomb' in it, and if there's a 15-year-old-having dinner with mom and dad behind them, it's just not that place," Sweeney added. "It's a neighborhood pub for adults."
Sweeney and Fetterolf profess a commitment to the pool teams that play at the pub, which have had great success in the past.
"Our pool teams are important to us," Sweeney said. "Everything has been re-felted, rebalanced. This room was very different two weeks ago. I was in the ceiling moving lights, we got rid of all the old tables."
Red's sports a brick façade with new awnings out front. Customers are greeted by a large bar with ample seating, a jukebox and Viking paraphernalia and branding. ("We're leaning into the Viking theme," Fetterolf said.) The wood-paneled backroom contains pool tables and table seating.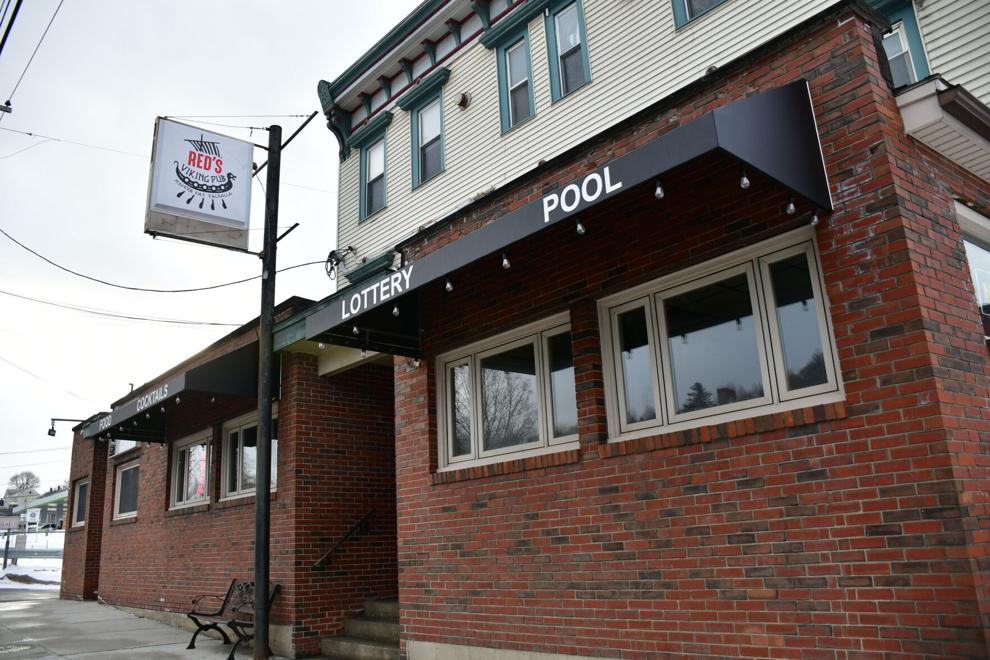 Sweeney led the menu-building effort with Fetterolf, and enlisted the help of Edward Bassi, who ran the kitchen at the former Bass Water Grill in Cheshire and owned the restaurant with his wife Roberta Gregory.
"Our house is the test kitchen," Sweeney said.
The pair plan to have Bassi stay on as a kitchen consultant, and once the full staff is in place, the kitchen will become self-sufficient. Fetterolf will run the bar.
While Red's does offer the usual fare in terms of classic American food, such as French fries, chicken tenders, salads and burgers, twists on those concepts include home-cooked ideas from Fetterolf and Sweeney. The menu includes a massive fried cheese curd as an appetizer, as well as poutine, a favorite of Fetterolf's. They make a pan pizza, with dough engineered by Fetterolf and sauce by Sweeney. Almost everything is made in-house.
Sweeney is proud of the pastrami sandwich, which involves "beef brisket corned for days, smoked for hours and then steamed."
As a young man who enjoyed smoking meat, Sweeney learned he was accidentally making pastrami.
"I'm an Irish-Catholic kid from Lowell, Mass., so I thought I was smoking corned beef. Turns out, if you smoke corned beef, it's pastrami," Sweeney said.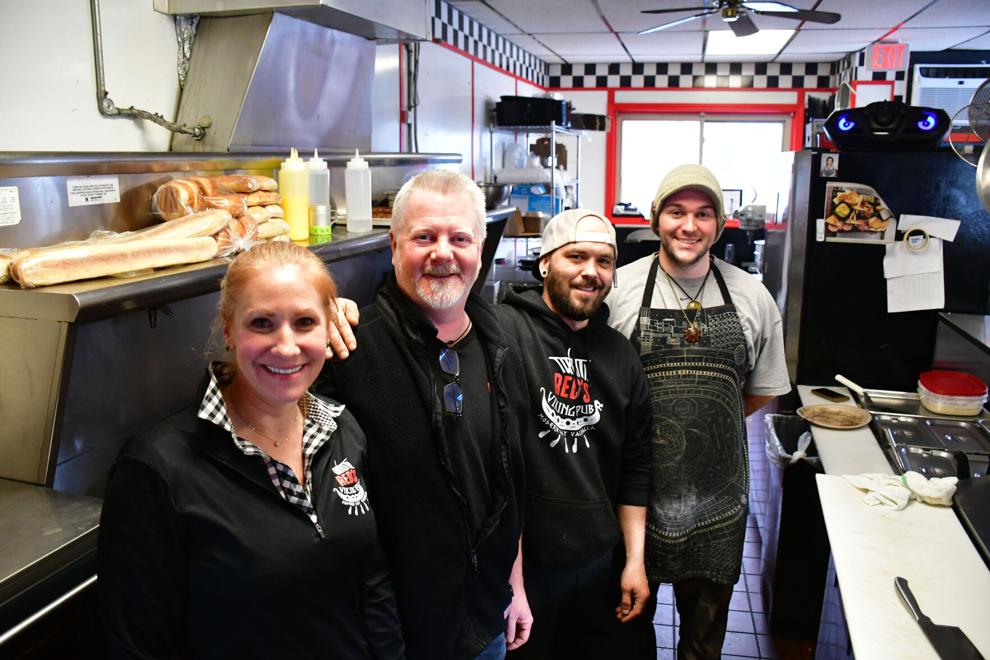 Red's has earned positive reviews on Facebook for its Sunday brunch and "Hangover Helpers," including a frozen super smoothie, lox and bagels, Eggs Benedict, old-fashioned pancakes, "Hair of the Dog " (a take on Bloody Marys), Gatorade and ginger tea, among other items.
Fetterolf has come to enjoy bartending. She tells a story of the spontaneous magic that comes from running a pub.
"They do karaoke every Friday on State Street, and on Saturday, someone was talking about singing there," Fetterolf said. "We said we wished we'd got to see them sing, and I said, 'I work Friday nights, so you gotta do it right now, honey!' He got up and started belting a cappella. I can't remember the song. But the whole bar chimed in and started singing along. It was the most fun I'd had in so long."
"I had left to take the dogs out," Sweeney said. "She called me to tell me what I missed."
"I was like, 'You just missed the best time in the world,' " Fetterolf said.