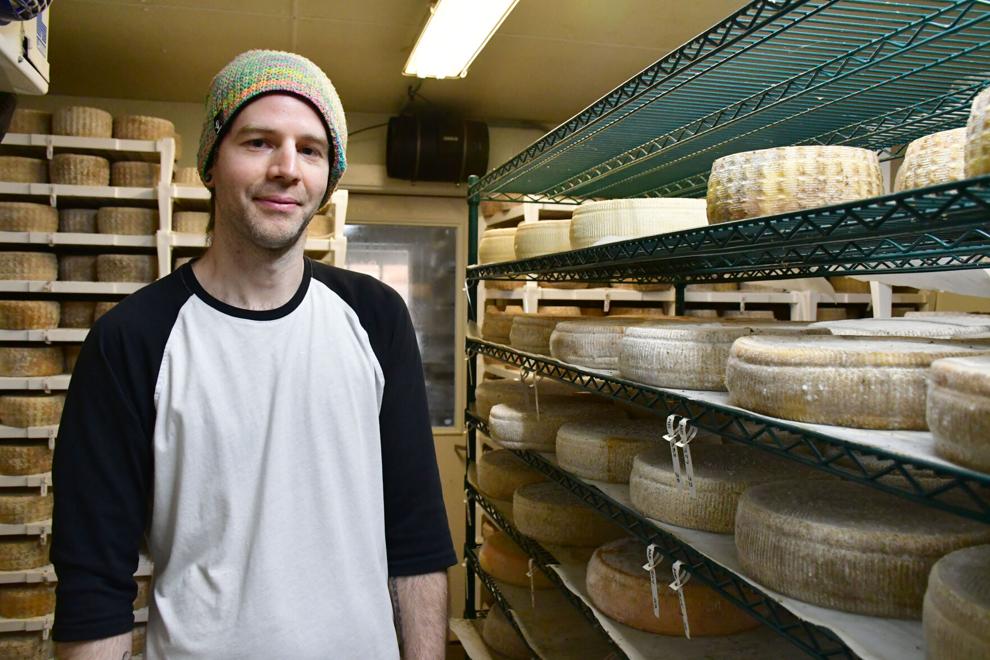 PITTSFIELD — Damion Davis likes to learn. His classroom is located in the cheese-making facility at Cricket Creek Farm in Williamstown.
Davis, who grew up in the farming country of northern Michigan, has been making cheese for over a decade now at five different creameries that have also included facilities in Boston and Maine. He finds joy and stimulation taking familiar recipes — Cricket Creek makes seven types of cheese — and slightly tweaking the formula to come up with something new.
We spoke to Davis recently about he became a cheesemaker and what he likes about his craft. This is what he told us.
Q: How did you begin making cheese?
A: I'd say about 12 years ago. I was pretty much homeless by choice. I was a very nomadic person. I met this woman in Maine who sort of took me in and she taught me how to take care of her goats. A small herd of show goats. Basically, once a week we'd take the milk we got from them and make cheese for ourselves, one pound wheels or something. I almost immediately fell in love with it and wanted to do that instead.
Q: Why did it grab you?
A: Friends and family and everybody would come straight to the table to eat the cheese. I thought "Wow, everybody loves cheese." It brought everybody together instantly. I knew right then and there that cheese was a great way to bring people together. I just kept going with it, refining it. Seeing how people came to you instead of you going to them; it astonished me. And so did everything else about making cheese.
Q: What else was intriguing about making cheese?
A: All the science behind it. I never stop learning. I have a very large thirst for constantly learning something. I can't stop it. It's probably like an issue for me, the need to be constantly learning something and with cheese it never ends. It's a great way for me to really appreciate what that means for myself.
Q: I've heard you've been involved in farming most of your life.
A: I was born in Florida. I grew up mostly in Michigan. Northern Michigan. I lived close to the Mackinac Bridge (which connects Michigan's lower and upper peninsulas). Where I grew up in Michigan is very populated with Polish people. Lots of farms, a lot of dairy farms. Big agriculture like corn, potatoes and green beans. I was doing that all through high school. It's how I earned money working on a potato farm in the summer, working on a dairy farm during the summer. We always had a garden every year. I'm an avid gardener.
Q: How do you learn the craft of cheese making?
A: I started off with very basic recipes and did that for a whole year. Then I got to Boston and worked with a mozzarella maker who had been doing it for 30-plus years, They let me be their creamery assistant. It was a very lucky opportunity for me to get in and do very industrial cheeses, and learn all the equipment and things. I was making cheese there, but because it was just one kind of cheese that we were making, I didn't really learn much as far as expanding my cheese repertoire, all the science behind it. Then I worked (in Maine) at a creamery. They allowed me to have creative control over everything. We came here (to the Berkshires) once COVID happened. I lost my job up there.
Q: What is it that you are constantly learning?
A: I can literally do the same thing every day and maybe change something every minute about it and have it be completely different, or not change anything at all and the waiting period alone can make something different. With the way that Cricket Creek does things, since we're not a seasonal dairy, I make cheese all year round so I already have to have an expectation of adjusting at certain times of the year because the milk changes. We make a few varieties and I control everything from start to finish.
Q: What have you learned lately?
A: Basically, from start to finish, I'm still learning even now. How to control the environment after I make the cheese and all of that. The changes I have to make in the spring and fall and everything in between. The things I'm learning are very small details, like how often do I flip the cheese and how long do I leave it stacked when it's draining, or what the temperature in the room should be when I leave for the night.
I really enjoy it because I'm a very organized and detailed person. It's not for everyone for sure. But there's a lot of different aspects about it that anybody would get into. I could turn the whole process into like four different jobs.
Q: So take me through the process
A: The whole process is perfectly done as far as the same recipe goes. You're using the same thing over and over because it works perfectly and then I find little ways to make it better all the time. I use the same recipe, but maybe I stir it a little bit longer. My whole approach is just to find ways to improve what's happening, making it a more efficient, higher quality cheese, or making something that can shelve for much longer because we're not selling as much. How much can I store at once, how long can I make it last?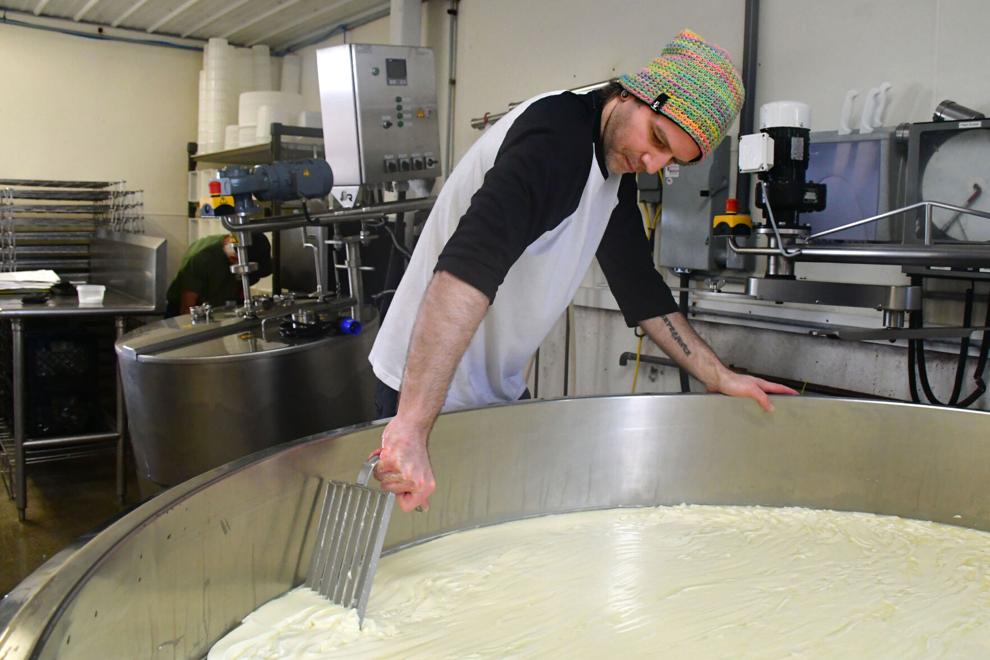 Q: How long does it take to make a wheel of cheese?
A: If I'm doing the flagship cheese here it's just a couple of hours. But to get it to the point of eating it's going to be a few more months.
Q: Why do you have to wait so long to eat it?
A: A lot of fresh cheeses you don't have to wait at all. The ones we do, you do have to wait awhile. It's because we're letting all of the bacteria in the cheese and the ones in the raw milk itself do the work to make it what it is. There's also the environment in the room making it what it is. Like take a hard cheese; the bacteria in there is doing vey specific things. They break out proteins. They change the texture; they change the proteins. All the mold growing outside of it gives it its own aroma.
Q: What's the hardest cheese for you to make?
A: For me it's the Washed Rind cheese. It's proving to be very difficult. You wash the outside of the cheese with bacteria and salt and it makes the cheese orange. That's a very specific kind of bacteria. it's very hard to grow. Everything has to be perfect, It takes a good month for it to even establish on the surface of the cheese. It's a very long and patient process.
Q: What's the easiest?
A: For me it would be a spreadable cheese, a chevre. It's very easy.
Q: What advice would you give to someone who wanted to become a cheesemaker?
A: I would say do it with someone like me who loves to teach it and can give you a lot pointers and experience. You could always try doing it for yourself at home but I think definitely having somebody who is there and has the experience in hand already makes it so much easier in the long run for most people.
If somebody wanted to get into it as an apprentice I would teach them everything I know as an apprentice basically within a year. Trying to find information on it in literature is just not there really. You can find a lot of books and recipes but you won't find much (about) the science part.
Q: What would you be doing it you weren't doing this?
A: I don't know. There's still much I love to do still. I love to garden and be outside. Family is very important to me. I love to read. This is my career at this point, but I would still be a man of many traits.