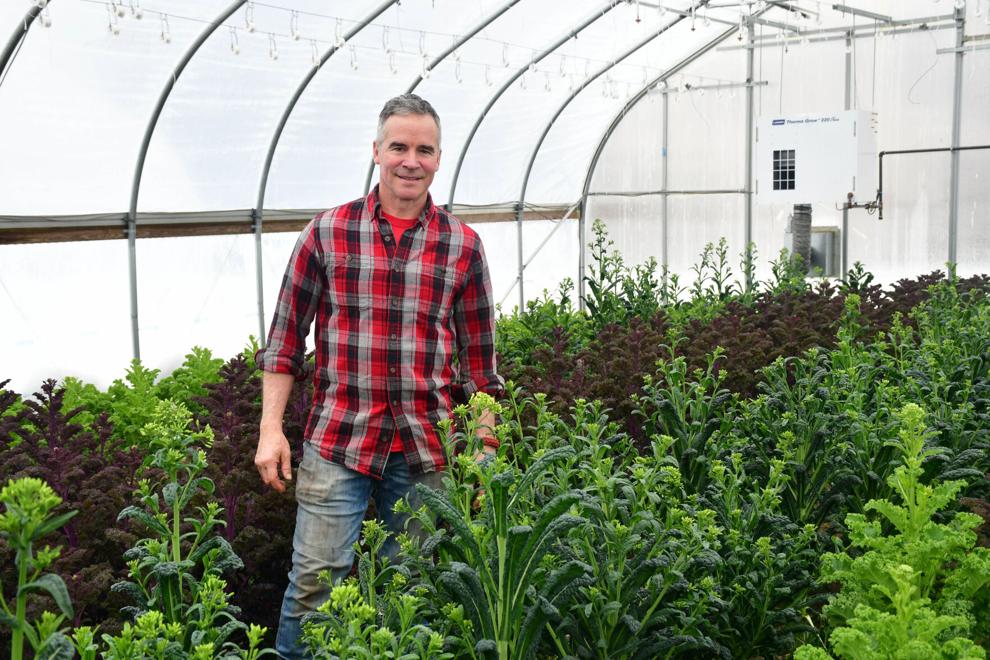 PITTSFIELD — Jim Schultz spent many years juggling two unrelated vocations. He made a living with one, but was much more passionate about the other.
After spending 26 years as both a teacher and administrator for the Pittsfield Public School, Schultz realized eight years ago that he could retire with a pension. That's when he decide to devote himself full time to farming, something he had dabbled in since first coming to the Berkshires to attend Williams College as a pre-med student.
Schultz owns Red Shirt Farm in Lanesborough, a small organic farm where he runs a CSA (selling shares to the public through a community supported agriculture model) and raises vegetables and poultry. We spoke with Schultz recently about his career path, and the challenges that small farmers in the Berkshires face. This is what he told us.
Q: When I first met you years ago you were the assistant cross-country and track coach at Taconic High School. I know you were also a pre-med student at Williams. How did this lead to farming?
A: All the way back in high school I was really interested in health and nutrition, environmental issues and how food and farming tied into that. I really fantasized about getting my own piece of land, homesteading and building my own house and growing my own food and all that, but I was living in a suburb of Boston (Winchester).
Q: So why did you go to Williams?
A: I did well in school. I was at the top of my class so Williams was a compromise where I could get "to the country" from Boston and then maybe pursue something once I got there. I got there and I was pre-med, but in one of my work study courses, where you focus on one thing, I went up to Vermont in an environmental studies program that was a winter ecosystems study. There were 10 of us who lived on top of a mountain with no running water in the middle of the winter. It was 21 degrees below zero in three of the last four weeks we were up there in Vermont.
Q: Freezing in the middle of nowhere led you to agriculture?
A: One of the guys I met had been at Sterling College, which was then called Sterling Institute, in northern Vermont. It teach alternative skills, agriculture and forestry. You learned how to work with draft horses and raise sheep. I left Williams for a year and spent the year up at Sterling studying agriculture. Then I went back to Williams. I decided that Williams wasn't really for me. I grew up in a lower middle class family. Williams is not that. I was kind of out of my element. I really wanted to explore my interest, which was really agriculture. So I left Williams and apprenticed for three years at a variety of operations. I met my ex-wife, Annie, on her parents' farm in Williamstown, Caretaker Farm.
Q: When did you switch to farming for good?
A: We raised two kids and raised them for four or five years at Caretaker Farm, so while I was teaching I was also helping out on the farm as much as I could. Then we bought our own land here in Lanesborough, about 10 acres and started to develop that into a farm.
Unfortunately, in agriculture the big obstacle is getting access to land. Either as a young farmer or somebody interested in agriculture you lease land and maybe make a living off of that. before you buy your own piece. Or the alternative is what I did; come into it with some money or family land. If you don't have those things you need some access to land, so I decided to go into education to to raise my kids buy the house and buy the land. Then when I realized after working for 26 years that I could actually take an early retirement with a tiny pension and go back to doing what I love, which is farming; that's when we had our land. We had to repay the house off, repay the land off and get my kids through college. But now I could do what I wanted, which is farming.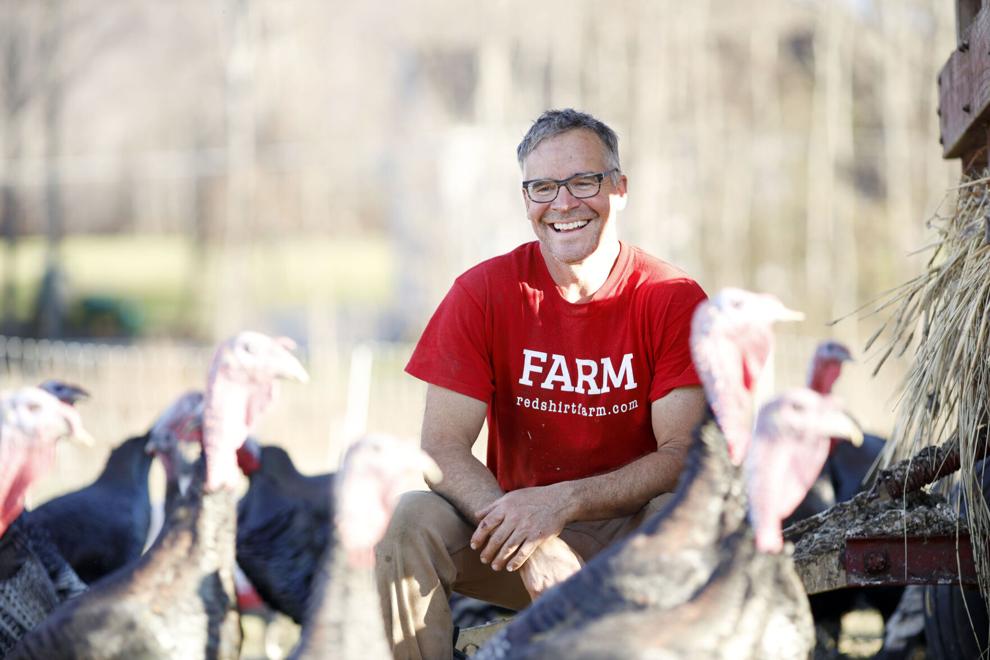 Q: It sounds like you took a big leap of faith at that point.
A: Yeah, it was. A lot of farmers you'll find are in the same vein that I'm in. We're just so passionate about what we're doing and the way that we're farming. I don't know if a big commercial farmer would feel the same way, but to get a piece of land to see it develop, to see it grow really nutritious food that never had chemicals or pesticides on it, to share it with your community... in my mind there's no higher achievement than that.
Q: What are the challenges that small farmers like you face today?
A: The elephant in the room is climate change. That's affecting not just small farmers, but farmers everywhere. We have really erratic weather patterns. Four weeks ago we had days in the 50s and then right after that we had days in the negative 20s. It's throwing off the natural system. We have more erratic rainfall where we get floods for awhile than we get droughts the next year. We get later springs, later falls.
As a farmer you're depending on the sort of natural cycles of the weather, and if you can't count on those anymore it's hard to know when you plant, when you're going to harvest. Fortunately, the systems that we use like not tilling as much, which kind of increases the organic matter of the soil, gives us a kind of buffer so that if there's a heavy rain we're not getting flooded. The soil is going to act like a sponge and absorb that. We try to work as much as possible with nature.
Q: What else is a challenge?
A: The next huge one, for small farms like ours, is that it's hard to find labor. The way we farm is more labor intensive. It's more hand-based work. We're a very small farm not on a big flat area, a lot of terraces, steps into the hillside. Those are created by hand and maintained by hand. You can't really run a tractor over them. So finding people who really want to do the work... we're willing to train them. We have run for a number of years an apprenticeship program for young folks and older people — we've had people as old as 50 who have come — who want to learn these techniques. What we offer is room and board and a reasonable stipend for that. But it's challenging to find folks who are willing to do that.
A lot of people I think romanticize farming. They have this bucolic image of what it's going to look like. Many of these folks have never done manual labor in their lives for an extended period, so it's a quick eye-opener. We've had people leave in the middle of the season.
Q: Then how do you make a living?
A: Part of it is the lifestyle. Our needs are very little for the way that I did it. We don't have a mortgage. We own the land and the house and I own all of the tools and infrastructure that I need to run the farm. We accept that we're living a simpler lifestyle. We heat our house with wood. We make enough to get by.
Q: Why did you call your farm Red Shirt Farm?
A: You know what redshirting is right? Division 1 sports. A prospect comes in and they're not quite ready so they sit them out for a year. My redshirting was the 25 years I sat out while I was getting ready. Those were my redshirt years.
Q: What advice would you give to someone who wanted to be a farmer?
A: No. 1, get some experience — working on other people's farms, being an apprentice — if you can afford to do that. The experience and the learning from other people's mistakes and systems is going to save you a ton of time. Do some reading and training, but don't get stuck in this endless loop of thinking that "I'm going to be reading the next book." There's plenty of books that have really good information on how you go out and do this thing, but you've eventually got to go out there and do it.