LENOX — It's back to the future for a former star player on the downtown dining scene.
Nudel, opened in 2009 by proprietor and chef Bjorn Somlo, fell on hard times during the pandemic and closed last September.
Now under new owners and renamed Cello for its proximity to Tanglewood, the 28-seat Church Street establishment is carving out a familiar but updated identity.
Leading the kitchen is Raymond Stalker, Nudel's most recent executive chef, trained at the Culinary Institute of America in Hyde Park, N.Y. Stalker is also a Cello co-owner.
The new proprietor-investors, Robert Fried and his wife, Karen Kowgios, have been business partners for 35 years. They were certified public accountants specializing in the theater industry who "semi-retired" to West Stockbridge recently from the their Manhattan firm, sold five years ago to Withum Smith+Brown, PC.
Although they are newcomers to the restaurant business, they hope that Cello can rekindle the buzz that once had diners lining up before the 5 p.m. opening, eager to score a table at the intimate establishment that took no reservations until the final years of Somlo's ownership.
Acknowledging that restaurants are risky ventures, Fried and Kowgios pointed out jointly, "having worked in the theater business, we can assure you that was much riskier."
Why dive in?
"We were Nudel regulars for a long time and loved it," Kowgios explained, "but this kind of changed" when Somlo took on The Lantern in Pittsfield, which closed in April 2020, they said, in part because he was exhausted.
At Cello, reservations are available, and there will be outside seating for eight additional diners at two tables.
Other than that, how does Cello play differently from Nudel?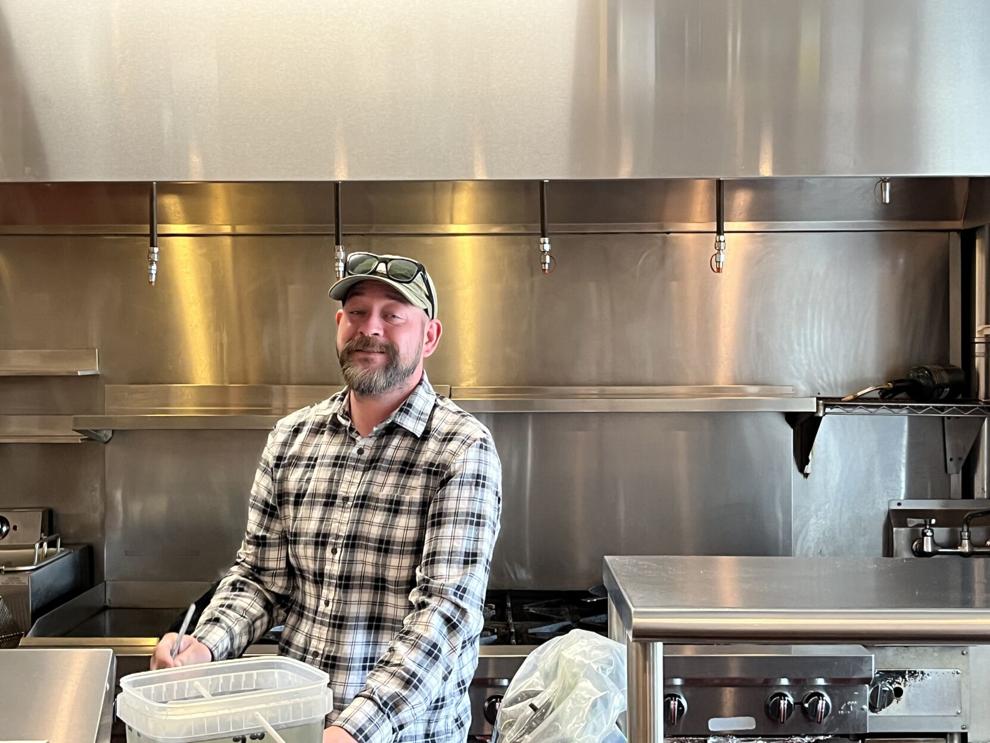 "Not much, but with more of my touch," Fried said. As he and Stalker summed up their "American Eclectic" culinary lodestar: "Buying the best, locally and seasonally inspired 'farm-to-fork' ingredients and being creative."
No specials, but the menu changes at least weekly, bowing to the Nudel tradition, as Somlo revised the menu nearly every night from day one.
A typical recent menu listed salads, soups and other starters ($6-$16) and mains (fish, veal, duck, linguini, $28-$38), and a choice of two desserts ($12).
Stalker acknowledged that the search for trained staffers is challenging, but he has his sous-chef, Dashaan Golden, whom he trained at The Lantern.
Stalker stressed that he's not poaching servers from other establishments.
"Everyone who works here came to me and asked for a job," he said. "I didn't go to anybody."
Cello is a year-round restaurant aimed at local regulars as well out-of-town visitors, open from 5 to 9:30 p.m. Wednesday through Saturday, with Sunday to be added. Its liquor license was expedited recently by the town and the Alcoholic Beverages Control Commission in Boston, with significant help from state Rep. William "Smitty" Pignatelli.
Fried and Kowgios have a six-year lease with two five-year extensions for the premises at 37 Church St. from building owner Jonathan Molk of Housatonic LLC.
The key to success, as Fried put it: "If we get a chance to feed all of Nudel's followers who remember their experience there, they're going to want to be back with us. We're a casual restaurant offering a fine dining experience, highest quality, uniquely prepared."
On a good night, they said, the hope is to serve a total of 70 diners.