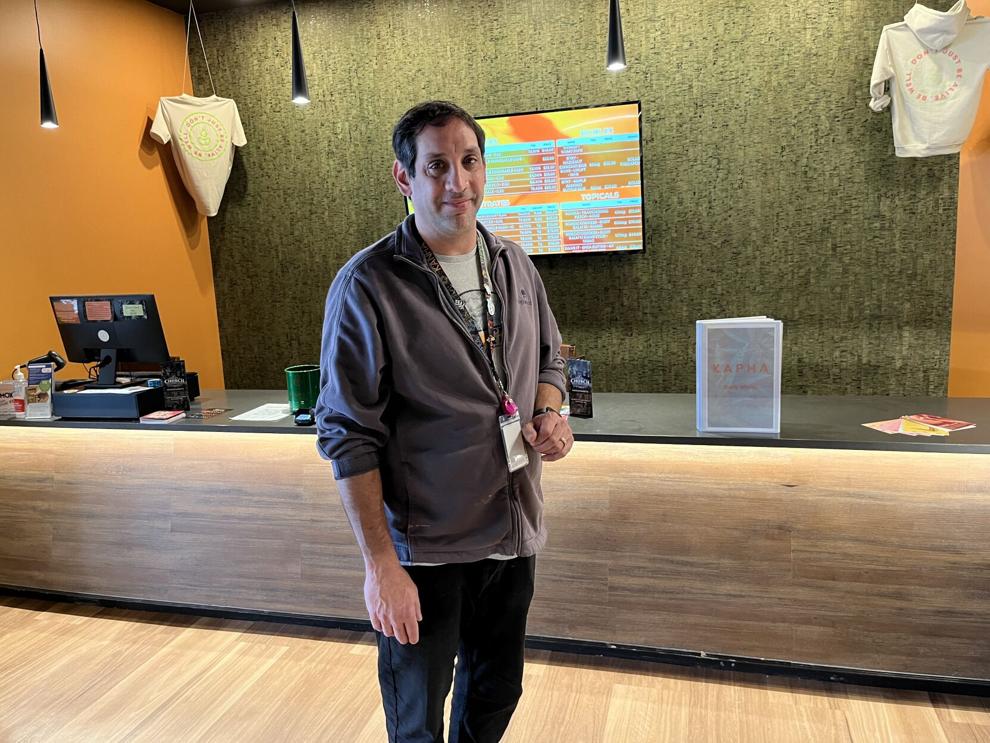 LENOX — Kapha Cannabis, the town's first and (so far) only dispensary of marijuana products, aims to carve out a mellow, New Age niche to stand out from the competition.
Recently opened at 439 Pittsfield Road, adjacent to Electra's Cafe, Papa John's pizzeria and Berkshire Dogs Unleashed, Kapha offers a wide range of edibles — the top-selling category so far — and other products designed to sync up with the town's upscale image.
The corporation, Krishna Lenox LLC, is owned by Navin Shah, president of the Berkshire Hotels Group. The new store is overseen by General Manager Robert Cohen, who's also director of operations for Shah's BHG LLC. Kapha has 13 employees, all but two full-time. It was approved by the Lenox zoning board in December 2020.
The word Kapha comes from the ancient Indian practice of Ayurveda, a Sanskrit term that translates to "knowledge of Life" — a practice that focuses on total wellness of the mind, body and spirit, according to the store's website.
Entering the former premises of Essencials Day Spa, a visitor is given a badge lanyard for admission, greeted by a staffer and by the rippling, waterfall-like sounds of a glass floor fountain. The company invested about $500,000 to convert the space, including a redesign by William Caligari Interiors of Great Barrington, Cohen said.
Display cases contain various categories of cannabis products, arranged by the experience they offer — tinctures or edibles "designed for an end-of-the day, relaxing, sedating effect," he explained.
Nearby is a display of uplifting products such as edibles "to increase focus, which is not what you would think of for marijuana," Cohen commented. There are also libations combining cannabis with caffeine.
"The level of euphoria can be different, depending on what you take," he pointed out. The state legal maximum is 5 milligrams per dose, but there are also many lower-dose options mixed with CBDs that "temper the 'high effect' for a more relaxing sensation as opposed to feeling like you're taking drugs," he added. Edibles, the top category, are twice as popular as flowers at Kapha, contrary to typical statewide ratios.
"We're really focused on the education piece for customers, and also supporting multiple, smaller Berkshires growers — like EOS Farms and J-B.A.M., Inc., both of Pittsfield — who take more care with the production of their products and give us more information about the cannabinoids (including CBDs and THCs) and terpenes that differentiate the strains of cannabis and their effects," Cohen noted.
Photos: Kapha Cannabis opens as Lenox's first cannabis dispensary
Kapha Cannabis is Lenox's first dispensary, and focuses on education and the health and wellness uses for cannabis products.
To purchase these photos, click here.
Beyond edibles and flowers, product lines include pre-rolls, vaporizers, concentrates, tinctures, topical creams, "Dream Drops" for bedtime relaxation, and accessories.
Informational handouts and even reference books are available onsite for customers new to the cannabis world. Patrons can pre-order online at kaphacannabis.com among more than 200 available products for in-store pickup, or they can come in and browse the display cases. Payment is by cash or debit card, on-site only.
Since the opening in January 2019 of Theory Wellness in Great Barrington — amid great fanfare, with long lines out the door and stunning revenue — competition has surged as multiple retailers in Pittsfield, Lee and other communities set up shop.
Jack's Cannabis Co. opened last year right over the line from Lenox, right down Pittsfield Road from Kapha. "It's a friendly competition community in this industry," Cohen observed.
How will Kapha stand out from the crowd as more stores have opened?
Apart from providing education for cannabis newcomers, the focus at Kapha is on the "shopping experience, making it not so rushed," Cohen commented. "We really want people to come in, look at things, ask questions and spend some time." Although folks in a hurry also are welcomed.
"We opened at a tough time for commerce in the Berkshires, in mid-February," Cohen acknowledged. Business has "perhaps not been as much as I had hoped, but it's progressively getting better, every week and every day. We're looking forward to the time when all the hotels fill up."