LENOX — It might seem like a stretch: Relief from pain, joint inflammation, chronic headaches and stress, if you spend up to 3 minutes inside a full-body cryotherapy chamber set at … wait for it … minus 166 degrees Fahrenheit.
This first-in-the-Berkshires therapeutic wellness treatment offered at Lenox Fit, in its new Wellness and Recovery Room, gives a different meaning to the term "polar express." The equipment, aptly named Cryo Arctic, is a product of the CRYO Science company.
According to Lenox Fit President Suzanne Merritt, cryotherapy also can elevate mood, improve sleep, aid in weight loss, ease arthritis pain and assist athletes in recovery from hard exercise. Before the coronavirus epidemic, she invested $100,000 through Lee Bank to start the business expansion.
The nearest cryotherapy services are in Northampton and Albany, N.Y., according to online listings.
"I really feel higher-end experiences like this should be available to people in the Berkshires, and we shouldn't have to travel to get something extra or special," Merritt said. "I want our dollars to stay here. We try to create a spalike experience for people, something private and in tune with their needs."
A typical 30-minute cryotherapy session at her 90 Pittsfield Road fitness center begins with the polar immersion in a full-body chamber that resembles an oversize phone booth, up to three minutes, with music chosen by the client — rappers Ice Cube or Vanilla Ice might be suitable for the occasion.
That is followed by 10 minutes of infrared heat in a Jacuzzi-brand sauna and 15 minutes of leg-compression therapy. Membership in Lenox Fit is not required, and clients have ranged from teens to seniors in their 70s.
After his first venture into the ice chamber, Lenox resident Jeff Minkler, an endurance athlete, plans to be a regular.
"The therapy gives me a quicker recovery from hard workouts," he said. "I was able to sleep a full 8.5 hours the night after the treatment. It's rare for me to sleep through the night."
Minkler told The Eagle that he felt no anxiety before his first exposure to minus 166 degrees.
"The sauna following it was quite welcome," he noted, adding that the leg-compression therapy was "really amazing."
Merritt explained that the deep-chill treatment reduces inflammation after high-intensity exercise, but also addresses many other causes of inflammatory pain, such as relief from neck pain flare-ups.
Physical therapist Tiffany Brower of Berkshire Physical Therapy and Wellness, a tenant at the fitness site, sought relief from a 10-day migraine and has taken the treatment a dozen times.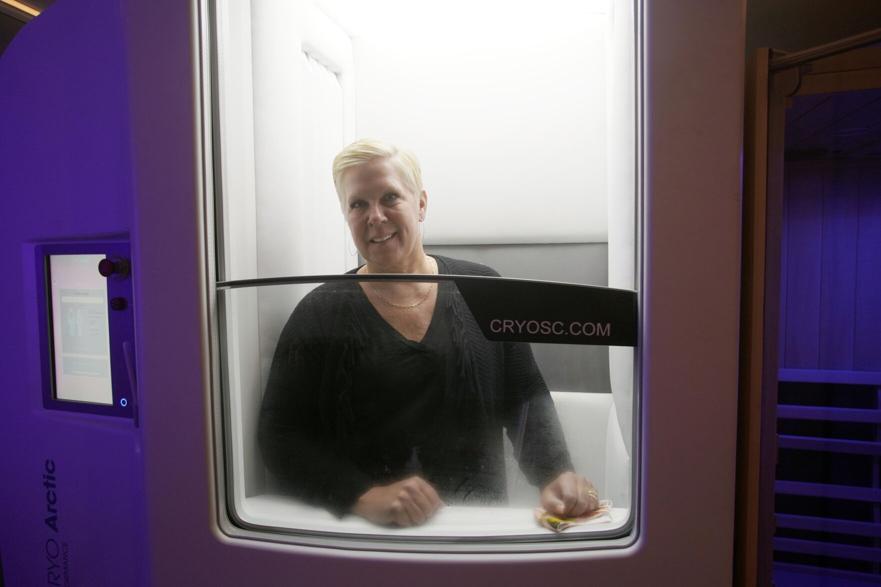 "The chamber itself sounds very frigid, but a cold shower is way more painful," she said. "In the chamber, the air is cold and blowing toward you, and you come out of it invigorated, feeling lighter, and you have more energy."
How cold is it? For beginners, minus 166 degrees; the next level is minus 184, and the advanced level is minus 202. There even is a "pro" icy blast at minus 220.
"It's a very short exposure, and you do tend to acclimate once you start doing it regularly," Merritt said. After the arcticlike immersion for a maximum of 3 minutes, clients enter an infrared sauna, where it is 130 to 150 degrees above zero.
During the first three weeks, more than 30 people signed up for a $35 introductory session, and nearly all have become repeat customers, Merritt said. Single sessions cost $55, and a package of 10 runs $450 if purchased in advance.
"Fitness is one part of the puzzle of taking care of your body, and so many people ignore the recovery aspect," Merritt noted. She calls the combination of cryotherapy, infrared sauna and leg-compression therapy "the trifecta of recovery."
As a bonus, a client can burn up to 800 calories after three minutes in the chamber.
For the average person, a physician's written approval is not necessary, but clients are prescreened by filling out a waiver listing certain conditions that would rule out the treatments. The waiver is required for everyone older than 18, and a parental waiver is required for teenagers 14 to 17. Parents must be present during treatment for teens.
It's not a "medical experience," Merritt emphasized, likening cryotherapy to massage and other alternative treatments.
"The experience really speaks for itself, and once people have it and end up feeling so much better, that's why they keep coming back. People get over feeling a little scared or anxious, because once they do it, they say they want to do it every day."