BECKET — It's Christmas in the year of COVID. But, even a devastating pandemic that has claimed thousands of lives isn't enough to dull the level of enthusiasm that these loyal customers look forward to every holiday season.
Each year, these customers wait in joyous anticipation to receive a package mailed from the Berkshires that contains The Dolphin Studio Calendar.
Each 12-inch-by-24-inch calendar includes 13 hand-printed silk-screen designs — one for each month, plus the cover. Every page is a hand-printed color print in a variety of designs. This year, the calendar has reached a significant milestone. It first was printed 50 years ago, in 1970.
It all was started by two local artists — the late John and Primm ffrench, who also founded The Dolphin Studio in Stockbridge in 1970. Now, the making of each handmade calendar is under the auspices of two of the couple's three daughters, Crispina ffrench, of Becket, and Sofia Hughes, of Stockbridge, who also are artists.
While children, they used to help their parents make the calendar, and now their offspring — Hughes' 21-year-old daughter, Lilly; and Crispina's 14-year-old daughter, Lucy — help them by filling the roles that the sisters originally provided for their parents.
'I could not do without it'
For the faithful, receiving The Dolphin Studio's calendar every year is more than just a holiday tradition, it's a way of life.
"I could not do without it," said Harold Linde, a psychologist in Tampa, Fla., who began receiving its handmade calendar in the mid-1980s, after a colleague bought one for him as a Christmas present. "It's in my office, next to my desk. I enjoy looking at it."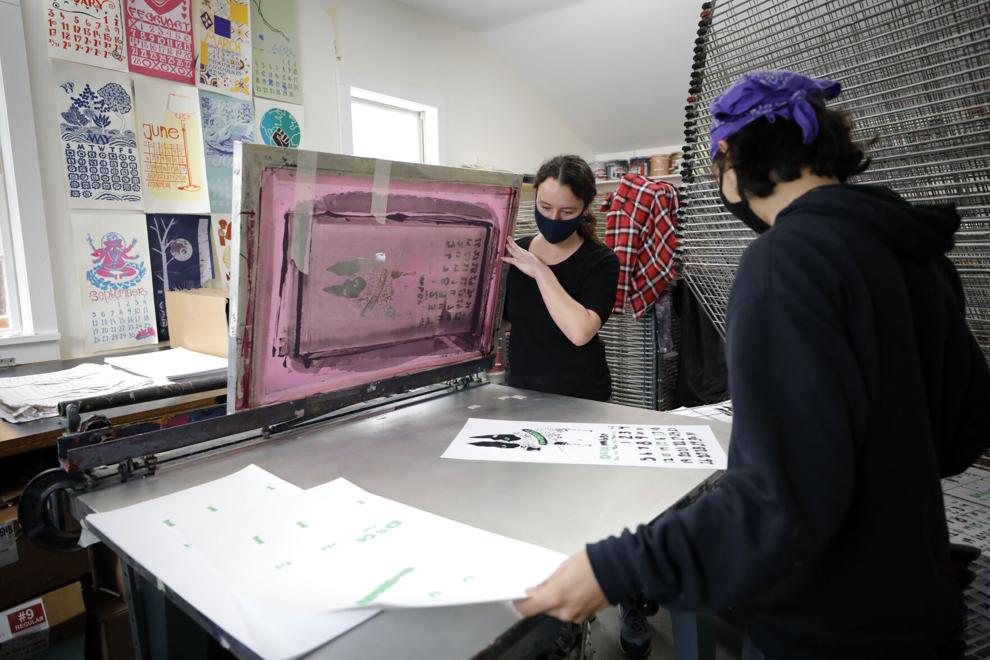 Meridith Bultman, who lives in Atlanta, said her mother, Betsy, who resides in Columbia, S.C., has received the calendars every year since the ffrench family has made them. Betsy Bultman, who is 92, and Primm ffrench were suite mates many years ago at the University of Mary Washington in Fredericksburg, Va.
"We save every single one of them as well," Meridith said. Pages from previous years' calendars hang on the walls of her parents' other home, in New Hampshire.
"These calendars are very, very special," Bultman said.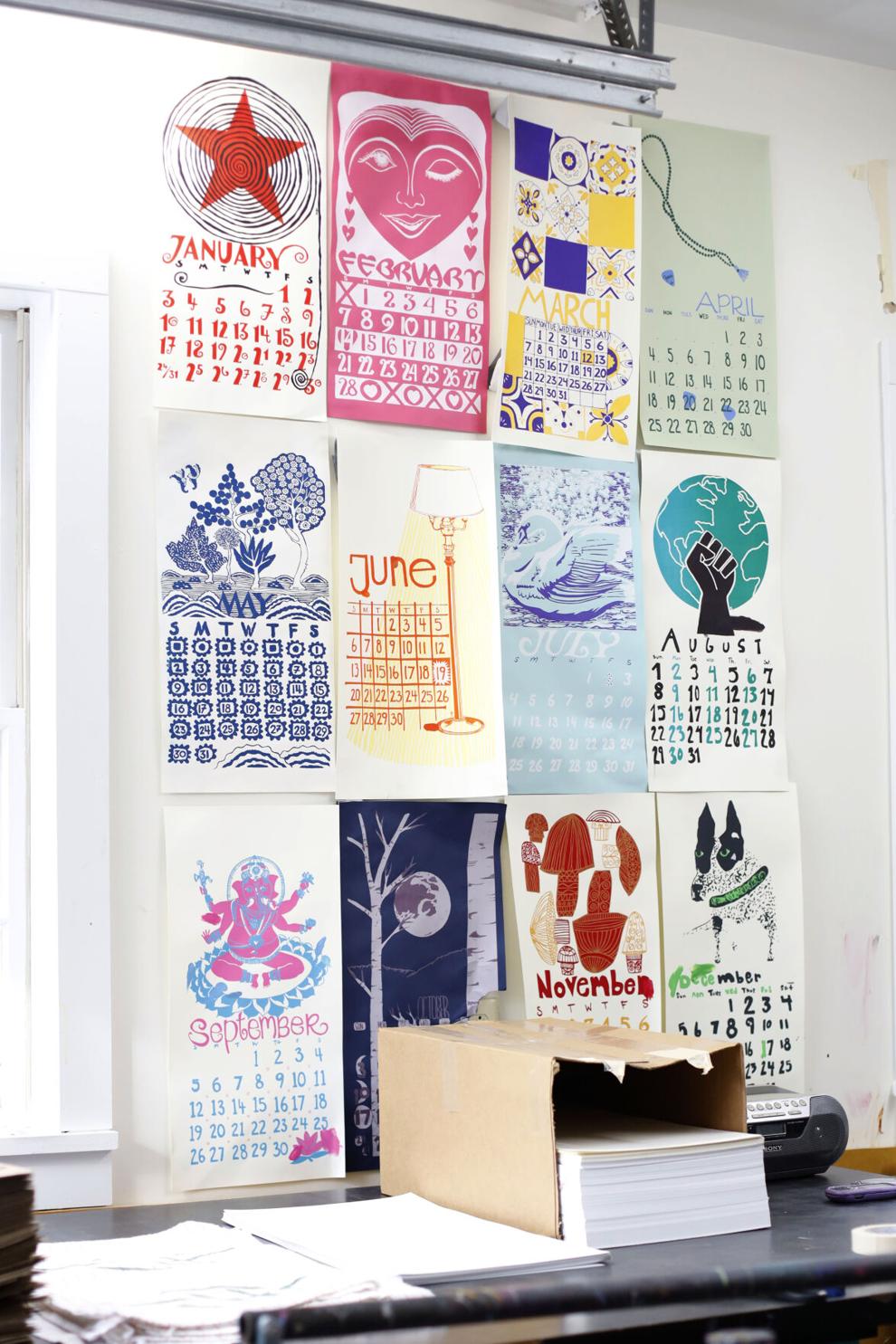 The Dolphin Studio's handmade calendars received national exposure a few years ago, when they were featured in Martha Stewart Living, and have continued to remain popular. Even with the coronavirus pandemic raging, sales are up 50 percent from 2019.
The calendar comes each year with an updated photo of ffrench family members, and Hughes believes that this family connection is what has kept the project going for so long.
"People who get the calendar year after year have seen Crispina and I grow up, basically," Hughes said. "Now, they're seeing our children going back to when they were 3-year-olds making their first designs."
'A sense of belonging to something'
The calendar provides "a sense of family tradition," Hughes said. It's very unusual to have something going on for 50 years.
"I think it's sort of a sense of belonging to something," Hughes said, "even though that seems sort of crazy when you think: It's just a calendar. But, to so many people, it's more than that. It's like they know that we are a family, that we really do make this calendar.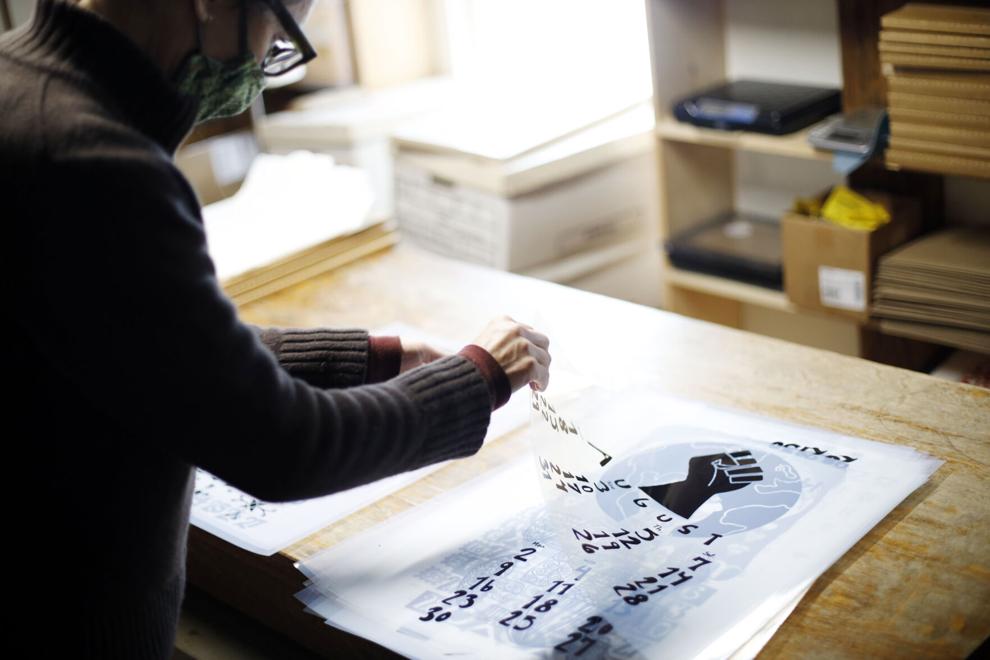 "It's not like it's shipped out to the local printing place, and I think that they really appreciate the amount of work that goes into it. It's not just a big-box piece of a gift."
"Meaningful," ffrench said. "I think it's really meaningful."
Ffrench and Hughes said they begin planning each year's calendar the previous January and that they hand-print more at their printing facility in Becket each year. This year, they have printed 3,000, up from 2,000 in 2019 and 1,075 the year before. The extra copies are necessary because a lot of the regular customers buy their calendars in bulk.
"I think this year I bought 12 or 13," Linde said.
Primm ffrench, who died in 2013, was a painter, and John ffrench, who died in 2010, was a ceramic artist. They both taught at Monument Mountain Regional High School in Great Barrington.
They originally made the calendars just for friends and family. They printed about a dozen the first year and 40 the second year, according to ffrench and Hughes.
The pages of these early calendars contained various forms of artwork, like drawings, watercolors and collages. But, ffrench said her parents found these methods too time-consuming — "They were just overwhelmed," she said — and after the first two years, they began using silk-screening to print their designs.
"They figured silk-screening was a way to make more than one at a time," Hughes said. "You can print many prints from one screen.
"For years, our father was the main printer, and we helped him as children growing up by putting the designs in the drying rack," she said. "My mother was the one who cut all the stencils for the different designs."
A tribute to the parents
Ffrench and Hughes took over the project after their father died. Lilly and Lucy now help with the designs. The calendar also includes previous artwork from the two women's other sister, Felicitas ffrench, who has multiple sclerosis and has been confined to a nursing home for 15 years.
The monthly designs are different each year, but the cover is always the same — it's based on a design that John ffrench made in the early 1970s. Lately, Hughes and ffrench have begun paying tribute to their parents by using four vintage prints that their parents developed in each year's calendar.
"We're reintroducing them," Sofia said. "Our kids are designing, and Crispina and I design, so, it is truly a three-generation work of art."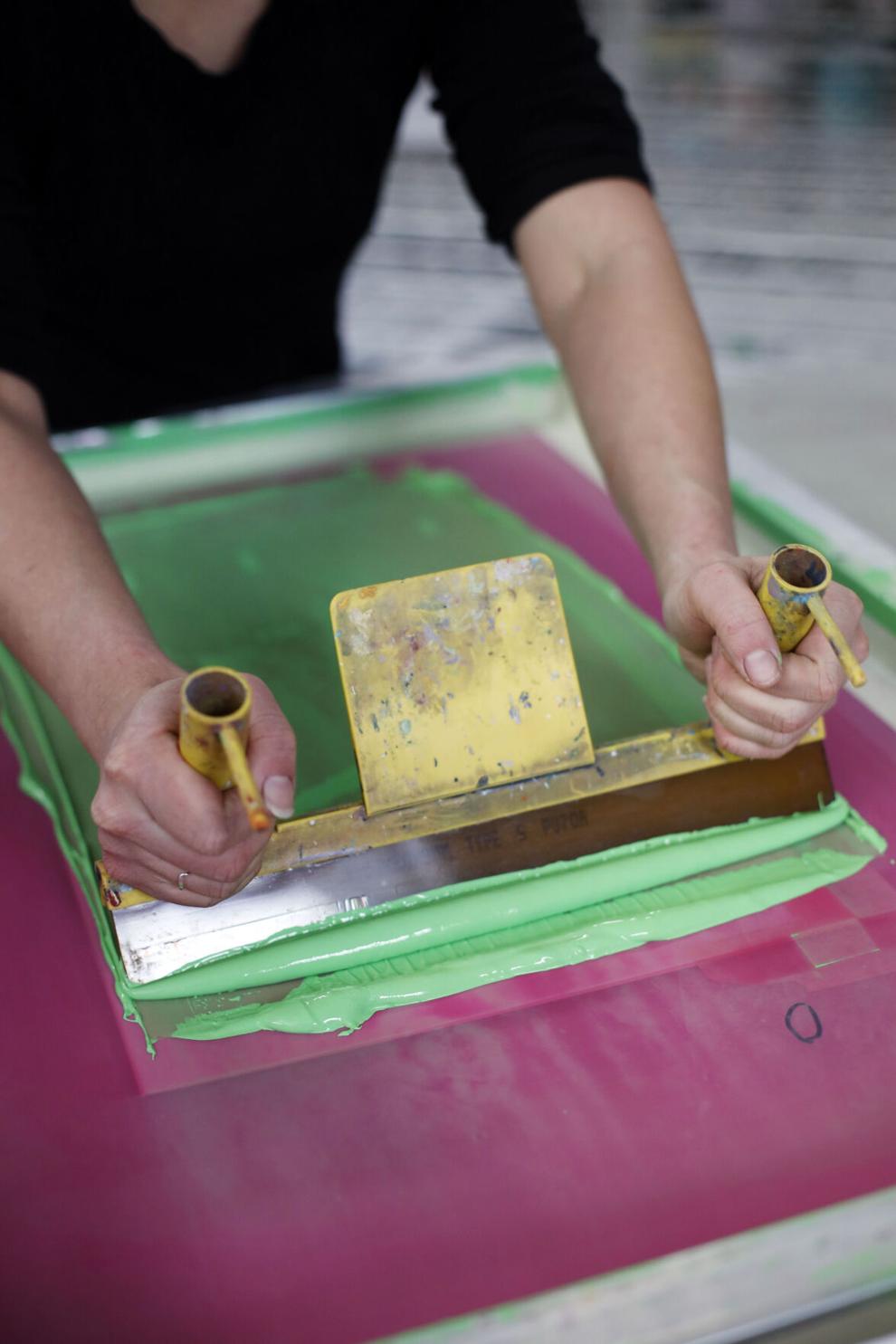 Each month's designs are made by different family members. The ideas come from "everyday stuff that people are kind of familiar with," ffrench said. "Last year, I did tomatoes on a vine."
"I try and incorporate a sort of whimsical design into my designs, but every year it's different," Hughes said. "November this year is a mushroom."
The women said many customers enjoy each month's individual designs so much that they often don't look at the next month until the previous one has passed.
"They do not look ahead at the month that's coming up. It's a big surprise," Hughes said. "So, they reveal a new piece of artwork every month.
"People have a spot on their wall where they hang their calendar every year," she added.
Georgeanne Rousseau, a retired schoolteacher who lives in Lenox, began receiving The Dolphin Studio's handmade calendar in 1990, after a visit to the studio.
"The graphics are so beautiful, and it's so beautifully printed," Rousseau said. "The colors are well-chosen and very, very nice, and they're printed on nice paper.
"If you're a fan of lithography, you'll fall in love with it. ... You notice that all the numerals are hand-printed. There's nothing mechanical."
Beth Hardesty, of North Bennington, Vt., who has known the ffrench family for many years, started receiving the calendars in the early 1980s. When her now-34-year-old son was a baby, she hung the calendar in his room. She believes some of her son's first words were inspired by a monthly calendar design.
"It was an orange, and one of his first words was 'ball,'" Hardesty said. "He would point at the ffrenches' calendar."
Hardesty refers to each of the calendar's hand-printed designs as "a separate work of art. Each one of them is unusual. They are well-done, well-crafted."
She never gets tired of looking at them.
"You always see something new," Hardesty said.