EGREMONT — Have you ever dreamed of owning one of the Berkshires' historic luxury estates?
Or of just being able to afford renting one for multiple nights?
Daniel Dus, founder and managing partner of Shared Estates Asset Fund GP, says he has found a way to bring the county's former Gilded Age mansions within reach of the middle class — as affordable short-term luxury rentals and, more importantly, as investment opportunities.
"I grew up in Richmond and Becket. I've never set foot in Canyon Ranch [the former Bellefontaine mansion]. I wasn't about to spend $1,500 a night for a hotel room; it always kind of felt wrong," he said in a phone interview with The Eagle. "I always wanted to change that."
Dus' vision involves rehabilitating Berkshire Cottages — those are summer estates built by some of America's wealthiest families from 1880 to 1920 — and redeveloping them into short-term, carbon-neutral luxury rentals.
"It feels to me that they should be able to be experienced by everyone," he said.
In November, Shared Estates announced the pending acquisition of an Egremont estate, Applegate Farm, whichit plans to rename in honor of Elizabeth Freeman, of Sheffield, the first Black female slave to successfully sue for her freedom in Massachusetts.
The group is purchasing the property at 46 Bow Wow Road in Egremont for $1.6 million — $80,000 in cash and $1.52 million in seller financing, secured at a 5 percent annual percentage rate and amortized over 30 years.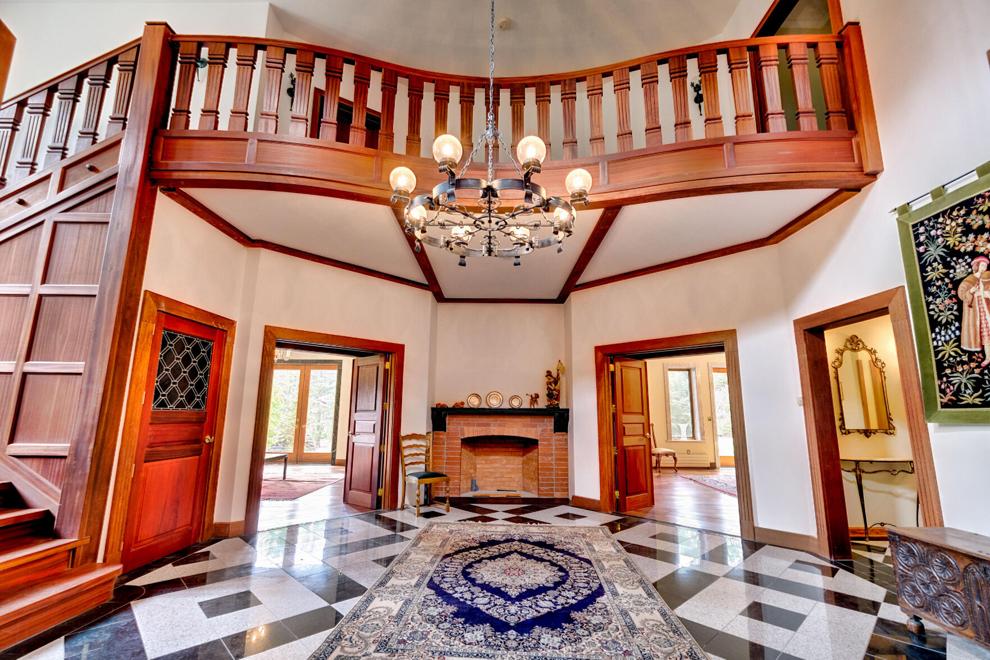 The Freeman Berkshires — it's an 11,353-square-foot, 14-room mansion nestled on 40 acres along the Egremont/Sheffield border — will be the first estate to be redeveloped under the Shared Estates luxury short-term rental plan.
But, putting together traditional financing for the redevelopment of these properties isn't easy.
"We developed a database of commercial lenders across the country and sent out inquiries to about 40 or 50 of them. About two-thirds of them said the area was too rural," Dus said.
"It was a huge surprise, because the real estate prices in this area are extremely stable. But, people are having problems getting mortgages from national banks because they don't understand the Berkshires."
It was then that Shared Estates decided to raise the capital through a mix of three simultaneous securities offerings: Reg D, Reg S and Reg CF — a crowdfunding component that opens up investment to anyone older than 18 able to make the offering's minimum investment.
The goal, Dus said, is to raise up to $890,000 through the real estate crowdfunding site smallchange.co by March 2, the offer's closing date. There, investors can learn about the project, read the project's disclosure packet (which includes the project's pro forma, budget and projected revenues) and even make an investment. The minimum amount a person can invest is $1,000.
In return, investors will receive preferred equity stock with a projected 8 percent preferred return over an anticipated 10-year term. When that threshold is met, investors then will receive 80 percent of the profit share, up to 200 percent of their investment. (Funding distribution changes again once the 200 percent threshold is reached.) Also included is a 15 to 20 percent investor discount on stays at the property.
According to information provided by Shared Estates, a $2,500 investment would see a potential return of $9,865 if the property sells after 10 years; $6,339 if the property is sold within five years.
The project as a whole — purchase and related costs, renovations and all rental-related preparation — is estimated to cost $2.4 million. The property will be rented out through shared-rental platforms such as VRBO, with the ultimate goal of selling the property at a profit. Money raised from rental fees will be used to pay debt first, and then be distributed to the investors.
"Shared Estates is a member investor, just like everyone else. We don't start to see additional revenue until after the preferred return of 8 percent is met. We're incentivized to not only make this work, but also to sell the property," Dus said.
Becoming more common?
Financing real estate development deals through crowdfunding platforms is something that Ian Rasch, of Great Barrington, a principal with Framework Properties and the Alander Group, believes is going to become more common in the near future.
"Real estate crowdfunding, in 2021, is expected to reach $9 billion in investments," said Rasch, a real estate developer and investor who has experience working with investors and real estate syndication (pools of accredited investors). He is not affiliated with Shared Estates.
Before 2012, real estate syndication was limited to accredited investors — individuals with over $1 million in the bank and an annual income of at least $250,000.
"Typical syndication barriers are quite high … and the $250,000 threshold precludes a lot of people," Rasch said. "The Jobs Act changed that in 2012. Real estate crowdfunding in this manner is still pretty new."
Changes to investment rules and the creation of crowdfunding platforms have opened up investment opportunities to a wider range of people.
Multimillion-dollar real estate development companies, such as Jamestown — it's the developer of Chelsea Market in New York and Ponce City Market in Atlanta — that typically only work with syndications now are looking to crowdfunding sites for funding.
"Jamestown just launched its own crowdfunding platform, which allows people of less means to invest," Rasch said.
Potential investors, Rasch said, still need to carefully consider the risks involved before committing their money to any project.
"Whether investing in a private person or private real estate, there are two critical factors to consider: sponsorship and track record," he said. "As someone who invests, I'm always asking people to show me the last deal they did; tell me how it played out and to show me the actuals. What's their track record? Are you investing in people with the ability to execute projects over long periods of time?
"Start digging around a little bit. What it all boils down to is the terms of the deal and the level of confidence you have in the person you're investing in: who he is; what he's done before; what the specific terms of the agreement are."
Investing in the Berkshires
The Berkshires' Gilded Age estates, Dus said, are perfect rental properties for large groups of friends or extended family groups that would need to rent multiple hotel rooms to vacation together — a price that shortens stays or changes plans altogether.
"A woman who's celebrating her 50th birthday should be able to have a special long weekend away with her friends and be able to stay in a place like this," he said.
And when this type of rental is available through online rental sites like HomeAway/VRBO or Airbnb, the public will book it, Dus said.
How does he know?
Until recently, Dus owned the most popular luxury vacation rental in the Berkshires on VRBO. His property, The Playhouse at Foxhollow in Lee — the "case study" on which the Shared Estates plan is based — sold for $1.299 million in November.
Dus purchased The Playhouse — it once was part of George Westinghouse's estate — in 2014 for $340,000. He had intended to renovate the property for his own use.
"After I acquired the property, I learned that it was failing structurally and that it would probably fall down within 10 to 20 years. It underwent renovations for two years," he said.
"At the time I purchased it, I was spending three nights in Manhattan and four in the Berkshires. By the time it was done, I had taken a new job outside of Philadelphia and spending less time in the Berkshires."
Instead of letting the house stand empty, he decided to list it on VRBO, at $300 a night.
"I figured if I booked 20 percent of the year, I would be able to pay the mortgage [with just the rental fees]," Dus said. The property began booking faster and with a greater demand than anticipated.
He raised the price of a night's stay and saw little change in the bookings. He realized small groups — that is, about seven or eight people — were booking the house for multiple nights because the price was competitive with hotel fees in the area. That's when he knew he was on to something.
Dus continued renting out The Playhouse, at an average nightly rate of $1,095. The Playhouse was booked 242 nights out of the year, with a 66 percent occupancy rate.
"The core economics of this [shared economy rental] are what make it so successful, especially when combined with the lack of availability when it comes to properties that can sleep 15 or more in this area," Dus said.
A typical visitor to the Berkshires, according to the Massachusetts Office of Travel and Tourism, as reported in the Berkshire Blueprint 2.0, "has a median household income of $100,200, a college degree or more (55 percent of all visitors), and comes from the New York City metro area, Boston metro area, or Hartford/New Haven area."
The median household income in Berkshire County from 2015 to 2019, according to the U.S. Census Bureau, was $59,230.
Shared Estates anticipates guests paying an average nightly rate of $1,548 at The Freeman Berkshires, which can host up to 25 people, compared with 20 at The Playhouse. The median monthly mortgage payment from 2015 to 2019 in the Berkshires was $1,496.
In addition, The Freeman Berkshires will offer premium one-night stays at a rate of $3,500, based on an annual occupancy rate of 61 percent.
The hotel occupancy rate in 2019, nationally, was 67 percent, according to market research supplied to 1Berkshire by STR. Occupancy rates in the state were slightly higher, at 70 percent, while in the Berkshires, the rate was lower, at 51 percent.
"STR really does not paint a complete picture as most of our lodging properties do not participate, especially the smaller properties which we have many of," Lindsey Schmid, vice president of tourism and marketing at 1Berkshire, said in an email. "Our occupancy goes way up [in normal years] during summer and into fall and drops in the shoulder season."
'More demand' expected?
In 2020, hotel occupancy rates in the Berkshires dipped to 36 percent, a trend seen across the country. In its report for the week ending Jan. 9, STR reported a national hotel occupancy rate of 37 percent. Also not reflected in those numbers are groups that opted instead for short-term rentals.
Before the COVID-19 pandemic, the sharing economy market, which includes rentals through platforms like VRBO and Airbnb, was expanding, according to Jonathan Butler, president and CEO of 1Berkshire.
"During [the pandemic], we've heard that many of these properties have continued to see high demand, especially back during the summer and fall months," he said in an email interview, speaking in anecdotal terms, as quantitative data is not available.
If this continues, as 1Berkshire suspects, Butler says "we'll continue to see this trend of outward migration from the cities — which bodes well for the Berkshires both in terms of gaining new residents and attracting more visitors. If this is the case, it's likely that the sharing economy properties will also continue to see more demand."
And that bodes well for Shared Estates' long-term plans.
"Our goal is to have 100 beds in 10 estates over the next 24 months in rhe Berkshires," Dus said.