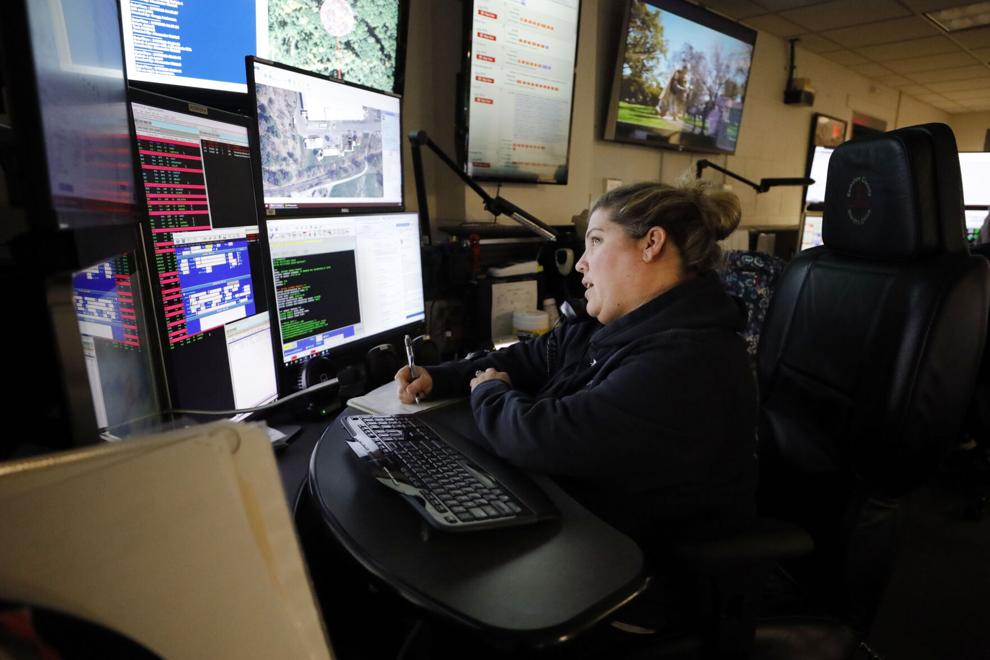 PITTSFIELD — Remaining calm in the midst of chaos is never easy. But it's an essential component in Kristin Keefner's line of work.
Keefner is a 911 emergency dispatcher and trainer for the Berkshire County Sheriff's Office in Pittsfield. She's the initial voice on the phone that Berkshire County residents hear when they call authorities seeking help. These calls usually occur under highly stressful situations. But Keefner's task is to calmly sort through the details of the emergency to make sure the proper aid can be sent.
It's not an easy job, but the native of Cornwall, Conn., who currently lives in Great Barrington, loves to do it. The daughter of a Connecticut fire chief, Keefner is also a member of the Great Barrington Fire Department. She has been a firefighter for 20 years.
We talked with Keefner about her job recently.
Q: Your LinkedIn page states that you've been a homemaker, studied to be a nurse, and worked as a firefighter. So how does being a 911 dispatcher fit into all of that?
A: I've been a 911 dispatcher since 2018. I grew up [in Connecticut] then I lived in Oklahoma for seven years. When I came back I started dispatching then. The place I worked at first was Litchfield County Dispatch [in Torrington, Conn.]. I had wanted to work there since forever because my dad was a fire chief [in Cornwall] so I had listened to the scanner my entire life. They made it sound like it would be a piece of cake, like it would be so much fun to do that. Then I got in there, and I found out this is not a piece of cake, this is not enjoyable, and I did not think I would make it. I came up here and got hired in December 2020.
Q: So it was your dad's profession that made you want to do this?
A: I love helping people. I do. when I came back after I had kids, I didn't know if I could handle going on a fire scene and seeing the blood and guts and all that. So I thought that this would probably be easier for me to do if I do it on the other side and help people on the other side. I do it from both sides now.
Q: What do you need to know to do what you do?
A: You have to know when to keep yourself calm and it takes a lot. Keeping yourself calm when somebody calls, it's hard. You feel their escalation or their sense of urgency, and you become that, too. You're human. You want to help them. They either make it sound really bad or it sounds really bad. You have to keep yourself calm and keep them calm.
Q: Why is keeping calm so important in those situations?
A: Because if they escalate their voice, you escalate your voice. For example, a mother and a child. If the child is going through something the mother is extremely hyped up because their loved one is hurt right now and they can't help them. If you stay calm on the other side, they start to calm themselves down. They go, "OK, they're making me talk through this. They know that I need help." When you let them know what's going on the entire time, you keep them informed.
Q: What are some of the questions they ask?
A: How long does it take to get there. They always ask that question. How long is is going to take? When you call 911 and you need them the most it seems like it takes forever. But it literally takes as long as if you call the admin line. (An administration line is a regular police or fire department phone line and is not set up for emergency calls).
Q: Are you trained to stay calm?
A: You have to go to training, but it's really something that you teach yourself. They can tell you all about it, but until you actually get that phone call you don't begin to understand.
Q: So how do you do teach yourself?
A: Taking numerous calls, and hopefully having someone like me on the other side. As a trainer, I can listen, and I can barge in if I have to. You have to make sure you have control of the call. You have to get the caller to listen to you. You have to lower your voice or just keep yourself calm, but it literally takes a lot of calls to get yourself to do it.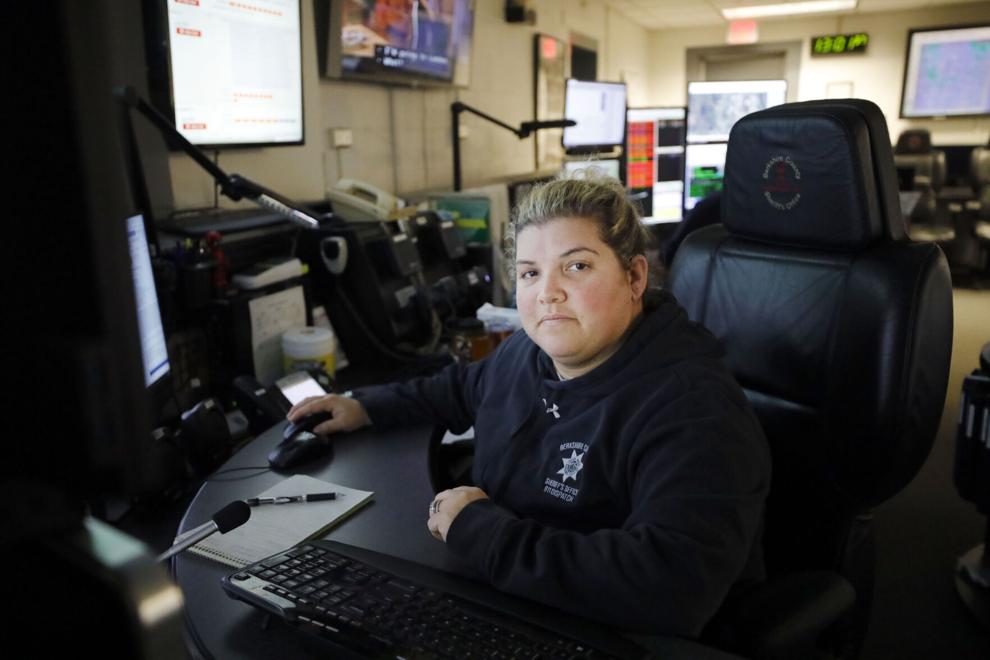 Q: That must be difficult.
A: A lot of times when you get a domestic (incident) they're still fighting when they call 911. You try and get them separated. They try and take over the call immediately when they're like, "I want somebody here now." They're screaming at each other. Eventually, if they're yelling, and you keep talking softly, they're going to listen to you because they want to hear what you're having to say. They want to know that you're sending a police officer. So it's smart [for them] to listen to what you have to say.
You have to think of questions on the fly to keep the conversation going. The more you keep the conversation going, the more they keep talking, the more they realize they're calming themselves down by talking and answering your questions.
Q: After you take a 911 call, what's your next move? Call the police or fire department?
A: Yes. We want to get them on the road as fast as possible. The hardest part about doing the job, the absolute hardest part, is that you don't actually get to see what you dispatched, what did [emergency responders] roll up on, what did they see when they first got there versus what I was told on the phone.
Q: What's the most rewarding part of your job?
A: When people seek you out and say thank you. It's very rewarding.
Q: What's the most challenging part of your job?
A: Multitasking. Answering numerous phone calls at the same time and trying to put the call in and trying to get people dispatched out.
Q: Does that happen a lot?
A: Oh, yeah. We're doing 26 towns and we get a lot (of calls) from the Mass Pike. And with cellphones it bounces off a Massachusetts tower. They're really in Stephentown, N.Y. or they're down in Canaan, Conn.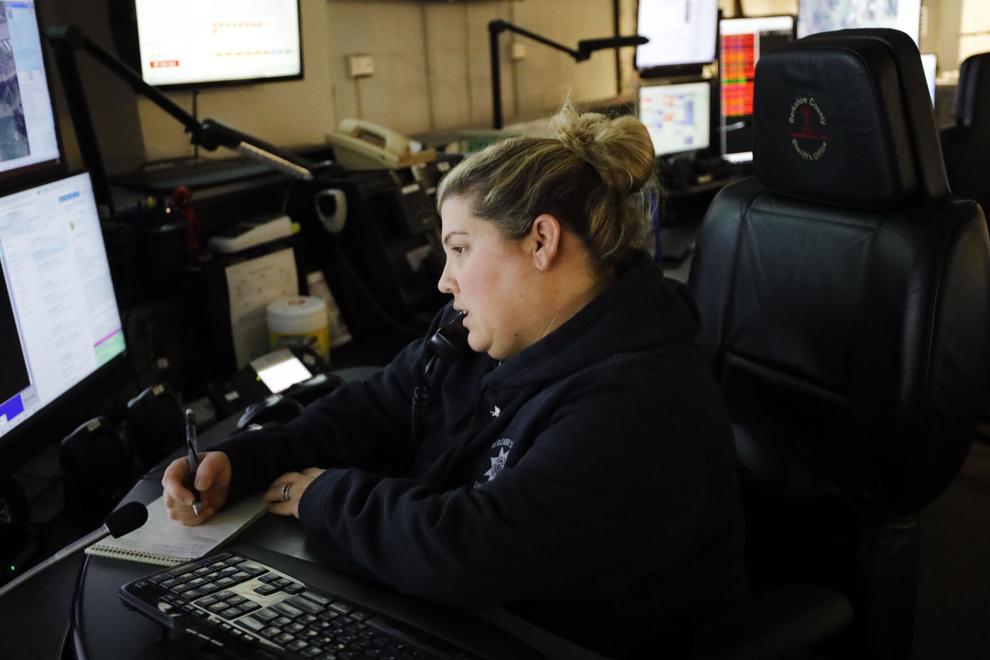 Q: Having covered many serious incidents as a reporter, I know it affects you emotionally even though you try and stay detached. How does that affect you as a 911 dispatcher?
A: It's wicked hard. Being a firefighter or being a reporter, anything like that your adrenalin gets going and its kind of holds you. Then after that call ... There's been numerous times I've had to walk outside to bawl my eyes out because the call was just that hard. But the whole time I'm doing the call my adrenalin is going because they called me because they need me. They don't call 911 to say how's your day going. They call you because they need you and when you feel the need your adrenalin makes you hold your emotions back.
Q: What advice would you give to someone who wanted to do what you do?
A: Come shadow. Come see what it's like. Come sit in. Come see if it's for you. It's a lot of work. We try and get the police officers and the firefighters to come sit in and see what we do on our side because all they hear is what we send out over the radio.
Q: How long do you think you'll keep doing this?
A: A long time. I love my job.