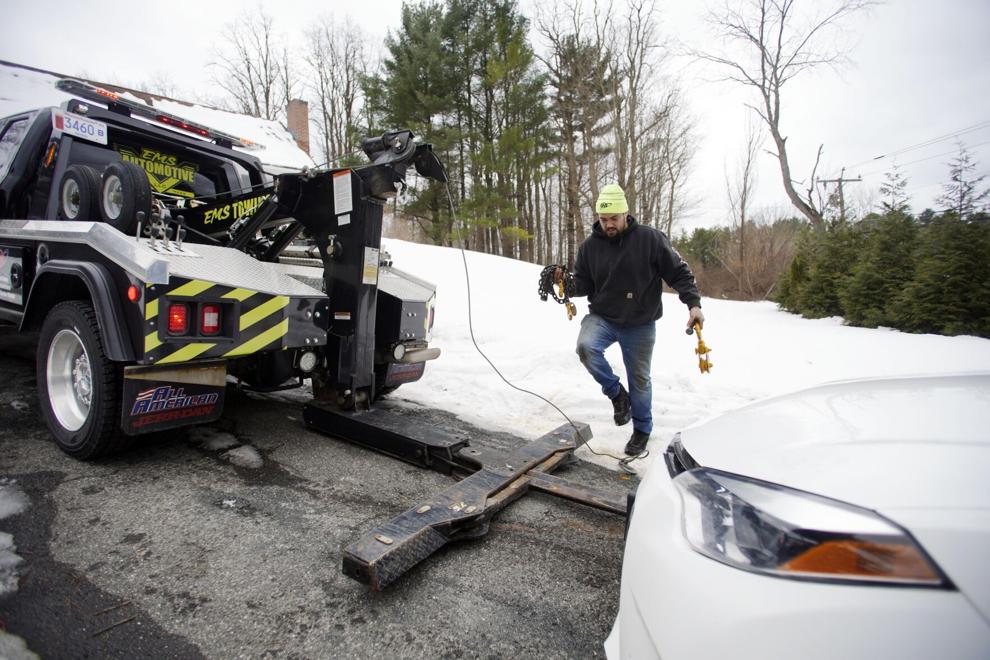 PITTSFIELD — Sal Galante has a job that no one ever notices until it's really needed. But when it is, he provides an essential service.
Galante drives a tow truck for EMS Automotive in Pittsfield. Most people don't give much thought to people like him — until their vehicle breaks down or runs off the road and they find themselves stuck.
Suddenly, Galante and his truck become your best friends. This is especially true during the winter months when the elements sometimes turn these common mishaps into adventures.
We talked to the 29-year-old Lee resident recently about his profession and the hazards that accompany it. This is what he told us.
Q: Why did you want to become a tow truck driver?
A: When I was living in Lee, I was really close to a bigger company when I first moved out here (Galante is originally from the Danbury, Conn. area). Seeing the big trucks go by me reminded me of when I was younger. It really sparked my interest. Just like knowing you're responding to emergency situations and consistently helping people every day. I guess that was the drive toward that. Once I started doing that it was a fulfillment every day.
Q: How long have your been doing it?
A: I've towed off and on for about two years.
Q: What did you do before this?
A: I was a cook.
Q: That's a big career change isn't it?
A: I guess I had kind of gotten fed up with being in a kitchen. It was obviously the same thing every day. Just being on the road ... like I said, every single situation being completely different. Two cars can be exactly the same, but the situation will never be exactly the same, you know?
Q: Tell me how each situation is different
A: You can pull up to a vehicle that has something as simple as a check engine light on. Someone who's really cautious about their vehicle and doesn't want anything to happen. In that case you can just put the vehicle in neutral, or in a situation with a flat tire you can just drive the vehicle onto a bed. That's something that puts you on the scene for five minutes. In a dangerous situation when you're on the side of the road that makes all the difference you know?
In a situation where a vehicle has been in an accident and two of the wheels aren't connected now you've got to use different points (of attachment). You've got to use your math. The car is not going to pull on the street. It's going to go this way or that way. You've got to use the equipment to get it on (the truck) in a safe way and not destroy much more.
Being on the side of the road is the most dangerous thing. The less time you have to be on the side of the road the better. Some take two minutes. Some take 20 minutes, maybe more.
Q: What do you mean by "use your math?"
A: Well, you're fighting multiple forces on every call. Like I said, most of our winch lines that we run are capable of pulling a lot, but if you're fighting a mud hole or you don't see there's a log underneath the vehicle that's gone off the road you can cause incredible damage to the vehicle and other people around. So understanding force and gravity and different angles about how am I going to get this thing out. What kind of equipment am I going to use. Do I have to pull this way? Do I have to pull that way?
You can't teach that to anybody because again every call is different. There's no book that tells you you have to do this or you have to do that. You never know what you're going to pull up to. You have to be ready for everything.
Q: Does physics factor into a lot of this?
A: A lot of tow truck drivers have been doing this for a long time. They don't even know what physics is, but they do it every day. They've adapted to this way of how am I going to get the thing unstuck.
Q: If you can't teach someone to do this, then how do you learn?
A: It's not something out of a book that you can learn. You learn every single job you do. Another way to learn is getting out in the yard and flipping over some old wrecked cars and practicing situations, like how am I going to get this over? We practice things like that, which [is] super helpful. It lets you wrap your mind around it. There are people who have been in this field for 20 years who are willing to share their knowledge.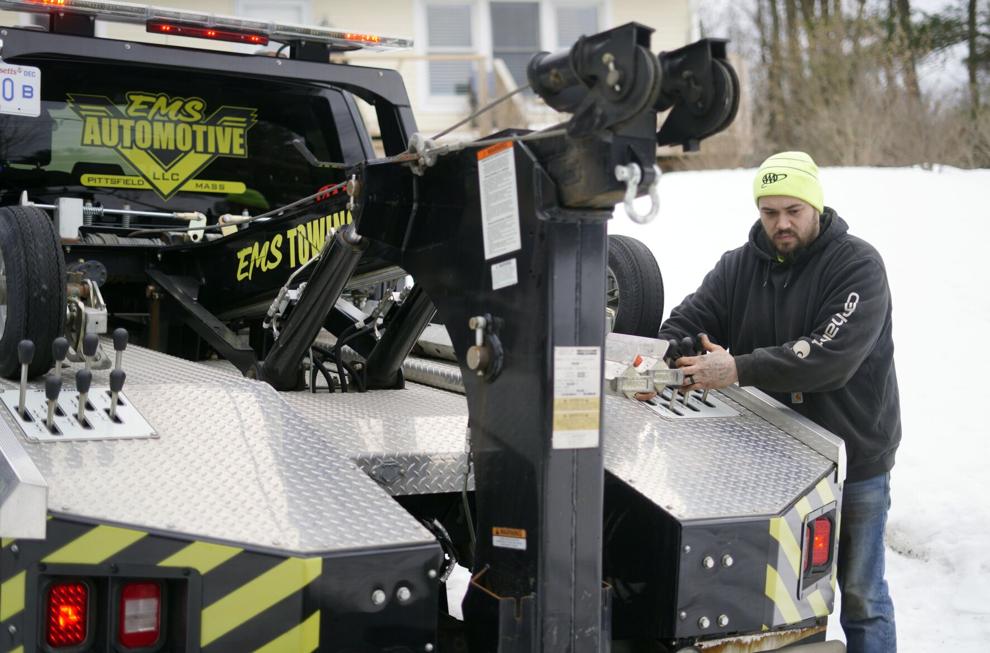 Q: Why is being on the side of the road the most dangerous part of your job?
A: When I started my career I worked on the highway, and working on the side of the highway you get a new respect for things like always keeping your head on a swivel, never trust anybody. There's so many drunk drivers and older people. ... That will scare you. They just don't have to pay attention for a second and they can squish you up against your truck, or crash into the truck. Anything can happen. Like I said, you always have to keep your head on a swivel and never assume anything. The biggest stress for me, I guess, is just being safe out there. I have three kids to go home to and a family that depends on me.
Q: What's the hardest season for a tow truck driver in the Berkshires to work in?
A: I would say winter is the most challenging for sure, but it goes neck-and-neck with tourist season up here to be honest with you. The summer tourist season we definitely see a lot more cars on the road. If your question is what's the most physically demanding, I'd say winter is tough. We take a beating off and on the ground. We're out in the elements for a lot of hours. But a lot of people are outside working. That's just how it goes, you know?
Q: So what's it like working in the cold, the snow and the wind?
A: Knowing how to drive and operate a vehicle in the snow is essential. If a tow truck driver slips down the hill that's not good. Operation is everything. You have to be safe. You have to show these people that they're going to be safe no matter what. You can't say, "I don't know about this." You've got to be sure about it, and you've got to trust your equipment. You've got to be prepared. You can't go to work in a light pair of pants and a hoodie. That's not going to cut it. You've got to have the right gear. Your truck has to be up to par.
Q: What's the strangest vehicle you've ever towed?
A: Let me think about that for a second. I towed a van that was set on fire and it was just a shell on rims, the whole thing, like a big Econoline van. It was torched to the bone. You could see right through it. I won't comment on a lot of the wrecks that we do. It's a sensitive topic. ... A lot of people get hurt in these things.
Q: What advice would you give to somebody who wanted to do this?
A: Show up to work 10 minutes early. Again, it's about preparedness. You don't want to get on the scene and find out that your line is all tangled up. You want to make sure that when that truck starts all your equipment and stuff is ready to go. If that's what it takes get there 10 minutes early. If you can't do that one simple thing then go bag groceries.
Q: Is there anything you'd like say to motorists who come up on you when you're working?
A: I want to stress slow down and move over. Those are the two biggest things to remember if you see flashing lights on the road whether it be us or garbagemen or mailmen or anybody out there who has a family to go home to. Just slow down and move over. You don't need to go flying by us. I don't need to step out of my truck and lose my life. We're out there helping other people. We're not out there playing poker on the side of the road.