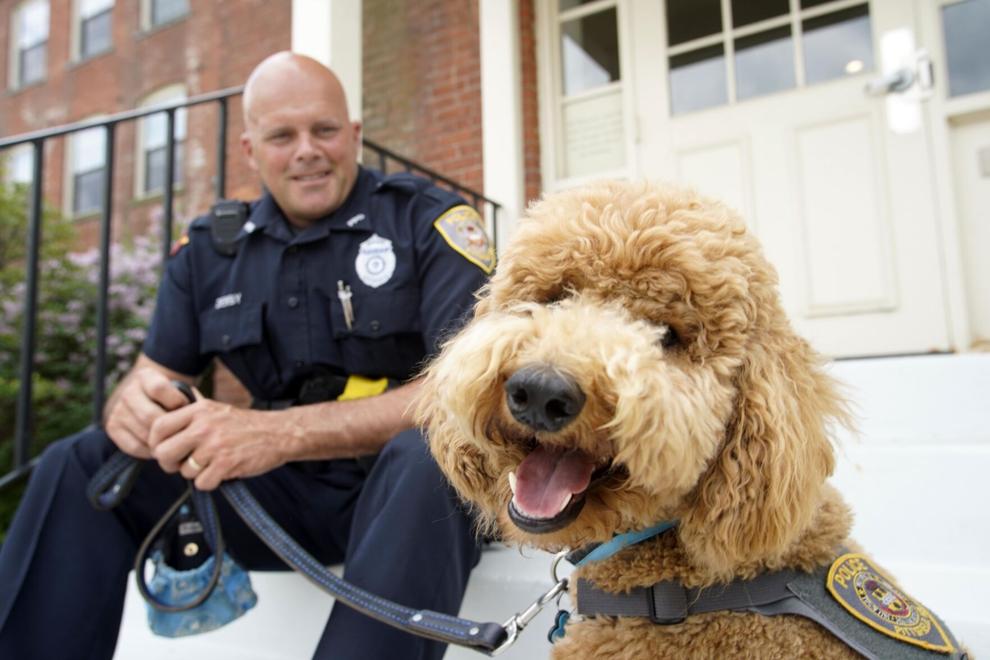 PITTSFIELD — When people think about dogs that typically work with police officers, they think of sturdy, aggressive breeds. German shepherds, bloodhounds and Doberman pinschers come to mind.
Then there's Winston. He's a large male poodle.
Winston doesn't track suspects, subdue bad guys or search for contraband, but he still plays a vital role. He's a therapy dog, and with the help of his partner, Pittsfield Police Officer Darren Derby, Winston helps police officers defuse the tense situations that they're often sent in to rectify, and comforts people who are in crisis.
Winston, who will be a year old on June 15, became the department's first therapy dog when he joined the ranks last September. He was donated to the department by Berkshire Poodles, which is part of Berkshire Dogs Unleashed, a pet boarding service in Lenox, whose owner is a retired firefighter.
Several other Berkshire County police departments also employ therapy dogs, according to Derby, and many local organizations use them, too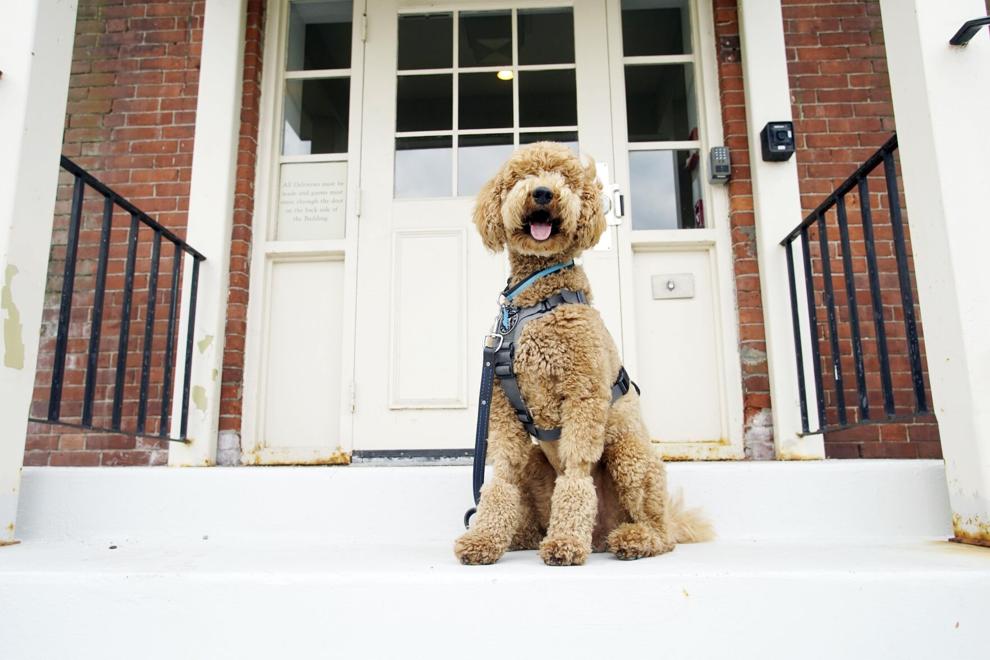 We wanted to know how Winston became a therapy dog and how he likes his work. Since we don't speak dog, and his understanding of human is different than ours, we spoke with Winston recently with the help of Derby, who served as his translator and also provided us with his own thoughts and insights.
Q: Is Winston an actual police dog?
A: He's not part of a K-9 unit. He's just considered a therapy dog.
Q: What does a therapy dog do?
A: He is more or less for comfort. There's several names for them; you can call them comfort, or you can call him crisis therapy dogs. It's really all about helping people that are in a time of crisis. So the name is whatever you decide to call it.
He is not a service animal. With service animals it's s little more stringent for training, and they're usually kept by a person for specific assistance. His job is really just to comfort people.
Q: I'm going to ask him questions as though I'm talking to Winston. Can you translate?
A: Sure, I can translate.
Q: Why did you decide to become a therapy dog?
A: There's a huge need in communities that have been kind of evolving over the years. A lot of the other departments decided to bring a dog on board. It was a timing thing. Berkshire Poodles had a new litter and they were looking to give several departments within the Berkshires a dog.
Q: Have you ever considered doing anything else?
A: I think this is probably the right job based on temperament.
Q: People always think of police dogs as attack dogs. So when they see you what is their reaction?
A: A lot of times they're like, "wait, is that a police dog?" Which is normal because everybody thinks a police dog is going to be something that is made for apprehension or that bites people. This is really why a lot of departments are going to a comfort animal. What it does is it helps people feel more comfortable around the police, puts them at ease a little better.
Q: Darren, did police departments turn to therapy dogs as part of community relations?
A: Community relations and obviously there's a need because of the amount of trauma and mental health [that police departments encounter]. If I bring him somewhere — it could be a school with an out-of-control kid that unfortunately we still go to — he has the ability to do the work of five people. Really just by sitting. They can pet him. There's science behind petting a dog's head. It triggers the seratonin levels that your body release at your fingertips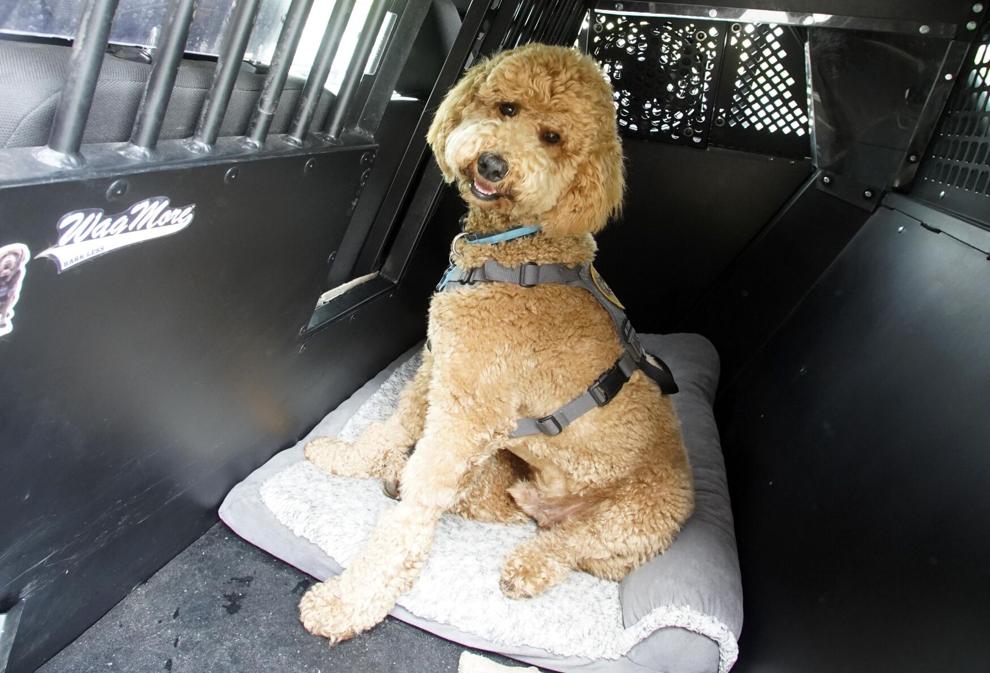 Q: Where do you usually bring him?
A: Wherever I go, he goes. On a regular basis we try to go where there's a large amount of people, where there could be some high stress. That would include schools, events, gatherings, memorial services. It could be post-domestic disturbances where there are either young children involved or a victim where we need to get statements. A lot of these times it's scary for the victims of domestic violence. To be able to have the strength to be able to report to the police exactly what's been going on or what happened knowing that the suspect is likely going to be either arrested or charged, that's hard.
He has shown that just being there and just being able to pet him, [people] are able to drop their shield a little bit. Their emotions are able to slow down, their breathing, everything.
Q: I'm sure he helps defuse the mood.
A: A lot of times we do, unfortunately, go to a lot of domestics where there are young children there. And it's scary when you see the big policemen coming in and taking away one, and often, both parents. So we usually try and follow up with them with the dog.
Q: For police departments is using therapy dogs a new...
A: A new norm? I'd heard about therapy dogs prior to [Pittsfield Police] even thinking about him. [You're] seeing all these other PDs that are really jumping ahead of that 21st century policing that was pushed a few years ago to really be able to connect with the community and look for new tools and strategic ways to be able to break down those barriers. He's able to do that at really an extremely low cost to the city. All we pay for is dog food and the occasional vet bill.
Q: Winston, what kind of training have you received?
A: Basic obedience training, which was like six weeks, he did very well at that. He is in the middle of completing his therapy/canine good citizen training. It's equivalent to AKC (American Kennel Club) training, I think. It allows him to go out in public. That [means] he's had his training with other dogs, that he can go up stairs and in elevators and around people in wheelchairs, and stops at the crosswalks and doesn't run away.
He will likely be in training for at least a year or so. He's still learning. He's growing. He's still in puppy mode.
Q: Due to their training, service dogs and K-9 dogs aren't considered pets. What about therapy dogs?
A: Our K-9's that we have, those are working dogs, not pets. So when they are working they know it's work. When they get home they go where ever they go, maybe stay outside or in their own kennels. Really the only interaction they have is with the handler or the handler's family. But with [Winston] I want him to be able to go up to people to be able to have the sense that if someone is stressed to comfort them.
I treat him like a pet (at home).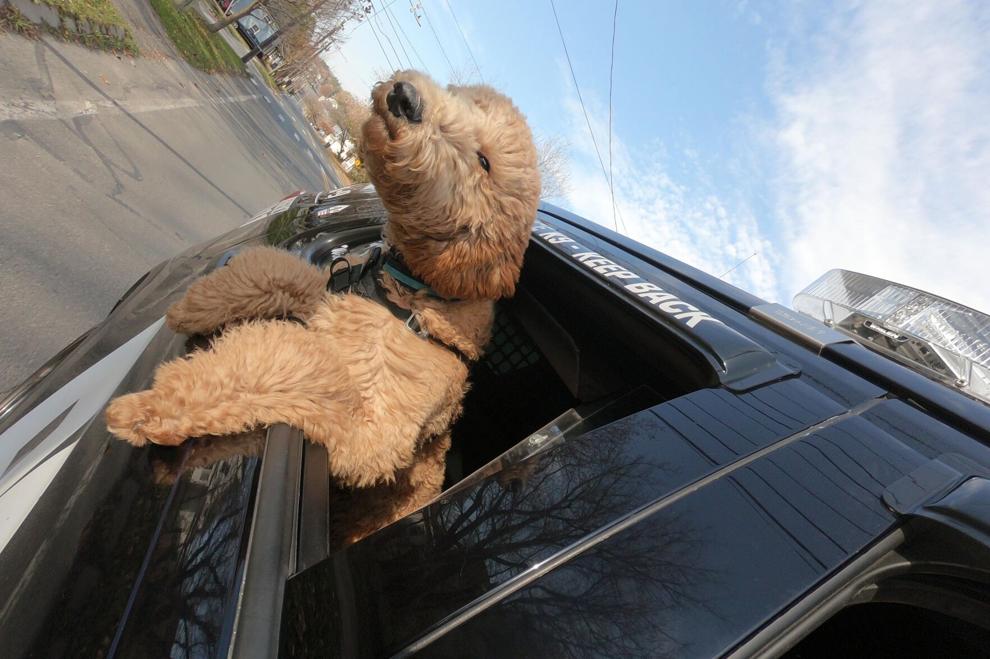 Q: How would Winston describe his favorite part of the job?
A: I would say probably when he gets out of work. He knows that when the vest is on in the morning (Winston wears a vest identifying him as a therapy dog), he gets excited. When I get home and take the vest off he gets even more excited.
Q: What would he say is the hardest part of his job?
A: I think he would say what is required of him, especially at this age. We started this at 14 weeks old and right away we were already going through the training process of being a calm dog, At 14 weeks that's difficult for a lot of dogs, especially poodles. Poodles are known to be high energy, but very sweet.
Q: Do other organizations in Pittsfield have therapy dogs?
A: The Pittsfield Public Schools have one. They are getting one for each of their public schools. They'll be given out this summer, start their training and report for school in September. I think they've seen what [Winston] can do when he goes into a school.
Q: Are only poodles chosen to be therapy dogs?
A: If you go out east, it's all labs and retrievers, a couple of terriers. Greenfield had two St. Bernard's. The reason why there are so many [poodles] around here is because they were donated.
Q: Winston, how would you describe your handler?
A: He's constantly taking me to new places.