PITTSFIELD — Responsibility isn't a choice for Ludwig Jean-Louis, it's a necessity.
After his mother, Roselie, died at age 51 in March 2021, Jean-Louis became in charge of the finances for his four younger siblings. That's a big task for anyone at any age, let alone someone who is 26.
But Jean-Louis had always been interested in becoming an entrepreneur. That passion is what motivated him to recently purchase Cravins Soft Serve & Frozen Yogurt, a small, popular ice cream stand on Elm Street where he, his siblings, including 18-year-old twin sisters, and two of his cousins are all part of an eight-member workforce.
He bought Cravins, which offers both hard and soft serve ice cream, from its former owner last month and leases the space. A seasonal business, Cravins opened for the summer in late May.
"I've always had an eye for the entrepreneurial experiences," said Jean-Louis, who had worked at The Scoop, a Lenox ice cream parlor, which included a stint as a store manager.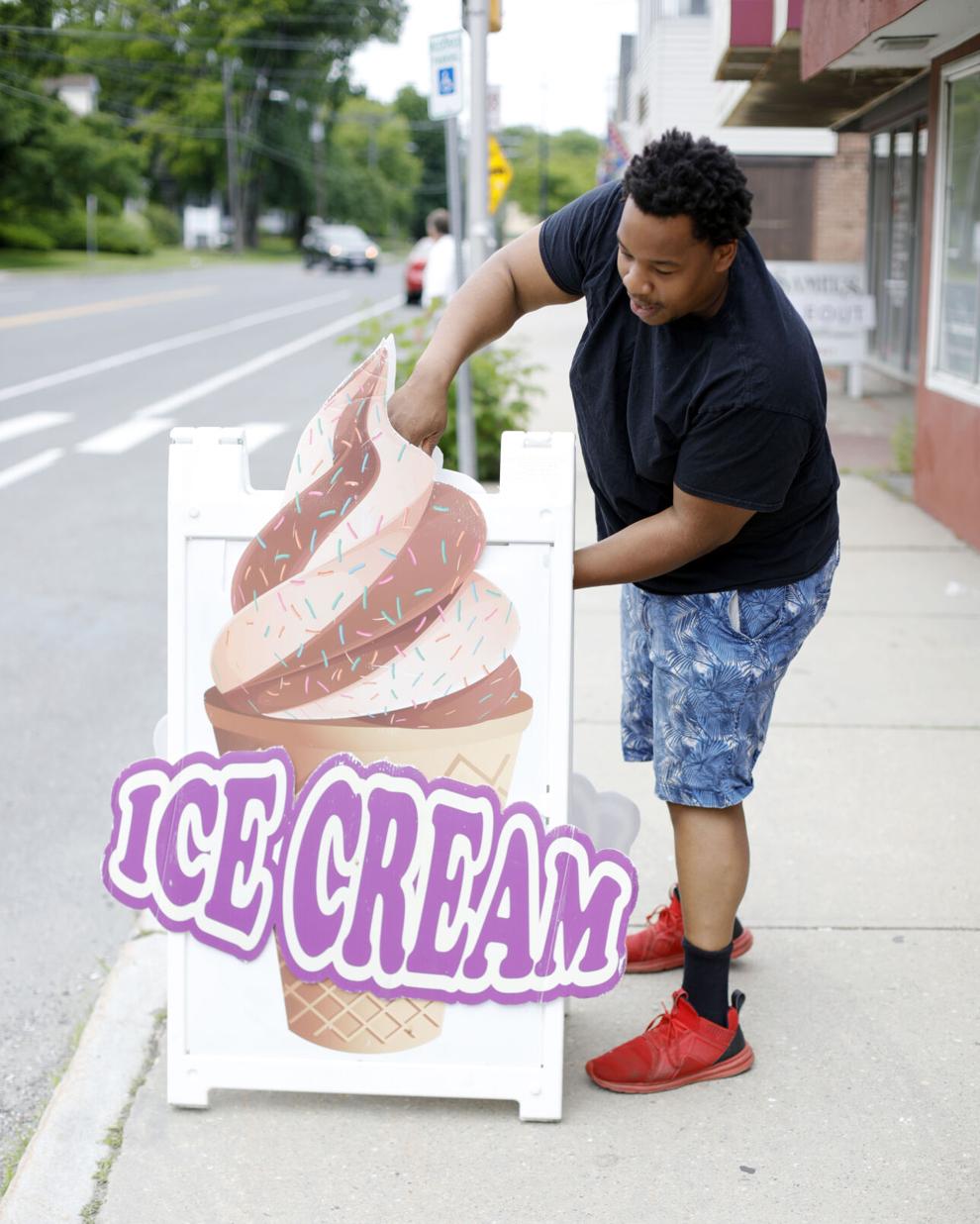 Seeing what he referred to as "the back end" of the business at The Scoop, and "becoming familiar and comfortable with it," gave Jean-Louis confidence to run his own ice cream business.
"Seeing this space open and knowing I have a lot of responsibilities within my family, I saw this as an opportunity to cover those," said Jean-Louis, a 2013 Pittsfield High School graduate. "But also taking a leap and betting on myself."
"I was always self-conscious," he said. "Just recently I began opening up more to the possibilities of what I could do because a lot of times we just play it safe."
This is Jean-Louis' second crack at owning his own business. He tried to buy another Pittsfield ice cream parlor four years ago, but the deal fell through. "They wanted to sell the building with the business," he said.
In 2019, Jean Louis said he ran his own ice cream stand on North Street — his sisters did the scooping — while he was also delivering pizzas. Jean-Louis, who played football, track and lacrosse at Pittsfield High School has also worked for Onyx Specialty Papers in Lee.
Jean-Louis said his mother was always supportive of his ambitions. When she died, "I was basically put in the position to take care of the estate," he said.
"The duties are split between me and my oldest sister," who is 24, he said. "But the finance part is really me."
Born in Haiti, Jean-Louis came to Pittsfield in December 2004 from East Orange, N.J., five years after his family had come to the United States. He doesn't know why his family moved to the Berkshires.
"I was like 9," he said.
His grandparents, who moved to Pittsfield shortly before his mother died, live with Jean-Louis in an apartment. His siblings live in his mother's former house, which Jean-Louis said he purchased in September.
"I bounce back and forth between both houses," he said.
His twin sisters are in college, while his brother, who is 17, will be a senior at PHS this fall.
Asked how he handles all of the responsibility, Jean-Louis said, "one day at a time."
Cravins is open from noon to 11 p.m. Monday through Saturday and from noon to 10 p.m. on Sunday. The business provides ice cream in various forms including cones, cups, sundaes and pints. The beverage offerings include milk shakes and floats.
Under previous ownership, Cravins and its predecessor, Jilly's, normally closed at the end of the summer. Jean-Louis also plans to operate seasonally, but is toying with the idea of opening Thursdays through Sundays during the winter. He will definitely stay open into the fall.
"I'd like to be able to go to Halloween," Jean-Louis said. "It's still not that cold."