PITTSFIELD — The other day, I went window-shopping. For jobs.
As I've learned in my reporting for Project Paycheck, there's a kind of mating dance going on in the local workforce. Some of the thousands of people who aren't working got out because they're rethinking the point of it all.
Yes, there's economic privilege baked into that. But, the folks I talked to for our first dispatch were clear that some people who left jobs in the Berkshires did that voluntarily, after looking over their household finances and deciding they had at least enough in savings or income to avoid doing anything that might put them at risk during a pandemic.
I went window-shopping at MassHire's virtual job fair because I wanted to see what's on display. Melanie Herzig, business service rep for the MassHire Berkshire Career Center, was in there somewhere, unseen by candidates but busy interacting with companies taking part.
I got Melanie on the phone as the seconds ticked away on a countdown clock. Still two hours left to wander in cyberspace!
Melanie explained that job fairs these days, at a time when openings far exceed candidates, are a good resource for people who are interested in coming back to work — but perhaps not in the same field.
"Maybe the industry that they're in is not the one they want to go back to," she told me. "The opportunity to make a promising connection is great. It's local job seekers and local employers."
Ideal for window-shopping, in other words.
Any candidate who'd come to sniff out opportunities in human services had a field day. In addition to the 33 positions listed by ServiceNet (some of them multiple jobs by title), Elder Services of Berkshire County had 14 jobs (accountant, "pot washer," nurse manager, registered dietitian among them). Berkshire Family & Individual Resources had 14 listings, and Berkshire Health Systems, the area's biggest employer, had 21 jobs listed on the fair's site, including 12 staff nurses ($77,000 to $97,000 a year) and even, for a salary of up to $130,000, a director of imaging technology.
Berkshire Service Group posted that it had 15 openings for direct care workers, offering a remarkably specific pay range of $33,963.54 to $42,949.40 a year. The company cares for people with intellectual and developmental disabilities in residential settings.
Ditto in the hospitality business. A recruiting team for the Kripalu Center for Yoga & Health in Stockbridge was on hand to fill 16 jobs in Stockbridge, including housekeepers, cooks and posts in programs like yoga instruction. Kripalu was promising extras, too: Discounts at its campus store and to "healing arts" services, as well as free use of its grounds and "our own private beach."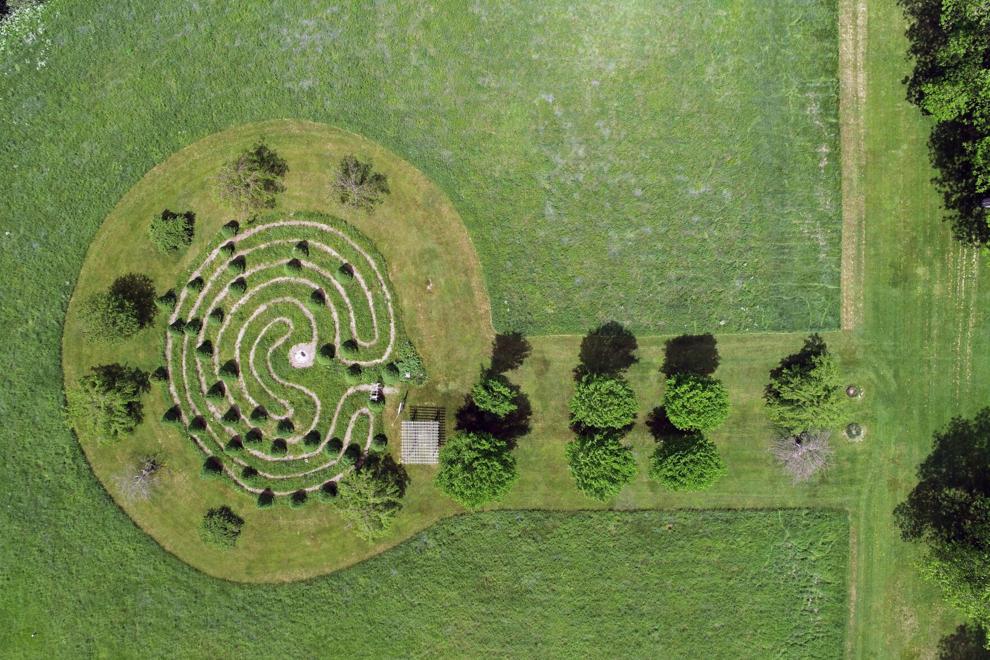 Those out window-shopping couldn't help but notice all the sweeteners on offers — signing bonuses, referral bonuses, timed pay increases and the like.
If this fair had been held in person (others will be face to face hereabouts in December), you can picture the scene: Tables around a room at the Berkshire Hills Country Club (it has been a go-to location). Mugs with pens, pads of paper, water bottles. Company logos and banners galore — and behind or beside the tables, recruiters with an awful lot of jobs to fill.
I was asked by the folks at MassHire not to muck up things by trying to interview recruiters right there and then. Still, I found that an hour spent lurking around the online version of a job fair delivered a pretty good sense of who's hiring for what — and, in many cases, at what pay.
Sure enough, there's a courtship going on.
Minutes into clicking on the employment sectors listed on the "lobby" screen, and then checking out specific companies, the instant messages began popping up.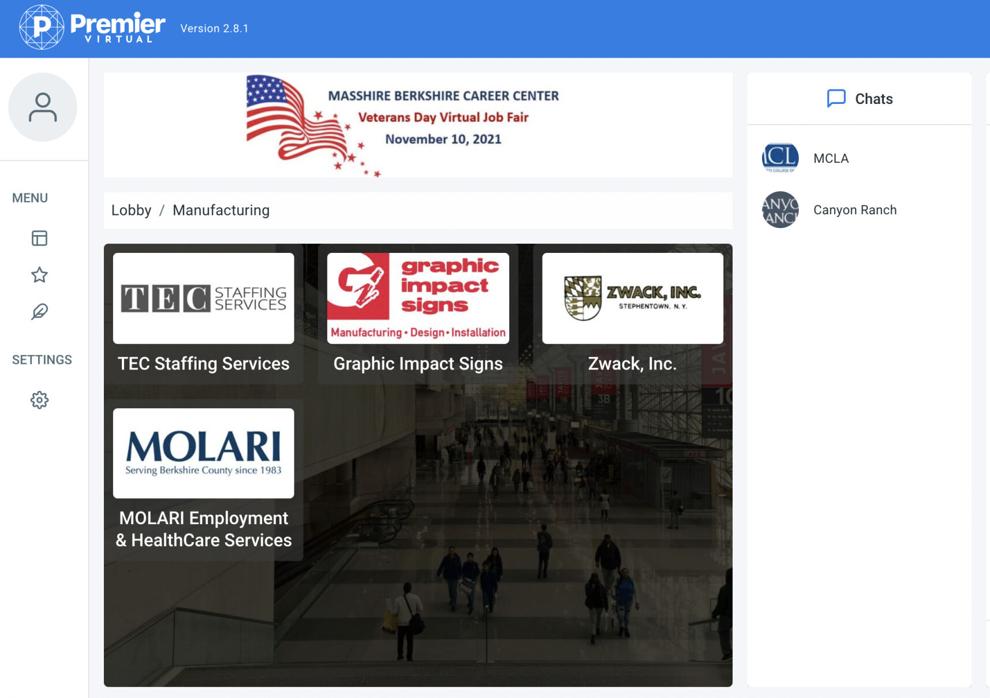 Granted, the messages were stock, like this one from Laura Baran, the recruiter for BFAIR: "Hello! Thanks for stopping by the BFAIR booth! … We are a non-profit that works with adults with developmental disabilities and acquired brain injury."
A few seconds later, I got Part Two, a mix of explanation and exhortation: "In Berkshire County, we have rewarding job opportunities available in our Residential, Day, Employment, Outreach, Clinical, Maintenance and Quality Compliance Departments. We offer competitive rates, excellent benefits, generous PTO and tuition assistance. Having a valid US Driver's License is required for all positions. Let me know if you have any questions!"
PTO, you ask? It means paid time off.
It seemed rude not to answer. So, I told people I was, ahem, reporting a story. I then decided to pop in to the profile of the account I had created to make that clear to the recruiters. Apologies to the company that invited me to a video call I didn't accept. If not for my promise to MassHire, I would have taken the opportunity to experience a live interaction, just like at the country club.
All these months into the pandemic — and years of FaceTime before that, to be honest — we're pretty good at yakking with people on our screens.
Jaclyn Aubin, staffing manager for TEC Staffing Services at the Berkshire Innovation Center in Pittsfield, sent me this note at 10:25 a.m.: "Thank you for coming to TEC's Booth. What type of position are you looking for?"
She opened my profile, saw what I was up to and sent this note two minutes later: "Hi Larry, I now see that you are not a job seeker. How can I help you with your article?" I asked her to let me know later how it all went.
Barbara Emanuel, who was online on behalf of the Massachusetts College of Liberal Arts, graciously accepted my demurral on a job pitch, after I explained my interest. She told me that the college was hoping to attract more than job seekers to its list of 10 openings, including a new director of equal opportunity and Title IX, a job paying in the $80,000 to $90,000 range.
"I hope to get some student interest as well, in case you know someone who wants to complete their BA or get an MBA or MEd," Emanuel told me.
The name and face behind the ServiceNet logo on this day was Lacey Woodrum. At an in-person job fair, I might have glanced at the ServiceNet table and kept walking (just saying, nothing against that outfit).
In a job fair's cyber courtship, ServiceNet had my account info and could, oh, so politely, call out, as it did. "Hello! Thank you for stopping by ServiceNet! We have multiple positions across the agency for Residential Care; counselors, managers, and per diem counselors!" Woodrum's note said. "We are also hiring for Nursing, Clinicians, Admin positions and IT! Do you have any questions I may be able to answer for you?"
In text messages, exclamation marks stand in for that doubt-melting smile.
Herzig, the MassHire rep, says this kind of interactivity is one of the things employers prize about online recruiting. The platform used, Premier Virtual, is designed to model the chitchat that might start an interaction at a table.
Things like: Tell me about your business. Tell me about yourself. What jobs do you have available?
"They really wanted to replicate that," she said.
Because we're all online, the candidate who glances in can't simply walk by. The companies get an alert that Person X has shown interest by opening up a window with their job listings.
"No 'walk-aways,'" Herzig says. "It actually allows for more connections." MassHire has been using the system for a full year now.
If a candidate uploads a resume, that's automatically relayed to the recruiters. Depending on what they see, those recruiters can go further right then. "They can do an on-the-spot video interview," Herzig says.
Aubin, the staffing manager at TEC, kept her word about providing a recap.
"This was a successful event," she said in an email later. "We made meaningful connections with job seekers and scheduled many interviews for positions that we are looking to fill."
To be sure, that's plenty. Aubin was recruiting a bank teller, lab press operator, warehouse clerk, laborer, operator of a front-end loader and a delivery route driver.
Aubin said people she chatted with all liked the online fair's platform, calling it "user friendly and intuitive." She had praise for Herzig as well, evidence that Herzig was, indeed, scurrying about behind the scenes, troubleshooting. "Melanie and the MassHire team did a wonderful job promoting this event and we would love to give them a round of applause."
Oops, I left some punctuation out of that last sentence from Aubin. Tack on two exclamation marks.