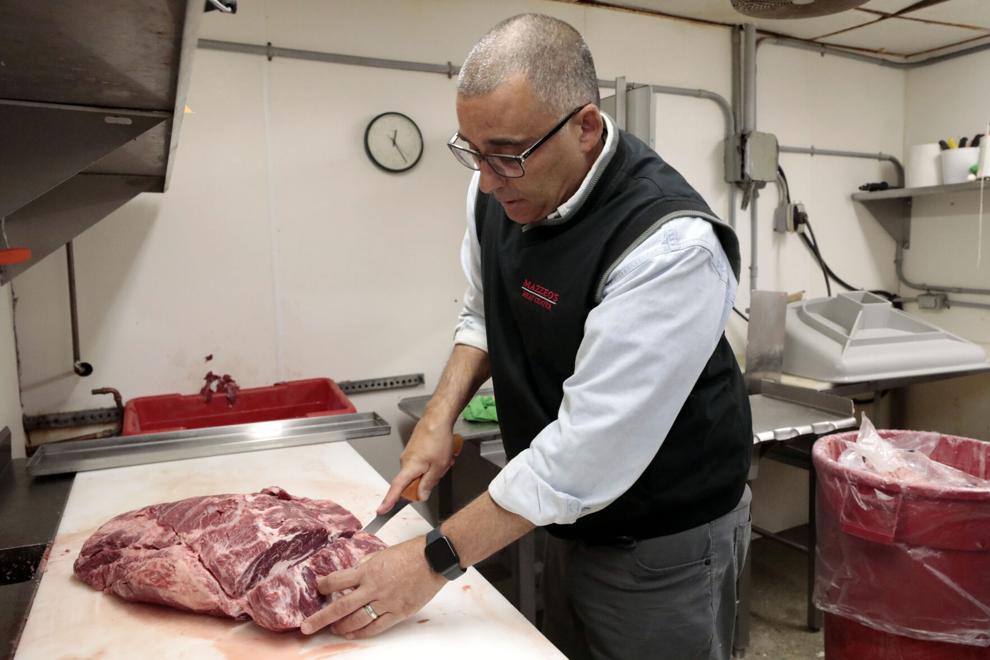 PITTSFIELD — To do it right, cutting meat takes skill, technique and experience.
Rudy Mazzeo knows this because he's been a butcher for more than 40 years. He plies his trade as the manager at Mazzeo's Meat & Seafood, which is located inside Guido's Fresh Marketplace in Great Barrington. The business also has another store in Pittsfield, managed by Rudy's brother Michael, that's located inside Guido's market in Pittsfield.
We spoke to Mazzeo recently about how he became a butcher, how he learned his technique, the changes his profession has gone through since he started, and what it's like to cut up an alligator.
Q: Why did you become a butcher?
Rudy Mazzeo: It was my father's business. He had a little store on Fenn Street in Pittsfield, Mazzeo's Meat and Importing Market. It was started by my father (Rodolfo) and his brother, Pasquale (in 1960). It was a grocery store but also a butcher shop. At 11 years old I just started cutting with him.
Q: Why were you interested in cutting meat?
Rudy: I was just doing what my father did, following in his footsteps. He was good at it and I got to be good at it.
Q: How long have you been doing this?
Rudy: How long have I known how to cut meat? Forty-four years.
Q: Why have you stuck with it for so long?
Rudy: My father opened a supermarket on the upper part of Fenn Street so he asked my brother and I if we wanted take it over, and we said we'll take it over. So we got kind of put into it.
Q: So how do you learn how to become a butcher?
Rudy: You've got to have some knife skills, for sure. If we bring in a butcher, we train them on how we like stuff cut.
Q: What do you mean by knife skills?
Rudy: You have to know how to handle a knife without cutting yourself. It's not for the clumsy.
Q: Is there a certain technique you need to know?
Rudy: No, you've just got to be careful. You've got to be straight when you're cutting. You can't move your hand and wobble. It's hard to explain.
Q: Try and explain it to me.
Rudy: I'm right handed so I take the beef and put my finger down to where I'm going to cut it and use my left finger as an edge for the depth of what I'm going to cut. Then you just keep moving down at the same rate.
Q: How do you know exactly where to put your finger?
Rudy: Just years of cutting. I know what depth I want. It's usually at an inch and a half. That's what most things are cut at.
Q: How long did it take for you to really get the knack of this job?
Rudy: To get really good? I was probably in my 20s.
Q: It's not an easy job to learn, from what I hear you saying.
Rudy: It's not the easiest job, no, to learn. I mean anybody can cut something, but to cut it you have to cut it right.
On most cuts you need to know exactly where to cut it. Say on the lamb leg you need to know where the bone is to debone it. You can't just throw your knife in there and think you're going to debone. it. You have to start at a certain point and end at a certain point. There's all different cuts you've got to make to get around the hip bone. There is technique but it takes a lot of practice to get it out without losing half the meat on it.
Q: How has being a butcher changed since you first started?
Rudy: When he (his father) was down on Fenn Street, it was a small store, it was hanging beef. They would break it down and take the cuts out. Now it's all boxed meat. You just buy it all pre-done. Not pre-done, but in sections instead of breaking it down. So you don't have to break down the cattle anymore.
There's very little service meat counters like we have. Everything's gone to pre-packaging so you really don't see butchers around. They're hard to come by.
Q: Why has the business gone in that direction?
Rudy: It's most cost effective. A lot of it's done by machine.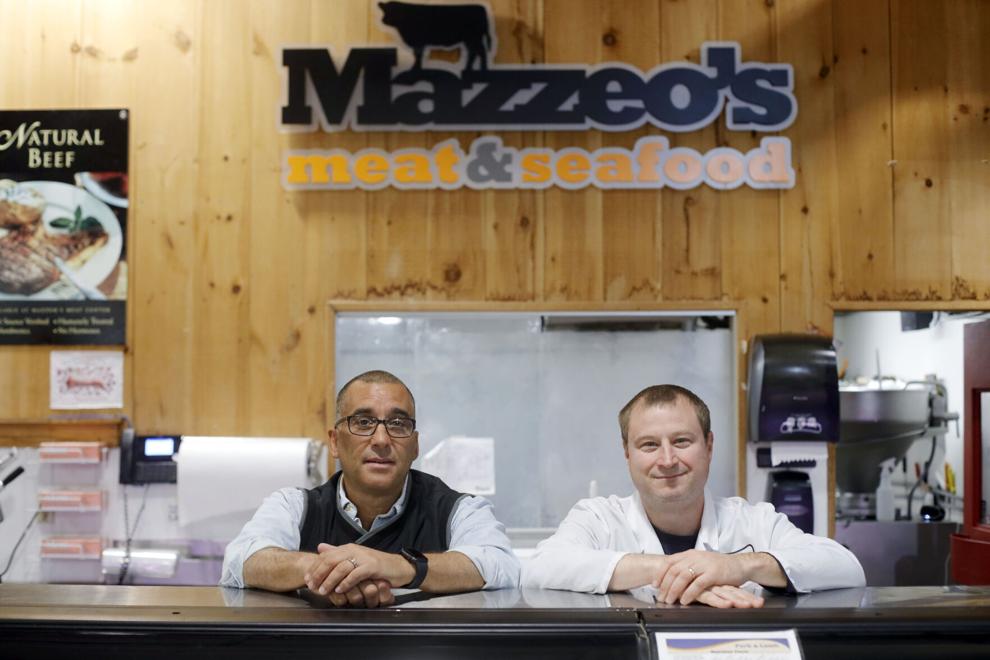 Q: Is that difficult for someone like you to see?
Rudy: It's just part of the times. Everything's going to automation, which is not good for the workforce. It will catch up to us at some point.
Q: Getting back to the pre-packaging, do you like cutting meat better this way or the old way?
Rudy: It's much easier this way. In our business now we sell quite a bit of meat. To break down that many cattle there would be way too much waste. We'll go through, between both stores, say 10 cases of New York strips a week. That would take 60 cattle just to get the one cut.
Q: So you'd have to have 60 carcasses in your store to do this?
Rudy: Yeah. We always stock at least 30 cases, so 15 in each, times that by six, that's 180. So there's like 90 carcasses basically of one cut of cattle.
Q: What's the hardest type of meat to cut?
Rudy: It's not the hardest but the most expensive. You're going to do the filet mignon. We trim completely down to the bare meat. Only meat no fat. Every little piece you cut into the filet you're going to cost yourself some money because its $30 a pound.
Q: What the easiest type of meat to cut?
Rudy: Probably a New York strip or a rib-eye. They're pre-trimmed and you cut them down to your size, a portion cut. Trim the fat and you're done.
Q: What the most exotic meat you've ever cut?
Rudy: Probably alligator.
Q: Where did you do that?
Rudy: In Great Barrington. I had a customer order it.
Q: What's it like cutting an alligator?
Rudy: That you have to do on a band saw because there's a lot of bone on an alligator. It tastes more like chicken though, from what I've heard. I've never tried it. Everybody always says that everything that doesn't taste the same tastes like chicken.
Q: Were you surprised when this customer asked you to cut an alligator?
Rudy: No. We've had requests for rattlesnake. What else was weird? We've had buffalo but we have buffalo all the time. Ostrich.
Q: Those are pretty odd.
Rudy: Ostrich is not as odd. You can buy it packaged now. We sell ostrich.
Q: Does ostrich taste like chicken?
Rudy: No, it takes like beef actually.