PITTSFIELD — Luke Marion succinctly summed up what Berkshire restaurant owners are facing as they head into the winter season.
"It's been hairy out there," said the owner of Otto's Kitchen & Comfort on East Street.
It's not hard to see why. While the COVID-19 pandemic has taken a big chunk of income from local restaurant owners this year, the recent surge of the virus in Massachusetts has caused Gov. Charlie Baker to impose restrictions on state eateries that went into effect Dec. 13.
The guidelines include a 90-minute ban on sit-down dining; dropping the maximum number of people allowed at a table from 10 to six; and requiring customers to wear masks at all times, except when they actively are eating or drinking. Also, patrons are being encouraged to dine only with household members, in order to reduce transmission of the coronavirus.
Indoor dining still is allowed, but in Pittsfield, city officials had suspended that practice last month for three weeks, citing a surge in positive virus cases that partly resulted through that activity. On Dec. 3, the board of health rescinded the emergency order it issued Nov. 12 banning the practice, two days after a group of restaurant owners went to City Hall, asking that indoor dining be allowed to resume.
In an emergency order issued Tuesday, Baker added additional guidelines that require several businesses, including restaurants, to limit their customer capacity to a maximum of 25 percent. That measure will remain in effect until at least noon Jan. 10.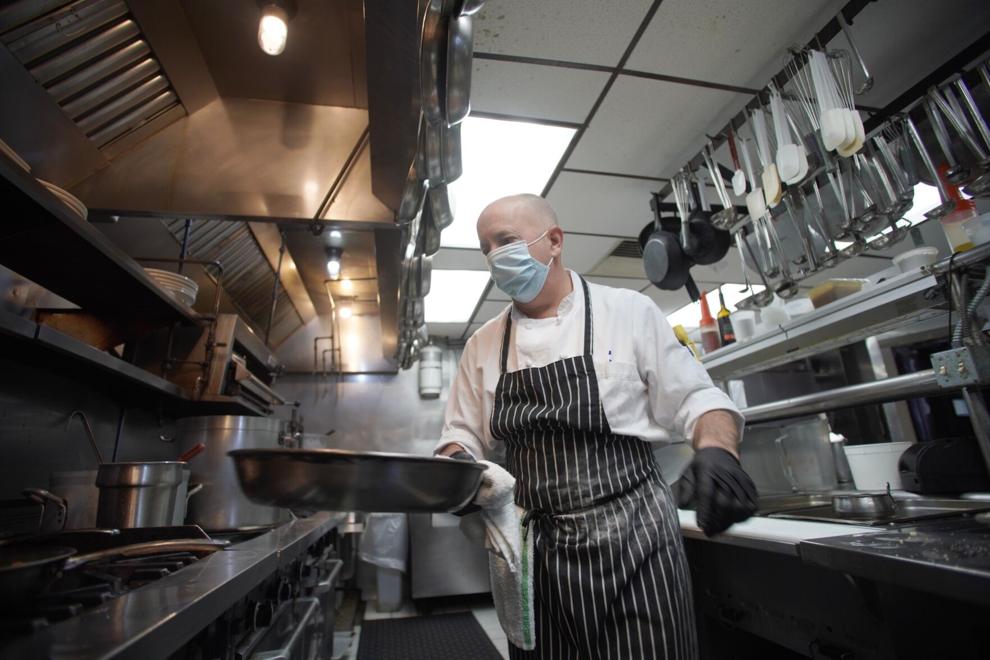 Owners of city restaurants have mixed reactions to the governor's Dec. 13 restrictions. Many say they already have in place safety regulations for patrons, and that the restrictions won't have much of an additional effect on their businesses, which already have taken a big hit.
"Let's be honest here, nothing can affect us any more than it already has," said Mickey Soldato, who owns Zucchini's Restaurant on North Street and The Roasted Garlic on West Housatonic Street, both in Pittsfield, in addition to Mario's Restaurant in New Lebanon, N.Y. "The bottom line is this: The national media has restaurants tainted as the black plague, as being a very unsafe environment to be in right now. ... Until that changes, to me, the vaccine isn't going to help us as restaurants."
According to new data from the Massachusetts Restaurant Association, about one-fifth of all state restaurants, 3,600 in total, have closed since the pandemic began. Nationally, 17 percent of restaurants — more than 110,000 — have shut their doors either permanently or long term, according to figures from the National Restaurant Association that were compiled from Nov. 17-30. The vast majority of the permanently closed businesses had been operating for at least 16 years, and 16 percent had been open for at least 30 years.
That survey from the National Restaurant Association Research Group, which involved 6,000 restaurant operators and 250 supply chain businesses, also found that 87 percent of full-service restaurants, including independents, chains and franchises, reported an average 36 percent decline in sales revenue, and that 83 percent of full-service operators expect sales to be even worse over the next three months.
"For an industry with an average profit margin of 5-percent-to-6 percent this is simply unsustainable," the National Restaurant Association stated in its report.
'We're all struggling right now'
Soldato doesn't believe that the resumption of indoor dining in Pittsfield is going to turn everything around.
"Until Dr. [Anthony] Fauci comes out and says it's safe to go to restaurants, it's OK to loosen your guidelines a little bit, I don't think you're going to see a big turnaround in terms of indoor dining," Soldato said. "That's my personal opinion. ... I think, in all honesty, the big thing is just perception and people feeling comfortable. ... We're all struggling right now.
"I don't think the guidelines are that big of an issue, because people just aren't dining in," he said. "The majority of our business is takeout. I would say going from 10 to six people [per table] probably hurts a little bit, but I don't think a lot of people are coming together to eat; it's all households that are going out together."
When the city of Pittsfield allowed restaurants to resume indoor dining Dec. 3, it limited the amount of diners per table to six, when the rest of the state still allowed 10. Baker's Dec. 13 restrictions now have put the city's requirements in line with the rest of the state, but during the nine days those seating arrangements were different, restaurants in Pittsfield that have large seating areas lost business to eateries outside the city.
"Last week, when the city of Pittsfield put it at six and the rest of the state was at 10, that was ridiculous, because if you had 10 people, you could go somewhere else, like Lenox or Lee," said Tony Mazzeo, who co-owns Mazzeo's Ristorante on South Street with his brother, Michael. "That put us at a big disadvantage.
"As long as it stays consistent and everybody's in the same boat," Mazzeo said, he can live with Baker's reduced per-table seating requirements. "I think it's bad, and I don't like it, and we've definitely lost business," he said. "But, it is what it is."
For restaurants with smaller dining areas, the decline in the number of patrons per table isn't as severe.
"Personally, it didn't affect me that much, because with the restrictions I have with the tables, there's no way that I could seat 10 out there," said Craig Benoit, who owns the Hot Dog Ranch on West Housatonic Street in Pittsfield.
Benoit is more concerned with the 90-minute table limit on sit-down dining.
"That's a major issue for two reasons," Benoit said. "One is, it's hard to tell people that they have got to leave, and two, things are slow because of the virus, so, once you get a customer, you have to tell them they have to leave, so you're not getting the extra sale or the extra dessert or anything. That's going to be the toughest one, as far as I'm concerned.
"I would say 85 percent of the time when people come in, in my business at least, an hour or 90 minutes they're in and then they're going out the door," he said. "But, we have regular customers. They become accustomed to being here and they enjoy being here."
'Difficult thing to police'
At Otto's, Marion said the governor's Dec. 13 regulations haven't changed things from the way they were when restaurants were required to stop indoor dining the first time, during the spring.
"Honestly, it's not that much different than when we were seeing that the first time," he said. "Obviously, Gov. Baker reduced the capacity form 10 to six, but that was never a big change for us anyway, because it's not often that we get that large of a party in. And wearing your mask when you have a plate in front of you, that's just one more thing.
But, Mazzeo said the new mask ban is difficult to comply with.
"That's a difficult thing to police," he said. "It's such a gray area ... and we have three different rooms, not one open room."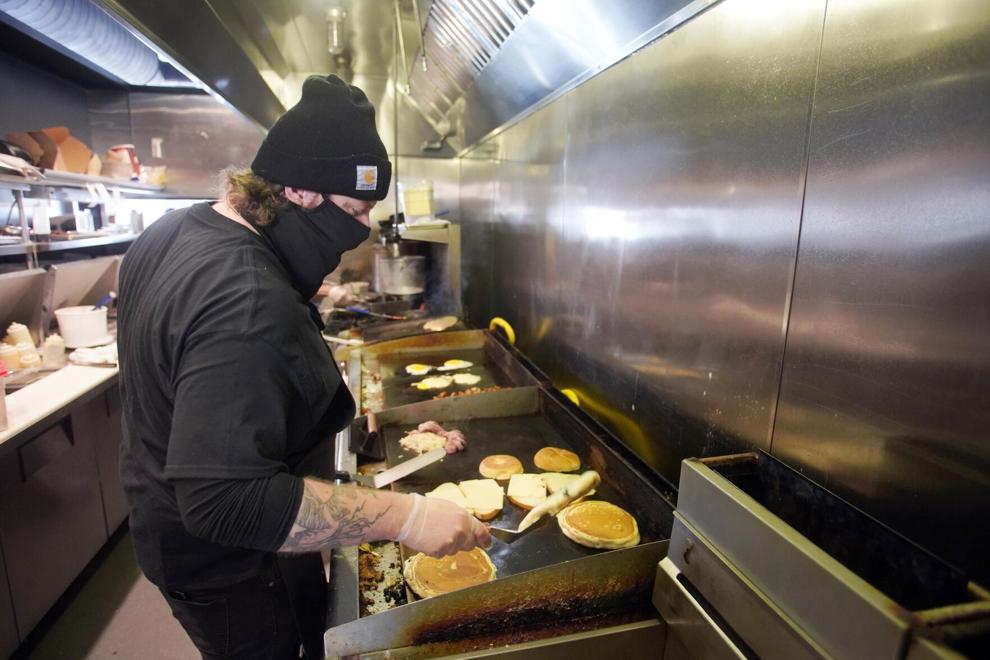 Otto's wasn't as affected by the city's decision to temporarily suspend indoor dining as some other eateries were, because Marion had decided to ban the practice himself the day before the Health Department issued its emergency order.
"So, we weren't blindsided, I guess, because we did it ourselves," Marion said. "We saw that restaurants were going to have to shut down and we thought, 'Oh, boy, if one of us gets COVID, we can't take a hit like that right now. ... So, better to do carryout only or delivery than have people in."
Bjorn Somlo, who owns The Lantern Bar & Grill in Pittsfield and Nudel Restaurant in Lenox, said that, after the pandemic initially hit, he re-engineered both of his dining establishments so they would be able to roll with future shutdowns, restrictions and pullbacks.
"We aligned the businesses to be on the side of erring with caution and making the business sustainable to do that," he said.
The Lantern has adopted a "fast-casual service model," he said, without a lot of the eatery's "high-touch aspects of dining," which allows the restaurant to keep everybody safe and limits the staff's exposure to each other. "We increased their hourly wages and also increased their share of the tip pool," he said.
Nudel has been operating on a strictly takeout basis, although several "pop-up" opportunities have been scheduled, including one this summer that allowed patrons to eat outside.
"After 11 years, we know what it is and what it isn't, and there wasn't a version during COVID of being able to offer what we've been able to offer for the last decade," Somlo said, referring to discontinuing Nudel's takeout service.
'We're still here'
In Lee, Chez Nous Bistro has taken a similar approach, owners Franck Tessier and Rachel Portnoy stated in answer to a question posted to the eatery's Facebook page.
"We actually closed Oct. 11 and are doing pop-up takeout dinners every couple of weeks to stay connected and not deal with all the craziness," they stated.
All the restaurant owners said they are doing the best they can to balance personal safety with financial viability as the virus continues to surge. Somlo said eateries shouldn't take all the blame for outbreaks of the virus.
"It seems to be that restaurants are the bad guys, that they're supposed to babysit and corral ... which is an already difficult industry in an already difficult time and somehow the citizenry that carries the disease is free of blame or responsibility," he said.
"It is missing from the general conversation that it's not so much that a place may or may not be upholding the rules, it's that people are looking for those experiences."
Whatever the reason, things are just getting difficult for restaurant owners as they head into the winter months.
"From what I hear from the other restaurants, we're all starting to feel squeezed," Marion said. "Summer's gone, and now people are hunkered down pinching pennies. Winter up here is already something to worry about, but now there's something more to worry about."
What's the good news?
"We're still here," Benoit said.