RICHMOND — An inn whose origins date to the Revolutionary War, as well as the property's equestrian center, have been put back on the market by their Connecticut-based owner for the second time in more than seven years.
The Inn at Richmond and the Berkshire Equestrian Center are being offered for $4.6 million by Sotheby's International Realty of Great Barrington. Property owner Carl Dunham Jr., of New Milford, Conn., previously had listed the inn and equestrian center for $5.9 million, with another Berkshire County real estate agency, in 2013.
"I did it for the same reason. I'm not spending much time up there," Dunham said when asked why he decided to list the property again. He also owns Candlelight Farms Inn in New Milford, a 600-acre lodging establishment/stable property that is similar to the parcel in Richmond.
"My thought when I purchased it was to create a satellite business to complement my property in New Milford," said Dunham, who purchased the Richmond property for about $2 million at auction in June 2005. "I'm very pleased with the town. But, my heart is really in this place where I grew up, so, I haven't spent much time up there."
Dunham upgraded the property and added an indoor riding ring at the equestrian center before placing the property on the market the first time. Dunham said he "didn't get much of a response" when he tried to sell the property in 2013, when the inn and equestrian center were offered together and separately. But, he believes that the market conditions are better now than they were then.
"With this market and the timing, I just thought it was time to put it back on," he said.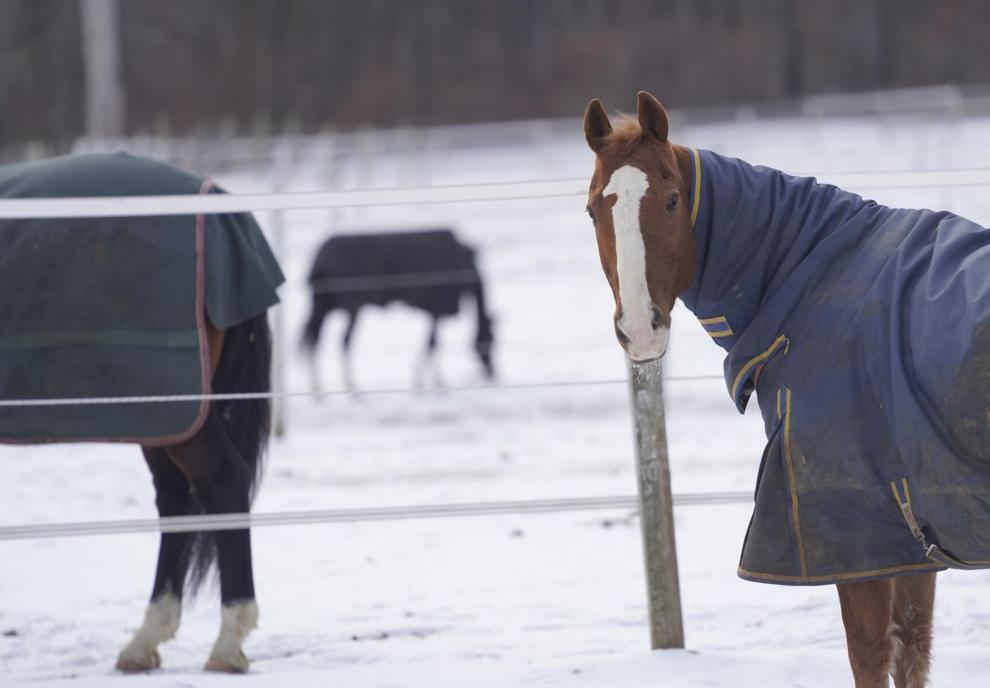 The inn and equestrian center are being offered together, according to the listing agent, Realtor Jennifer Capala.
When asked why he lowered the asking price by $1.3 million, Dunham said, "I thought the value was there, but I was discouraged from the value by people who said, 'You don't want to go too high, etc. etc.' So, basically, that's why I listed it at $4.6."
The main house on Route 41, a seven-bedroom inn, was built from 1774 to 1776 on property secured in a land grant from King George III of Great Britain. The 27-acre site includes five cottages, two event barns and a horse barn that, according to Eagle files, was built in the early 1930s from structural timbers of an enormous sheep barn that the property's then-owner, Darwin Morse, moved from nearby Hancock Shaker Village. The equestrian center, located on nearby Perrys Peak Road, also includes 15 grazing paddocks and the 16,000-square-foot indoor multipurpose area constructed by Dunham that includes offices and a two-bedroom apartment with a spa.
The property has plenty of possibilities, Capala said.
"There could be someone who wanted this as an event space," she said. "They [the Dunhams] have used it as a wedding venue. The woman who is managing the equestrian center now wants to keep operating it. ... But, the inn has great potential. You could make it into something, or it could even be an elegant one-family house."
The 27-acre property originally was subdivided from a larger tract known as Green Meads Farm, which was founded in 1926 by Morse and his wife, Kate, who were well-known breeders of Morgan horses. In 1972, the opening scenes of a two-part drama on Justin Morgan and the horses that bear his name, broadcast on the television show "The Wonderful World of Disney," were shot at Green Meads Farm, according to Eagle files.
The property was subdivided because Green Meads Farm was facing a foreclosure auction.
Darwin Morse, a longtime town official, died at age 83 in 1984, 12 years after his wife. The native of Lenox was active in town affairs for 35 years, serving as town moderator, as a selectman and as an assessor. Morse, also a banker, reportedly was considered for the appointment as director of the federal Home Loan Bank in 1953, according to Eagle files.
Kate Morse, who died in 1972, was the daughter of millionaire banker Grenville L. Winthrop of Lenox and New York City. Darwin Morse originally served as an electrician on the Winthrop summer estate, Groton Place on West Street in Lenox, which Grenville Winthrop built in 1905 and now houses Boston University's Tanglewood Institute. In September 1924, Kate Morse eloped with Morse at the same time that her sister, Emily, eloped with the estate's chauffeur, according to Eagle files.
"The elopement caused a sensation to Lenox and New York society," according to a 1925 newspaper clipping in The Eagle's files. Kate Morse's uncle, Beechman Winthrop, served as assistant secretary of the Navy in President William Taft's administration.
Daniel and Jerri Buehler, of Stamford, Conn., purchased the property from the Morse family in 1994 for $460,000 and converted the main house into an inn.