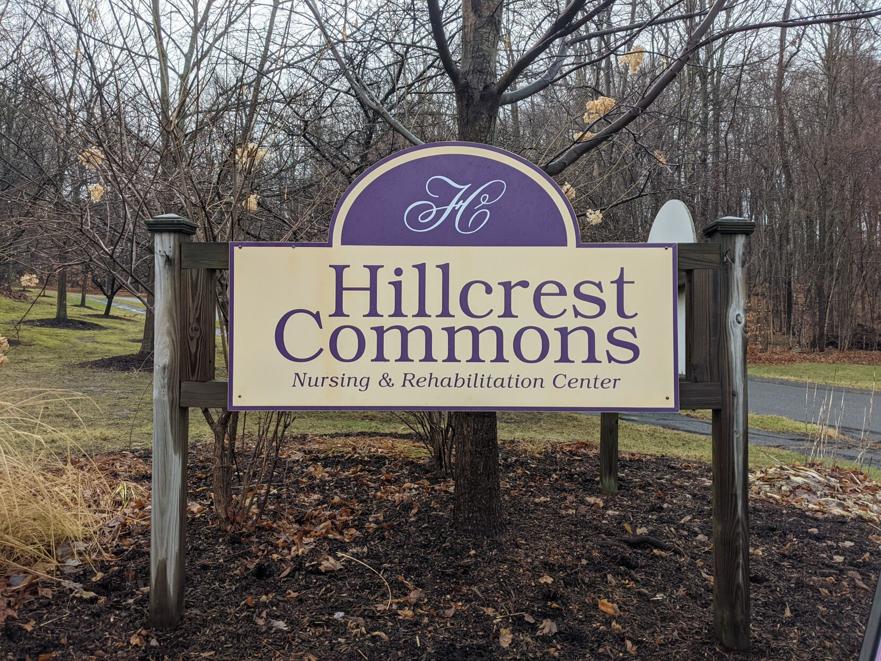 PITTSFIELD — Four deaths of residents at a Pittsfield nursing center are now linked to COVID-19, the city's mayor said today, evidence of what she termed "a very, very serious situation."
In a message to area lawmakers obtained by The Eagle, Mayor Linda M. Tyer cited sharp increases in cases at the Hillcrest Commons Nursing and Rehabilitation Center at 169 Valentine Road.
"I am extraordinarily concerned about what's happening at Hillcrest Commons," Tyer told The Eagle on Thursday. "The magnitude of the positives is obviously beyond significant."
Since last reported publicly, the number of Hillcrest residents infected has climbed by five to 78. Staff cases jumped by 19 to 28. On Wednesday, figures provided by the nursing home's owner, Berkshire Healthcare Systems, showed a total of 92 cases. As of today, it is 106.
On Sunday, the mounting cases prompted the state Department of Public Health to deploy a rapid response team of nurses and other health professionals to address staffing shortages. Two days earlier, two DPH epidemiologists arrived at Hillcrest to assess the situation.
Tyer said that team, which includes Pittsfield public health officials, is leading the response at Hillcrest.
"Honestly, I've hesitated to send this information to you on Thanksgiving morning," Tyer told the lawmakers in her message Thursday. "I do not want you to be caught off-guard."
The gravity of the outbreak is becoming more clear as test results arrive. The current number of infections means that nearly 35 percent of the 224 residents has tested positive.
Tyer also told The Eagle she worries about increased community spread of the virus in Pittsfield, "primarily as it relates to the number of staff at Hillcrest Commons who have tested positive, because they certainly have lives outside of the facility."
On Wednesday, a spokeswoman told The Eagle that for the most part, residents who tested positive have not fallen severely ill. "Our medical team is encouraged by the status of our residents who are infected. Largely stable. We have a few residents at the hospital," said Lisa Gaudet, Berkshire Healthcare's vice president of business development and marketing.
At least one person at the facility had already died by Wednesday morning, according to state data.
Neither Berkshire Health Systems nor the Massachusetts Department of Public Health responded to The Eagle's request for more information on Thursday. The new numbers on Hillcrest infections had not yet been posted to the Berkshire Health Systems website as of Thursday evening. At the state level, new data on COVID-19 cases will not be released until Friday, and experts who track case numbers have warned that the data could be inaccurate for up to a week following the holiday.
Kimball Farms Nursing Care Center in Lenox, also owned by Berkshire Healthcare, has not seen a jump since 16 residents and five staff tested positive as of Monday.
At Kimball Farms Life Care, a retirement community also in Lenox, four staff have tested positive.
Positive results have emerged at other facilities in the county also owned by the company, and those have remained the same as Monday's results.
At North Adams Commons Nursing & Rehabilitation Center, one resident and one employee are infected.
Fairview Commons Nursing & Rehabilitation Center in Great Barrington has one employee who tested positive, as does Mount Greylock Extended Care Facility in Pittsfield. Williamstown Commons Nursing & Rehabilitation Center has one infected staff member.
Data for all Berkshire County nursing homes could not be obtained Wednesday, as some are not posting it to their websites, and calls to company officials were not returned.
Two other facilities are reporting very few positive cases as of Tuesday. Both Craneville Place of Dalton Rehabilitation and Skilled Care Center, and Springside Rehabilitation and Skilled Care Center in Pittsfield, both reported that each had one resident and two staff who tested positive.
It is the first outbreak for Hillcrest, which managed to stay virus-free since the beginning of the pandemic until this latest spike in the community, according to Gaudet.
And it is the first time a novel coronavirus outbreak has struck county nursing homes since the spring, when 24 residents died at Williamstown Commons. The virus also claimed four residents of Fairview Commons in Great Barrington.
As of September, nursing home residents have accounted for approximately 40 percent of COVID-19 deaths in the U.S., and more than 60 percent in Massachusetts. The state has one of the highest nursing home death rates per population size in the U.S.
The state Department of Public Health says that since the pandemic began, Massachusetts has seen 27,053 cases of COVID-19 among residents and staff of long-term care facilities. As of Wednesday, 6,727 people being cared for in those centers had died of the disease.
That number represents 64.85 percent of confirmed COVID-19 deaths in the state.