At least one Berkshire County store has started to hand out free N95 respirators, with more locations expecting to receive deliveries and begin distributing masks in the coming weeks.
As of Tuesday, the Pittsfield Walmart was giving out three face masks per person — a limit set by the Department of Health and Human Services — at the store's service desk. It was not clear how many the store had in total.
The federal government is in the process of sending 400 million masks from the Strategic National Stockpile to stores across the country, largely major chains such as Walmart and CVS.
According to the Centers for Disease Control and Prevention, well-fitting NIOSH-approved respirators — a category that includes N95s — offer "the highest level of protection" against COVID-19. Researchers say high quality masks are a particularly critical tool right now given how easily the omicron variant transmits from one person to another.
Within the next couple of weeks, N95 masks should be available for free at a number of locations across the Berkshires.
Various CVS locations from Great Barrington to North Adams told The Eagle that they were expecting shipments but were not sure when the masks would arrive.
Some stores may not receive any masks for distribution at first.
An official Walgreens list of the "first wave" of deliveries includes only stores in Springfield and further east; the company says other stores will be added as the rollout continues.
One Pittsfield Walgreens clerk told The Eagle that masks were being sent to Walgreens stores in more densely populated areas than the Berkshires.
Clerks at multiple Stop & Shop locations said they did not know whether their stores would receive masks.
Customers at Walmart on Tuesday were largely unaware of the free masks — which did not appear to be advertised by the store — until The Eagle informed them of the service.
"I wasn't expecting it," said Vivian Hernandez, of Pittsfield, who said she had trouble in the past figuring out how to buy a high-quality mask that was cheap and not counterfeit. "I want these masks because they're very supportive, compared to the other ones that aren't N95s."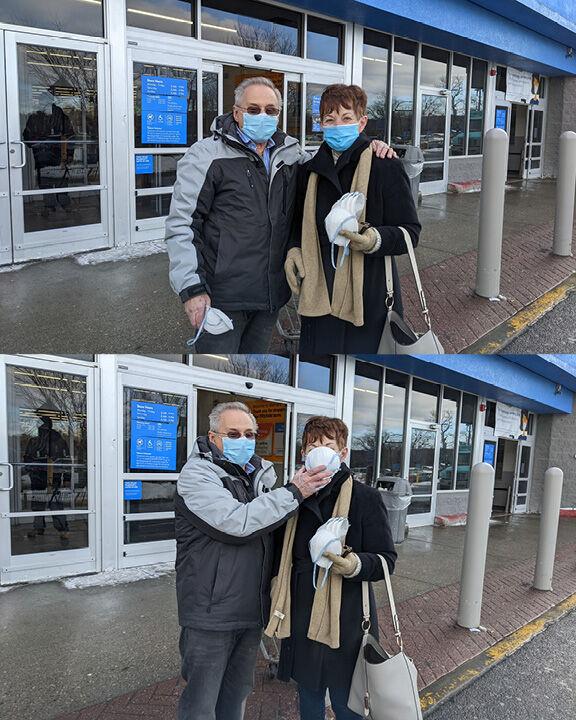 Patricia and Paul Bock, of Pittsfield, emerged smiling from the store, their hands full of Moldex Model 2000 masks — just one brand among many different kinds of N95s that have been released from the stockpile to stores.
"We had bought a lot of these surgical masks way back when," Patricia said. "We didn't have any N95s."
They said they would happily pay for masks — they just had trouble finding them in stores. They also were not sure that the program would come to fruition, in part because they are still waiting on their delivery of free tests. But they were pleasantly surprised to find that they could get the masks by tacking just another minute onto their shopping trip.
"We didn't think it'd happen here," she said.