LENOX — Town Hall is reactivating discussion of a potential new multimillion-dollar public safety complex housing police, fire and ambulance services.
Because of the COVID-19 pandemic, the project has been on hold since the Permanent Buildings Committee received a consultant's report in September 2019.
"Even if we can't afford it right now, we need to decide on a piece of property where we think it should be and start moving in that direction," said Edward Lane, chairman of the committee. Preliminary funding and planning could come up for discussion at the May 6 annual town meeting. But, a location has to be determined first, Lane commented during a committee meeting Feb. 25.
"We remain in the basement of a 100-plus-year-old building and have outgrown its usefulness," Police Chief Stephen E. O'Brien told The Eagle. "We need a new building that conforms to police accreditation standards and provides us with room to maneuver."
The 1909 fire station adjacent to Town Hall also is outmoded and can't accommodate modern firefighting vehicles unless they are retrofitted.
The two sites being eyed by the committee, according to committee member Tom Delasco, are on the Sawmill Brook town-owned land off Housatonic Street just east of the Route 7 and 20 bypass, across from Caligari's Hardware, and a portion of the Brushwood Farm property, owned by the Hashim family, off the state highway (Pittsfield Road).
"Realistically, it's not going to go anywhere else unless another site, centrally located, drops out of the sky or opens up somewhere," Delasco said.
Lane agreed, pointing out that negotiations are needed with the Brushwood Farm ownership.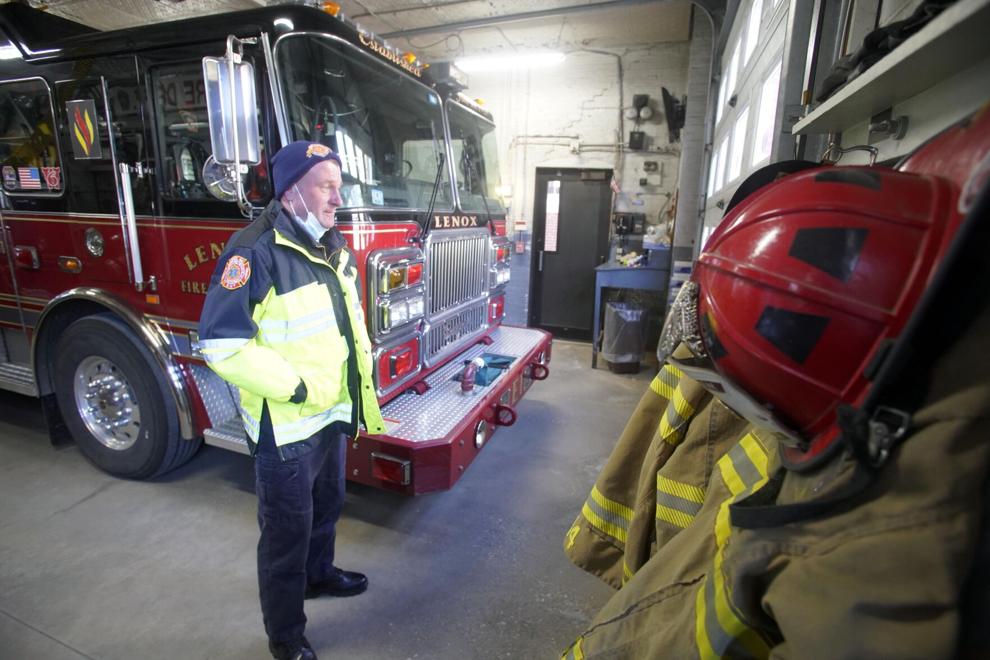 Stone House Properties has an active listing for the 68-acre property at 36 Pittsfield Road, opposite Lenox Commons, with an offering price of $3.8 million. Only a portion of the acreage, which includes several businesses, would be needed for the public safety facility.
The consultant's report prepared 18 months ago by the architecture firm James M. Hanifan of Caolo & Bieniek Associates in Chicopee included a "very preliminary" estimated price tag of $13,195,000 to construct the complex, not including land-acquisition costs.
The current fire station, now staffed around the clock, has building code violations, Hanifan pointed out in his 2019 report. It has a structural issue, an outdated fire-detection system, as well as an outmoded generator and a lack of insulation, amid other problems.
Code issues, including state Department of Public Health violations, also afflict the police station in the Town Hall basement, Hanifan stated.
The Police Department is significantly cramped for space at its current 2,981 square feet, compared with the recommended 6,908, according to the consultant's report. The Fire Department would need 8,075 square feet instead of its current 4,658.
Scoring potential sites, the firm ranked Brushwood Farm at the top, followed by the Sawmill Brook property. Three other properties analyzed by the consultant were deemed unsuitable.
The 23-acre Sawmill property, with 6 acres suitable for building, is owned by the town's Affordable Housing Trust, with a designated value of $600,000.
In May 2019, amid neighborhood opposition, annual town meeting voters fell short of the two-thirds majority needed to approve a mixed-income housing development at the site. The land would have been donated by the Trust.
"Most everybody is most interested in the highest and best use of the property for the town," said Marybeth Mitts, chairperson of the Affordable Housing Trust Committee. "I think people are being realistic."
Mitts, a member of the Select Board, added: "It's time to look at it" if it's determined that the Sawmill property is the most effective, efficient and centrally located site for a public safety complex to protect property in the town.
"People have been asking about it; everyone is waiting with bated breath to find out if this is going to be used either for public safety or housing," she stated.
"We should lock down on a piece of property before we move to the next step of designing anything," said Lane, a member of the Select Board. He acknowledged that "we have to keep in the back of our mind" whether there would be neighborhood opposition to either site.
The timing is right to move ahead, considering favorable financing costs because of low interest rates, Mitts and Delasco agreed.
"Once we have the site, we can move on to design and development," Delasco said.