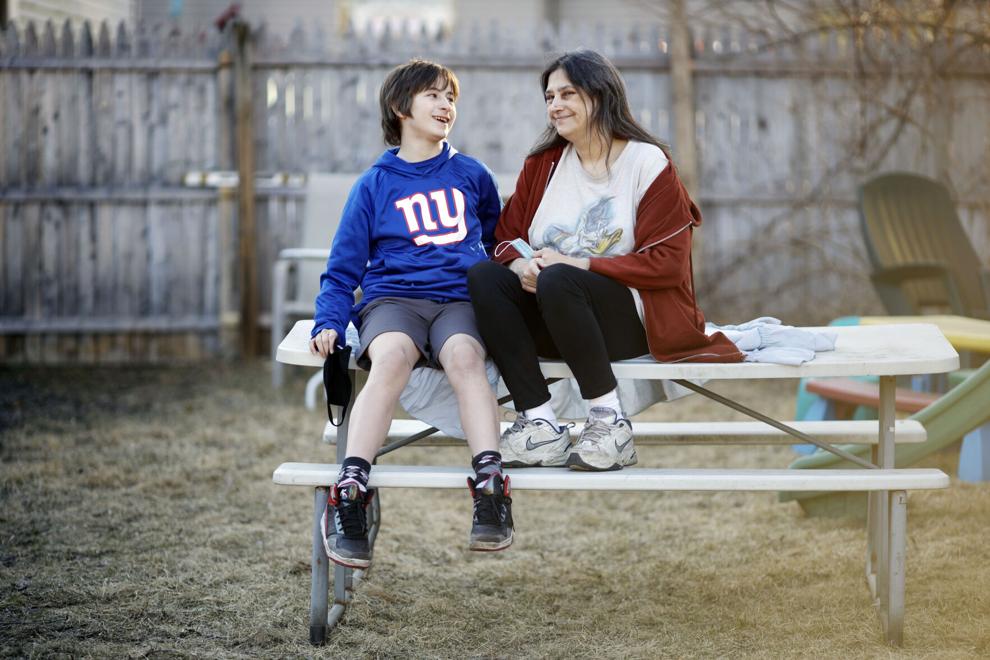 Ray Bunt longs for his life before COVID-19.
For months, the 13-year-old Drury High School student has struggled with the remote lessons he takes from the North Adams home he shares with his grandmother, Emanuela, her husband and son, and his 17-year-old brother.
"I don't like it at all, I'd rather actually be in school," said Ray. "Because, like, it's hard to concentrate at your house for one." On Christmas Eve, Ray woke up in the middle of the night struggling to breathe. "All I do is close my eyes, and I will not be able to breathe, I'll be suffocating in my sleep," he said. "You wake up, pleading for air, basically."
His doctor diagnosed him with anxiety.
A year of pandemic life left students in the Berkshires' largest school district hopeless, lonely and frustrated.
Pittsfield Public Schools surveyed children in grades 3 through 12 this year. The results paint a picture of the toll COVID-19 has had on the city's youth.
Half of middle and high school students reported feelings of isolation and worry. Only one in five said they excited about something. Barely a third said they were happy. Elementary children were no less lonely, and 6 out of 10 reported feelings of sadness.
Across the country, mental health experts are sounding the alarm on the effects that widespread lockdowns, school closings and other aspects of life amid a pandemic that has killed at least 532,466 people in the United States could have on children. The Centers for Disease Control and Prevention has reported an increase in childhood emergency department visits for mental health during the pandemic.
Ray Bunt, 13, and his grandmother Emanuela, at their home in North Adams, are just two of the thousands of people who have struggled with the …
Ray Bunt's life, and the lives of students across the Commonwealth, will change soon. State education officials have issued a mandate to resume in-person elementary and middle school full time by April. Experts say that the return to school offers an important tool to combat loneliness in students as well as an opportunity for them to find meaning together.
Lost hope
Of particular concern to Ann Marie Carpenter, a psychologist, was that only four in 10 secondary students surveyed felt hopeful.
"So what you see here is, frankly, for me, is disturbing," Carpenter told the Pittsfield School Committee last week. "Individuals who have a high sense of hopelessness are known to experience increased depression and suicidal ideation and attempts."
Dr. Michael McHugh, chair of emergency medicine at Berkshire Medical Center, said the system is seeing an uptick in pediatric mental health concern due to the pandemic. McHugh believes that's partially due to children being out of classrooms for so much of the past year and missing out on opportunities to interact with their peers.
Though young people in the Berkshires and across the country were at lower risk for developing serious complications from COVID-19, their education and development — both academic and social — was highly vulnerable.
Children have experienced tremendous loss during the pandemic amid rising economic insecurity, hunger and job loss within families, said Dr. Clio Stearns, a teaching professor at the Massachusetts College of Liberal Arts in North Adams, with the impacts disproportionately distributed across racial and socioeconomic lines.
Many children have lost loved ones to the virus. Even for those who have not, Stearns said the pandemic's mental health impacts have wide-ranging implications. Educators and adults, she said, must work to help children process the trauma and help students find meaning.
"When we think about trauma from a psychological perspective, it means when we have an emotional experience and our cognition can't catch up," she said. "It doesn't just mean a bad thing happens, it means something happens that exceeds our capacity to understand. And that's the exciting thing about in-person [learning], is that there is a little bit more opportunity for kids to kind of do some of that meaning-making together."
Shirley Edgerton, founder of the Rites of Passage + Empowerment Program, began running virtual support sessions in February to help teens mana…
The pandemic closed more than just classrooms on and off for much of the past year. When the pandemic throttled the nation last spring, parks, basketball courts, skateparks and playgrounds closed, along with other venues where children gathered with their peers, said Shirley Edgerton, a cultural proficiency coach for Pittsfield Public Schools.
Young people lost already limited opportunities available to them to exercise control over their lives, due to the pandemic, said Edgerton. As vaccinations inch the nation towards recovery, Edgerton said the responsibility falls on adults to listen.
"It's important that we teach them that they're brilliant and ... that they have heart," she said. "And for those who haven't been empowered to have that voice, then I think it's our responsibility, as adults, to teach them to develop their voice and know that their voice has value."
In North Adams, Ray Bunt will head back to classrooms, despite his grandmother's lingering health concerns.
For months, Emanuela has taken every precaution to protect herself and her family from the virus while living on disability insurance. She suffers from cancer and diabetes, and despite being eligible for the vaccine, says she has been unable to secure an appointment.
But, Ray is ready for the days of remote learning to end. The family's home internet is spotty and a mobile hotspot the school district provided in December hasn't solved connectivity problems. As a result, his attendance record, which his grandmother described as nearly spotless before the pandemic, has suffered so much the district raised the possibility of disciplinary action, Emanuela said.
Education experts say face-to-face interaction is critical, but Ray has found video sessions annoying and struggles to focus during remote classes, while resisting the urge to grab something to drink, or to greet family.
Emanuela regrets she wasn't able to throw her grandson a birthday party this year. Ray said he misses sitting with school friends at lunch. That simple wish, at least, may soon be granted.