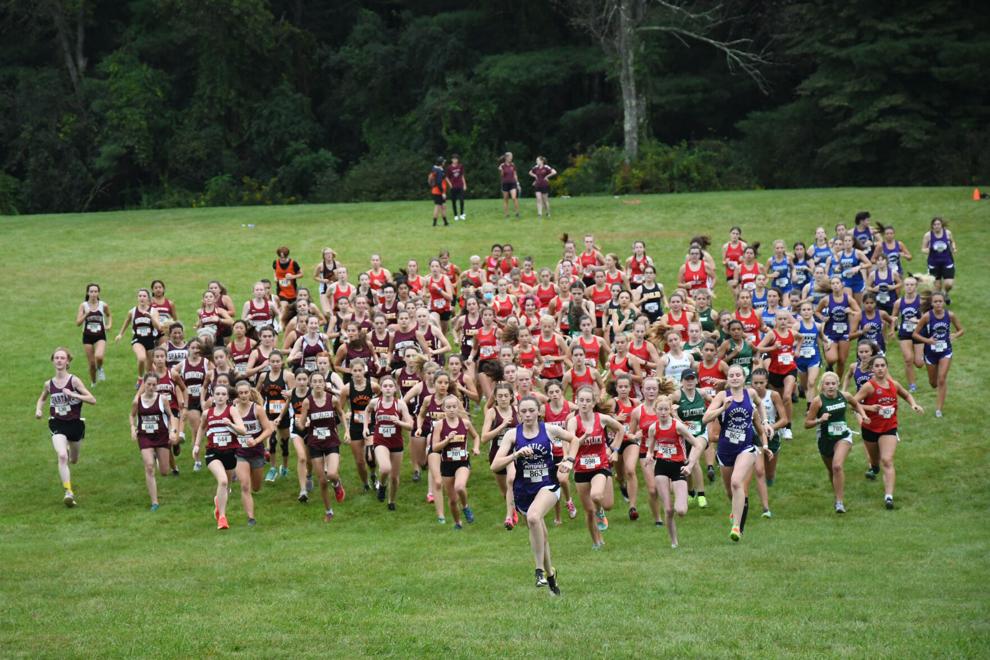 GREAT BARRINGTON — A parent of a Monument Mountain Regional High School student is objecting to mandatory COVID-19 pool testing only for teens who want to participate in sports or other extracurricular activities, saying the weekly surveillance test is a form of discrimination since it singles out one group.
School officials are saying the policy is a way to get a large swath of students tested, regardless of vaccination status, in an effort to keep everyone healthy and keep the school open.
Brian O'Rourke, whose child is participating in athletics, says the decision to do weekly pool testing is punitive for one group, when the risks of getting or transmitting the virus are no greater among them than the larger student or staff population. He told school officials he is considering consulting with an attorney about the legality of forcing testing on students simply because they are choosing to play football, for example.
"They're using it as a way to control or get greater participation in what's supposed to be voluntary testing," O'Rourke said, adding that pool testing isn't required for attendance by the public at games or those who enter the school. "I'm not anti-vax, I'm not anti-testing — I just think that they've crossed the line."
In pool testing, samples of nasal swabs from multiple people are taken and tested in group batches.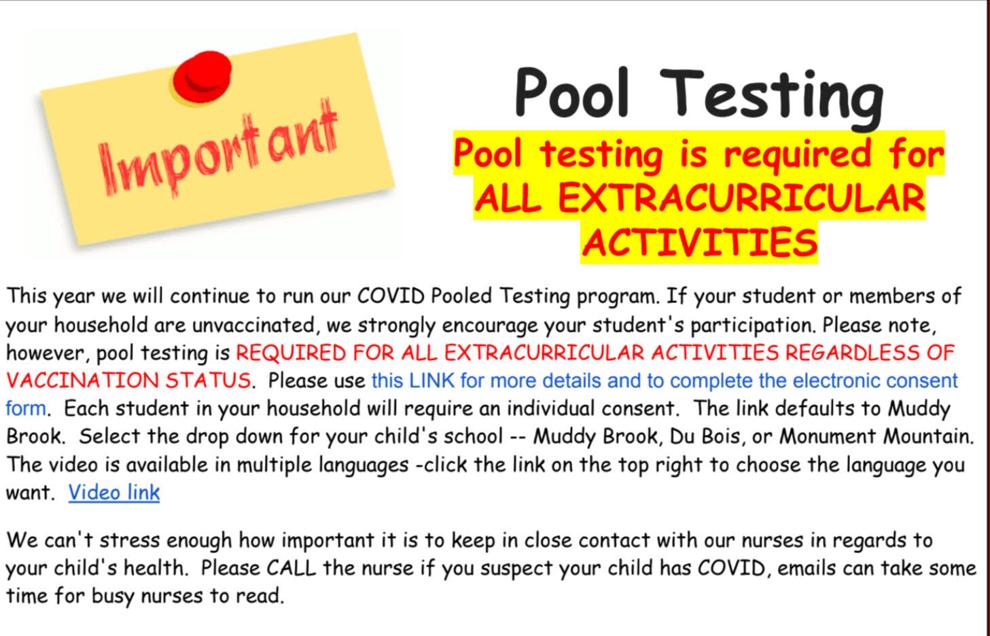 Peter Dillon, superintendent of the Berkshire Hills Regional School District, said that the policy is, indeed, an attempt to corral students into testing to capture positive COVID cases before they spread and result in illness or school shutdowns. He said it was the delta variant that prompted the testing mandate.
"It's very deliberately a way to get more people to do pool testing," he said, adding that he understands O'Rourke's complaint. "I get it — I hear it."
Dillon said it's possible that the School Committee, which voted on Sept. 9 to mandate the tests for that group of students, might expand the requirement to all students.
"The intent is not to be perceived as punitive or to actually be punitive," Dillon said. "The intent is to try to create a safe and supportive environment for students and the grownups who are supporting them."
Dillon announced in a Sept. 11 email to families that state-funded rapid pool testing is voluntary for all students, and mandatory if they are participating in activities like sports, drama or band. He said the testing would begin Sept. 16, and he also sent a link to the consent forms.
O'Rourke, of Sandisfield, is fine with pool testing, except in this way.
"It's a matter of principle," he said, noting that his whole family is vaccinated. "If you're going to do it, then everybody's got to do it, or else it needs to be voluntary."
Dillon said the School Committee might well be open to that. He said the decision to test the one group isn't rooted in financial reasons, since the state is paying.
Meanwhile, the virus appears to be under control at the district's three schools, Dillon said, noting that last week, there were six total cases spread among the three, and only one of those children had been in school. One case was at Muddy Brook Regional Elementary School; two at W.E.B. Du Bois Regional Middle School; and three at Monument. As a result of these, four Monument students were quarantined.
Dillon also said the vaccination rate at the high school is at 70 to 75 percent, and he believes that number is climbing. "It's a moving target because new students join us and new people keep getting vaxed," he said.
Only three of the district's 247 full-time staff are unvaccinated; those three received religious exemptions. Dillon also noted that the district created mask mandates even before the state required them, and quickly moved mandate vaccines for employees.