PITTSFIELD — A variant of the omicron strain of the coronavirus is responsible for the current wave of cases running through Pittsfield — and the first coronavirus death in the Berkshires in more than three months, city officials say.
But there's also reason for optimism: Data from the city's weekly sewage testing show that the current wave may be cresting, said Pittsfield Health Department Director Andy Cambi.
"We can see in the future for the sewage testing ... it seems like we're going into a plateau with the rise," Cambi said during a presentation to the City Council on Tuesday. "Hopefully, we will see those numbers kind of even out and stabilize in the next couple of weeks."
City staff test sewage samples from around the city three times a week to get a sense of the concentration of the virus in the city's wastewater. The trend of that data helps officials get a sense of what may happen with case numbers in the following week.
Since late March, cases in the city have been trending upward in what Cambi had initially called a "slight increase." Case numbers have taken a more dramatic turn in recent weeks as the 14-day average daily case rate reached 106.11 cases per 100,000 people on Friday.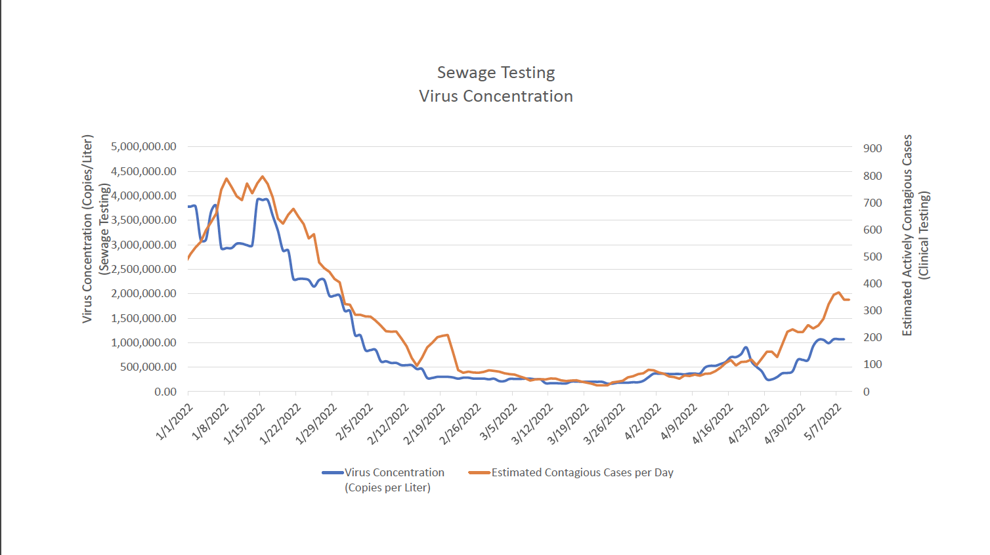 City testing rates dropped off in February, as the region recovered from the largest coronavirus case spike since the beginning of the pandemic. The decline in testing coincided with the start of the Biden administration's mailing of free at-home test kits and the closure state-supported testing sites.
Cambi said that the city's begun to see renewed interest in testing as case counts increase.
"The changes in tests daily also has increased with more infections that we are getting," Cambi said. "We've seen an increase in the access to our at-home test kits that we have in the health department."
The 14-day average daily testing positivity rate reached 10.81 percent on Friday. The city's community dashboard estimated that there were 341 actively contagious cases in Pittsfield at the end of last week. The recent death brought to 89 the total number of COVID deaths in the Berkshires.