Early one Thursday morning, nurses gather outside Morningside Community School in Pittsfield, don gowns and pull a mobile COVID-19 testing lab out of white boxes.
Students wait expectantly. Their nasal swabs soon will be collected, mixed together and tested for the virus as part of the district's pooled-testing program.
The nurses unpack mountains of gear in less than 10 minutes. The process goes smoothly: students are excited and cheerful, a few more staff members sign up for the program and the entire setup is gone within an hour.
There's just one problem: Only 43 of the school's 348 students have agreed to be tested, barely more than 1 in every 10 kids.
That low participation rate means the pooled-testing program, long touted by the state, still can't quite serve as the testing safety net that school, district and state officials had hoped for.
A month into Pittsfield's program, the district has seen over 100 cases. Pooled testing caught four, and three of those positives were identified by other tests before the pooled-testing results came back; just one was caught first through pooled testing. (Some school districts use the term pool testing.)
It's not just Pittsfield. In districts across Berkshire County, low opt-ins and logistical issues with pooled testing have plagued school leaders trying to keep COVID-19 at bay.
Low opt-in rates don't entirely negate the value of pooled testing, epidemiologists told The Eagle, and some testing is better than none. But, testing just a small portion of the community this way significantly can limit the value of pooled testing.
What is pooled testing?
Routine pooled testing, which the Department of Elementary and Secondary Education also calls "routine COVID safety checks," is one of several testing strategies Massachusetts schools have been encouraged, but not required, to implement.
In a typical pooled-testing routine, health professionals contracted by the school collect shallow nasal swabs and put as many as 10 into one tube. The samples are tested together; in the Berkshires, County Ambulance and the company CIC Health handle most of the testing.
A negative result means the pool participants probably are virus-free. Positive results lead to follow-up testing of pool participants, to figure out which of the samples is positive.
The goal is simple: catch more cases at lower cost.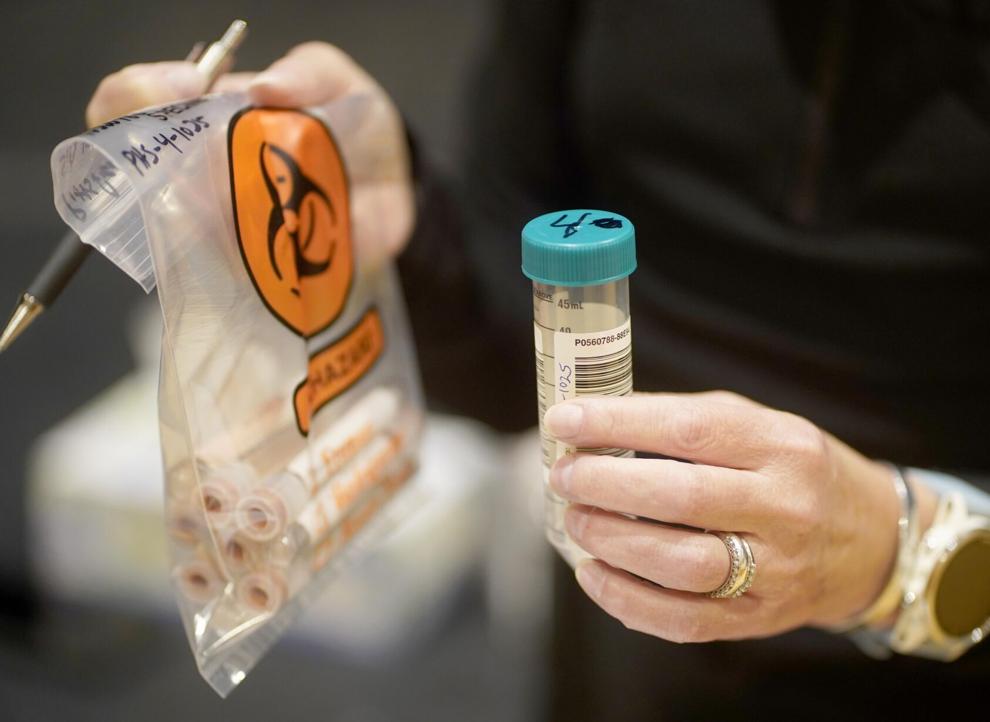 "[Pooled testing] is a very, very efficient method when you have low prevalence," said James Hay, a research fellow in epidemiology at the Harvard T.H. Chan School of Public Health. "And since the prevalence in school-aged kids is low, this is very efficient in terms of resources. You're processing loads of samples using very few test kits."
Statewide, the number of schools implementing programs has soared since pooled testing was introduced as a pilot program last spring. Most major Berkshire County districts — those with high schools — now perform weekly pooled testing.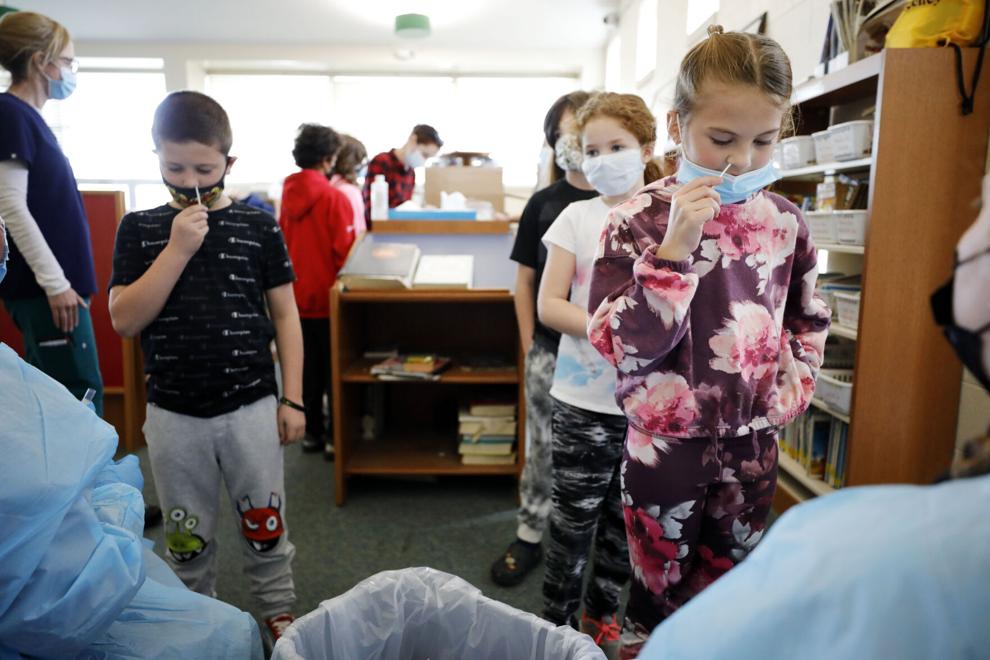 'A long way off'
How many kids are getting tested? That varies a lot.
District opt-in rates range from fewer than one-third of students opting in — Pittsfield — to 80 percent or more of the community, at the Berkshire Arts & Technology Charter Public School and in Lenox. The majority of districts fall around or below 60 percent of the community opting in, including Pittsfield, Lee and the Berkshire Hills Regional School District in South County.
Some districts, such as Lenox, have achieved higher rates, in part, by mandating the testing for athletics and extracurriculars. At the Mount Greylock Regional School District, Superintendent Jason McCandless credited "families doing word-of-mouth outreach" as part of the reason his district has managed to get almost three-fourths of the community on board.
Within some districts, participation rates can vary widely between schools. In Pittsfield, opt-in rates range from 0 percent — none of the Eagle Academy's 23 students has opted in — to 32 percent at Williams Elementary School. Most of the district's schools have rates of 10 to 20 percent.
Eric Lamoureaux, Pittsfield Public Schools' health and safety coordinator, said that when CIC Health first began discussing a pooled-testing program with the district last spring, it hoped schools would get close to an 80 percent opt-in rate. When Pittsfield saw an almost negligible response that spring — about 5 percent at each school, according to Lamoureaux — the provider lowered its goal for the district to a 50 percent opt-in rate.
"I'd love to see us get to 50 [percent] as well, but we're a long way off from that," Lamoureaux said. "Statistically, you know, 14 percent of a building is not going to give you a good sense of what's going on in the building."
Opt-outs and no-shows
Students participating in PPS pooled testing told The Eagle they did not mind getting the tests. Some families, though, have resisted the effort.
"I wasn't going to have my child put through weekly testing for no reason especially if he or she [doesn't have] any symptoms," Melissa Ewing, the mother of a fourth-grade student at Morningside Community, told The Eagle via Facebook. "To me, it's very traumatizing to have a swab go up your nose once a week when there's no call for it."
Ewing said she might feel differently if she was told one of her children had close contact with a COVID-positive teacher or student.
"I'd rather have them tested once I get a call," she said.
Lamoureaux said that he has been asked by staff why more teachers aren't opting in to the program. Fewer than half of the people working for the district have signed up.
"I don't know if it's that they're vaccinated and don't care, or if it's inconvenient to have to find [someone to cover their class while they're tested] or they don't want to come first thing in the morning," Lamoureaux said. "We haven't tried to survey and see why, but it's always, even last year, it's always been low."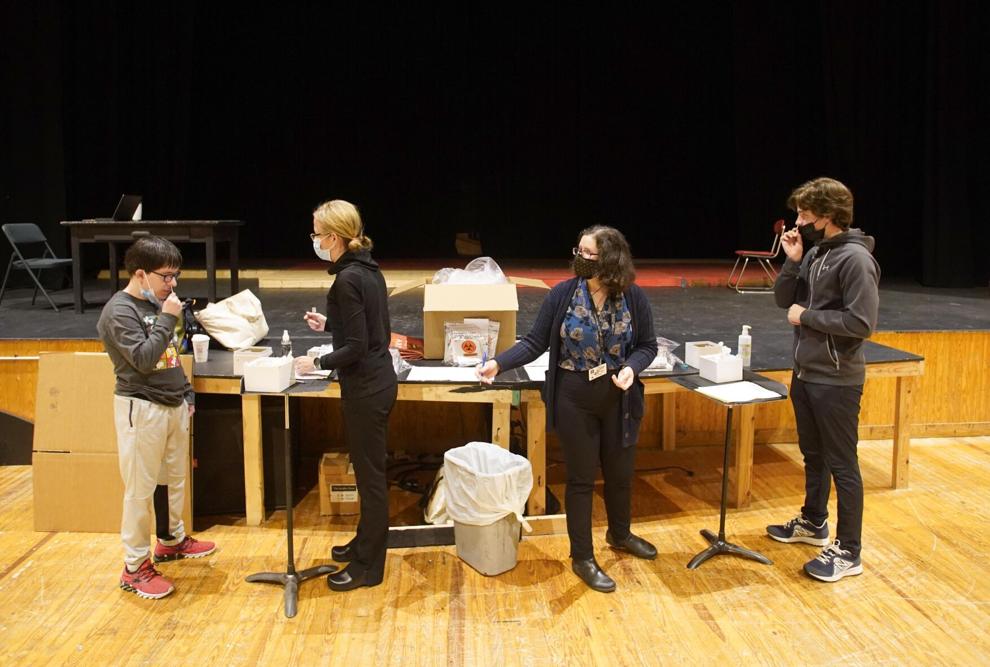 And the opt-in rates can obscure the number of students and staff who are getting tested. Multiple districts told The Eagle that they struggle with "no-shows" — kids who do not arrive for their scheduled swab.
Mount Greylock, which has an overall opt-in rate of about 71 percent, sees only about 60 or 70 percent of high schoolers show up for morning swabs, according to McCandless.
"The students are very busy and their day starts early," he told The Eagle. "As we do it before school, some students do not want to miss even a little bit of class when we run a bit late."
Carisa Vincent, the nurse in charge of managing County Ambulance's in-school testing program, said she arrived at Pittsfield High School on a recent morning expecting to test about 120 people. Only about 40 students and staff showed up.
Older students told The Eagle that fitting the tests into their schedules sometimes means choosing between staying on top of their work and serving the greater public health interest.
Lennox Silvestro-Dias, a junior at Pittsfield High, says testing takes place during his AP World class. He never knows whether he will get help catching up on the material when he steps out to take a test.
"Sometimes they'll screw you with it," he said. "And sometimes they'll actually help you and send [the content you missed] to you."
Testing trade-offs
Hay says there are two reasons to perform any kind of regular or semiregular testing, such as pooled testing: first, catch symptomatic cases as early as possible, and, second, identify nonsymptomatic cases that would not be caught otherwise.
But, the number of cases that can be caught with surveillance testing depends on myriad factors, including how often a person is tested, how many people are tested and how "sensitive" the test is — how many positive cases it catches. Pooled testing has lower sensitivity than a typical, individual PCR — polymerase chain reaction — test.
"That's one of the trade-offs with pool testing," Hay said. "You find fewer of the infections once you pool the samples."
Think about it like diluting liquid, Hay said. If more water is added to a salt-and-water solution, it gets weaker. In the same way, more negative samples in the pool could make it harder for the test to catch a positive sample.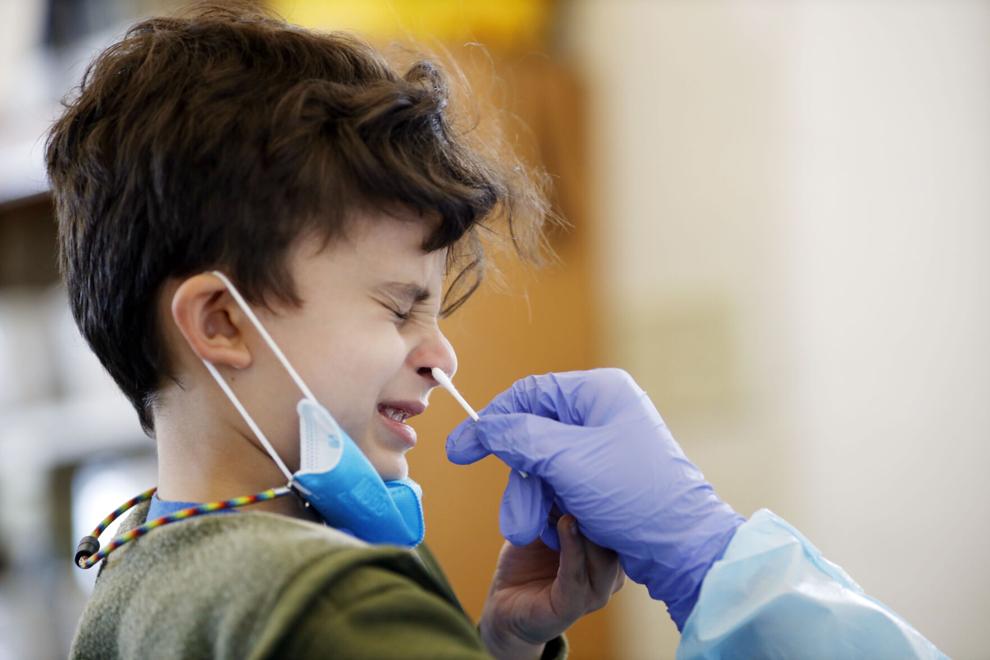 That sensitivity loss can hover at about 10 to 15 percent, according to Hay, depending on the size of the pool. That means a district with an opt-in rate of about 50 percent likely will not be able to catch even half its cases through pooled testing.
But, Thomas Unnasch, a health professor at the University of South Florida who launched a pooled-testing program at the university, says there are more reasons to perform pooled testing than just catching cases.
"We can put on two different hats," Unnasch said. "Put on your clinical hat. Am I going to be able to pick up a lot of the people who are infected? The answer is probably no."
But, take off that hat and try on an epidemiologist hat instead, he says, and the tests become more useful — as a snapshot of COVID-19 spread within a district on any given week.
Because schools are connected to their communities, they inevitably will have COVID-19 cases as long as the virus circulates in the community, Unnasch says. Pooled testing can help public health officials and school leaders see whether the virus is spreading more quickly inside the school than outside it.
"If you're a school, you can test 20 percent of people per week, and you can say, 'Are we doing better or worse than the community outside the school? Are we seeing any real trends?'"
A spike in the pooled testing positivity rate might suggest an outbreak, Unnasch points out, which could help school leaders decide whether they need to take more precautions across a school or a district.
For school leaders and students who have opted in, the possibility of catching an extra case or two through pooled testing makes the effort worthwhile.
At Mount Greylock, McCandless said, pooled testing is just part of a "mosaic that requires many pieces to have full effect," including masking and vaccination.
Or as Pittsfield High School senior Bethany Renaud put it: Another swab is a small price to pay to be back in school.
"It doesn't take that much out of the day," Renaud said. "It's extra security. I feel like if I come here and do it, there's a better chance that we will be able to stay in school this year. I've always loved school. It sounds cheesy, but I always have."