Before he received his COVID-19 vaccine at Lanesborough Elementary School, Derek Weber waited quietly, reticent behind his Red Sox cap and superhero mask. But, after the shot, when his mother leaned over and asked if he had been brave, the 6-year-old's eyes crinkled as he smiled.
"It was good," he said. Then he added: "I don't like the buggies."
"I know, we want the buggies gone," said his mom, Jennifer. "That's what we call COVID."
As the Lanesborough EMS director, Jennifer Weber was pulling double duty Thursday. First, she got her son vaccinated, then she staffed the ambulance waiting outside, in case of a rare, severe reaction. She told The Eagle she was happy to work the clinic, see her son get vaccinated and watch other kids get their shots.
"It's exciting to be able to do this," she said. "It means we're pushing forward, even one step at a time, through this, to get back to our normal life."
Vaccinations for kids ages 5 to 11 began last week, after federal authorization, and Thursday marked the kickoff for a series of large-scale clinics at elementary and middle schools across the county.
A sea of small, masked faces rushed along the bright school corridors of Lanesborough Elementary, urged on by school officials, nurses and volunteers, to one large room set up with vaccine stations. Clinic organizers passed out coloring pages and crayons for the waiting period.
Almost 200 kids registered for the clinic, according to Leslie Drager, lead public health nurse with the Berkshire Public Health Alliance. Hundreds more have registered for clinics that go through early December.
"It's going great," she said, as she watched a stream of kids make its way through the building. "This is exciting."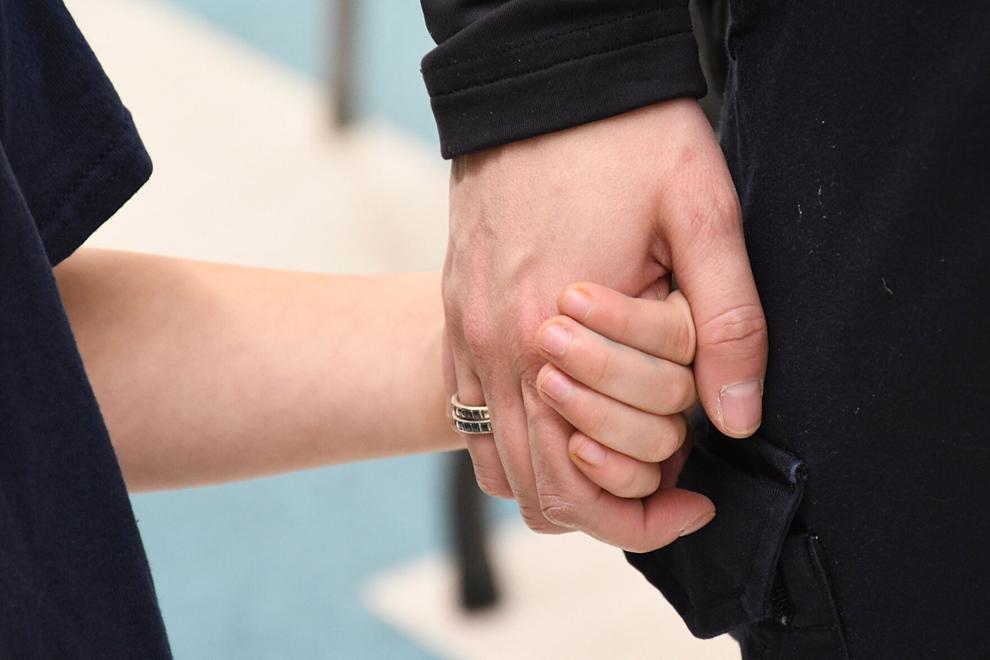 Most kids Thursday received the shot quietly; some were gleeful and others stoic. Many admitted they were scared of the needles but said they were excited to be like their parents and older siblings.
Evan Miller's first reaction to the news that he could get vaccinated: "Finally."
At 11, he just had missed the cutoff for the adult-size dose of the Pfizer vaccine. That meant he sometimes had to keep wearing a mask, even in spaces where vaccinated adults around him felt comfortable taking off theirs.
"Masks are interesting because they're harder to talk through," Evan said. "So, if I find myself in crowded rooms, instead of yapping my mouth off, I'm siting there not saying anything."
When he can take off his mask again in a crowded room, Evan added, he plans to ramble on so long that people say, "Why is he still talking?"
His mom, Stephanie Quinlan, was delighted when the news broke that their kids could get vaccinated. Like her son, she had anticipated it eagerly.
"I knew as soon as they got a shot that was good for kids, we'd get it," she said.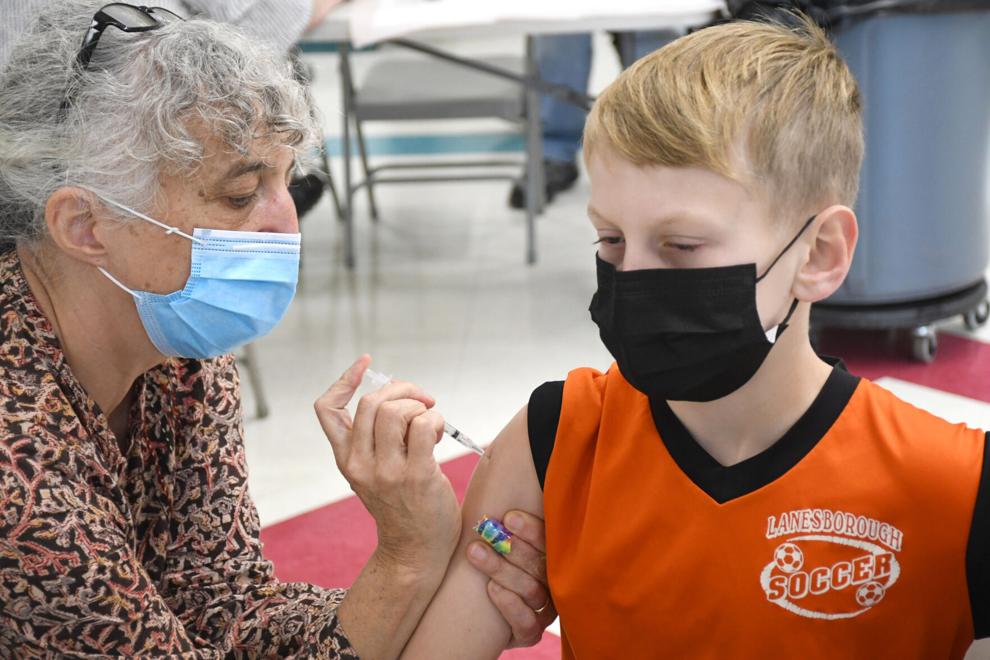 Most of Thursday's families were among the counties' most excited to get their kids vaccinated. They needed little more than a recommendation from the Centers for Disease Control and Prevention. They were hopeful about life on the other side of their kid's vaccination, ready not to be anxious about school or visits with older family members.
"We'd been waiting, counting the days," said Cassandra Redd, who brought her son. "We wanted to do it the first day."
Only two of Regine Orazio's kids met the age cutoff. Still, the newly authorized kid-size doses were a shot of relief for her.
"Two out of three," she said. "That's better than where we were 10 minutes ago!"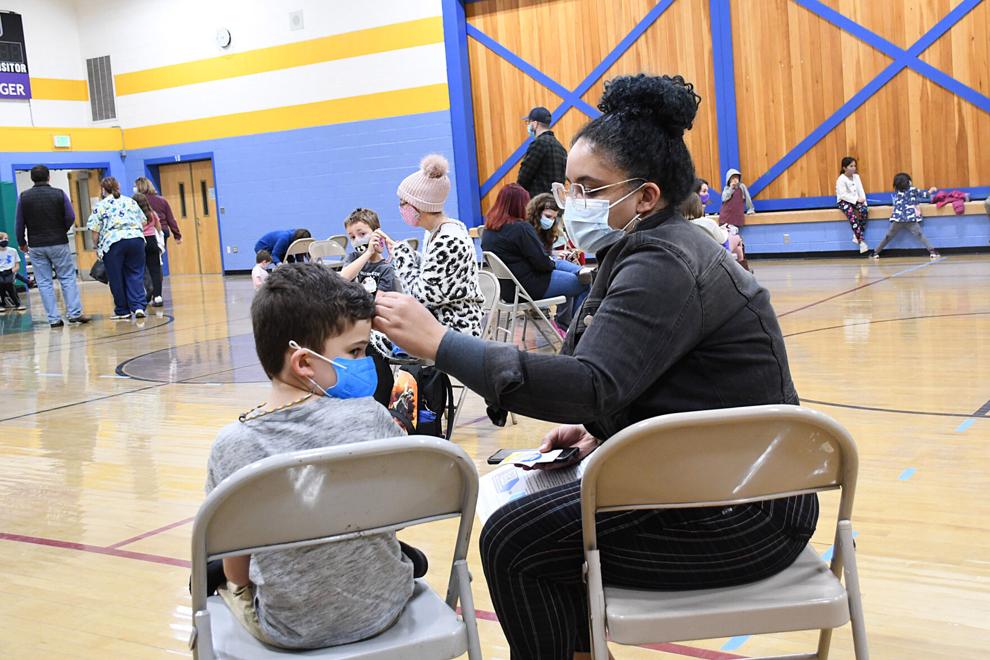 But, hesitancy could be found even among Thursday's crowd.
As she and her daughter waited after the vaccine, Theresa Tatro said she never had been 100 percent sure about the vaccines, not for herself or her daughter, Lily. She worries about how Pfizer, which developed the only vaccine currently authorized for kids in the U.S., has profited from the vaccines.
"You just want to make sure their intentions are good," she said. The previous night, she had stayed up fretting about the shot.
Still, despite reservations, she landed on the side of vaccination. Why? To keep Lily safe, and to protect an unvaccinated grandparent they plan to see at Thanksgiving.
"That's what motivated me," she said. "I don't want Lily to get COVID."
Lily hopes that getting vaccinated will help her accomplish one of her dreams long delayed by the coronavirus pandemic.
"I want to go to Iceland," she told The Eagle, with a big grin.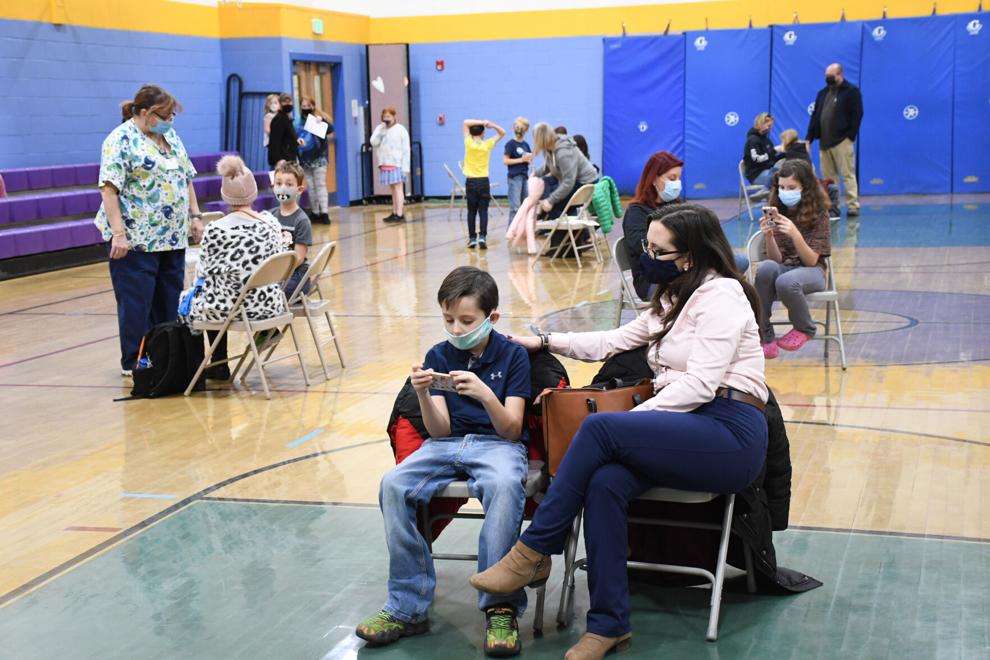 Families have registered more than 1,000 kids for the school-based vaccine clinics so far, according tor Laura Kittross, director of the Berkshire County Boards of Health Association. Many others already have received shots at their doctor's office or a pharmacy.
For Kittross, those numbers are a good sign. They mean more kids safe from the virus, more grandparents protected from transmission and more days in school.
"This really feels like the last piece of getting back to normal," she said.
After all, vaccinated kids are less likely to get COVID-19, which means they are less likely to spread it, too. And when they have a close contact, in most cases, vaccinated kids will not have to quarantine, Kittross pointed out.
Vaccine organizers acknowledge that there still are pockets of misinformation and people that the school clinics will not be able to reach.
Kathy Larson, the school nurse at Lanesborough Elementary who helped run the clinic, understands that hesitancy. But, she expects some of it to ease over time, as families see other kids getting vaccinated.
"I think the more kids that get it, the more will hop on the bandwagon."
A photo caption associated with this story has been modified to correct Sadie Quinlan's name.