Wendy Penner likes to be able to "pop in" to a town government meeting remotely on her computer. ¶ She'll typically view discussion about the agenda item she finds of interest, possibly add a comment and then pop out of the meeting and get on with her evening. ¶ Penner, a member of the Williamstown COOL Committee, said she likes many aspects of the now-ubiquitous remote civic meetings through Zoom or other teleconferencing software.
"It's like a whole new paradigm — a whole new world," she said. "And a lot of it has been absolutely fabulous. I think there is a democratizing element in some ways. More people can access the meetings, and they don't have to rearrange their whole lives to go there in person."
Penner is not alone. After a full year of coronavirus pandemic social distancing and remote meetings via Zoom, town officials and many residents want to keep the teleconferencing aspect to preserve the dramatic increase in resident participation.
But there are downsides to remote meetings, including less-than-civil interactions and less-effective discussions with attendees, when compared to in-person interaction.
"Every other town manager I've talked to is saying this is the highest amount of resident participation they've ever seen," said Adam Chapdelaine, town manager of Arlington and president of the Massachusetts Municipal Association. "I see this as an opportunity to expand public involvement. We hope to retain some aspects of it, while still getting back to seeing each other eye to eye while engaging in conversations about tough issues."
Several town officials in the Berkshires have agreed that a hybrid form of Select Board meetings could be valuable — with board members in the same room, and members of the public tuning in via Zoom to watch the proceedings or to offer input.
"One of the benefits of this is that it has made governmental meetings more accessible to people," said Jason Hoch, the town manager in Williamstown. "So now we have to think about what does government look like when the pandemic is behind us. It would be hard to go back to meetings as they used to be."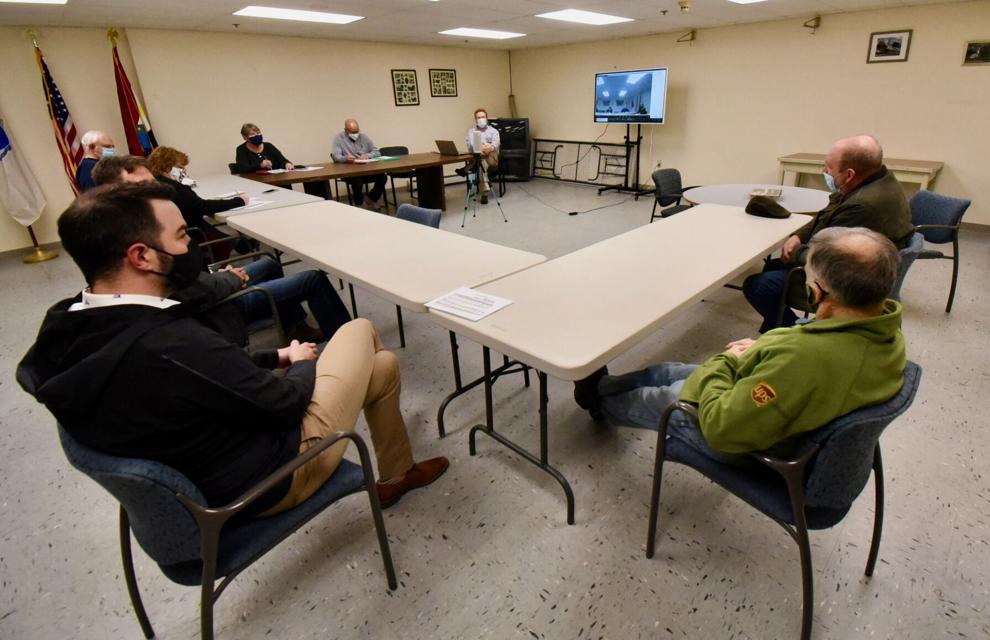 In Hinsdale, Richard "Dick" Scialabba, chairman of the Select Board and the Planning Board, is ready to take the Zoom meeting into the future.
Residents of the town pitched in to buy a 70-inch screen to enhance their meeting platform, Scialabba noted. The Select Board members sit socially distanced in the room with a remote camera that swivels to the speaker. With the public participating from home, the bigger picture allows board members to have a better visual of the remote speaker.
"I think it's working out very well," he said, adding that Hinsdale officials don't have to worry about exceeding the meeting room's physical capacity for issues that generate a lot of interest.
"Zoom makes it easier for everyone to be there," Scialabba said. "We had nearly 100 people at a recent Planning Board meeting. That is more than would have fit into the physical meeting room." He said the room can handle about 40 visitors.
"Post-COVID, I think we'll still be doing it," Scialabba said. "It's been a great help, and I see no reason for it to go away."
The Zoom municipal meeting became part of the "new normal" last March, when Gov. Charlie Baker issued executive orders, part of which waived the requirement that municipal meeting quorums need not be physically in the same room.
When that order is lifted, select boards and other official governmental entities will have to resume the in-person quorum requirement. But, the public still can attend via teleconference, according to a spokeswoman for Attorney General Maura Healey.
"Virtual participation has allowed many who otherwise might not be able to join a public meeting — whether it be because of childcare or work schedules — to log in and take part in their local government," said Chloe Gotsis, spokeswoman for Healey. "As we recover from the pandemic, we encourage municipalities to continue to live-stream their public meetings to allow for increased engagement by their residents, and to accept public comment by remote means, in addition to providing in-person access."
The Open Meeting Law states: "The attorney general may by regulation or letter ruling, authorize remote participation by members of a public body not present at the meeting location; provided, however, that the absent members and all persons present at the meeting location are clearly audible to each other; and provided, further, that a quorum of the body, including the chair, are present at the meeting location."
The law requires that a quorum of the public body, including the chair, be physically present at the meeting location. The attorney general cannot override that requirement without a legislative change or executive order.
Not all golden?
And while there are promising aspects to the remote meeting via teleconference, there also are aspects that are not so positive. One of them is a lack of civility during some discussions.
"While the universal assessment is that participation is up, that assessment also shows the level of civility has gone down," said Andrew Hogeland, a member of the Williamstown Select Board and a member of the board of the Massachusetts Municipal Association.
"Maintaining a civil discourse can be a bit more challenging," Chapdelaine said. "I think, in the remote setting, there is a reduction in social inhibitions that leads people to speak more freely."
There is another downside to teleconferencing, Hoch noted. "We have a lot more people participating, but in some cases, the meeting format is new to them. And you lose a lot of the personal connection — there are people we've been engaging with who none of us have ever met in person. In a way, we've lost the sense that we all live in the same town together."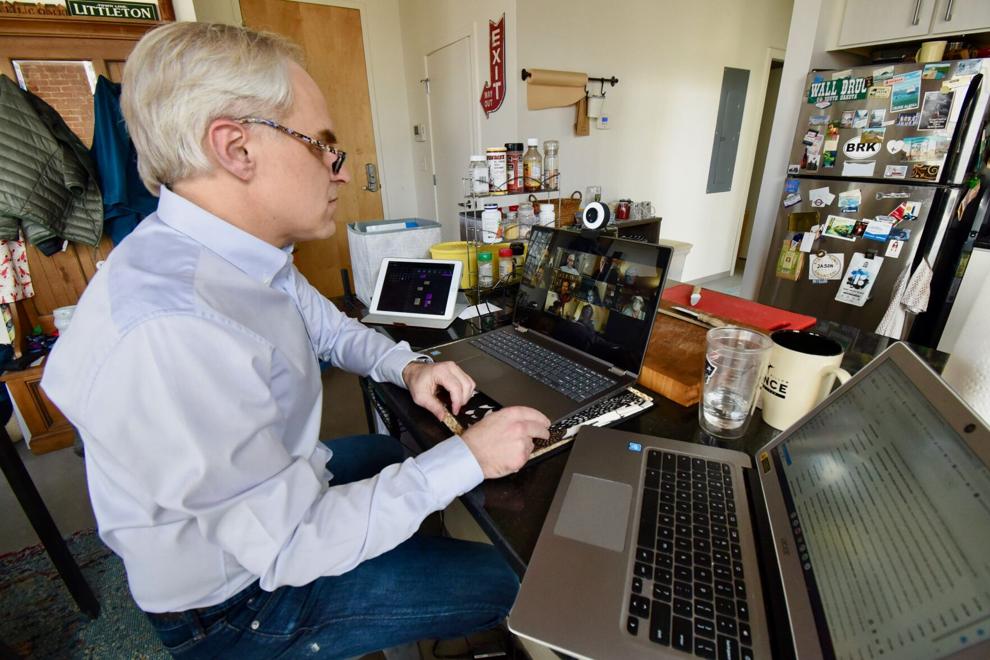 Robert W. Bishop Jr., chairman of the Dalton Select Board, said he misses face-to-face contact in the pre-pandemic era. "But, (teleconferencing) does ramp up access for people, because it's a heck of a lot easier. We've heard a lot of good things about it."
He also has seen the dark side of the teleconferencing platform.
"They don't have to sit across from us," Bishop said. "They can just sit there and snipe at us, and they don't even have to show their face on there."
Christine Hoyt, chairwoman of the Adams Select Board, said that while the teleconferencing format has led to more participation, it also has been a challenge for some folks who are not tech-savvy.
"But, there are more voices in the process; that's what I've wanted to see for some time now," Hoyt said.
At the same time, there is a level of personal communication that is lost, she feels.
"Sometimes in difficult conversations, it's important to look someone in the eye," Hoyt said. "And it can be difficult when you can't see someone — you're not engaging the same. I miss seeing the faces and knowing who you're talking to."
She is not alone in feeling nostalgic about in-person interactions.
"When you're in person, it's easier to see reactions — it's hard to read a person from a video screen," Bishop said.
"Body language and facial expression are hard to read, and you may not even be looking at the speaker, with so many other faces on the screen," Chapdelaine noted.
And there is another issue that has arisen with Zoom meetings: Many people still do not have access to broadband, and some either don't have a computer or are not proficient in its use.
"There is a democratizing element, but not for the folks who don't have internet access," Penner said.
Going forward, Chapdelaine said, part of his focus will be shaping the Zoom experience to be sure that every side can be heard, and that participants feel like their views have been communicated fairly.
"The main challenge I see is trying to develop a way that the remote speaker has something that feels like they are on a level playing field with everyone else in the room," he said. "It will be interesting to see how things develop. Hopefully, we can find a way to keep the enhanced civic engagement and blend that into the 'next normal.'"