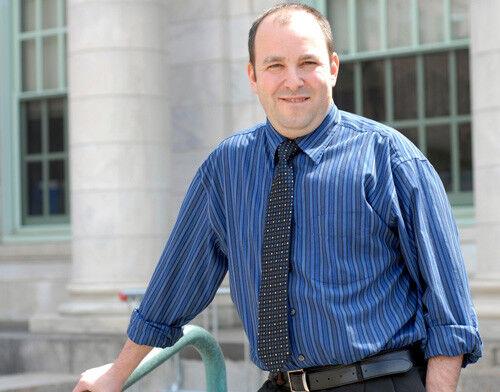 STOCKBRIDGE —The town's Board of Health supports indoor masking against transmission of COVID-19 but is leery of imposing a mandate, deeming it unenforceable.
At its Monday meeting, the board's president, Dr. Charles Kenny, suggested that he strongly favors action by the Tri-Town Health Department in Lee, rather than advisories separately issued by the individual health boards of Stockbridge, Lee and Lenox.
"I'd like to see the weight of the other two boards' discussion of this as a predecessor to our own advisory," Kenny said. Even so, officials doubt that a local mandate could be enforced.
The Lenox Board of Health has scheduled its own public meeting, via Zoom, at 1 p.m. Thursday.
Tri-Town Health's executive director, James Wilusz, said he would seek to organize a joint meeting of the three boards' nine members for the final week of this month.
In view of the Centers for Disease Control and Prevention's "high risk" ranking of Berkshire County and nearly every other county statewide for virus transmission, Wilusz told the Stockbridge board that meetings have been held with some school districts, including Lee and Lenox.
Tri-Town, in its advisory role, strongly recommended consideration of across-the-board indoor masking, at least temporarily, he said.
"We're seeing a lot of cases," Wilusz said. He listed advisories and mandates recently approved in some communities.
North Adams, Lee and Lenox now require indoor masking in all town-owned municipal buildings, while the Berkshire Hills Regional School District also has a universal masking policy in its three Great Barrington buildings, he noted. A similar policy was issued by the Mount Greylock Regional School District, Wilusz added.
He cautioned that if Tri-Town were to issue a districtwide mask mandate for Lee, Lenox and Stockbridge, "a lot of pros and cons come with that. We would have to enforce it; we'll probably get inundated with tons of masking complaints. It would be exponential; the complaints would be huge. If we go the route of a mandate, it will increase the workload significantly. We wouldn't be able to enforce it."
Wilusz suggested that an advisory recommendation would be more workable. Kenny also noted that state guidelines and mandates were removed by Gov. Charlie Baker in June, making the task of enforcing local regulations more onerous.
Kenny has volunteered to serve as medical director for the new Southern Berkshire Public Health Collaborative, administered by Tri-Town through a $3.9 million, 13-year state grant to be funded at $300,000 annually, as announced in May.
The group eventually will serve 10 South County towns. It is staffed by two full-time nurses, Amy Hardt and Jill Sweet. The collaborative tracks pandemic cases and handles contact tracing.
Kenny congratulated Wilusz for the "magnificent achievement" of forming the collaborative.
"It's going to serve the whole of South County really well," Kenny said.
The Massachusetts Public Health Excellence Grant aims to improve effectiveness and efficiency of local and regional public health by expanding opportunities to share public health services, according to Tri-Town.
In addition to the Tri-Town communities, the new collaborative includes Alford, Great Barrington, Mount Washington, Monterey, New Marlborough, Otis and Sheffield.
"Clinical nursing has been the weak spot for most of us, and the new grant will enable all the towns to garner the clinical nursing piece that they need," Kenny has said. "But, the sky's the limit. What we do together in the future will be based on this beginning."
Wilusz said the collaborative's nursing program doesn't replace any current contract that towns have with a visiting nurse association. He noted that the visiting nurse associations can act as a backup to the collaborative.
"We're nowhere close to being out of the woods," Wilusz said. "We need to protect those who don't yet qualify for vaccines. The virus isn't gone, and we can't forget what we went through earlier this year and last year."