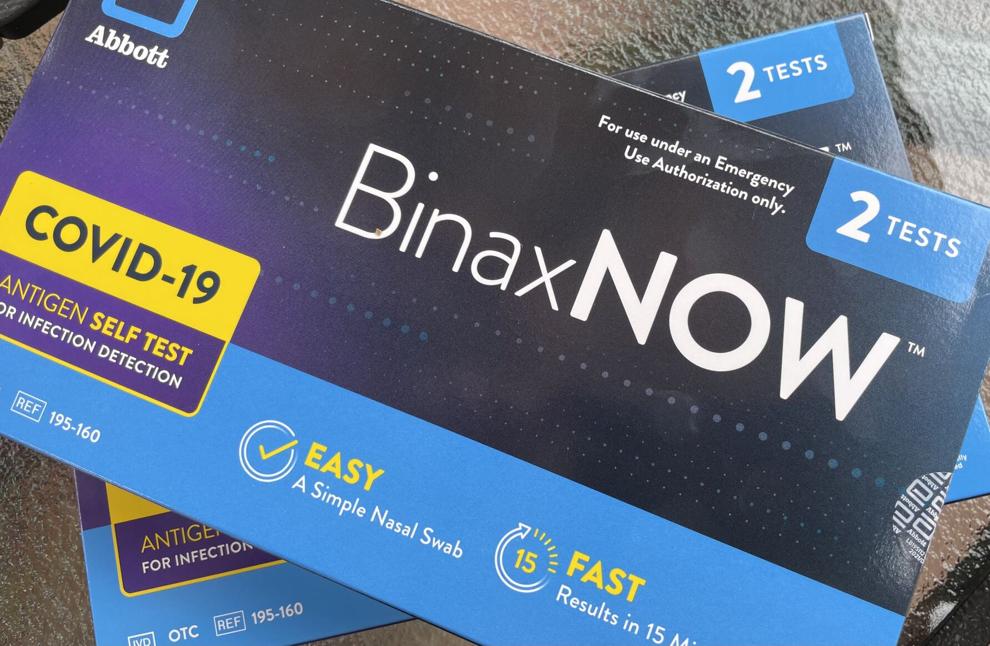 Pharmacies can't keep at-home COVID-19 tests on the shelves.
As of midday Monday, just six pharmacies in Berkshire County had rapid at-home tests available, out of more than two dozen total stores. Half of those with supply on hand had only one or two kits remaining.
Tests were more readily available online.
The kits, which include Abbott's BinaxNOW Antigen Self Test and Quidel's QuickVue Antigen Test, take about 10 to 15 minutes to produce results. Users are supposed to test twice, with 36 hours between the tests, and the kits contain two tests each.
Supply should loosen up in the coming weeks and months. Last week, the Food and Drug Administration authorized a new test, this one made by ACON laboratories and expected to cost just $10 — compared to as much as $24 for existing kits. The Biden administration also announced it will spend $1 billion on at-home testing kits to expand supply.
But for Berkshire County residents searching for an at-home kit these days, that relief is not here yet.
In an Eagle survey of local pharmacies on Monday, the majority of stores had no tests available. Many pharmacists and clerks said they had no idea when more shipments would come in, and all store workers said the tests typically sold out within three or four days, if not well before that. Some said that they received small shipments and that the tests flew off the shelf within a few hours of delivery.
Walgreens stores were the most likely to have available rapid tests, with kits for sale at Walgreens stores in Williamstown, Adams and some Pittsfield locations.
But even those stores were not sure how long supplies would last. Clerks at two separate stores said they had precisely one test left on the shelf as of noon on Monday, while a third store said there were "a couple" remaining.
The CVS Pharmacy in Lenox also had available tests as of midday on Monday, while several other CVS locations said they often had tests available but were out right then and would restock later in the week.
Walmart and Stop & Shop pharmacies across the county did not have tests available as of early Monday afternoon and said that shipments tend to be sporadic.
A few stores, including several Big Y pharmacies, Village Pharmacy in Lenox and T&C Flynn's in Pittsfield, said they had not had take-home tests in weeks — and that the kits have been on backorder. Two Price Chopper pharmacies said they do not stock the tests in the first place.
Buying online?
As of Monday, both CVS and Walgreens were selling tests online, for $24 per kit. Both stores had estimated shipping times between one and five days, though CVS warned of potential delays due to "high demand."
Want free shipping? Order two kits at CVS and Walgreens to qualify. Or order a test from Walgreens and have it sent directly to your local store.
Walmart offered the best deal online — just $14 for a BinaxNow kit — on Monday morning but was out of stock by midday.
Want to go in person?
Try stopping by your local pharmacy — again, CVS and Walgreens are good bets — and asking.
You can also ask the pharmacy what day they get shipments. One Pittsfield Walgreens said shipments arrive on Wednesday or Thursday, and again on Saturday. Meanwhile, a CVS clerk said shipments tend to come in on Wednesday or Thursday afternoons.
Or try calling before you head out. Many pharmacies use automated messaging systems, and your best bet is to ask the system if you can talk to a real person. You don't need a pharmacist — since the tests do not require a prescription or doctor's approval, store clerks will be able to tell you whether the kits are in stock.
Is it accurate?
Sort of. Rapid antigen tests tend to be less accurate than PCR tests, which is what you would get at a Berkshire Health Systems testing center.
According to The New York Times, some at-home antigen tests miss 15 percent of infections or more, and many tests that boast high accuracy rates got those scores in a laboratory test, rather than real world conditions.
But they're still useful tools, even if imperfect. The tests are helpful in part because they catch highly contagious cases at a higher rate than asymptomatic infections, which means they can help prevent transmission.
The take away: These kits are not a golden ticket and can't guarantee that you won't infect someone. You should also double check whether your test is accepted before you try to use one for travel. But they're still a handy line of defense, extra convenient, and probably good to have on hand this winter, just in case you want to check whether your symptoms are COVID-19 or something else.
I really need a test and can't find a kit.
Don't forget that you can schedule PCR tests (the gold standard!) at many local pharmacies, as well as through Berkshire Health Systems. To get tested at a BHS center, with or without symptoms, call 855-262-5465.
You can also get a rapid test done at MedExpress in Pittsfield, among other locations.