PITTSFIELD — The Pittsfield police officer who shot and killed a distraught man in March will not face criminal charges.
The Berkshire District Attorney's Office said Friday that the Pittsfield Police Department's use of force on March 25, reviewed during a four-month probe, was supported by law.
Berkshire DA Andrea Harrington said the investigation found that Officer Nicholas Sondrini used legal authority and acted in self-defense in making the decision to shoot Miguel Estrella.
She said Sondrini and other officers exhausted all available means to defuse the confrontation. The inquiry found that the use of force was "proportional to the threatened harm."
"These are sad and tragic circumstances. They are not criminal in nature," Harrington said. "Many systems failed Miguel Estrella."
The report upholds a finding by the Pittsfield Police Department in late April that Sondrini was justified in his use of force when he shot Estrella twice after police say they attempted to stop him, using less-than-lethal means, from advancing toward them with a raised knife.
On Friday afternoon, the office released findings of a four-month investigation into Estrella's fatal shooting outside his 279 Onota St. apartment building. Estrella, 22, died that night of two gunshot wounds to his upper right chest.
Estrella's death was assailed as unjust by family, friends and members of the community, prompting an April 10 "Justice for Miguel" march and rally in downtown Pittsfield.
It led to renewed demands for Pittsfield police to adopt the use of body cameras as well as calls that crisis clinicians, rather than police, be routinely available to respond to calls involving people in mental health crises.
Family and friends say Estrella had been depressed and was engaged at the time in self-harm. The shooting followed an earlier police call to Estrella's address. The police department found, in its internal view, that it did not have grounds to seek an involuntary commitment of Estrella after officers responded to an initial 911 call for help.
The findings were presented Thursday to members of the Estrella family and to Police Chief Michael Wynn and Mayor Linda Tyer. Harrington said Wynn related the legal finding to members of the department on Thursday as well.
Both Tyer and Wynn listened to the findings Friday, in a conference room at the DA's North Street headquarters.
https://cdn.field59.com/BERKSHIREEAGLE/1f9507f65b475c9d0544ba7142e0da9b4461e3bf_fl9-1080p.mp4
"This is by far the most thorough DA's investigation that I've received as a police executive in my tenure as the chief of police," Wynn said after the news conference. "I think the DA's investigation supports our internal force investigation and that our officers acted with reasonable and necessary force in proportional terms to the threat in place."
Harrington opened her briefing expressing support for the Estrella family and for those affected by the shooting.
Using a large digital screen, she then presented, for nearly an hour, a chronology of the night of the shooting, alternating summaries of events with audio and video clips, including 911 calls and emergency radio communications.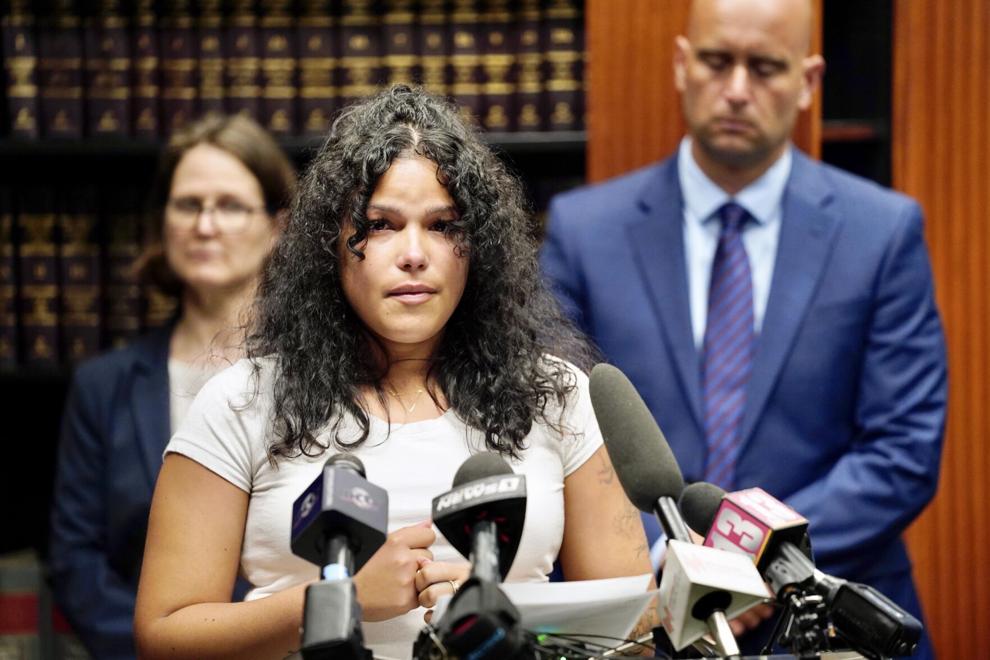 A 911 caller contacted dispatch at 9:35 p.m. asking for an ambulance to be sent to an address on Onota Street. Soon after, she rescinded the request, saying that her friend at the scene had found transportation to the hospital.
Ten minutes later, another 911 caller told dispatchers that he got a call that Estrella was cutting his own face and neck with a box cutter. This led to Sondrini and Officer Christopher Coffey being dispatched to the scene for a well-being check.
When Sondrini arrived at the scene, Estrella was in the car with his girlfriend ready to head to the hospital. The officer approached without his lights and siren on and had been informed that Estrella reportedly had mental health issues.
Estrella got out of his car and began to speak with Sondrini, who immediately noticed that there were cuts on Estrella's face.
Sondrini said that Estrella seemed intoxicated and had a bottle of liquor in his hand, but that he "managed to stand on his feet," "wasn't swaying" and his "speech was clear." Sondrini went on to describe him as calm and cooperative.
Sondrini said that at first blush, Estrella seemed apprehensive about talking to the police. The arrival of Coffey onto the scene made Estrella nervous again, as he was concerned that the presence of two officers would escalate things.
After the first interaction, it was clear to officers that Estrella didn't want to deal with police. The officers attempted to negotiate with Estrella, asking him to wait for emergency medical services to help him treat the wounds on his face. Estrella initially claimed that he got the cut at work, and that he did not want to speak with the responding officers. He said he would be willing to wait for emergency medical services.
Tensions flared again when a third officer did a "slow drive-by" of the scene to check it before an ambulance arrived, which the report lists as a common practice for a call response that long. Estrella reportedly yelled at police responders that, "Three officers is a problem — two officers is OK, three means there's a problem."
Shortly after, an ambulance arrived and EMTs assessed Estrella's wounds, which they found to be superficial and minor with controlled bleeding. The EMTs instructed Estrella on how to care for the wound, but did not think it was warranted to take him to the hospital.
One of the responding EMTs said later in the report that he did not know he was responding to a person with suicidal thoughts. Because EMTs are not able to listen to police dispatches, they had "no idea that that's what we were responding to."
Estrella didn't want to go to the hospital after receiving medical attention. During the medical examination, he allowed Sondrini to remove a kitchen knife about three to four inches in length from his pocket. Officers later put the knife in a dumpster before leaving the scene.
After the officers left, Estrella entered the house again with his girlfriend and her sister. He went into the kitchen and got another, larger kitchen knife. Estrella's girlfriend said in the report that he began stabbing his stomach with the knife and repeating, "I can't be here no more, I don't want to be here no more, I don't want to live."
Fifteen minutes later, officers returned to the scene after Estrella returned outside with a knife, prompted by another 911 call. Estrella's girlfriend ran to the squad car before the officers got out and informed them that he was under the influence of alcohol and pleaded with officers not to hurt him.
Coffey asked dispatchers if they had EMS units available, as he believed that if a "Section 12" detainment — in which a person at risk of suicide or self-harm is restrained to receive medical treatment — was warranted, it would be better to transport Estrella in an ambulance than a police cruiser.
Officers said that Estrella approached them in a "boxer's stance" with the knife blade pointed downward in his hands.
Coffey was the first to arrive at the scene and pointed a taser at Estrella when he determined that he might be a threat. Sondrini arrived quickly after, and backed up Coffey with "lethal coverage" using his firearm as a second option if the tasers didn't work, the report said. Sondrini would eventually holster the weapon and attempt to tase Estrella as well.
The two officers and Estrella were arranged in a triangle formation, with Estrella in the middle of the cops, according to witness interviews. Estrella was walking toward them, repeatedly telling them to leave him alone. Coffey recalled that Estrella yelled at one point that "this is what [the cops] want," claiming that officers want to shoot people of color.
Officers continued backing off from Estrella, trying to maintain a distance of about 15 to 20 feet. Estrella's girlfriend and her sister said it appeared to them that he was walking forward because he was too drunk to stand still, not because he was trying to attack the officers. Estrella's girlfriend made several attempts to intervene and stop him before he reached the officers.
Estrella continued walking toward the officers, who asked him repeatedly to drop the knife and "not make them do this." Coffey attempted to tase Estrella, who swatted down the tasers with his arms and continued moving toward them. The tasers had little effect on Estrella.
According to Coffey, Estrella attempted to stab himself in the stomach again after they spoke directly, then brought the knife up again and began walking toward Sondrini. The officers said he looked like "a boxer moving to the center of the ring" in the report.
Sondrini said Estrella took two steps toward him from about 10 feet away. The officer thought "this is it … he's coming after me with the knife, here it comes."
Sondrini lifted his gun and fired twice. He knelt down beside Estrella and attempted to administer first aid until he was removed by other responding officers.
Estrella was taken to Berkshire Medical Center, where an emergency surgery was performed in an attempt to save his life. He was pronounced dead at 11:20 p.m.
"Clearly, this was a mental health crisis," Estrella's sister, Elina, said after the presentation. "We need to answer these questions so this doesn't happen to anyone else."